The Neustrowski-Watembach Family
Ray Watembach is the great-grandson of four of the first Polish settlers in New Zealand. His paternal great-grandparents sailed on the friedeburg in 1872 and his maternal great-grandparents on the fritz reuter in 1876. His grandfather, Józef Watemburg, was five, the same age as his grandmother, Mariane Niestrowska, when she arrived with her parents and younger brother four years later.

Ray and I met several times before spending a day in his sunny Waitara kitchen delving in and out of books, documents, family trees and photographs, as we recorded his memories and research on his family's journey.

As in any family story, personal reminiscences may differ. Siblings, cousins, uncles and aunts will always have their particular interactions with other family members, especially when that family is a large one. This story follows Józef and Mariane's son, Ray's father, William.

I thank Ray for his continued generosity, sense of humour, patience and historical explanations that I have used here and in other stories on this page. I wish him all the best.
—Barbara Scrivens
April 2016
A POLISH WEAVE
by Barbara Scrivens
Irene Mary Fairweather's 'sin' was to marry a Polish man with a German-sounding surname two years before World War II erupted.
Despite being born in Waverley on Taranaki's southern coast, and of Scottish-Irish descent, the local grocery store refused her full service during those war years. Even before the war, marrying someone with a German surname became contentious in English-speaking New Zealand.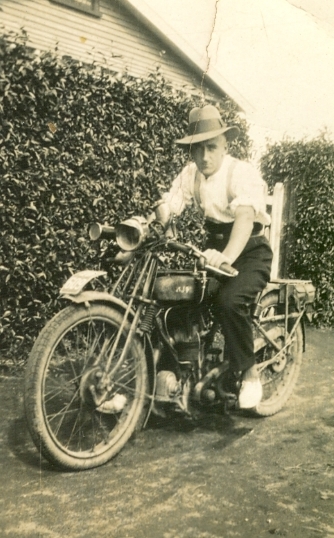 Irene—born at the end of the First World War—may not have shared anti-German sentiments but did she foresee her decision's consequences? She did not marry in Waverley but in Waitara, on Taranaki's opposite coast, where her husband, William Augustine Watemburg, right, lived. Her father, Joseph Henry, had died in 1933 but her mother, Mary, attended the ceremony.
"The discrimination against my mother was hard on her and there was never enough to eat. Wartime rationing allowed prejudice to be covered up. The English did not discriminate with anything approaching a sensible awareness of ethnicity," said Ray, born in 1941.
"If we children said we were of Polish extraction, they wouldn't believe us. They said, 'You've got a German surname, you're German.' I only realised years later that during the war Uncle Leo used up his petrol rations for the farm to bring us duck eggs, meat, fish and sometimes ducks to eat."
Ray, aged about seven, discovered what it meant to be Polish in Taranaki one Sunday. His paternal grandmother, Mariane, known as Martha Watemburg (née Neustrowska), moved back to Waitara in 1947 after "keeping herself busy" on her unmarried son Leo's 75-acre dairy farm on Norfolk Road, Inglewood.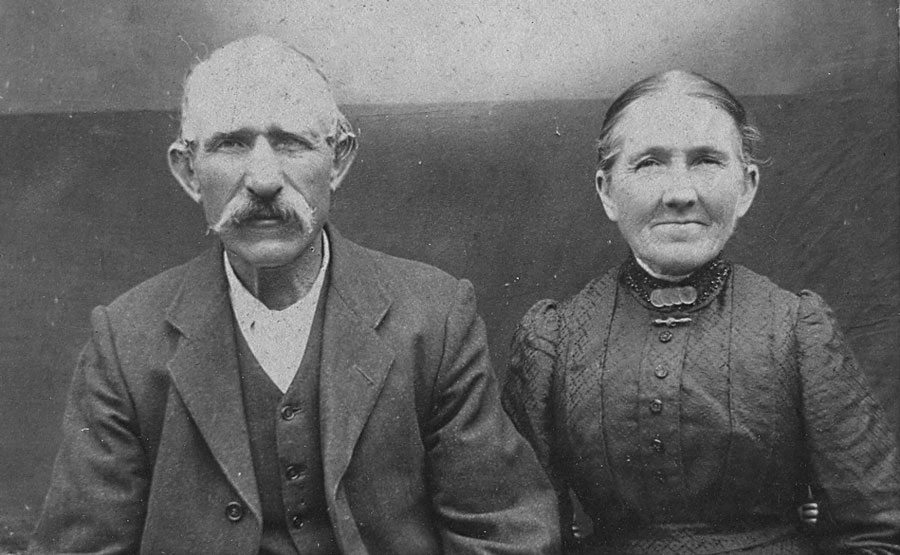 Mariane's parents, August and Apolonia (née Potroz) Neustrowski.
"After Mass these people came up to us and started chatting and they would lapse into Polish. We stood outside the church talking until midday, my mother getting grumpier and grumpier because there was still the Sunday roast to do."
Martha's youngest sister, Apolonia, and husband, Bernard (Ben) Dombrowski, created the excitement. They had decided to retire from their farm on Norfolk Road, Inglewood, and move to Waitara. Contributing to the Polish chatter that morning were Joseph and Agnieszka (née Dodunska) Fabish, who lived next-door to the Waitara church. Agnieszka (Agnes) was Martha's and Apolonia's cousin.
"Experiencing this older generation of Poles at Mass on Sundays and listening—not understanding—to them talk, talk, talk made me realise I belonged to a wonderful, friendly family.
"When it came to cleaning the church, these Polish ladies would be there with their buckets of boiling water and caustic soda. They would scrub and wash the floor so that the wooden floorboards were clean as a pin and because the school was next door, my older sister, Shirley, and I would go over and join the old ladies and watch them working—and then we'd get a job."
Sunday services—with or without a Mass—were integral to most of the Polish settlers' lives. They had emigrated from Prussian-occupied north-western Poland in the 1870s and 1880s. Under German oppression, they were forbidden to practise their Catholic faith in their own tongue. Seventy years later Ray saw how the settlers' children remained spiritually grateful for their parents' courage in leaving their homeland.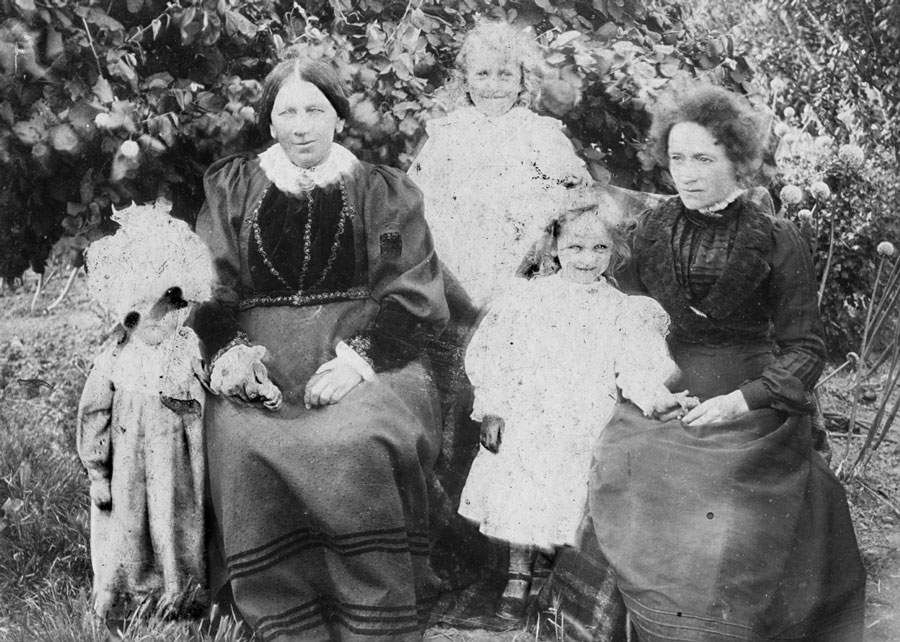 Martha as a young mother with her mother-in-law, Katarzyna Watemburg, and from left, Albert, Beatrice at the back, and Vera.
"Anything they could do to improve themselves was a gift from God and they were thankful for their new lives. In those early years the so-called road was a sea of mud and stumps—a track cut through bush. Even bullock drays got stuck in the mud, but the early settlers and surveyors all used that track and the Poles would trudge for miles to get to Sunday Mass.
"Grandmother Neustrowska's family walked from York Road in Midhirst to the church in Inglewood. That's more than ten miles, fasting, no bridges. You had to wade or rock-hop through seven streams. You carried the babies. They always had some family, or a friend at Mass, who they would visit and share lunch with. On Sundays when there was no priest they would gather at a house, read the lesson for the day and sing the service. Cardinal X Dalbor organised it so the New Zealand Poles had the correct tracts, the Słowo Boże [word of God]—and the Poles were great for singing."
The house in the photograph below, taken in 1919, is identical to the original Neustrowski house on York Road. When he returned from World War I Ben Neustrowski received—as soldiers' rehabilitation—land in Aotuhia, adjacent to what is today Whanganui National Park, and built a duplicate of his parents' house. The family's formal attire suggests that five of his siblings had made the 80 kilometre trip inland to visit Ben, wearing his military uniform for the occasion.
"The war clothes were good quality, hard wearing. Uncle Ben would not have thrown them out."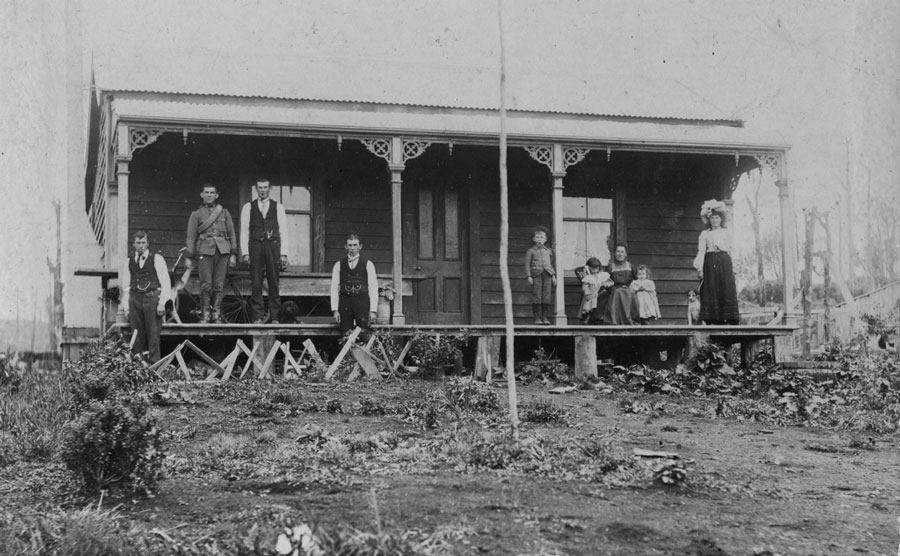 From left, Sid, Ben, Joe, Paul, Agnes (then married to Herman Schultz) seated with her children, Joe, Margaret and Helen, and Polly (Apolonia) on the far right.
"At the left-rear of the house, there would have been a Polish food cellar for storing things like root vegetables. It was awful hill country. They did a lot of burning, but not all the trees fell, as you can see from the stumps. They were also plagued with wild pigs—so much so that the county paid them a shilling a tail."
_______________
"We enjoyed our relations, more so as my mother played the piano and my father played the accordion. When rationing ended—about 1950—we were able to go to the farm on Norfolk Road. Dad took a bag with him and the first time we stayed overnight we wondered what was in it—until the evening when he pulled out his button accordion. Dad's brother, Leo, had his accordion, the mat was rolled up in the front room, the furniture pushed into the bedrooms, the neighbours came over and everybody would have a dance with Dad and Uncle Leo playing.
"It was a real bonus when our uncle Albert came up from his gold mining in the South Island as he played the piano accordion—Dad and Leo mostly played button accordions, but Albert also played a violin and Jew's harp. Leo sometimes played a zither and a Jew's harp. There was another brother, Alf—Frank was his proper name—and when he turned up, which was quite rare, he played banjo as well as button accordion. So there was always music and good times with family and neighbours. It wasn't that we were wealthy. We were wealthy with music and friendly people on the Polish side."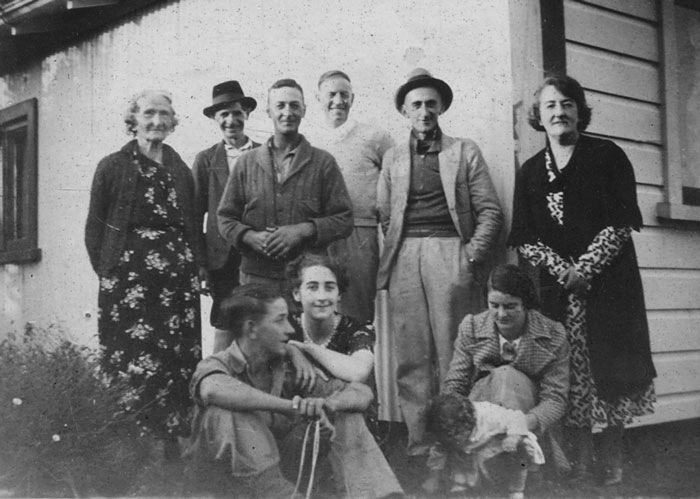 Photographed at Leo's Norfolk Road farm around 1940:
Ray's grandmother Martha is on the far left. Next to her is Ivan Antunovic, who Ray's aunt Beatrice married in 1919, and Leo is next to him. Behind Leo is a friend, Bill Skurr, and next to him is Ray's father. Beatrice is on the extreme right. In front are Max and Leona Autnovic and Ray's mother is looking down at his sister Shirley.
Ray remembers one of Leo's neighbours, the Wisniewski family, with "10 or 12" children living on the corner of Norfolk Road. Albert Watemburg lost his farm on the other side of Leo during the 1930s' Great Depression. Before he turned to gold mining Albert leased Maori land in Kawhia, about 250 kilometres up the coast.
"Being close to the harbour you got a free feed out of the water."
Apolonia and Ben Dombrowski's Norfolk Road farm adjoined the others and a farmer on the other side of the road, Graham Hastie, had a Polish mother (née Duszenska). Another Duszenski farmed closer to the mountain and the non-Polish Smith neighbours also joined in the gatherings. Leo taught Ray Smith junior to play the accordion.
The explicit intertwined name, the Immigration and Public Works Act of 1870, reveals how much New Zealand depended on immigrant labour.
"Things were not easy in those days so nobody came visiting empty handed. I remember my Aunt Vera going from Leo's place to one of the Duszenski farms one evening for a card game and she took freshly made scones with home-made butter and whipped cream on top of blackberry jam. As well as that they roasted a duck she stuffed with apricots, raisins and sultanas, and of course the men always had some beer or blackberry wine to drink—but we children were not allowed to even sip."
This slice of Polish culture in predominantly English-speaking New Zealand was a direct result of the new colony's need in the 1870s for immigrants to help build its infrastructure. British settlers from 1840 soon occupied the optimal and flattest lands in Canterbury, Taranaki, the Wairarapa and Hawke's Bay—but building roads, railways and bridges proved more problematic in the rest of a country dominated by hills and fast-flowing rivers. The explicit intertwined name, the Immigration and Public Works Act of 1870, reveals how much New Zealand depended on immigrant labour.
_______________
Martha Watemburg was a natural matriarch. Born in Gręblin, near Peplin, she turned five two days before the fritz reuter docked in Wellington harbour. With her, her parents, and younger brother, Johan (later known as John), were more than 250 other Poles from the same Kociewiean region of Prussian-occupied Poland. Her baby brother, August, died of heat exhaustion on the three-month journey from Hamburg.
The Poles who settled in New Zealand may have gained their freedom, land and a future for their children but they still lost their language.
By the time Martha was born the germanisation of the Poles was well under way. After 1772 the new Prussian occupiers started re-naming geographical features and towns, and from about 1848 were germanising Polish names in official documents. By 1870 Prussia banned Polish schools and created a law prohibiting possession of any Polish reading material. German secret police increasingly harassed Catholic Poles.
When they arrived in New Zealand, few of the adult Poles were literate, their parents refusing to send their children to German schools. Years later some still signed official documents with a cross.
The Poles who settled in New Zealand may have gained their freedom, land and a future for their children but they still lost their language. August and Apolonia allocated two rooms in their house as a school for local children, including their own, but future generations—without formal Polish schools and assimilating into a predominantly English-speaking New Zealand society—were destined to become English-speaking Poles.
In the 1870s the language spoken by British officials was incomprehensible to most Poles and at first they communicated through German agents. About 50 fritz reuter Poles accepted transfer onto the ss taupo and continued their journey up the coast to New Plymouth. The first Polish immigrants to settle in Taranaki came ashore in whale boats at the Puke Ariki landing, the current site of New Plymouth's museum-library of the same name.
The immigrants walked up Brougham Street to Marsland Hill and the former British military barracks. The buildings—empty of troops after the 1860s Taranaki Wars—became an immigration hostel providing free rations until people found work. August Neustrowski took a job in Bell Block, north of New Plymouth, clearing scrubland for English farmers.
"Things were so unsettled in those days. Some of the land was formally Maori farms that reverted to scrub during the wars. Some English people moved out of the area entirely. Some went to Nelson and some back to England. The buying and selling of land was destabilised by the unlawful actions of some settlers," said Ray.
Agnes, the first of six New Zealand-born Neustrowski children, arrived on 14 April 1877, at their new home in the Hua village, today absorbed by Bell Block. A Hua Street remains. Agnes' surname was incorrectly recorded as "Neustrowsky."
Once they had a bit of money they bought pork and started making Polish sausage, curing hams, bacon, or even fish, by hanging it all in the chimney.
"They moved to Inglewood with great-grandfather working on the railway line. The first line went from to Waitara to New Plymouth, a new line went inland to Lepperton junction, through Inglewood, then on to Hawera and eventually to Whanganui. Some of the Polish men worked on the railway line, sometimes with food and accommodation supplied.
"My great-grandparents found a little one-roomed cottage in Inglewood. My grandmother described it as 'one room, with a lean-to at the back for washing and drying clothes.' The room had a dirt floor and they made dried fern mattresses. The parents slept on the floor and the children in the rafters. The fireplace was about two metres wide and about a metre deep. It didn't have a brick chimney so they lined it with corrugated iron supported by green timber. Once they had a bit of money they bought pork and started making Polish sausage, curing hams, bacon, or even fish, by hanging it all in the chimney.
"It was a huge event when the French Marist priests started visiting. There was no presbytery and when the priest visited the Poles in Inglewood, he'd stay with the Neustrowski family. All the other Poles would gather in this one room for the service, so there must have been quite an overflow. My grandmother told me the children would all be up in the rafters and looked down on the parents while the priest talked to them.
"On weekdays great-grandfather worked on the roads for the government and contracting, felling trees. He was known to be scrupulously honest. I found out that he later organised other Polish men to help him chop down 680 acres of standing bush at Ngaere, south of Stratford, for an English gentleman who refused to pay the correct amount. He thought the dumb 'German' wouldn't know the difference between 600 acres and 680 acres so great-grandfather August took him to court. The Englishman ended up settling."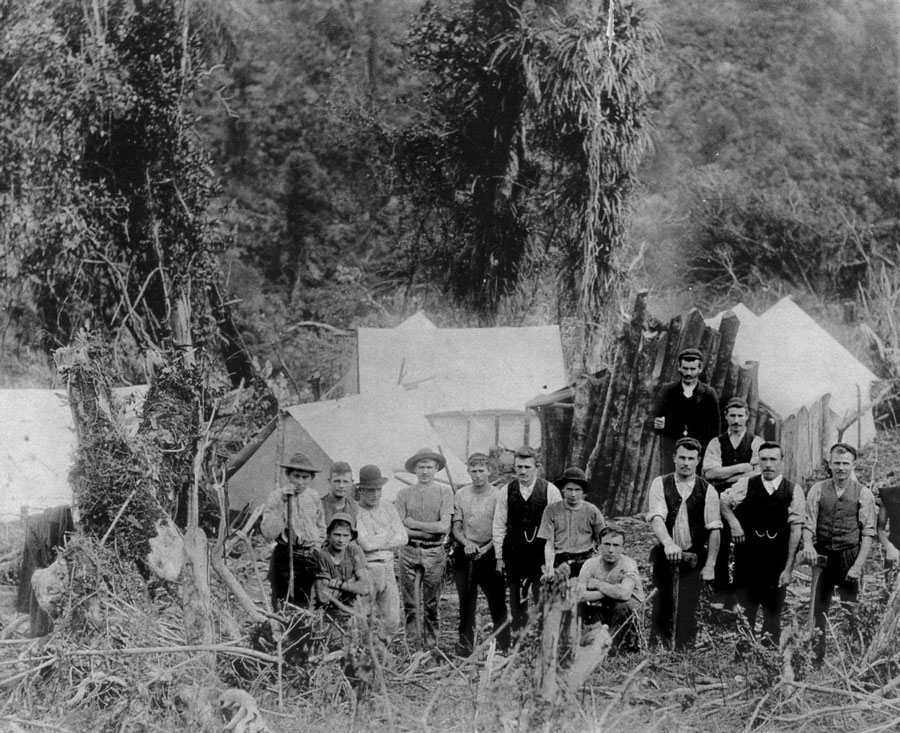 August's was among several Polish bush-clearing groups living in tents, such as those above, during the working week.
Below is a close-up of the same group. Ray has been able to identify Vincent Meller,1 with the watch chains in the back row, and his uncle John (Johan) Neustrowski, also with watch chains and sitting on the log third from the right.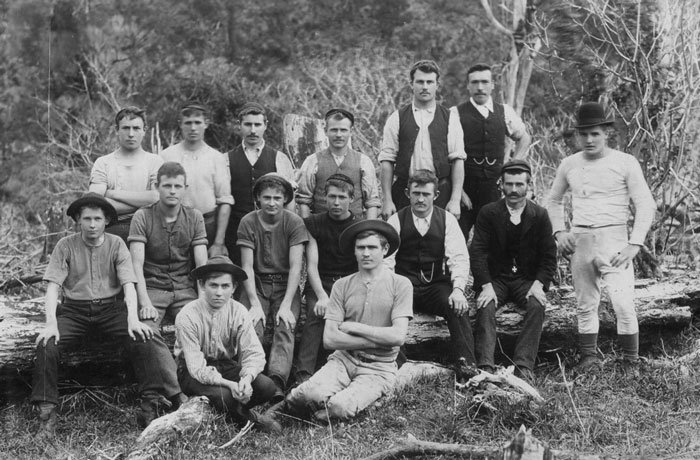 Below is another of the bush-felling groups that Vincent Meller worked with. This time he is second from left. If anyone is able to identify any of the other people in these three photographs, we would appreciate it if you would let us know.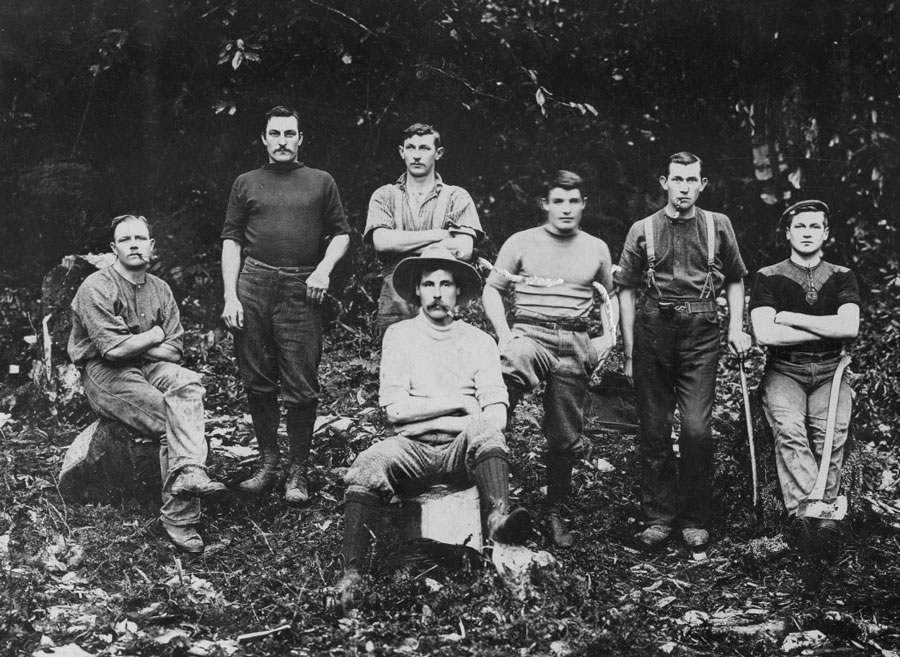 One group of bush-fellers made page two of the taranaki herald on 8 March 1887:
A party of contractors working on the Egmont Road have suffered a considerable amount of damage at the hands of some people who had passed by. The contractors, who are Polish settlers living several miles away, left for their homes on the Saturday afternoon, and on the following Monday found that somebody had slept in their tents on Saturday night, and had made free with the provisions. The hospitable Poles have no objection to their chattels being made use of in this way, but were much annoyed to find that the unbidden guests had destroyed what food they could not eat, and had torn up several books and scattered the leaves for miles along the road.2
From 1880 Poles started building on their own land. They bought—by auction—drawn lots on the Mount Taranaki (then Mount Egmont) side of Mountain Road (SH3). The English settlers had already taken up the cleared land on the other side, apparently confiscated by the New Zealand government after the Taranaki Wars. The English called the area between the road and the mountain "the German settlement," a term that riled the Poles. In Inglewood the locals renamed James Street "German Street," again not accepting the ethnicity of the Polish families living there. It later reverted to James Street.
"It was four lines on a map, solid bush, full of vines, water, swamps and no road to it."
"When land became available to the new settlers great-grandfather August Neustrowski bought a farm. It was four lines on a map, solid bush, full of vines, water, swamps and no road to it."
August's name appears in the October 1882 return of the freeholders of new zealand, compiled by the government's property tax department.3 The roll states that he was a labourer and living in Midhirst when he bought 85 acres in Taranaki, valued at £131. The same return shows two of his brothers-in-law, Anton and Thomas Potroz, each a "labourer of Midhirst," and each having purchased 41 acres valued at £81. The property tax commissioner, in his introduction to the roll, noted that on that date there were about 143,000 non-Maori men and 71,240 land owners in New Zealand.
"Individual property owners were the only ones who could vote at that time—this excluded most Maori. The Poles put a deposit on the land but they had no capital income, which is why they started contracting," said Ray.
The men in August's group all needed to save as well as earn enough for day-to-day expenses for themselves and their families before they could start spending time clearing the properties they bought in the vicinity of York, Rutland and Climie Roads south of Stratford.
"The Polish side close to the mountain was rougher and colder than the other side. It was mostly solid bush but there were some open spaces around the Norfolk Road because during the Taranaki Wars the Maori made refuge clearings to grow food away from the battle zones."
_______________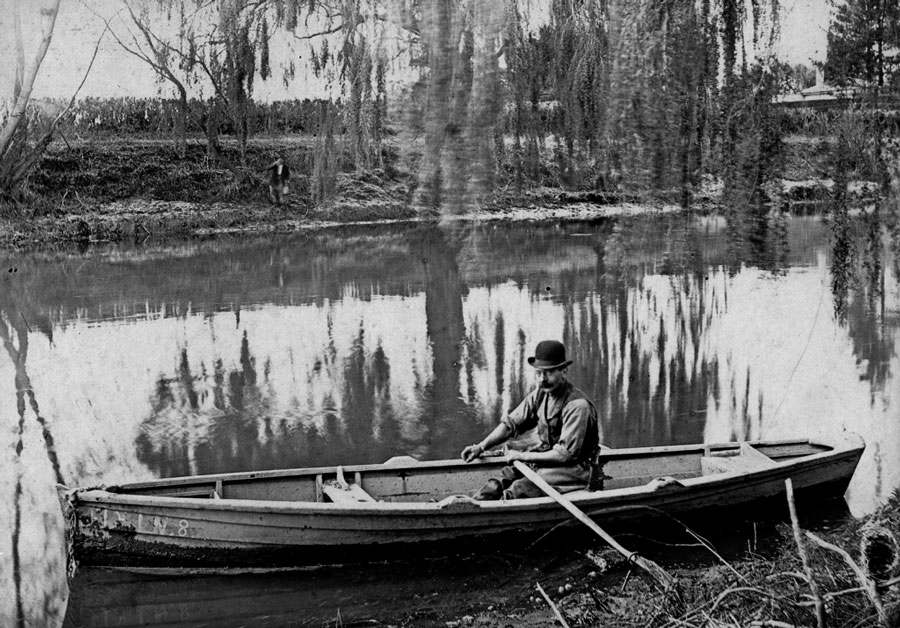 Joseph Watemburg, above cutting waterweed on the Avon river in Christchurch, was born as Józef in Rytel, near Chojnice in the same Kaszubian area as his wife, but on the western side of the Tuchola forest. He sailed on the friedeburg from Hamburg to Lyttleton in 1872 with his parents, Wojciech and Katarzyna, younger sister Marianna (Marysia), brother Franciszek, and about 90 other Kaszubian Poles. His parents' names are spelt Albrecht (Albert) and Catharina on the ship's manifest.
The friedeburg arrived in Canterbury at a time when labourers and domestic staff were in high demand. After working on the Banks Peninsula, stumping and collecting grass seed, Albert—with other Poles—took up the challenge of draining a swampy area north of the main settlement, then bought the improved land. The Poles established market gardens in Marshland that supplied much of Christchurch's vegetable needs, and specialised in onions.
By his late twenties Joseph had carved a comfortable livelihood for himself growing and selling his produce. Missing was a wife. The dearth of suitable women in Marshland led him to the largest Polish community in New Zealand at the time—800 kilometres away in the Inglewood area of Taranaki.
Alan Mulgan describes the route in his book from track to highway.4 Even in 1908 Christchurch was a 12-hour sea journey from Wellington, "the sea portion of the broken journey… apt to be highly uncomfortable." Joseph did the trip in 1896 or 1897.
… for Joseph Watemburg—oldest son—meeting and marrying Mariane Neustrowska was worth the time and effort.
Until a "steamer express" service was established several years after Joseph went looking for a bride, travelling "had been fairly arduous, and comparatively few New Zealanders went far unless they had to," wrote Mulgan.5 By whichever means and however long it took him, for Joseph Watemburg—oldest son—meeting and marrying Mariane Neustrowska was worth the time and effort. After his success several other young Polish Marshland men followed his example.
"In northern Poland it was customary to marry by arrangement, not for love but to improve your social status. I think grandfather must have had the mindset that it was time he got married, and to someone with a similar background."
Official marriage records show "Martha Newstrowski" married "Joseph James Watemburg" in 1897. The misspelling of Polish names continued after death. Mariane Watembach's Polish name is impossible to find in Waitara cemetery where she is buried. Her headstone says "Martha Watemburg" and her husband's "Joseph Watemburg." Her married surname seems to have fewer variations than her maiden name. During my research for this story I did not find one correct feminine version of Mariane's maiden name, Niestrowska. The fritz reuter passenger manifest, transcribed in Hamburg, spelt it Nietswowsky. Variations include Newstrowski, Nejstrowski, Neustnowski, Neustrewski, Neustroski, Neutroski, and Nesterowski.
_______________
Ray discovered his aunt Agnes on the St Joseph's School roll in Papanui, Marshland's neighbouring suburb, suggesting to him that Mariane was at first lonely in Marshlands and that Agnes had been sent by their parents as comfort for her sister, or help with the first pregnancies and babies.
"Grandmother told me she was sent out to service at 11 and became so homesick that she could not stay in one place for longer than six months."
Mariane told Ray that she worked for a family of bakers in New Plymouth and as a maid for mountaineer Arthur Ambury, who died on [then] Mount Egmont in 1918 while trying to rescue another man.
"She was taught to read and write English, and Catechism, by the Opunake Harbour Board engineer's Irish wife. Grandmother was their maid and did chores like feeding the chooks and cleaning the silver and pots and kettles. Her knowledge of the English language was adequate but limited because she had little access to schooling, but she always read the daily papers and magazines."
"… in Poland the Germans would only allow them to eat the meat of whatever died in the fields, or suspiciously."
When Martha arrived in Marshland as a new bride the initial draining and clearing of the land had been completed, the resulting soil ideal for crops such as onions, carrots and the garlic essential in Polish food preparation.
"In Poland they needed the garlic to kill off harmful bacteria before they smoked their meat. The first comment that great-grandfather [August Neustrowski] apparently made about eating meat in New Zealand was how wonderful it was fresh. In Poland the Germans would only allow them to eat the meat of whatever died in the fields, or suspiciously. There was no fresh meat for Poles."
At least four Watemburg children attended Christchurch's Yaldhurst School at the same time.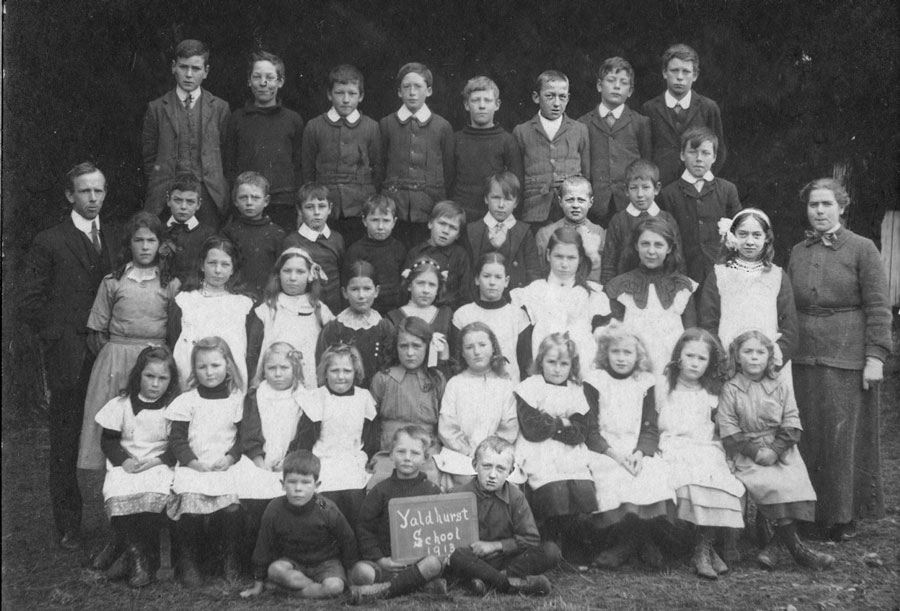 In this 1913 school photograph, Albert is in the back row, third from right. Leo is in the row below also third from right. Vera is standing in front of the teacher in the third row and William sits on the right in the front. Beatrice had by then moved to the Catholic college in Barbadoes Street. Alfred enrolled in 1914.
the press newspaper in Christchurch described Joseph in 1915 as "a farmer, who lived at Yaldhurst Road." 6 Beatrice and Vera joined Yaldhurst School in late 1910, implying that date coincided with a family move from their Marshlands farm.
_______________
This Neustrowski family photograph below, taken in 1914, shows that Martha continued to visit her parents in Taranaki. It was taken as a memento before her brothers, Joseph (Joe) and Paul, joined the New Zealand Expeditionary Force in World War I.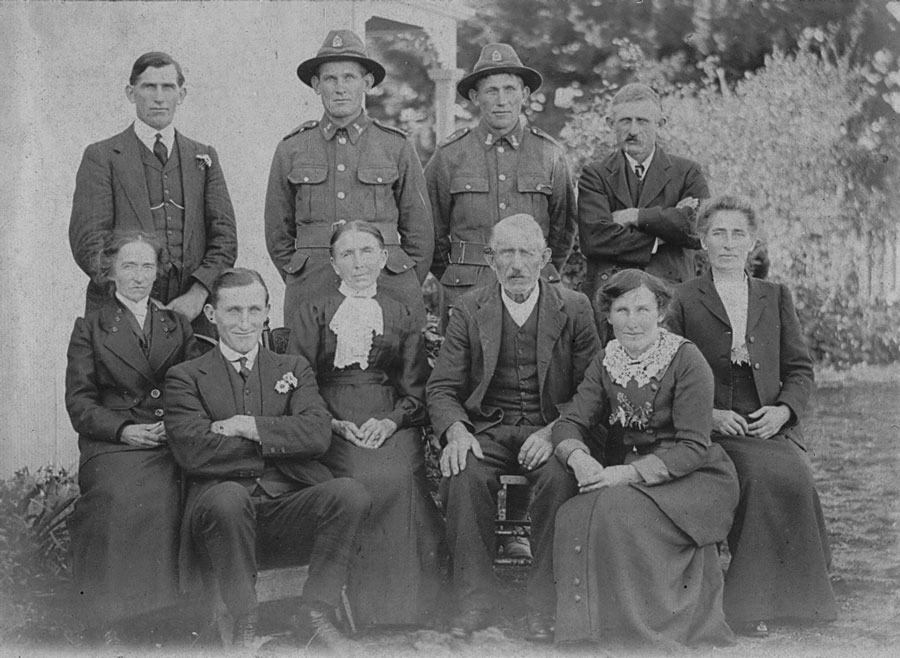 Seated from left is Martha, brother Isadore (Sid), her mother and father, sister Apolonia (Polly), who married Ben Dombrowski, and Agnes, who married Herman Schultz. Standing from left is Ben, Joe, Paul and John.
Ben took over the family farm in York Road, Stratford, after John's wife, Vera, died and the farm's cows developed milk fever. The siblings joined for another family photograph at Polly and Ben's 50th wedding anniverary celebrations.
Sitting from left is Agnes Schultz, Martha Watemburg and Jack Neustrowski. Standing immediately behind them is Polly Dombrowski and Ben Neustrowski. In the background looking at the camera is Joe Schultz, Agnes and Herman Shultz's only son, and a neighbour of Polly and Ben.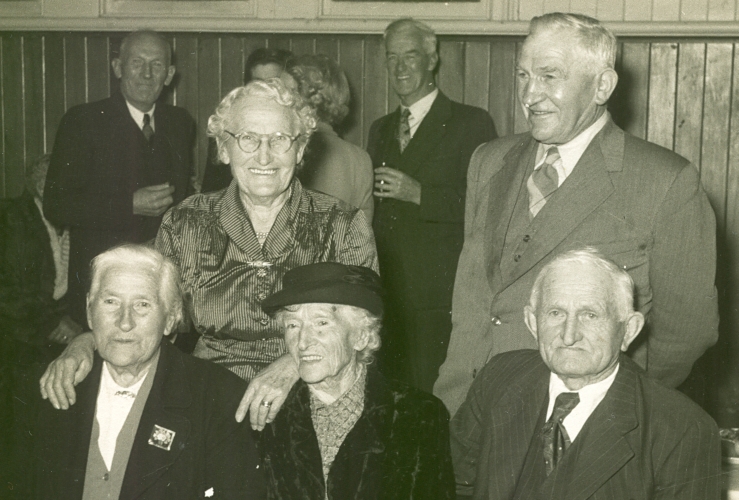 _______________
Christchurch's tram horses munched through their fair share of Joseph's carrot crop. Their stables at the Riccarton Race Course on Yaldhurst Road would have made them among the more convenient of Joseph's regular customers. Did Joseph have a contented swing to his walk as he made a delivery to the stables late on Saturday 13 March 1915? Or was he feeling the pressure of providing for his family? All we know is that as he approached the stables he had a heart attack and died immediately. He was 47.
the press said Joseph was last seen alive at 6.30pm and his body found on the racecourse at 2.30pm on Sunday, the official date of his death. All 11 New Zealand newspapers running the story said, incorrectly, that he was 53.
The new widow should have had the support of Joseph's mother, known as a "kindly woman always walking around Christchurch with bags of fruit and vegetables for people who did not have enough." But Katarzyna (Catherine) was still mourning her own husband, Albert, who died in 1908, aged 65, and her eldest son's sudden death became more than she could bear. At Joseph's funeral she threw herself on his lowered coffin and died 12 days after, aged 72. Joseph does share a grave—with Olive, his and Martha's daughter, born between William and Leo, and who died at seven months in 1908.7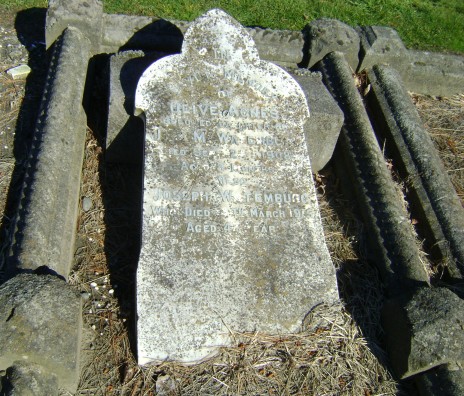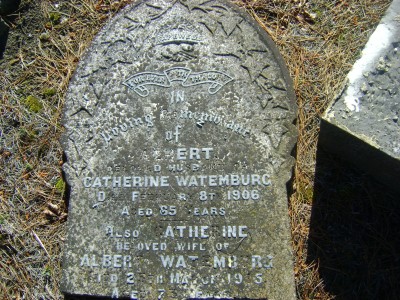 The 2011 earthquakes toppled their headstones but did not destroy them completely. These images of the graves (Joseph's and Olive's, top, and Albert's and Catherine's, below) are courtesy of the Friends of Linwood cemetery.8
Although there was support from other Polish families in Marshland, Martha knew she would not be able to carry on her husband's business. An exodus of Watemburg children from regular schooling during 1915 reflects the crevasse their father's death created.
Beatrice was then 16 and Alfred, six. School records show that Vera left Yaldhurst on 18 June 1915 to go into "domestic service." Beatrice did the same. The older girls suddenly needed to earn.
Albert Watemburg, aged 13, could be trusted to travel the 15 kilometres from Marshland to Yaldhurst, where he finished off his final school term in November 1915, but his younger brothers transferred to Marshlands School on 22 September, confirming Ray's belief that Martha organised the family in conjunction with school terms.
"The war disrupted legal practices and, with men away, slowed property sales. Shipping services, while regular, were weeks apart so she would have waited a good while between the sale of her property and receiving the money."
Martha eventually moved in with her cousin, Martha Szymanska (née Dodunska) and her husband, Albert, living in Marshland. This explains the younger boys' move to Marshlands School and Albert named as their guardian on their school admittance forms.
(Ray remembers stories of how his Aunt Vera created excitement in the family when she worked as a telephone-exchange operator at Wigram Air Force base. Sir Charles Kingsford-Smith, after making the first trans-Tasman flight from Sydney to Christchurch in September 1928, took her up in his aeroplane.)
Joseph had two surviving brothers, Frank (Franciszek) and John, both childless, and two married sisters, Mary Le Vavaseur (Marianna) and Annie (Anna) Kavanagh, in Christchurch. Below on the left is a studio photograph of Mary with son, John Joseph, and daughter, Kathleen May, taken around 1906 in Christchurch. On the right is a photograph of Annie with her husband Jack (John) and children, Margaret Catherine and John junior. The young man about to leave with the New Zealand Expeditionary Force in World War I is Ivan Antunovic, a friend of the family, who married Annie's niece Beatrice Watemburg in 1919. (See Mary le Vavaseur's story of her wedding in the marshlands section of this page.)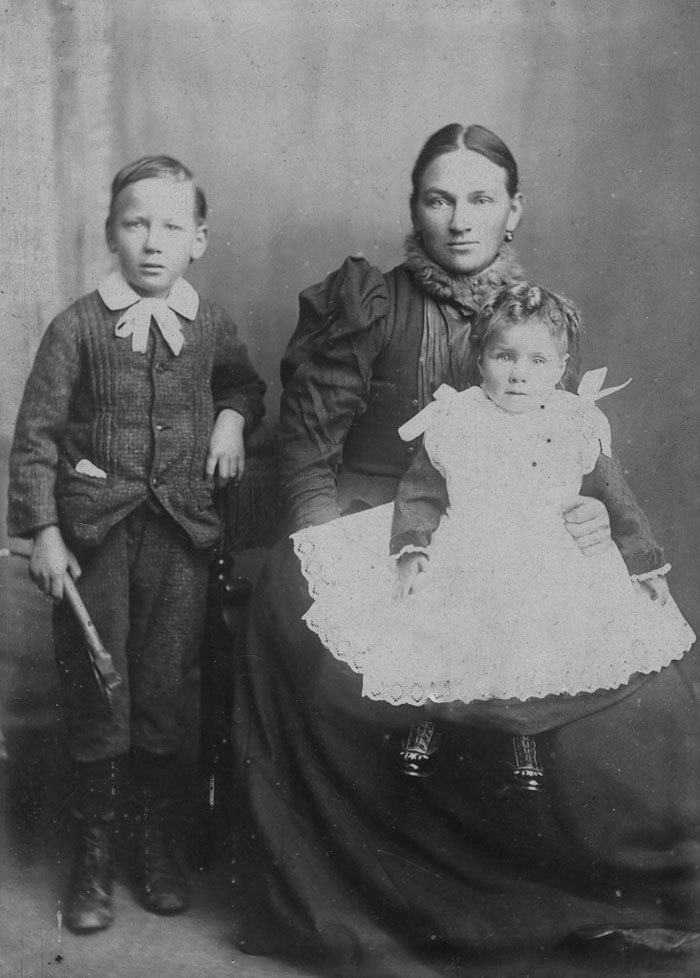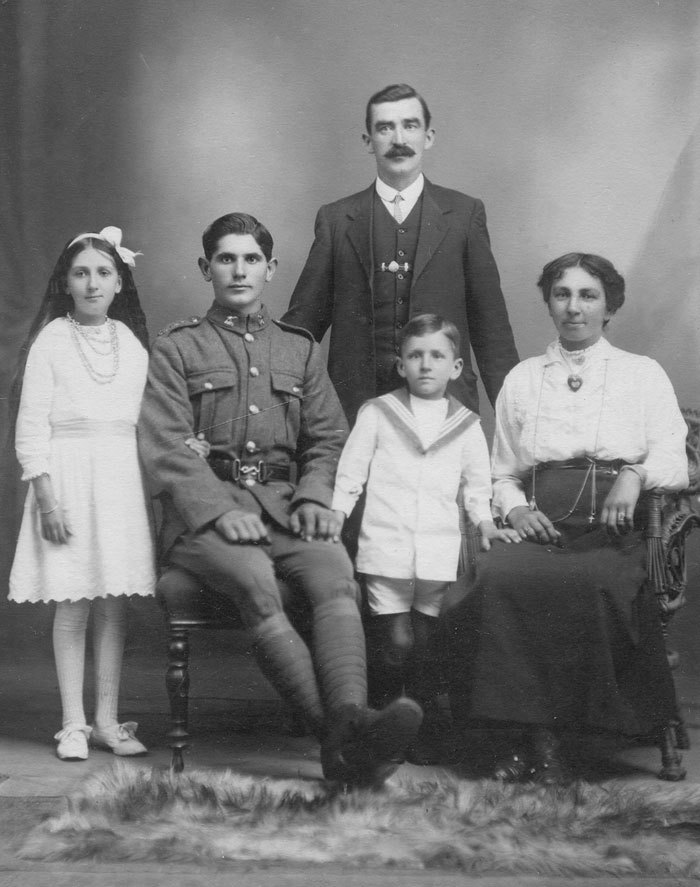 With the Watemburg aunts and uncles, and Szymanski cousins in Marshland, Martha left her daughters in Christchurch knowing they had family support. She gathered up her sons and moved back to Taranaki and her Neustrowski roots.
She bought a house in Waitara near her parents and maternal aunt and uncle, Mary (née Zimmerman) and Anton Potroz, who had all retired and lived next door to one another in Waitara's Queen Street. Anton, Mary and 18-month-old Jakub voyaged with the Neustrowski family on fritz reuter in 1876. At the time Martha's sister Agnes lived in Kawhia but the rest of her siblings were still in the Taranaki area.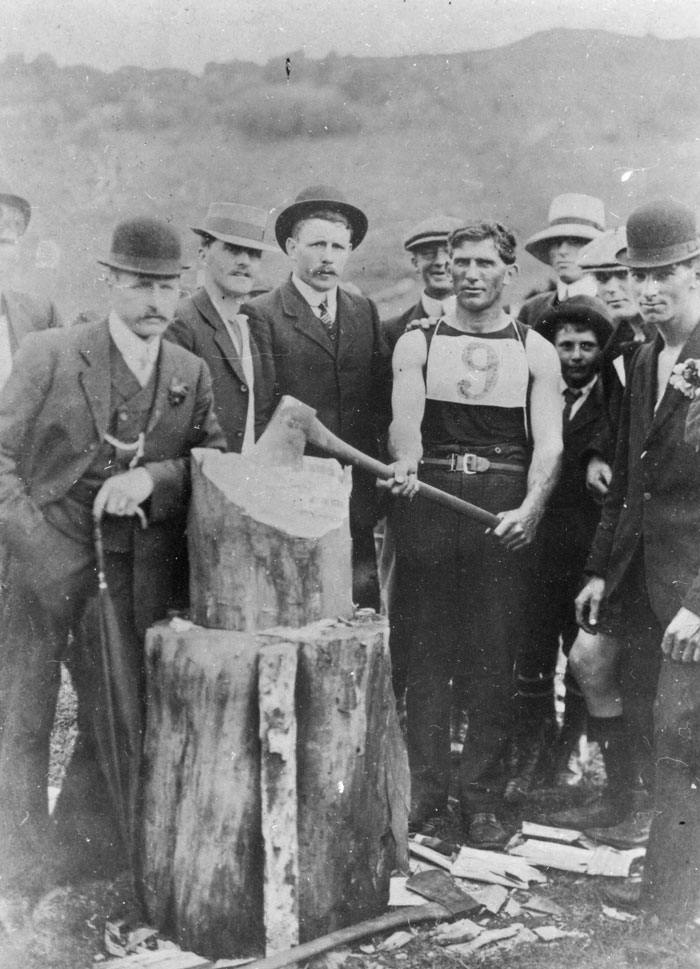 Martha knew how to start again. She had seen her parents and other Polish families carve farms from the sub-tropical Taranaki rain forest. Perhaps she felt her brothers had the ability to guide her four fatherless sons? By then both Ben and Joe had reputations as competitive axemen.
Nearby Eltham's "Axemen's Carnival" was in its fifth year in 1905. According to an advertisement in the taranaki herald on 16 November, the Axemen's Cup offered a prize of £140. Of the three New Zealand championships Ben—pictured here— won the most prominent, the "18-inch Underhand World's Championship."
Joe Neustrowski entered the 24-inch championship, and lost… until a Polish neighbour, August Voltzke (Wolski, Volsky, Voltske) had the photograph below developed. (August and Maria Voltzke and their infant daughter Augusta had shared the Neustrowski's fritz reuter journey.)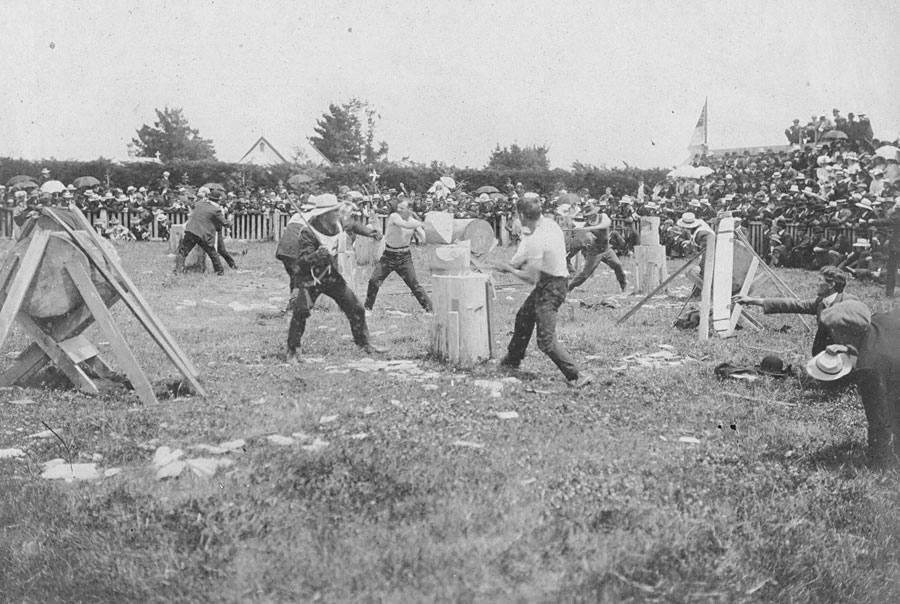 "He set up the camera so that he would have a panoramic view of his neighbours taking part. There was great-uncle's block on the ground and the Englishman who was declared the winner was still chopping. Voltzke went to the judges with his incriminating evidence. Joe apparently said, 'What am I going to do with a silver trophy standing on my shelf when I'm out chopping trees most of the day? I'll take the money,' the equivalent of about seven weeks' wages. So he took the purse and the Englishman had the honours."
Joe and Ben continued competing but Joe had to stop after a shoulder injury he acquired during combat in World War I.
_______________
Martha, with four boys aged between 13 and six years, bought a two-roomed house near the beach and ford that used to cross the Waitara river. The core of the building was a former butcher shop that used to supply meat for the British military during the Taranaki Wars.
"They were slaughtering stolen Maori cattle to feed their troops in what became her living room. Mr Kibby, who owned the furniture shop, wanted to build a house on the section so he put the [butcher's] room on rollers and moved it next door. Somebody added another room on the end, a veranda along the front and a stained-glass front door. Some years later my father and his brothers built two large bedrooms on the front and a short passage." Once her sons left home Martha rented out the house, below, and moved to Leo's farm.
Ray remembers stories of his father's first job. The Waitara Freezing Works needed young boys to push the carts of frozen sheep and lamb carcasses, wrapped in stockingnet, down to a wharf where they were loaded onto a lighter and towed out to a waiting refrigerated ship.
"The whistle would blow for the men to go to work and start but they sent a runner to get my father, uncle Alf, and some other small boys who then had the job of pushing these carts onto the wharf. A man would unload them onto the lighter, they would push them back up to the freezer door and this would go on while the home boat waited to be loaded. They used to get a tiny amount of money, and I don't know whether they got any free or cheap meat, but the boy who used to round up Dad and the other lads told me in his old age that Dad was one of those he came to get. I don't think too much schooling was done."
Her own lack of schooling may have been a sore point for his grandmother. Ray was about 10 years old when he asked her to teach him some Polish.
"She snapped back at me and said that I should ask my dad. It turned out that when she tried to teach the boys after their father died, they misbehaved and wouldn't learn."
Perhaps Martha and other immigrant Poles should have made more of an effort to preserve their mother tongue? Perhaps teaching her children the nuances of the Polish language after her husband died was an avenue—or an argument—for which she did not have the energy at that low point in her life? We do know that, as a widowed mother and grandmother, Martha instilled a sense of Polishness to her children and grandchildren—despite her lack of formal education.
William, born in 1906, was caught growing up and needing to earn a living in the period of economic uncertainty in New Zealand after World War I, exacerbated by the mass unemployment following the New York stock exchange crash of 1929 and the Great Depression.
"One of the things about the Depression was that it broke up families and sent people looking to make a living wherever they could. When Albert couldn't make enough of an income in Kawhia he went gold mining down the West Coast of the South Island, inland from Greymouth at a place called Kaimata, near Lake Brunner. Dad and Ben Dombrowski's son, Laurie (Laurence), were looking for jobs and agreed to meet Albert in Collingwood in Golden Bay so they went gold mining there.
"When there wasn't enough gold in the Collingwood area, they moved down the West Coast and stayed down there until about 1936 when Dad and Laurie came back to Taranaki to the Patea Freezing Works. They were both working there when Dad met my mother and got engaged. Laurie was married by then and came up to Waitara too. He married Helen Margery Reeves and she was known as Aunty Marg to us. They bought a house on the corner of Mouatt and Richmond Streets, had 12 children and they all became a part of our lives. (Laurie's father is listed as "Combrowski" and Laurie (Laurence Bernard) as "Dombroski" in marriage records.)
"Grandmother leased a bit of extra land so she could keep a cow and a pig. She made her own butter. I don't know whether she made cheese but always she made Polish yoghurt. I remember it sitting on her bench in the sun or in the warmth when I was a kid and she would simply have it covered and ate her yoghurt every day.
"She had a very intense spiritual life in her old age. She would walk the mile or so to the old church in town for Mass every morning and on her way back buy a loaf of bread if she needed one. At her gate she had an old flax kete (a Maori woven basket) and she'd pick that up and walk to the beach, or the bay as she called it, and pick up fine sticks of driftwood that had washed down with the floods so she could light her fire without having to chop kindling."
Mariane died at 91, a feisty Pole to the end.
Ray has fond memories of her. He could not influence the erroneous spellings of his family names but he has made sure his reverted to the original Watembach.
"It was the least I could do."
© Barbara Scrivens, 2015
Updated April 2017
UNLESS OTHERWISE STATED, ALL PHOTOGRAPHS FROM THE WATEMBACH COLLECTION.
THANKS TO THE NORTH AUCKLAND RESEARCH CENTRE IN THE TAKAPUNA LIBRARY FOR THE LOAN OF AUDIO RECORDING EQUIPMENT.
ENDNOTES:
1 - Ray found that in early Polish Catholic church records, this family's name appears as "Meller." A later marriage record has the germanised spelling Müller. The family, from Kokoschken (now Kokoszkowy) arrived in New Zealand on the

fritz reuter

.
2 - Taranaki Herald,  8 March 1887, RESIDENT MAGISTRATE'S COURT, through the Alexander Turnbull Library, Wellington, New Zealand:
http://natlib.govt.nz/records/8833298.
3 - A copy of this return is available on CD from the New Zealand Society of Genealogists:
https://www.genealogy.org.nz.
4 - Mulgan, Alan, From Track to Highway, A Short History of New Zealand,  Witcombe & Tombs Ltd, Wellington 1944, page 94.
5 - Ibid.
6 - The Press, issue 15227, 15 March 1915, page 8, CASUALTIES, FARMER'S SUDDEN DEATH, Papers Past, through the National Library of New Zealand.
7 - These deaths confirmed through the New Zealand department of Internal Affairs website:
http://www.dia.govt.nz/Births-deaths-and-marriages.
8 - The Linwood Cemetery is on Butterfield Avenue in Linwood, Christchurch. Images by Brian Dickson.
The

friends of linwood cemetery

is a charitable trust whose members have, since 1999, been restoring the headstones and gravesites damaged by vandalism, prior neglect, and more recently the earthquakes:
www.linwoodcemetery.org.