Władysław Piotrkowski
This story is the result of several interviews I conducted with Władysław Piotrkowski between September and November 2014 at his home in Lower Hutt. With us was Pan Władysław's wife, Anna, who I interviewed for a separate story (see pahiatua stories).

I first met them in March 2014 and was struck by their quiet courage and dignity. I was unsure whether they would agree to share some of their personal recollections of their journeys from eastern Poland to New Zealand. Pan Władysław said that the history had already been written. I agreed that versions of their history had already been published but believed each person's story was as important as any other.

It has been a privilege to spend time with Pan Władysław and Pani Anna. Their home is one of typical Polish hospitality and while sharing meals at their kitchen table I knew that my babcia, a professional cook, was smiling down at us. The Piotrkowski hospitality never wavered, even as Pan Władysław's health deteriorated. His pain did not dull his wicked sense of humour. In this updated version of his story I have had to change some present tenses to past. Pan Władysław died peacefully on 1 February 2015 at his home and with his family.

This account is written within the context of what happened to Poles in eastern Poland after the invasion of Russia on 17 September 1939 and the subsequent forced removal of an estimated 1,700,000 Polish people to prisons and forced labour facilities in the USSR. Specific historical dates are available in the military timeline section of this page.

I am grateful for the time I spent with Pan Władysław and know that he is missed. His presence remains.
—Basia Scrivens
LUCKY MAN
by Barbara Scrivens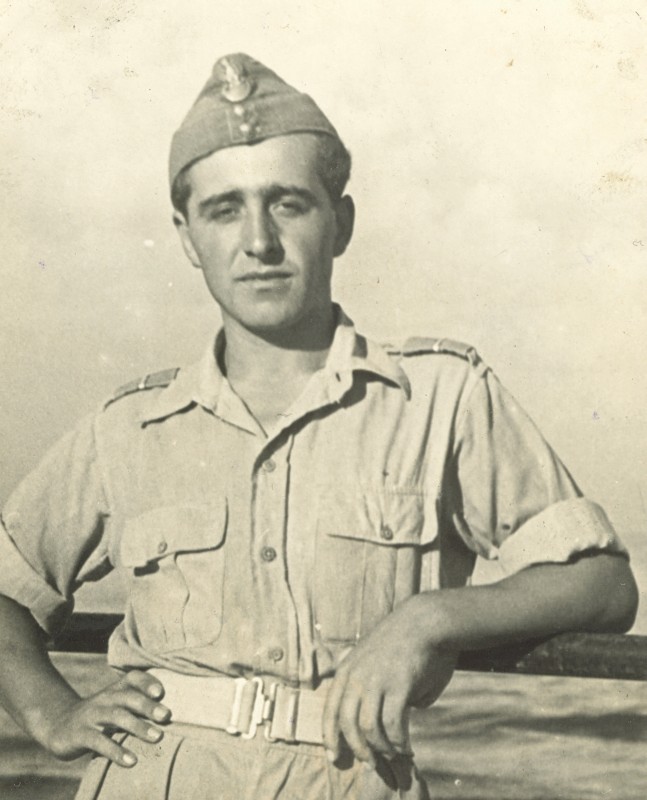 Daring to relax and enjoy the Italian sunshine on Monte Cassino in May 1944 cost two young Polish soldiers their lives.
Five had been sitting on their soil bag reinforcements, appreciating the quiet after a series of skirmishes one afternoon. The German machine gunners responsible for the deaths also wounded two others—one so badly he could not return to active service.
Twenty-year-old Władysław Piotrkowski walked away dazed but unscathed.
They had earlier filled the soil bags and built them into protective 'walls' for their mortars. As they waited for their next orders, "Suddenly the Germans were firing in front of us, maybe about 100 metres away, maybe not even that, maybe even 50 metres…"
It was a lesson on never dropping one's guard on the battlefield—and the first of several escapes for Władysław in Italy. Others in his unit considered him lucky and by the end of the Italian campaign Władysław believed it himself.
"I came through it without even a scratch. Once, my helmet was hit with a piece of shrapnel but it didn't go through. There was just a hole. A radio operator, who [later in the campaign] passed on my messages about where to fire, said he'd dig the trenches for us both as long as he could be with me. I thought, 'Maybe I am the lucky one and maybe he is not…' but we both got through."
Joint forces from America, France, Britain, Canada, India and New Zealand had failed to dislodge the Germans before the British Eighth Army gave the II Polish Army Corps the go-ahead.
The hillside below the ruins of the Monte Cassino monastery became familiar to the soldiers of the II Polish Army Corps' 3rd Carpathian Rifle Division as they fought German formations—including their elite 1st Parachute Division—for possession of the hill and monastery.
By holding the elevated and strategically significant Monte Cassino, the Germans prevented the Allies from heading north towards Rome. It formed part of the so-called Gustav Line, which ran from the Tyrrhenian Sea to the Adriatic following the rivers Garigliano, Rapido and Sangro.
The Germans had thwarted three previous Allied attempts to gain control of the hill. Joint forces from America, France, Britain, Canada, India and New Zealand had failed to dislodge the Germans before the British Eighth Army gave the II Polish Army Corps the go-ahead.
The battles for possession of Monte Cassino began in January 1944 with American and French troops retreating after severe losses. Faulty Allied intelligence assumed the Germans were using the monastery buildings as a base. In February 1944 the Allies bombed the monastery and its resident monks, guilty of sheltering only tenant farmers and their families. The surviving monks and civilians evacuated and the Germans moved up the hill to make full use of the ruins' perfect cover.
Polish military command, led by Lieutenant-General Władysław Anders, had learnt from the unsuccessful Allied attempts that assaulting the monastery directly would not work: They needed a more cunning tactic if they expected to capture the high ground behind the ruins, link with the British forces in the valley below and isolate the Germans in their perch. This meant securing the hill known as 593.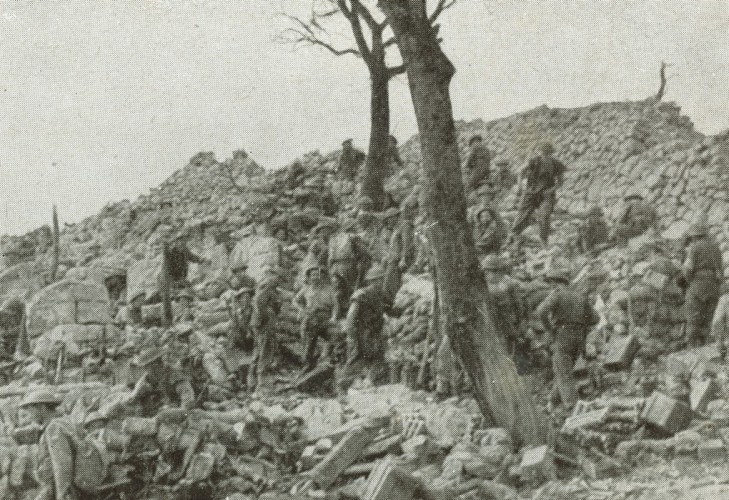 Hill 593 appears in the photographic publication 3 dywizja strzelców karpackich w italii (3 Carpathian Rifle Brigade in Italy) published in April 1945.1
The II Polish Army Corps was transferred to the Monte Cassino sector between 8 and 17 April 1944. Together with the 5th (Kresy) Division, the 3rd Carpathian Rifle Division had orders to capture Hills 593 and 569 via the area of the Albaneta farm, from where the Poles mounted their attack. With other Allies in adjacent positions surrounding the hill, the Poles went into the fourth battle for Monte Cassino at nightfall on 11 May 1944 and remained until the hill and the monastery were "cleared of the enemy" on 18 May.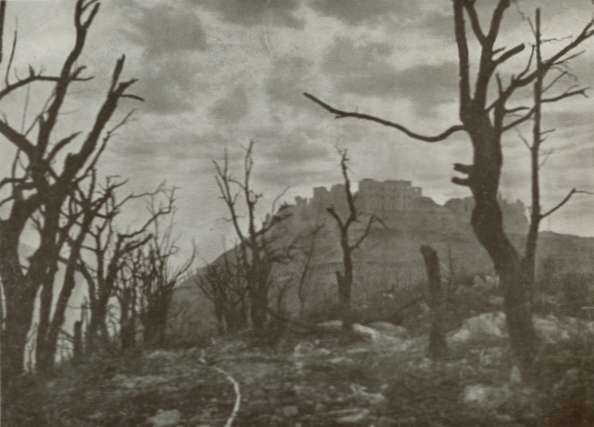 The ruins of Monte Cassino seen from Hills 593 and 569.2
Władysław was in the 3rd Carpathian Field Artillery Regiment's Fourth Company, a heavy machine gun unit that converted to heavy mortars. During his first battle at Monte Cassino, he did not fully comprehend the reality.
"I thought it was an exercise. Well, when you were training you were firing just like that and we did it so often that when I was attached to the infantry I thought it was just another exercise." He shook his head at being "young and stupid" but soon learnt ways to stay alive.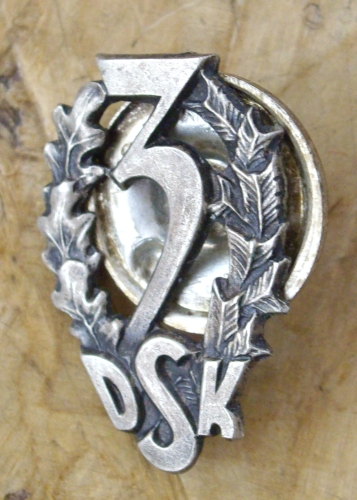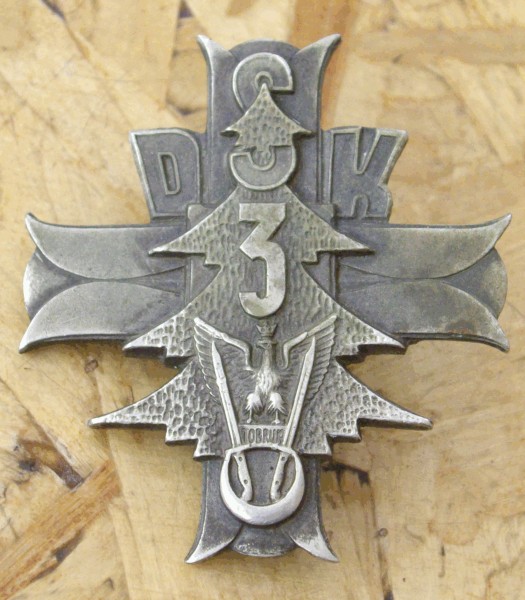 Two of Władysław's army badges. The distinctive Christmas tree integral to the division's insignia represents the pine forests of the Carpathian Mountains that run along southern Poland.
The Germans' elevated position meant they easily saw their attackers over the battle-desolated terrain. By day the Polish soldiers tried to camouflage themselves but, after given the job of directing fire, Władysław seldom joined them. Through his binoculars, he constantly watched for signs of life from the German side. When he saw it—depending on the situation—he instructed his radio operator to send a message to his superiors, or the men behind the mortars. Firing at the enemy meant giving away the mortar's position so quick movement became essential.
"When they're firing, you can see where they are coming from and you make no movement because they can't see you in the dark."
"The artillery opens fire, the mortars open fire, you go on the attack but the Germans were waiting for you, they shoot but you jump and you dive and so it goes on and on and soon you are mixing with bodies. Before the attack there were so many men and afterwards you see that this one has been killed, that one has been killed, that one is sent to the hospital and so on…"
Ambulances taking away the injured were not meant to be fired at—until each side realised the other was also using their medical vehicles for transporting ammunition.
Ammunition, food, and water supplies usually arrived under cover of darkness but that darkness could not be guaranteed.
"From four or five kilometres away, the Germans would send up rockets that would light up everything and you know that as soon as the rockets dull, you run. When they're firing, you can see where they are coming from and you make no movement because they can't see you in the dark. You soon learn when you can move and particularly how to preserve your life."
_______________
By the time the Poles arrived at Monte Cassino the Italian population had long-vanished. Władysław, a farmer's son, saw signs that stock had recently grazed on the flatter areas within the hills surrounding the monastery. Amid the detritus of previous campaigns, Władysław saw burnt tree stumps in orchard formation, abandoned farmhouses and even the remains of potato crops.
Front-line troops like Władysław became adept at creating a relatively safe place to rest, if not sleep, during protracted battles. It depended on their positions and the kind of cover available. Sometimes it meant digging into the hill. Sometimes one side gave protection and the other had to be constructed. Soldiers filled special bags with any available soil and rocks, building fortifications for their "divisional assets" first, then for themselves.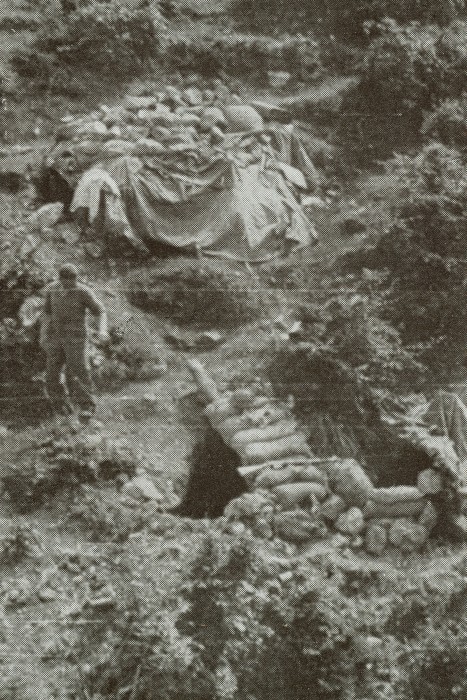 An example of the type of shelters the soldiers built. It is part of another photograph that appears in the 3rd Carpathian album, of the dug outs made by the Polish Lancers at Sant' Onofrio, between the monastery and Hill 593.3
One night Władysław and his companions, sleeping in such a two-roomed bunker, "woke with so much noise… the German's artillery exploded on the other side [of the soil bag wall]. It missed a direct hit on our mortar… [which] was still useable" but another metre and it would have been us in our sleeping quarter."
"Sometimes when we went on the attack—like in Bologna—we didn't even have the bags. Quite often we were in the field with nothing for shelter, not even trees."
The Germans called Monte Cassino "The Gate of Rome." The Poles smashed it open on 18 May 1944. By then most of the surviving Germans had retreated north to the Hitler Line, apparently leaving about 30 wounded soldiers defending the monastery.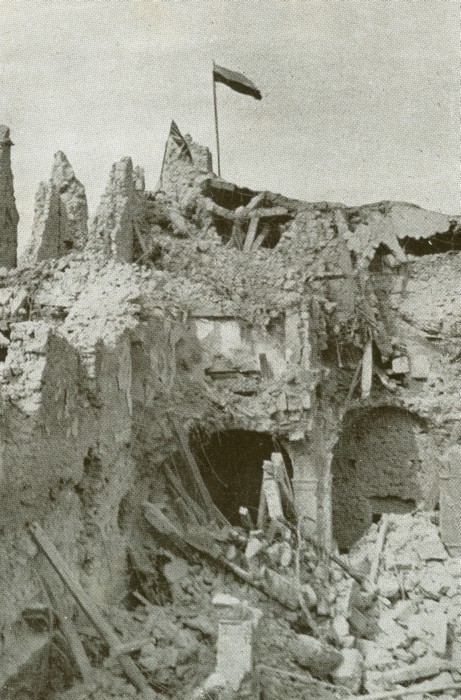 The Polish 12th Lancers temporarily hoisted one of their pennants over the monastery ruins until someone found a Polish flag that, according to General Anders, was raised at 10.20am. An hour later, General Oliver Leese, commander of the Eighth Army, arrived at General Anders' headquarters "and was the first to express his appreciation of the Polish achievement." 4 Soon afterwards the British Union flag flew beside the Polish one.5
What is believed to be that 12th Lancers pennant now resides at the Dom Polski (Polish House) in Newtown, Wellington. A story with a photograph in the evening post in May 1969 explains how it was found by a New Zealander, a divisional postal unit member attached to the British Fifth Army. As the man, AE Curry, and a friend walked through the ruins shortly after they had been captured he found and picked up the pennant, which he said was still attached to its shattered flagpole. The flag lay in a drawer until Curry re-discovered it and presented it to the Stowarzyszenie Polskich Kombatantów  (Association of Polish Combatants) in Wellington.
After Monte Cassino there were still many more confrontations with the Germans as they retreated, first behind the Hitler Line, then farther north in Italy. They left behind blown-up bridges and mined roads, river edges, and fords. The II Polish Army Corps 'Theatre of Operations' after Monte Cassino and Piedemonte included pushing through the Gustav-Hitler line; the battle for Ancona, where they acted as rearguard for the Eighth British Army; action in the northern Apennines and the Seino river; and their final battle for Bologna and the Lombardy Plain.
Władysław's conduct in battle at Bologna earned him the krzyż walecznych (Cross of Valour).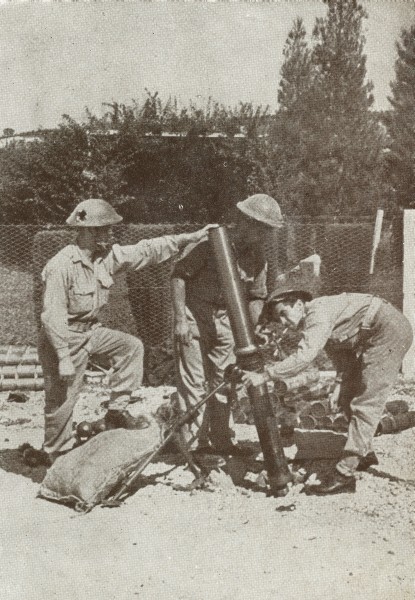 This photograph of Wladysław, far right, appears in the 3rd Carpathian photographic collection's nad adriatykiem section and taken in action as he set the distance on the 4.2-inch mortar.6
By then, the II Polish Army Corps had pursued the Germans up the Adriatic coast and crossed the Chienti river near Civitanova Marche. Positioned two or three kilometres from Loreto, Władysław remembered the incident. He had noticed a German boat escaping between the rocks offshore Ancona and directed the mortar fire towards it.
"Mortars aren't as precise as anti-tank guns and we didn't manage to hit it but the anti-tank unit noticed where we were firing, shot two shells, and sank the boat."
It was the last time Władysław shot mortars. After that, his job was to direct fire.
_______________
Fighting the Germans in Italy was not what Władysław envisaged when he joined Nisko military school in 1939.
His father, Jan, had been living in America when he volunteered for the French forces during World War I and gained several medals and promotions. After Polish independence in 1918 Jan Piotrkowski fought the Bolsheviks in the 1919–1920 Polish-Soviet War and received the wojenny virtuti militari (Cross of Military Virtue). He joined the permanent Polish forces and employed a manager to care for the land the Polish government granted him after the eastern Polish-Soviet borders were ratified in the 1921 Treaty of Riga. Jan's failing health eventually forced him to retire to that land—in Bajonówka, about 12 kilometres from Równe in eastern Poland.
Władysław's maternal grandfather, living in Russian-partitioned Poland but refusing to bow to Russian rule before Polish independence in 1918, received two sentences of banishment to Siberia with his family, the last time when Władysław's mother, Zofia, was 11 or 12.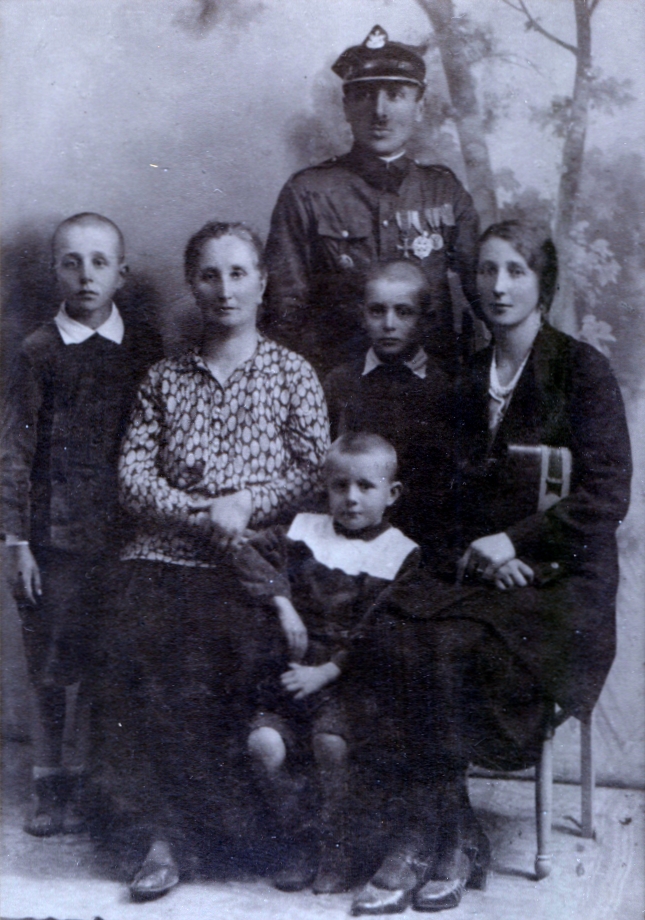 This Piotrkowski family photograph was taken around 1930. Władysław, the eldest, is on the left next to his maternal grandmother. His mother, Zofia (née Tyszka), is on the right. Jerzy, about two years younger than Władysław, is in front of his father, Jan, and Zbigniew, five years younger, is in front. There was a 14-year gap between Władysław and his sister, Maria, not yet born.
The family's Bajonówka farm was typical of the area—self-sufficient and included an orchard.
"When war broke out the [Nisko] school dismissed us because we were too young. The older boys were ordered to the army to fight but because I was 16, I was sent home."
Władysław returned to an uneasy life under Russian occupation on the Soviet side of the boundary that Hitler and Stalin gerrymandered seven days before the German invasion of Poland on 1 September 1939. Once the Soviets invaded Poland on 17 September 1939, all schooling in the area stopped. As the Russians emptied Polish shops and gave Ukrainians power to seize Polish goods, local farmers had little incentive to continue working their land or harvesting crops.
Władysław remembered that after the Russian invasion the family stayed with his father's sister in Równe for "two or three months." Soon afterwards his father and Jerzy escaped westwards with the intention of finding the Polish army. The strain of living on the farm without them escalated for the remaining family members when, in the early hours of 10 February 1940, knocks at the door revealed a Russian NKVD officer accompanied by six Ukrainian militia with red bands around their arms.
"They made us hurry up and get dressed and said we should put some things in our suitcases or whatever else we had to carry. That was it—we left everything else behind."
The unwelcome visitors led the fatherless family away at gunpoint and bundled them into a sled. Władysław did not recognise any of the Ukrainians but identified the Russian through his inability to speak Polish. He found out later that hundreds of local Ukrainians accompanied NKVD officers from house to house in Polish villages, rounding up families.
Władysław's paternal grandmother lived in the original farmhouse when Jan built a new one. Whether the Ukrainians and NKVD officer did not know of the other people on the property, or whether they did not see the other dwelling, they did not approach it. His grandmother and her visiting daughter both remained in Poland during the war.
Władysław became aware of the scale of the Soviet operation when he saw the numbers gathered at Szepetówka railway station, about 70 kilometres from Równe and 40 kilometres inside the USSR boundary. The railway hub was one of the stations used to re-adjust the trains for the wider Russian tracks.
The trains eventually disgorged nearly 4,000 Poles into the same forced-labour facility as the Piotrkowski family, deep in the taiga forest.
_______________
"… the more you cut, the more you got paid… If you had money, you could get something to eat. If not, too bad…"
"In not quite two years, there were about 1,300 of us left. They died mainly from hunger. Every day you see horses pulling carriages taking coffins to the cemetery, 12, 15, 20… every day."
Władysław remembered the coffins as "ordinary but professionally built" from timber planks produced at the facility's mill. The corpses had the dignity of coverage for their final journey but not for burial.
"A coffin was emptied and came back for another person and another person…"
Life in the facility became a basic distillation: One worked, one was paid according to how much of the designated quota one achieved.
The Soviets lived by quotas and the NKVD commandants of the forced-labour facilities needed all the labour they could get to achieve their own numbers. Stalin's latest Five-Year plan included completion of the vast railway network needed to support on-going industrial growth throughout the USSR. The facility holding Władysław, his mother, brother and baby sister, Maria, supplied timber for the railway and army. At 17, and the only provider for his family, Władysław worked as hard as he could to get maximum payment.
"They came around to check how much you had cut and the more you cut, the more you got paid. Not very much pay, but you could buy bread from the shop, or a meal in a type of restaurant they had. If you had money, you could get something to eat. If not, too bad…"
Władysław's conscientiousness and eye for being able to pick out the best trees to cut caught the eye of a Polish supervisor and former forester who offered him a job marking trees for optimal use.
"I was cutting the trees, and learnt what was inside them, and knew which one was good for firewood only, and which one was good for guns, or plywood. You come to a tree and you look at it, see what the bark is like, how many of the branches are dry… when you have to work and survive for your life, you learn quickly, very quickly."
The Polish forester who gave him the job marking trees said Władysław needed someone to carry the ink and a plane with which to make the markings. Władysław chose 12-year-old Zbigniew.
"I would come to a tree and decide it would produce, say, three metres for guns and five metres for plywood and Zbyszek would paint the notice on it."
The turn of fortune gave the brothers the opportunity to travel to nearby villages and overnight in Russian homes.
"We would take something with us that they couldn't get from their shops and they would feed us and give us potatoes, meat or milk to take back with us. We were very lucky."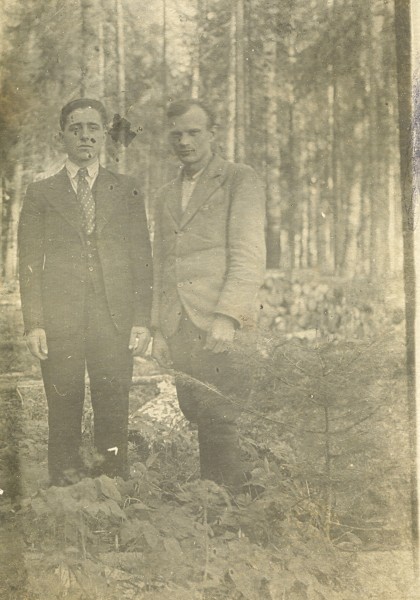 Władysław (left) with a friend at the edge of the forest surrounding their forced-labour facility. Władysław believed the photograph was taken soon before they left because neither is dressed in work-wear.
When he was identifying the trees to be cut in summer, Władysław wore a hat covered with mesh to protect him from the clouds of mosquitoes that blighted the warmer days.
"You couldn't get rid of them unless you burnt something to make smoke. Then they would fly away. Otherwise they gave you hell."
The specific name of the forced-labour facility that interred his family remained a mystery to Władysław but he believed it was in the southern reaches of the Ural Mountains, and close enough to others for a rumour to filter through, soon after 30 July 1941, that a Polish army was forming in Russia. Wanting to verify what could have been conjecture, the inmates collected "some money" for delegates to travel to Bukhara in Uzbekistan, where the Polish army had supposedly set up an enlistment station.
They came back with news: German troops were heading towards Moscow; Polish Prime Minister Sikorski had made a deal with Stalin; an 'amnesty' had been granted to all Poles in the USSR; a Polish army was indeed being formed on Russian territory.
"There was no real age limit, people from 16 to 60 joined. The point was… to make people survive, to get them away from Russia."
They also found out that special trains were being made available to take the Poles from the forced-labour facilities into Uzbekistan. Władysław's fellow inmates made a further decision to order and pay for a train to take them there. With nearly three quarters within their facility dead the surviving Poles, fearing they would not survive another Siberian winter, were relieved by assurances that the new Polish army had few enlistment restrictions.
"There was no real age limit, people from 16 to 60 joined. The point was not to join the army to fight there and then. It was to make people survive, to get them away from Russia. After we got to Iran, Iraq and Egypt, then we got exercise and training."
In Bukhara, Władysław walked the 30 kilometres to the army camp. He left his mother with Zbigniew and Maria in a civilian camp and all four left the USSR in evacuations of Poles organised by their army in 1942. Zbigniew joined the junaki (military cadets, made up predominantly of teenagers too young to join the army). He spent the war in Polish military schools in Palestine and Egypt before being demobilised in England. Zofia became a housemistress at a Polish orphanage in Isfahan, Persia (Iran) and kept Maria with her.
The Poles who joined the Allied forces in 1942 had the same mission as those who had battled the first German and Russian attacks on Poland in 1939—to free their homeland. Until the 1918 Treaty of Versailles, parts of Poland had been lost to occupying powers for 146 years and the entire country was wiped off geographical maps for 123 years. Poles enjoyed only 18 years of full freedom and Polish soldiers embraced the mantra "For Our Freedom and Yours."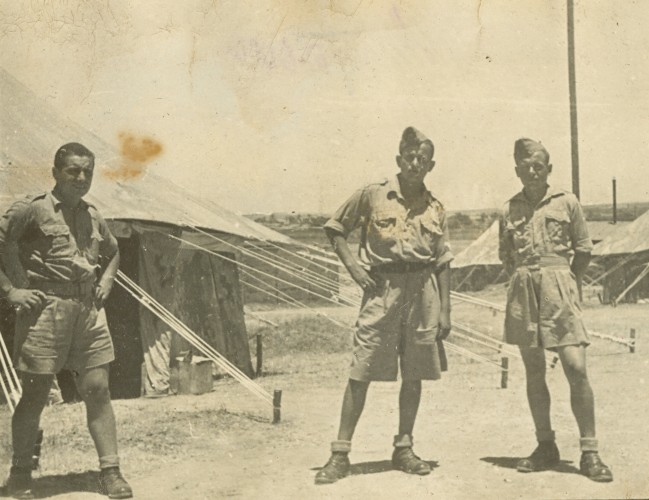 This photograph of Władysław (left) and two other enlistees was taken at a military camp in Iraq in July 1942.
Władysław first saw General Anders in Iraq.
"We had a parade because he wanted to see the soldiers and let the soldiers see him. He wanted to look into our eyes but it took him so long… and in the heat… the soldiers were fainting."
General Władysław Sikorski showed a different leadership style. During his introduction to the troops, he stood in a jeep and was driven around the parade ground.
"It took him 20 minutes. They were two different people."
General Sikorski died when his aircraft crashed in suspicious circumstances off the Gibraltar coast on 4 July 1943.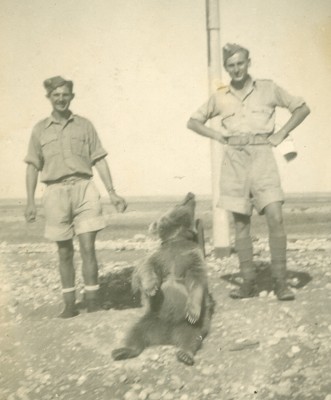 Two of the II Polish Army Corps soldiers with Wojtek, the brown bear who became the most unusual Polish enlistee.
Wojtek gave the troops much-needed entertainment, relief, and help before, during, and after their Italian campaign. Talk of Wojtek prompted Władysław to remember the troops' refrain:
"…Ja niczego się nie boję
Choćby niedźwiedź… to dostoję…"
("… I'm not afraid of anything
As long as the bear… I'm ready to fight anyone
(or) I won't back out
(or) I'm as good as he is…")
As soon as Wojtek saw the soldiers getting ready for a swim, he would wait at the truck.
"He'd be standing there, watching everybody…"
Władysław remembered how Wojtek enjoyed games such as 'wrestling' with the men. The same men appreciated the morale boost their pet bear gave them when it became obvious that Poland's so-called Allies had sold them out to Stalin.
Roosevelt and Churchill promised Stalin, as early as December 1943, the same half of Poland that his Soviet troops occupied in 1939. The three met in Teheran when many of the Polish civilian refugees were still in Persia (See Wisia Watkins' story, seeing stalin). Roosevelt and Churchill repeated their pledges at Yalta in February 1945 and their replacements ratified them in Potsdam in August 1945.
Poland officially lost her freedom to a Soviet-controlled communist government.
Those within the country at the time may have had no choice regarding whether to remain but Poles living outside did. Most Polish soldiers in the II Polish Army Corps in Italy chose not to return. In Władysław's case, his father's farm fell within the new Ukrainian USSR borders so he had no physical home to return to.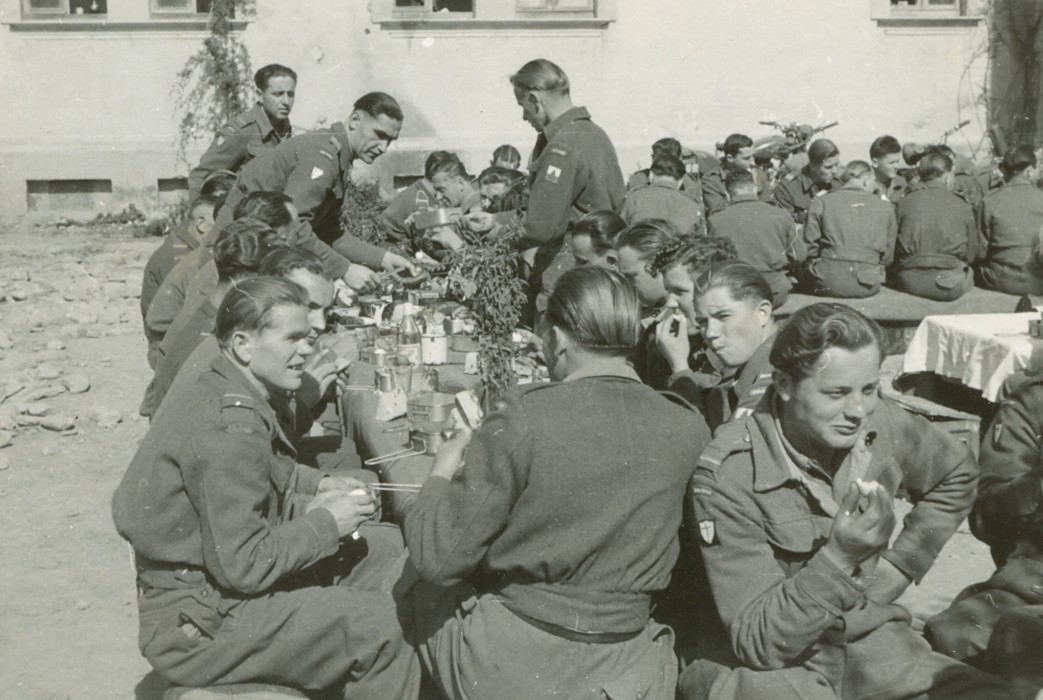 Members of the 3rd Carpathian Rifle Division enjoy their 1945 Easter breakfast. Władysław is standing at the back on the left.
Aged 22, as well as the Krzyż Walecznych, Władysław would receive the Polish Monte Cassino Cross and four British war medals, the 1939-45 Star, the Italy Star, the Defence Medal and the War Medal (1939-45).
It was no compensation for his country's lost freedom.
_______________
"When we were fighting, it was for everybody's rights, Poland's, Italy's—freedom for any country. We did not know what [Stalin, Roosevelt and Churchill] were planning at their meetings. It was only after they were finished that we found out what they did."
At the end of the war in Europe the II Polish Army Corps' 112,000 men remaining in Italy became a "problem" for the British government. Still under British command and responsibility, the Polish soldiers came under pressure to return to Poland. Only 310 of those who had come to the corps through Russia applied for repatriation. Of the 14,200 who also returned to Poland, 8,700 had 'joined' the corps after the Germans were defeated.7
The Polish troops became an unwanted post-war expense for a British government feeling the financial strain of reviving its own post-war economy, and became a regular subject of speeches made in the House of Commons during 1946. On 20 March 1946 British Secretary of State for Foreign Affairs, Ernest Bevin, acknowledged the Polish accomplishments:8
I feel sure that the House would wish me to pay a tribute to the magnificent services which these forces of one of our first Allies in the late war, have rendered to the common cause throughout the whole long struggle. His Majesty's Government and, I am sure, the whole House, are conscious of their debt to these men and are determined to deal justly by them.
His praise for the Polish troops came after he introduced his speech with:
While we will not use force to compel these men to return to Poland, I have never disguised our firm conviction that, in our view, they ought to go back in order to play their part in the reconstruction of their stricken country…
…and that the British government considered it was the
… duty of all members of those [Polish] Forces to decide now to return to their own country.
Bevin later answered his predecessor, Anthony Eden, regarding a possible future of Poles in Britain:
We are extremely anxious that the Polish troops should return to their own country. Subject to that, we cannot relieve ourselves of responsibility for those who feel in their conscience that they cannot go back.
One of the last direct messages from Bevin to the Poles:
Speaking on behalf of the British Government, I declare that it is in the best interests of Poland that you should return to her now…"
The bulk of the Polish troops remained unconvinced. Besides military personnel in Italy, there were those who completed active service in northern Europe and the military cadets in the Middle East.
The British government eventually passed the Polish Resettlement Act of 1947. It provided "certain Polish Forces" with an Assistance Board set up to meet their "needs" including "accommodation in camps or other establishments," "health and educational services" and "emigration expenses."
A Polish Resettlement Corps gave Polish soldiers two years to demobilise and adjust to life outside Poland. It was in Britain's interest not to flood their fragile post-war labour market with around 200,000 Polish troops. Those able to get "approved jobs" started immediately. Others did "productive work such as reconstruction" and others given training "for civilian employment pending their eventual return to civil life."
At this stage the families of Polish troops were still living in refugee camps in east and southern Africa, India, Mexico, Argentina and New Zealand, where Zofia and Maria Piotrkowkska had settled with more than 800 other Polish refugees. The New Zealand government, after it became clear that there would not be a free Poland, gave them the choice to stay.
While British politicians argued about the Poles, Władysław received a year's training at an electro-technical school in Ascoli Picento. He appreciated the sophisticated Italian machinery and skilful teachers.
"Italian was an easier language than English and technical terms are nearly the same in any language. We had our own [Polish] technicians to help and we worked on all the turning machines, making screws, welding, electronic… and that's how we learnt."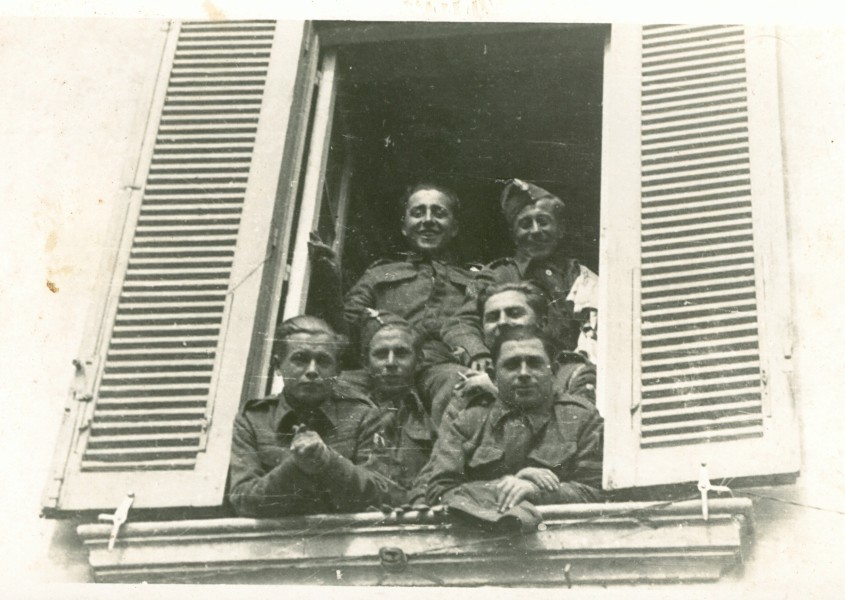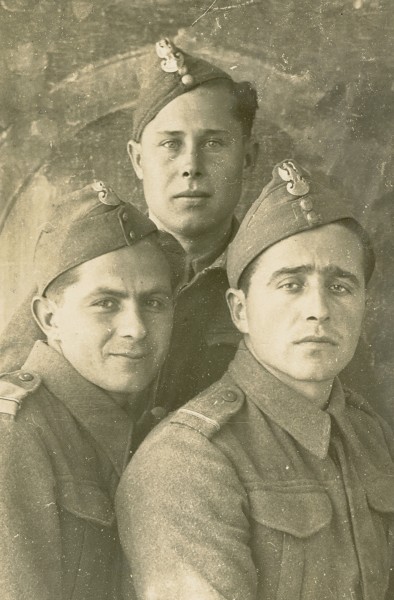 In Ascoli Picento, looking out of the window, Władysław is at the back left.
Below, he poses with two student friends and remembered the man immediately behind him as Nasikiewicz.
Władysław wanted to continue the course but administrators had by then arranged temporary accommodation for Polish military units in 170 camps all over England, Scotland and Wales, many in army and airfield barracks vacated by British and American troops.
Władysław went to a Polish Resettlement Corps camp in Bowers Wood, near Beaconsfield, and soon found a job as a machinist at a wallpaper printing factory.
_______________
Władysław's arrival in New Zealand was "pretty simple."
Zbigniew found and joined his brother in England and, although physically parted from her sons, Zofia had corresponded with them regularly. After the war, the New Zealand government and the Red Cross helped the Polish refugees in New Zealand find their relatives. Zbigniew left first for New Zealand and Władysław was among four Poles who travelled on the ss tamaroa to Wellington in 1949.
Władysław took a room in the same private accommodation as Zbigniew in Petone. Within two days he had a job in an Austin assembly factory but soon tired of the commute and looked for employment closer to home. That came in the maintenance department at the Godfrey Phillips tobacco factory.
"On Saturdays they quite often did maintenance, jobs like cleaning or fixing any problems on the machines. I was there one Saturday when the manager of cigarette production came down because a chain had broken on a machine. The joint was fixed and they put in on the motor again but when they started the machine, they couldn't get it to reverse. They tried this and that but whatever they did wasn't working.
"I could hardly talk in English and couldn't write it but he said, 'Oh, I understand what you're talking about…'
"I watched them and because I was in the electro-technical school, I saw the problem. I went up to them and couldn't say very much [in English] but explained about the two wires… change the wires this way and it will go backwards, as simple as that. They changed the wires and—relief—the machine worked again. That manager, Mr McFarland, said to the foreman that he wouldn't mind having me on cigarettes—because I was in tobacco at the time—and I was thinking I'm still young, I've had no training, it's better pay…
"And that's how I got the job in cigarettes, learning the two types of machinery, old and new. I liked both of them and after a year they said I was so good they would like me to be a foreman. I told them I couldn't accept it because I didn't have the language. I could hardly talk in English and couldn't write it but he said, 'Oh, I understand what you're talking about and we will give you a secretary to do the writing.'
"There were 40 people on the floor. Some of the old hands didn't like it that I was foreman but in Ascoli Picento I had learnt with tools on every type of machinery so when it came to the mechanics operator job, I learnt very quickly."
Władysław chuckled at his naivety after taking the job and his manager's advice:
"He said to me, 'You've got to be tough on them.' I was for the first week, but they were doing everything against me, and I knew it wasn't working, so I changed my tune and was good to the workers and good with the bosses."
The young Pole became known for his honesty and willingness to accept the blame for things that went wrong. The managing director arrived every morning to inspect the cigarettes on the belt and would ask questions. One morning he noticed that every cigarette had the print showing upwards. He told Władysław: "You'd better fix that." Władysław, whom the New Zealanders called Warwick, could do nothing but agree with him—and sorted out the offending oval filters.
His employment position changed when Godfrey Phillips announced it was moving production to Titahi Bay in Porirua. Managers suggested to the permanent staff that if they owned their own homes they should sell and move. Władysław did as advised but the company overturned that decision and gave its production to a firm in Petone—Wills—rather than build a new factory. Władysław was suddenly out of a job and with a house on the outer suburbs of Wellington.
The two problems resolved themselves together: The new production firm, short of mechanics, offered him a job, but selling in Titahi Bay was not as easy as it had been in Wellington and Władysław was reluctant to accept the position.
"In the end the director from Godfrey Phillips said they would buy the house if I would get a valuation, so I did, took the job and moved to Lower Hutt." Władysław lived there the rest of his life.
_______________
The Polish community in Wellington was a strong one. After struggling with a second language during workdays, Poles enjoyed meeting other Poles, chatting in their native tongue and joining in the social activities.
In 2003, 50 years after their marriage, Anna Piotrkowska was asked to recollect her time in New Zealand and wrote of one of the Polish dances: "It was there that I met a very nice young man, Władysław Piotrkowski."
Anna did not know then that the "very nice young man" was determined to marry someone Polish who would understand his nationality, culture and religion.
At the time Anna lived 165 kilometres north, in Marton, and would not have attended that particular dance had it not been her turn to visit her brother—also Władysław—in Wellington Hospital. Zofia Piotrkowska lived near the hospital and Anna had been a staying with her.
Zofia and Anna's mother, Waleria, worked together at the Pahiatua Polish Children's Camp until it closed in 1949. They met by chance again near the hospital. Zofia lived close by and offered Waleria and Anna accommodation when they were in Wellington. After Anna's first meeting with Władysław, the future husband, he made sure he visited his mother at times that coincided with Anna's visits to her brother.
"I met quite a few Polish girls but there were differences in thinking or talking or something like that and when I met [Anna], well that was it—and she was young enough that she would agree with me! She was 18 and he 29 when they married in January 1953 and Anna proved well-able to cope with her older husband. They had two children, Basia and Bogdan, and have three grandsons and a great-grandson.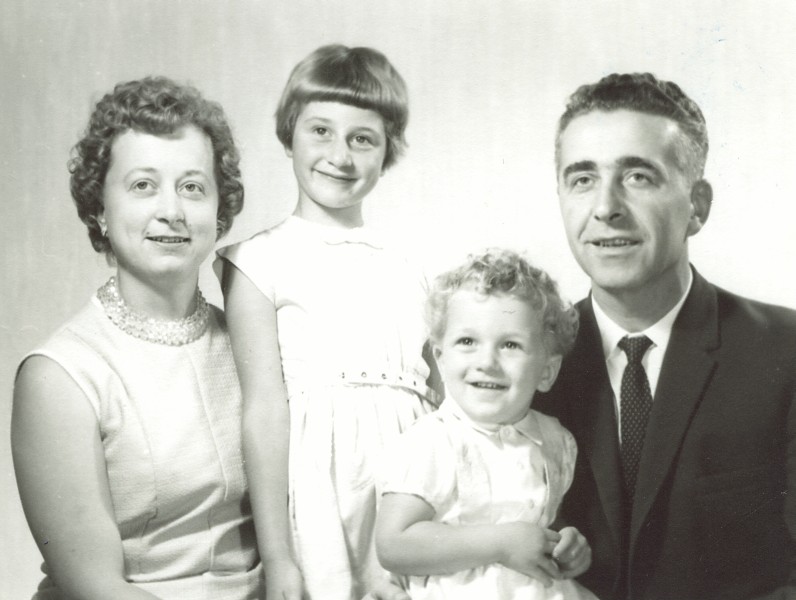 Life had its ups and downs. The joy and support of family helped temper Bogdan's death from cancer in 2013. This studio photograph was taken in 1965 when Basia was seven and Bogdan 18 months.9
__________
Władysław never fully understood why his father and brother left the rest of the family in 1940. He believed it stemmed from wanting to fight for Poland in Poland. Both survived the war. Jan Piotrkowski fought in northern Poland's Elbąg area and died in Poland in April 1953. Jerzy, 15 in 1940, remained in Warsaw and served with the Polish underground (Armia Krajowa).
Anna recalls that Jerzy was seriously wounded and had a substantial amount of "metal" inserted in his leg. He came to New Zealand for a holiday with his wife in 1983, the year Władysław retired, and helped Bogdan build his first house. Once Poland was free from communist rule, Jerzy became a Chief of Police in Warsaw. He died in 1997.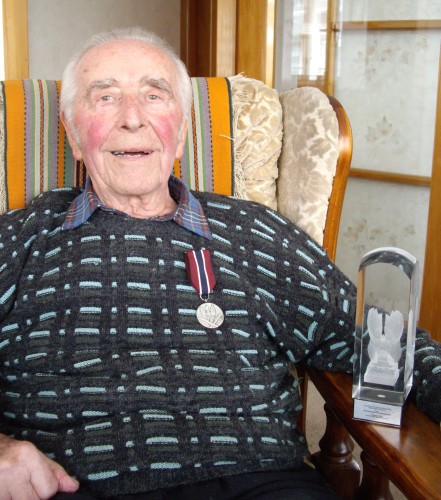 In November 2014 Władysław, with two other Polish veterans of Monte Cassino, Władysław Błażków and Tadeusz Knap, received the Polish pro patria medal and accompanying crystal statuette of an encased Polish Orzeł Biały (White Eagle), both pictured with Władysław here.
The award is given for "Outstanding contributions in perpetuating the memory of the people and deeds in the struggle for Polish independence during World War II." The Polish Minister for the Office of War Veterans and Victims of Oppression, Jan Stanisław Ciechanowski, presented the awards at the Polish Embassy in Wellington.
Looking back on his life, Władysław had no regrets.
"After the war we had three choices: stay in England, go to Poland to join my father and brother or come to New Zealand to my mother and Maria. Zbyszek and I decided on New Zealand. It was a good choice. I am happy here."
© Barbara Scrivens, 2015
Updated January 2018
BLACK AND WHITE PHOTOGRAPHS IN THIS STORY NOT SPECIFICALLY ACKNOWLEDGED ARE FROM THE PIOTRKOWSKI PERSONAL COLLECTION. ALL EFFORTS HAVE BEEN MADE TO CONTACT THE AUTHORS OF THE 3RD CARPATHIAN DIVISION'S PHOTOGRAPHIC COLLECTION AND THE FORMER CHRISTOPHER BEDE STUDIO.
THANKS TO THE NORTH AUCKLAND RESEARCH CENTRE IN THE TAKAPUNA LIBRARY FOR THE LOAN OF AUDIO RECORDING EQUIPMENT.
ENDNOTES:
1 - Album Fotograficzny 3D.S.K. W Italii, cz 11, Sierpien 1945, Monte Cassino 27-IV-1944–23-V-1944, Hill 593—one of the most important battle-fields in the Monte Cassino area, first book, photograph no. 72, page 65.
2 - Ibid 3D.S.K. W Italii, Monte Cassino seen from hill 593 & 569, first book, photograph no. 86, page 76.
3 - Ibid 3D.S.K. W Italii, Dug outs of the Polish Lancers. San D'Afronio, first book, photograph no. 45, page 44.
4 - Anders, Lt-General W, CB, An Army in Exile, originally published in 1949. Reprinted by The Battery Press Allied Forces Series, Nashville, ISBN: 0-89839-043-5, 178 & 179.
5 - Ibid 3D.S.K. W Italii, Victory! Polish flag is flying on the Monastery, first book, photograph no. 78, page 71.
6 - Ibid 3D.S.K. W Italii, 4.2 inches mortars at Casa Maroteschi, second book, Nad Adriatykiem 12 VI 1944–6 IX 1944, photograph no. 25, page 16.
7 - Ibid Anders, page 287.
8 - The following five direct quotes extracts from the House of Commons from Vol 420 cc1875-821875: http://hansard.millbanksystems.com/commons/1946/mar/20/polish-armed-forces-government-policy#column_1875
9 - Christopher Bede Studios Ltd.