Polish Embassy and Consuls
Embassy of the Republic of Poland in New Zealand
Ambassador: Grzegorz Kowal has taken over from Zbigniew Gniatkowski.
Consul: Maksymilian Zych has replaced Agnieszka Kacperska.
Level 9,
City Chambers,
142-144 Featherston Street,
Wellington.
The Embassy is closed on Saturdays, Sundays, and on Polish and New Zealand Public Holidays. Visitors by appointment only.
tel: +64 4 499 7844
fax: +64 4 499 7846
email: wellington.amb.sekretariat@msz.gov.pl
website: http://wellington.msz.gov.pl/en/p/wellington_nz_a_en/embassy/.
_______________
Honorary Consuls of the Republic of Poland in New Zealand
AUCKLAND AND NORTH ISLAND (EXCLUDING WELLINGTON)
Honorary Consul: Bogusław Nowak.
7 Kalgan Place,
East Tamaki,
Auckland.
Open most days from 10am – 2pm
Mailing address:
P O Box 99177,
Newmarket,
Auckland 1149.
tel: +64 9 377 4657
fax: +64 9 377 4658
mob: +64 274 9908 308
email: consulate@greenlitetravel.co.nz.
_______________
SOUTH ISLAND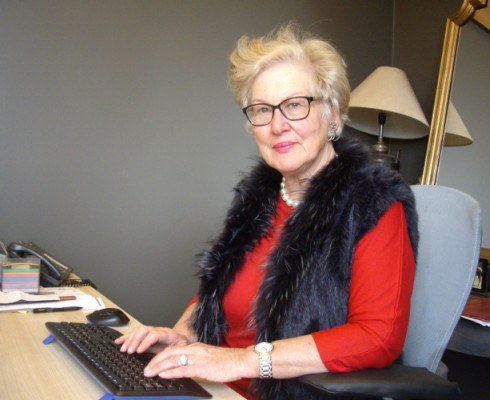 Honorary Consul: Winsome Dormer.
20 Norwich Quay,
Lyttelton.
tel: +64 3 328 8598
fax: +64 3 328 9900
cell: +64 21 325 5389
email: winsome@indprov.co.nz, or
wdormer@xtra.co.nz.
website: http://polishconsulate.co.nz.
The off-kilter lampshade in the corner of Winsome Dormer's Lyttelton office reminds her how lucky she is.
When load-bearing ceiling beams destroyed her desk during Christchurch's February 2011 earthquake, Poland's New Zealand Honorary Consul, South Island, was on an aeroplane. The office is now a tight squeeze with her secretary but Winsome is an optimistic Cantabrian. She has a job to do, and no time to dwell on re-build lethargy.
Her office is in the hub of Lyttelton's logging port. Laden trucks rumble past her window, a reminder of her core business—supplying the ships that use the port. On her wall is a close-up photograph of a pile of logs waiting to be loaded, a pile so high that the docked ships behind are hardly visible. The ships—from Gdynia, Poland— are part of the reason this Tepanui-born West Otago woman accepted the position of Polish Honorary Consul, South Island.
Winsome was doing a degree in speech therapy when a professor noted she had a head for business. She launched the Independent Provedoring Company in the 1980s and made New Zealand attractive enough for the fishing vessels' Polish parent company to add New Zealand to their schedule. By the 1990s she had introduced Poles to New Zealand wine, and had become a go-to person for newly-arrived Poles like Dorota Szymanska. Winsome helped Dorota find a job in 1991, and gained her first Polish friend.
The years Winsome spent building up relationships between Poles and New Zealanders led to her being asked to take on the Honorary Consul position in the South Island. Her appointment became official on 6 December 2010. The February earthquake stopped the grand opening—that had to wait until 2 July 2011—but since then two flags have been flying outside the company's offices. (They get replaced regularly, thanks to the Lyttelton wind.)
The appointment came with a title, but no job description. Winsome, not one for gratuitous badges of honour, has thought carefully about defining her position. She does not have the authority to issue passports, or other official documentation, but represents Poland at official functions. She constantly questions herself:
"How can I make this role as relevant as I can?"
Six years into the role, Winsome has continued to do what she does best—link people with other people and business opportunities.
"If I can achieve one or two big business connections between Poland and New Zealand, that would be amazing."
Considering what Poland's Honorary Consul, South Island, has already achieved, who knows how she defines "big"?
_______________