Bożena Misiewicz-Haug
Alicja Kraucka Misiewicz "never heard a bullet fly" during World War Two but remained entwined in its aftermath.
She was born in 1934 in Bucharest, Romania, where her parents lived. In 1947, she reluctantly moved with them to communist-controlled Poland.
On the day she crossed into Poland as a 13-year-old she promised herself that one day she would escape. She first saw a Warsaw that had been flattened by bombing and viewed its rebuilding and its new psyche through her own westernised eyes, and those of her staunchly patriotic mother, Janina, pragmatic father, Czesław, and older sister, Wiesława.
Alicja did leave Poland again, the first time on a business trip to other Eastern Bloc countries in the mid-1960s, and permanently during the martial law period (13 December 1981 to 22 July 1983). She continued to visit her parents in Warsaw until they both died.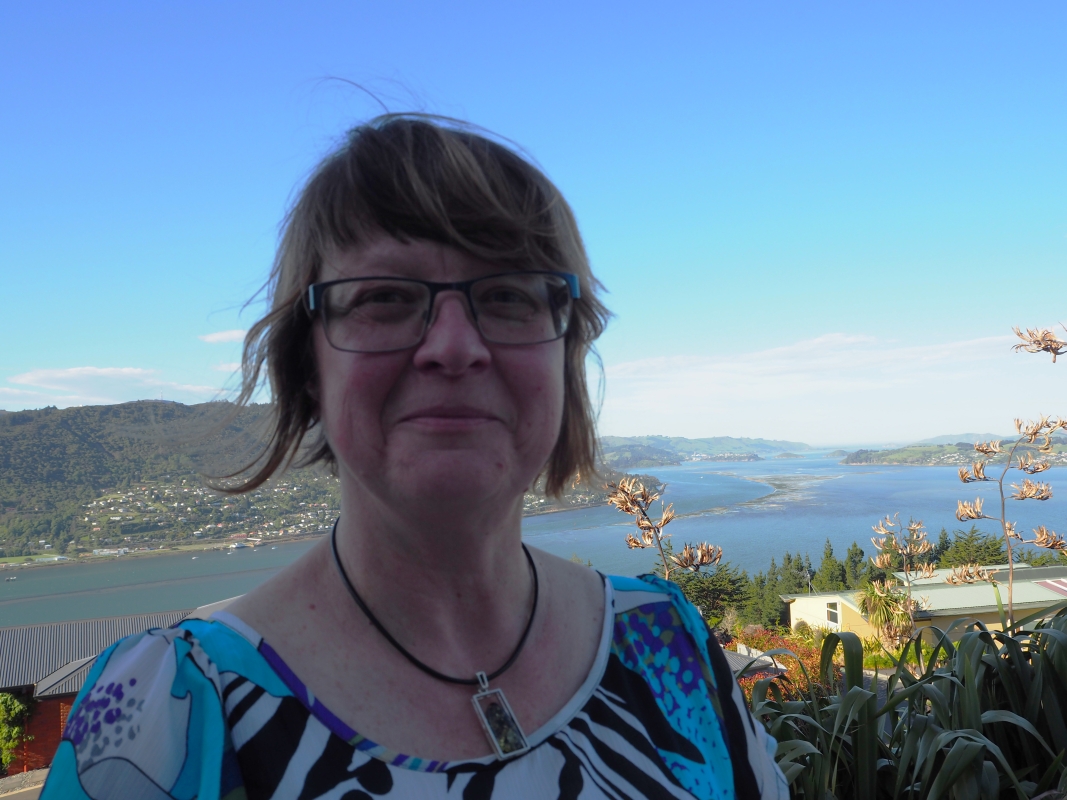 She instilled a curiosity about the world, and an ease with travel, into her only child, Bożena, who she claimed was born with a suitcase in her hand.
Bożena spoke to me in November 2016 about some of the stories her mother had told her.
"I believe my mum felt herself being caught out by moments in history and stuffed into a bottle with a very thin neck. She managed to leave, very proud that I didn't absorb much of the Poland of those days."
Alicja now lives with Bożena and her husband, Alfred, at their home on the Otago peninsula.
Basia Scrivens
A SUITCASE IN HER HAND
by Barbara Scrivens
In late September 1939 13-year-old Wiesława Kraucka sat alone on a train travelling from Warsaw to Bucharest when Russian soldiers took control and diverted it towards Russia.
The train stopped in a field in east Poland, its passengers forced to alight. They milled around in familial groups leaving Wiesława standing alone. One of the Russian soldiers approached her.
"What are you doing?" he said.
"You tell me what I am doing," said Wiesława, fluent in Russian, as well as German, English and her Polish mother-tongue. She told the soldier that she was returning to her home and parents in Bucharest after spending the summer holiday visiting her grandparents.
Their exchange ended with the Russian soldier examining her German travel documents and telling her, "In the evening I will help you." The young girl had no idea what kind of "help" the soldier was talking about but in the evening, he approached her again:
"Do you see in the distance? That's the river. That's where the German lines are. I will give you a signal and, girl, you just run, you run with all the might that you have and when you get there, you cannot say who helped you because my life is at stake."
And so Wiesława ran from one Polish enemy, intent on taking her to Russia, towards the other occupying her country and in whose language her travel documents were made out.
In Bucharest, her parents, Czesław and Janina, and five-year-old sister, Alicja, waited for a train that never arrived.
"My grandmother told my grandfather, 'I have to look for my daughter. I will take Alusia.' My grandfather allowed her to make many decisions but this time he said no, 'We've lost one daughter. You are not going to take the other one. If you want to go, you can go by yourself. And where will you go? You don't know where she is.'
Czesław managed the Polskie Linie Lotnicze (LOT Airlines) bureau in Bucharest, and was their accountant under a long-term contract. Alicja had been born there.
While her parents feared the worst, Wiesława managed to get back to then German-occupied Warsaw and her grandparents, who negotiated renewed travel documents.
Alicja repeated the story often to her only child, Bożena Misiewicz-Haug, one of many that Bożena committed to memory. She believes that because Czesław was legally employed by a company the invading Germans had decided to keep during the first weeks of the war, allowances were made for people like Wiesława to leave Poland. She returned to Bucharest three months later.
It is not clear whether Wiesława's story of the kind Russian soldier influenced her father, but Czesław started to create false passports for others escaping Poland in the early stages of the war.
"Whether it was political activism or just pure decency after seeing the tragedy of their country, it was the right thing for my grandfather to do.
"I don't know how they organised the printing press. He was very resourceful, a businessman, and he liked management so if you look at it from a business perspective, it was a very efficient, clean-running operation.
"I believe it was that calamitous winter of 1940, when villages with Jews suddenly had none. A lot of privileged classes, Poles and Jews, escaped through Slovakia and Hungary into Romania, which was neutral in the beginning of WW2. Some of the LOT personnel were also evacuated to Romania, and aeroplanes, in the hope they would not fall into German hands.
"My grandmother was physically carrying those passports to people, giving them new identity.
"In Romania there was a revival of folk-lore outfits with big skirts. My grandmother was quite a corpulent woman so it was very handy to have pockets and aprons to hide those passports as she went delivering them.
"Some people said, 'I don't look like myself. I'm not [for example] Janek.' She said, 'Yes, you are Janek, (Jesteś Jankiem.)' And that was her role.
"My mum was too young to be involved but I think she did feel the strain. Her sister being eight years older was much more aware.
"The last set of four passports my grandfather made were for his own family. Somebody tipped him off saying, 'The Germans are on to you.'
"We don't know how many people had a chance to get away thanks to one of his passports, and he was not the only one making them. There was a network. I know from my mum that this little human chain of goodness allowed people to escape."
Like many others, the Kraucki family made their way from Romania to Haifa in then-Palestine. The men joined the British army and their families remained. Czesław was posted to El Alamein and a Jewish Russian woman offered lodging to Janina, Wiesława and Alicja.
"My mum was a bit of a daredevil, jumping from trees and that kind of thing, but she was good when reprimanded. When they went into this woman's place my mum's first words were, 'It's dirty.' My grandmother said, 'Quiet. This is the only place we have to stay.'
"My mother understood very quickly. The older sister was a more mature polite teenager but still, three extra mouths to accommodate and feed and no payment in the beginning…
"All the trinkets vanished from the lower level, this woman suspecting that my mother's fingers would inspect everything, but my mother had tremendous respect for others' property and in two weeks gradually, shelf by shelf, the trinkets descended."
Janina, Wiesława and Alicja lived with their host for three months on "good faith" while waiting for the British army to put the Poles on their payroll.
Meanwhile Czesław's ancillary capabilities had been noticed in El Alamein.
"It became evident that his knowledge of multiple languages and managerial skills would be lost as a foot combat soldier so he was promoted to officer rank and pulled out of the front lines back to, I believe, either Jaffa or Tel Aviv. He got an apartment and a bit more breathing space and they could repay the Jews, because my grandmother needed credit with store owners as well as that fortunate arrangement with accommodation."
Czesław spent the balance of the war working for British command and managing their airport. His family joined him and Alicja and Wiesława went to a Polish school.
"My grandmother was an excellent cook and she loved to sing. She had an open-door policy and she became a mother figure for many young soldiers who were being organised to go to Italy. When they got a pass from the barracks they wanted to go to 'Pani Jana' or 'Pani Janina.'
"My grandparents loved the company too. They would offer you lodging, food or any help that you needed, so these young men loved coming to my grandparents' house. Of course, the older sister was possibly an attraction too, but it was the normal family situation that drew those young men. One of them even had one of my grandfather's fake passports.
"My mum said that as the severity of the war grew, they all realised that dinners spent with the young men might be their last home-cooked meal before they went to fight. Many of them did not return.
"Years later I went with my mum to the Polish cemetery at Monte Cassino, where she walked along some of the lines. She thought she might see a name she remembered, if she looked at the ages 18 or 19…
"I don't think she found anyone. The graves are not in the hundreds, they are in the thousands. We had a day, and it catches you. Even if we came fully intellectually prepared for that day, it still would have been horrific. You stand there and you look at a sea of graves and they just speak. They are silent but yet they speak."
_______________
The sight of the cemetery against Monte Cassino's hill reminded Bożena of her home in Żoliborz, Warsaw, north of the city and bordering the Wisła river. The name Żoliborz comes from the French for "pretty banks" (joli berge) of the river, in Polish "piękny brzeg."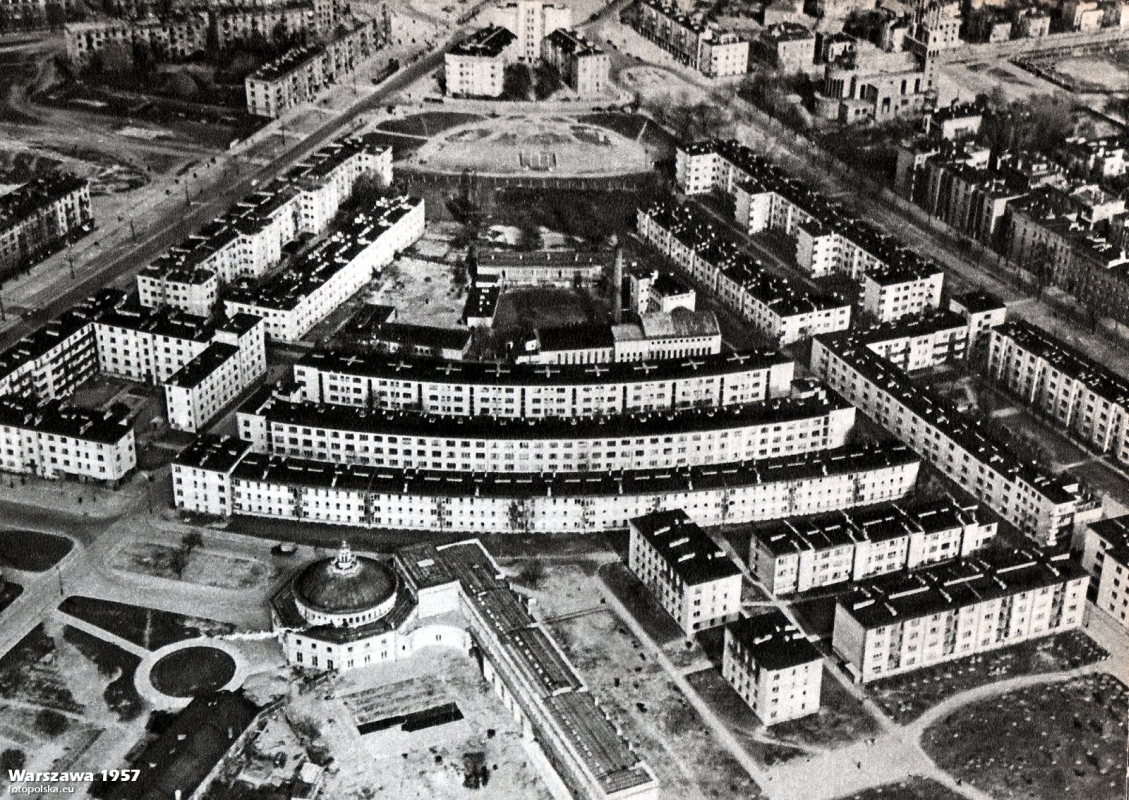 An aerial view of the Żoliborz suburb in Warsaw. Bożena remembers seeing a play about Pinocchio at the distinctly roofed Teatr Komedia in the left foreground. 1
"I grew up with a hill. I was born in 1961 and from my mum's way of describing things, there was definitely a thawing of that harsh Stalinist era. That horrid picture of a bombed-out city where she returned as a 13-year-old girl, for me was not a reality.
"In the inter-war era Żoliborz led in providing houses for the working class as people moved from central Warsaw to more desirable housing in the suburbs, although, from my grandmother's statements, there were paupers who lived under the bridge Gdański Dworzec, just a kilometre from more affluent villas and complexes for government workers, accountants, teachers, and greenery. All this progressive building came to a halt on 1 September 1939.
"In the '20s and '30s my grandparents had an apartment very close to or almost on Ulica Suzina, which is very famous because that's where the 1944 Warsaw Uprising started, unofficially. A Polish group carrying weapons was chanced upon by a German patrol and a shoot-out eventuated shortly before the official announcement for Warsaw to rise up and fight the Germans."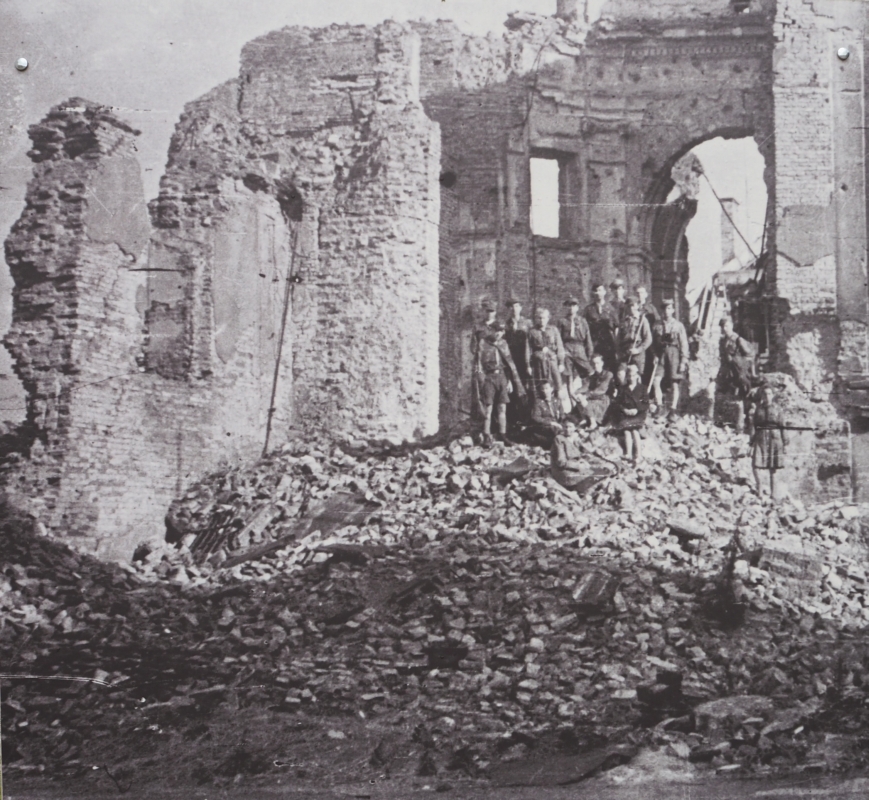 One of the panels at an exhibition at the Kościół Św. Kazimierka in the Rynek Nowego Miasta, immediately south of Żoliborz. An unnamed photographer captured this image of scouts among the church's ruins. Germans bombed it after the nuns opened their doors to Warsaw Rising insurgents on 5 August 1944. The Armia Krajowa's Gustaw Battalion organised a hospital, which moved into the monastery vaults until the bombing became so bad, it had to evacuate to Kilińskiego and Długa Streets. The nuns returned to their religious home and continued to shelter and feed people until the bombing broke the vault ceilings on 31 August 1944. More than 1,000 civilians were killed with three insurgents, four priests, 15 orphans and 34 nuns. Only a few dozen people survived.2
_______________
If Czesław had had his way, his family would not have returned to post-war communist-controlled Poland and Bożena would not have been a fifth-generation Varsovian. He tried but could not resist Janina's pleas for them to go back.
"My grandfather no longer had his parents. In September '39 Ciocia Wiesia was the last of the four of them to see the grandparents alive.
"My great-grandfather was shot by Germans when they were forcibly evicting Warsaw residents out of their apartments and building blocks during the Warsaw Uprising. He refused to leave. My great-grandmother perished during the forced march to Pruszków, ordered out of her house by Germans recapturing the streets during the Warsaw Uprising. In the mass of people, the human exodus, she was separated from her daughter. Possibly, she could not keep up, or got shot by German guards, or just collapsed on the road.
"We have no knowledge of the whereabouts of her remains, nor of great-grandfather's. He was most probably buried right there in the apartment courtyard. Dziadek's sister was held at Pruszków transition camp and then sent to forced labour in Reich Germany. She survived the ordeal but her own son died of pneumonia."
To Czesław, his wife's intense patriotism made no sense. She was born in Kowel, in the former Wołyń region, so her home was no longer in Polish territory. Polish refugees coming through what was then called Mandatory Palestine (now Israel) told her of their traumatic experiences in Stalin's forced-labour facilities: "Pani Jana, I came out walking from Siberia. Why would you want to go back?"
"My aunt by then had started medicine at the University of Lebanon, Lebanon at that stage still being very pro-western, but she didn't put her foot down either and my mum was too little to interfere…
"But grandmother's sister—my grandmother came from quite a large family—had joined the communist effort through her husband and was writing letters: 'This is a new Polish reality. We are living on carpets now, we are given apartments.'
"My grandparents waited till '47 to go back to Poland, then they went through Italy.
"Because my grandfather was an officer people suspected he must be bringing back great wealth to Poland. When somebody came into their carriage he joked, 'I have a double bottom on my suitcase.'
"My mum recalls vividly a moment as they went through Czechoslovakia:
"The trains were randomly stopped, and there was this moment when my mum and her dad were walking in a field, stretching their legs and starting to go away from the train.
"My mum said to him, 'What would happen if we didn't get back on the train?' She said that he looked at her that intensely, he understood not the mere words, he understood the intent. She didn't understand the art of manipulation, but she just repeated very persistently: 'What would happen if we didn't get back on that train?'
"And suddenly she heard her mum's voice, 'Czesiu, Czesiu…' and the echo. My grandmother realised that they were straying away. There was no train time-table, and you didn't know how long the train would stop.
"My grandfather shook himself. He came out of that moment with my mother and he said, 'We have to go. She's calling us.' And mum said he took her lovingly but firmly by the hand and led her to the train.
"My grandmother's greeting was, 'They've taken our suitcase.'
"My grandmother proudly being born in Poland, was highly offended that the communists could take her newly acquired things off her, and even more so when she got her Polish ID card or passport saying she was now born in Russia."
"My mum witnessed a few people change their minds and jump off the train, before the Polish border.
"My grandfather did manage to smuggle in a diary written by a Polish prisoner in Siberia who was stationed for a while in Palestine. After the war, he refused to return to Poland but wanted to let his mother, who survived the war in Poland, know what happened to him during all these years and that in the end he was okay, choosing to go to England after the war.
"That man trusted my grandfather to carry out this 'mission' on his behalf. Once back in Warsaw, the relatives with whom my mum's family had to stay at the very beginning must have gone through their belongings because the diary vanished. The in-laws tried to sing the praises of the newly installed pro-Russian government and the words of a former POW were unwelcome. Worse could have happened, they could have turned completely on my grandfather."
Post-war communist-controlled Poland became a country of suspicion and varying degrees of subtle retaliation against non-communists. No one could be trusted.
"People arrived in good faith and were mowed down. If you were a political prisoner, of course the Poles on the inside wouldn't know. Are you a sympathiser? Did you work against the communists? Did you work with the Polish government in England? That was a no-no. Every Pole fought for Poland but suddenly in '45, the ones who came home with the Red army were the ones who fought for Poland. The ones who worked for Armia Krajowa, they did fight—unfortunately on the 'wrong' side. They were not meant to liberate Poland.
"I grew up knowing that some children's parents never had a chance to go to university. Their father or grandfather fought in the Uprising. Yes a valorous act, but the Armia Krajowa was not the 'right' side, so not only was the son punished but the grandchild, by not getting admittance to a Polish university.
"I wasn't punished for my grandfather's 'sin.' Everybody thought he would join the communists. Of course he wasn't going to. He came back to Poland as a loving husband. When they arrived he understood political ideology of it all, especially the country being controlled by the foreign power."
The ruins of Warsaw presented another problem—scarce accommodation. For a few years the Kraucki family lived with relatives in a cramped apartment in Szczecin.
This image of Warsaw's Stare Miasto (Old Town) was taken in January 1945. The empty area in the centre left is the market square.3
"Grandfather told his wife, 'This is now the reality we live in.' When she cried he said, 'I will make the best life for us.' And he did. He did the little things that he could. He made it pleasant for her. He ended up unemployed. Not being in the Party, you don't get the job.
"He was offered a communist post to a lesser country as an ambassador, but the price was: 'The wife stays. The children stay. You can go, one at a time, or two, but not four.' And he said, 'No, we are a family.'
"I don't think my family suffered. Suffering is when the mothers were not even told that the child, the son, the brother, would be executed at one-o'clock on Rakowiecka Street. The body is not found until bones in the graveyard are coming out of the ground because they were not even accorded a pauper's grave. I'm not sure if they had individual graves or were buried in mass graves but the location is known as Łączka, near a cemetery wall at the Cmentarz Wojskowy na Powązki.
"I found out on my last trip to Poland that the communists covered the graves by putting their own communist graves on top. Isn't that the best disguise? Whatever you think of history, the ones on top are still legitimate graves, and can't be moved and exhumed on a suspicion. I've been to a memorial where mothers, fathers, sisters, grandchildren are confronting the government in different ways and waiting for justice. Knowing at least where the body is would be important and by genetically testing live relatives they would link some bodies.
"There is now a memorial on Wojskowy or Powojskowy cmentarz for some of these political prisoners that were killed."4
During the war the Germans took over the Ministry of Education building on affluent Aleja Jana Chrystiana Szucha and turned it into a torture prison. It became known as Szucha prison.
"They played the radio to drown the sounds of people having nails driven into them, genitalia electrocuted, fingers stomped, knuckles broken, just to extract an admission. I'm not sure that the post-war communist oppressors were more humanitarian but I understand that they were persistent.
"My grandfather had only one meeting with them. It was in Pałac Mostowskich, a property abandoned by a noble family, that housed the UB [Urząd Bezpieczeństwa (the Office, or Department of Security)]. They were not police; they were there to monitor the society, not for social order but for spying on people, figuring out who the enemy was. They were disguised as główna komenda milicji, milicja being police—in communist times the police were called milicja because the P stood for państwo, pospolita, people. That's why they made it a communistic M, militaristic milicja.
"My grandfather was 'invited' there, 'given an appointment right away.' He was proposed to—again—become a communist. Doors would open for him… promises made of overseas posts… but my grandfather graciously kept saying, 'I'm coping, I'm coping…'
"He came home with a bloodied face and bruises on his arms. Nobody in the family knew about that 'incident' until he told us years later.
"My grandfather explained his injuries to his wife, 'You know, Jana, I had such a hard day at work, I was walking and looking at the paper and there was a pedestrian crossing close to the house. I quite absent-mindedly stepped out and this car kind of nudged me. I fell. He apologised.'
Czesław and Janina lived out their lives in Warsaw. Czesław used his language and managerial skills for a company that organised trade conferences, and was sent on delegations.
"I think my grandmother was past travel at that stage, so there was no danger that he would escape. And my mum, this 13-year-old girl, making a promise on the day she crossed to Poland that she will get out, thinking about it, fermenting it, bringing me up, not against Poland but in a quite unpatriotic way."
Alicja married Aleksander Misiewicz. Bożena grew up with Janina's haunting and romanticised singing about her hometown, its local birds and the rural beauty of the Kowel area. A medical misadventure to her vocal chords as a young woman prevented her from pursuing a professional career but she retained her voice.
"My mother would say, 'Yes, your grandmother's singing is beautiful, but look at Poland today, look what the communists did.'"
Bożena was five when Aleksander was sent to do his masters at the agriculture department of Columbus University, Ohio. Despite not being a communist, he had an affinity for languages, was self-taught in English, and had an engineering degree.
"We had to stay behind. When he returned from America, I was six. He brought me a huge doll and some other goodies. I was very suspicious of him and the doll. He came on the batory and we went to Gdańsk to meet him.
"After the war the communists had some good intention to house people and in the '50s when the rebuild started, the apartments were of a better standard, with taller ceilings. I grew up in a more optimistic era. In the '70s there was more social awareness: children needed places to play, people needed places to walk dogs and schools were central in a massive complex of three- to four-storey buildings.
"That complex, Zatrasie, was my childhood world—unlike the 10-storey tower blocks and long, tall buildings resembling dams that the communists built later. The building that was across ours won an award for its modernistic design. The apartments were still only 22 square metres, 27 if you were lucky.
"I still correspond with a friend who lived in the award-winning building. We could see each other from our windows, but I was the more privileged: I had the view to the hill and to my child's eye it looked like a mountain. We spent hours running up and down together with a toboggan and yet these were not happy times. I understood I couldn't speak my mind and because my parents worked abroad, in Libya, we had come across what's normal."
The Misiewicz family managed to move together to Libya shortly after Colonel Gaddafi came to power in 1969.
"There was a western approach in Libya. Women could serve in the army, wearing skirts as part of their uniform, not burkas or chadors. Many women in everyday life wore white loose body coverings over other clothing. Quite some segregation of sexes existed—men and women dined separately on social occasions such as weddings. My English school was integrated, foreign workers' children went to it but also Arab boys and girls whose parents could pay the fees.
"Polish workers, doctors, engineers—my dad being an irrigation engineer—were employed, but also Russians vying for a satellite area of influence. When they came things started to go downhill.
"We always came back to Poland for vacations. My mum found it a relief going to greenness. She always thought that after the baked, mauve, brownish landscape in Libya, Warsaw was literally verdant."
In Libya, "All the children went outside to play but I came home from school as a fourth and fifth grader and I had to do Polish history, Polish language, Polish mathematics because my mum knew we'd come back to Poland, but no Russian lessons."
In Poland, "My mother's policy, which I lived by, was that you may talk at home; you may not talk at school. At home, I was able to talk about what bothers and ails me, about school, communism. I was a lucky child. Some children could not talk at home, their father being on one side, their mother on the other, being questioned by an uncle… In our family we understood that we could talk at home, none of us being communists.
"I lived with the stigma of having a parent living abroad, and people thinking we have money, so my mum was propositioned for a bribe at school. I couldn't answer a question. My chemistry teacher asked me the same thing three times so she gave me a failing grade. Of course I hadn't done my lesson. Why wouldn't I be punished? I was then grade eight and required good marks to get into a good high school.
"I said, 'Mum, don't you dare, don't you dare,' because I knew how the system worked. Stockings and a coffee—it was in the '70s—that's how cheaply you could bribe someone.
"My mother said, 'I don't care what grade you get in Russian, you pass it.' And I said, 'I will go to school and I will pass it but I will not learn it,' which was dumb. People say, 'Know the language of thy enemy.' I had a very understanding Russian teacher in Poland who I believe closed her eyes to my very silent protest. My pièce de résistance was passing, thanks to my teacher, who knew that I'd lived abroad and accepted my very low knowledge of Russian. I made it into a Polish high school and that's where my stay in Poland ended."
_______________
"My parents were still employed in Libya when Libya started to enter the conflict era with American and British workers, and Egyptians. Some of the Polonia my father met in America visited us in the '70s and said, 'What about Bożena spending a year with us? Instead of going to a Libyan high school, we'll take her.
"So that's how my life of travelling started. This was the late '70s, things were starting to fall apart in Poland, Gierek had taken so many loans, Solidarity  was starting, people were striking, so I went to America and stayed with a lovely family in Delaware. I did one year at high school and it became logical to carry on.
"I met my parents either for summer in Poland or they travelled to visit me in the States. I had permission from the Polish Ministry of Education to study in America, because my dad was employed abroad.
"It was a shock leaving my teenage friends in Poland. I went to America during the time of Polish jokes, when it was supposed to be funny to say things like, 'How many Poles does it take to screw in a lightbulb?' Then it was, 'How many Portuguese? How many Mexicans?' so Poles were not singled out.
"My English was not good enough at first to understand the Polish jokes so when I didn't give the reaction that they hoped for, they left me alone. A few years later there was still always a smart one:
"He saw my pencil. It didn't have the eraser on the end and he said, 'Oh look, it must be Polish,' implying it's sub-standard. I don't know where or how but in a split second: I said, 'Why should it? We're Polish. We don't make mistakes.'
"He was so taken aback because he wasn't expecting me to retort. They'd tested me for two, three years in that high school, knowing that I was not going to retort, first through not understanding and then choosing not to and they had given up, but that one got an earful.
"I think we all parted somewhat friends. I had an eye on him, a bigoted anti-immigrant kid, but I think I forgave him that too. My retort gave me so much pleasure, and seeing the reaction, I felt that justice was done on the spot.
"I moved to another family and as I neared completion of my third year my parents and I knew I wouldn't get my Polish matriculation, the świadectwo dojrzałości or matura after four years of high school. I was too far behind Polish high school and already had an invitation from Ohio State University.
"I was back in Warsaw, ready for my last year at high school in America. I had a packed suitcase, ticket in hand but no passport. I had the student visa. I always had to re-apply but that was no issue because they saw I had a pattern of returning.
"That last summer my Polish passport did not arrive through the regional Warsaw office. We were sent to Pałac Mostowski, the chief police station where my grandfather was beaten years before. Now it was a more legitimate police station than the UB military kind.
"My mum and dad sat with me, then an official came down the stairs towards us. He called my name and said, 'We are going upstairs.' My dad proceeded with me and the official said, 'No, you stay behind.' My dad said, 'But she's not even legally an adult.' 'Doesn't matter, 17—good enough.'
"I went down the corridor, lots of numbers on doors, and when he opened a door I knew it is a set-up. On the wall it had a picture of the current communist leader of Poland, there was one desk but no working papers, an office not filled with any furniture or papers:
Tell me the story.
Well, in the regional office they said they are working on my passport, the school year is starting, I have a departure ticket, to America, to study.
Oh yes, so you can study?
Yes, my parents are employed abroad. I have ministry dispensational permission to study.
So tell me more. How is your English?
Ah, good.
So what do you do?
I study and I'm anxious to go.
Ah so, so Polish people are there?
Yeah.
Do you know them?
Well, yes, but I go to school, to study.
"I tried to act studiously and with correct deference but with growing bile. We start talking about the Poles in America:"
Who are they? How often do you meet? Do you know and realise your patriotic duties?
Yes I do, I do study and I have permission from the ministry, my parents… Yes I study, and I'm ready to travel…
"The man wasn't ready to put a fist to my face or break my knuckles to convince me I was a lost cause, it also being the late '70s, maybe there was no need for such drastic measures. He pulled out the passport.
"I wanted to wring his neck because he made me tell the whole story. I was saying my passport is lost and he listened so supposedly compassionately to this distraught girl, supposedly trying to help her find it. And he pulled it out and said I was free to go. I had to tell him I don't have time for social life; I'm so dutiful in my studies; I have the matura to prepare for; I'm coming back to Poland to study so I will have a double matura. I said anything I had to say, just to get out of that room."
_______________
One December, Bożena in Columbus, Ohio, had a phone call from an ecstatic Alicja. She had been given a flight from Tripoli to Warsaw earlier than she had expected, so could spend more time with her parents.
She arrived late on a cold and snowy Warsaw evening and went to sleep. The next morning, 13 December 1981, she turned on the radio to crackling but eventually found a music station. The television showed only the colour test pattern. The telephone was disconnected.
At 6am Wojciech Jaruzelski, Poland's last communist leader, had declared martial law. Alicja Misiewicz may not immediately have seen the soldiers and tanks on the Żoliborz streets, but she would have eventually found out that pro-democracy leaders had been jailed overnight, independent organisations had been criminalised, a curfew imposed and school and university classes had been suspended. More worrying would have been when she discovered that national borders had been sealed, the airports closed and even the postal service subject to censorship.5
"My dad was trying to call Poland, to find out if her plane landed, if she arrived. I was trying to call her from Columbus. All the lines overloaded. We lost contact with her for a month or two. We had no way of knowing where she was.
"She's a person who says, 'Okay, you fall through a very narrow neck into the bottle.' She kept repeating her life's patterns. When it threw her in to that bottle, into that neck she went, and again and again she managed to unscramble herself.
"She used her wits. She went to the engineering office where my dad was legally employed; she spent December, January and February going from office to office, until she was able to return to Tripoli.
"I wasn't that close to my dad's side but I loved my mum's parents. My Dziadek had a very gentle soul and I adored my Babcia. I loved her singing, and her cooking… the smell of her baking, babas (yeast cakes) z rodzynkami (with raisins) ze skórkami cytryny (candied lemon peels), z pomaranczowymi skórkami (candied orange peels), z rumem (rum), the recipes were all in her head… She had these 20-, 30-litre stainless steel pots, five of them. She used them to raise the yeast dough. Her sisters were always borrowing them, not having fared so well with their communist jobs and carpeted apartments. They relied on her goodness, but she was an excellent cook.
"Even in Poland she had that open door policy for guests. That plate that is set at wigilia for that unexpected guest—some people say it's for Jesus—often we had to put out another three because somebody would knock at the door, and join the family for wigilia.
"I got the telegram that my grandfather died the first year I was in Columbus Ohio, alone. I could not fly back to Poland on such short notice in the middle of the school year and risk possible visa complications and delays. My mum had known he was getting weaker. She had visited him and he died within a week of her departure back to Tripoli.
"My grandmother died while we were all living in Columbus. I received the telegram as I was leaving home for an evening shift in the hospital neo-natal unit. It would have been too late to call the hospital and tell them I wasn't coming to work and I didn't want to tell my mum the sad news over the phone, so after work I drove late at night across the city to tell her that her own mum, my babcia, passed away."
_______________
Bożena met Alfred Haug in Rheims, Germany, in 1979 and married three years later in Steinhausen in what is referred to as "the most beautiful village church in the world," built by rococo architect-stuccoist-frescoist brothers Dominikus and Johann Baptist Zimmermann from 1727 to 1733.6
Alfred found a position in Saskatchewan, where their son, Chris, was born in 1991. A promotion for Alfred led to the family moving from the prairies to Toronto but Bożena did not appreciate the climate.
"It's hard to have a lifestyle outdoors in Toronto. It's minus 25–30 degrees in the winter. Saskatchewan was minus 45 but at least it was a dry cold. The Toronto cold picks up the moisture of the lakes and no matter how many layers, it goes straight through your body.
"In 1998 a posting came up in Canterbury University, in the business school's new building. My husband took the position and we stayed for close to five years. That building did not withstand the test of the 2010 earthquakes, which was unfortunate because it was built to a new code. By then we were in Dunedin."
Aleksander Misiewicz died suddenly in Poland in 1999, a year after he dropped off Bożena and Chris at the Toronto airport to join Alfred in Canterbury. He had been visiting his ailing mother in the Podlasie region. She died a week after her son, not knowing he had predeceased her.
"Chris remembers well the trip to Dziadek's funeral."
_______________
"I touched only the fringes of communism, and how I was interviewed to co-operate is now just a story to tell. I was lucky not to be beaten up or have any other repercussions. People were very suspicious that my parents could travel without being communists, but a logical reason was that the Polish government needed field workers and made some allowances. Being a good engineer and knowing languages allowed my dad to do that and I was caught out by these moments of history through them. My mum left Poland very proud that I wasn't very Polish. I wasn't very Polish till I came to New Zealand the second time."
The Haugs moved from Canterbury to Dunedin via a 12,000-kilometre and three-year detour again to Toronto.
"I never enjoyed living in Toronto. To me, it's a very business-oriented city. I was happy in my neighbourhood up north living in Aurora at first. I believe that in Toronto at that stage first generation immigrants made up 60 percent of its inhabitants, myself and Alfred included. Greater Toronto was prosperous, growing to six million, but there was horrible traffic, six, nine lane highways and an hour and a half commute for my husband, so when we came back to this reality from Christchurch, we thought, 'Were we that lazy in New Zealand? We went to the beach, we enjoyed the outdoors.' In Toronto my husband left for work when it was dark and our son was still asleep and returned home in the dark during the long Canadian winters.
"Alfred later chose to commute on a public transport system but the university wasn't linked to the metro so he took a long-distance suburban train, had to change to the Toronto Metro and then, because that didn't run to York university, he had to take a bus and walk. I moved back to Toronto telling my husband I will only move if you promise we will move out."
A position at Otago University's economics department allowed them to return to New Zealand in 2006.
It took another four moves within Dunedin to find the perfect perch for the house they built on the Otago peninsula. On a sunny day, "the world comes to Dunedin on a container ship or on a cruise ship with however many thousands of people." When she cannot see the tide flow in and out of the Otago harbour, or the university across the water, Bożena is happy to be surrounded by mist. She respects the winds, which blow the clouds away at up to 140 kilometres an hour and continue to thwart her attempts at establishing her garden.
From her deck she can see the seawall built in the late 1800s and marvels at the technology that engineers used to build the channel for the early immigrant ships to safely manoeuvre in and out of the harbour—ships that in December 1872 included the palmerston and Otago's first large group of Poles.
Bożena's "sunny day" view up the Otago harbour, towards Roseneath to the left and beyond, Port Chalmers.
"I'm looking out there and learning the story of my Polishness.
"When I first arrived in Christchurch I didn't come across any Poles, but I understand they were there.
"I didn't have my Polishness then. I was on the edge. It was complicated slightly because my husband is German, English not being our mother tongues and being the language of our son by default. He learnt a lot of Polish from his grandma but when we first came here she wasn't with us and he lost some of it. My mum now lives with us.
"I didn't visit Poland for eight years, during the transition to a free Poland and immediately afterwards. That was tough because I like to go back, but it became too difficult. Having a limited number of days in Poland, relatives who each wanted us to spend time in their homes, not wanting to seem rude by rejecting that legendary Polish hospitality, and squabbles between different family factions, I felt I never had the chance to actually visit my country.
"Also, I grew apart from my country. I did not understand it. Its politics, a passion for many in Poland, were confusing if not outright incomprehensible to me.
"My relatives said Poland was changing. Yes, a Prada and Burberry store had opened but the vast majority of people could not to afford to shop there. The urzędnicy, the office workers, were still corrupt, the potholes in Warsaw streets remained and the inflation, one bułka, bun, cost 20,000 złoty.
"I am a Pole and a very proud one. By birth and by name, which is unmistakably Polish—Bożena with its diacritical. I am a Canadian in my world outlook with political correctness and social awareness, and a Kiwi through and through, with a zest for life and an appreciation of nature—a Polish-Canadian Kiwi, yet a global citizen—and I've been given an opportunity of a lifetime."
_______________
"I helped look after a colony of blue penguins for five years, the most wonderful five years. Each night spent there was like watching a National Geographic series unfold. As a little girl I thought the ideal job for me would be to work on some lovely warm, sandy beach counting turtles. I ended up in a very human-oriented profession, a neo-natal nurse where children are critically sick one minute and well the next and have happy and very sad outcomes that encompass the parents, the grandparents, the siblings.
"The beach is not the warm, sandy yellow of my dreams and there are no turtles. It's rocky and I'm counting tourists. It has a sandy stretch at low tide that one day afforded me the best view of about 20 penguins on the beach spotted by some sea lions. The sea lions arch out of the water and catch a wave. As it retreats, the glistening beach is like a slide, a sea lion goes into a skid on his belly and into the pod of penguins…
"What a privilege to be there. We didn't know if we should cheer for the penguins or for the sea lions. Both of them are hungry, both of them having a right to eat and both highly protected.
"It turned out that they were two juvenile sea lions who just wanted to play and release, the penguins just thigh-high, squawking, retreating, flapping their wings. The nose of a sea lion is almost as big as half of the little penguins, which flap, squawk, retreat scattered in the sea.
"So childhood dreams can come true. Beware, they are not always warm, they are also sometimes over-crowded with people but I did count wildlife.
"I've learnt to say to visitors, 'Don't take a picture.' Everybody wants this perfect picture of a penguin. Before volunteers looked after this colony, people would put them under an arm, flash, flash, flash, multiplying 20 flashes a day by 200 days…
"Penguin parents dive 50-, 70 metres, make return trips of 12 kilometres back and forth, to feed their young, jumping out of the surf, wobbling over the beach—no sea lion today—the 'hurry up' chirps of the chicks. They live close to one another; they have divorces; they have squabbles with neighbours; they have multiple broods if years allow; a human society in a penguin's world, but they are still wild animals and it's such a privilege to live on this peninsula and be so close to nature.
"Yellow-eyed penguins have a tough life. They are not that many, sometimes 14 breeding pairs. If there is a crowd of people on their beach they have to make a decision to act, to either head through the human obstacle to the nest, or to retreat. Because they are so shy, if they do retreat the digestion process works as nature intended, and when they come back, the food is more digested than what it should have been on that first attempt to land. The number one determination for the new generation to thrive is the weight at fledgling and an underweight penguin because a parent can't land on a beach… so things are stacked against them already from the beginning. Their numbers have plummeted these past two years."
_______________
"I love going to Poland and there is this inverse relationship—the farther away I live, the more often I seem to visit. Five years ago I had Christmas in Poland with my family, 16 members from all different continents gathered. My mum was also able to travel then. My son also was able to come through another country so the whole nuclear family was there.
"It was dark, it was cold and we had this wonderful wigilia. I remember washing of dishes the minute we finished, kubeczki, spodeczki, łyżeczki… [cups, saucers, teaspoons]"
Bożena's latest suitcase remains well-used and she is not dismissing another major move, but for now she is committed to Dunedin. Three months after then 81-year-old Alicja returned from Poland in 2015, she had a stroke that left her with aphasia and Bożena cares for her.
"Now I talk faster, I talk double, I am a spokesperson for myself and my mum. She has a hard time retrieving words. We have a system of eliminating things, so we go, 'Is it the rest home?' 'Is it Dunedin?' 'Is it Poland?' 'Is it Canada?' When the conversation is too fast, or too many new speakers come into play, or when a sentence structure is inverted, the aphasia means she can't decode.
"I never say goodbyes anymore. I've met people here that have lived in my neighbourhood back in Warsaw. We both grew up in Żoliborz and we meet on the other end of the world."
Bożena is working on getting more of her Polish friends and family to visit New Zealand. When they tell her the journey is "far and expensive," she says that for her it is "fast and cheap."
"I deliver my nano-dose of sarcasm as gently as I can, not to offend but to elucidate that indeed, it is far and expensive to travel between Poland and New Zealand, but not out of reach."
On her last trip Bożena took a direct flight and carried a special bribe to Żoliborz—a pavlova, three gold kiwifruit and a bottle of whipped cream.
"It was a bit of a trick to carry that taste of New Zealand 18,000 kilometres but the pavlova didn't even have a dent and it passed immigration."
© Barbara Scrivens, 2018
THANKS TO:
THE POLISH EMBASSY IN NEW ZEALAND FOR TRAVEL AND ACCOMMODATION EXPENSES IN DUNEDIN.
THE NORTH AUCKLAND RESEARCH CENTRE IN THE TAKAPUNA LIBRARY FOR THE LOAN OF AUDIO RECORDING EQUIPMENT.
PHOTOGRAPHS OF BOŻENA, THE WARSAW RISING EXHIBITION AND THE OTAGO HARBOUR BY BARBARA SCRIVENS. SPECIFIC LOCATIONS OF OTHERS IN THE ENDNOTES BELOW.
ENDNOTES:
1 - Photograph from the collection at
http://warszawa.fotopolska.eu/376704,foto.html?o=b2518&p=1.
2 - The exhibition was organised by the Muzeum Powstania Warszawego, the Warsaw Uprising Museum. The photograph comes from the collection of the Benedictine Nuns of Perpetual Adoration, this copy taken in August 2016.
3 - This photograph was first published by Stanisław Jankowski & Adolf Ciborowski, Warszawa 1945 i Dziś, Wydawnictwo Interpress, Warszawa, 1971, page 66.
https://commons.wikimedia.org/wiki/File:Destroyed_Warsaw,_capital_of_Poland,_January_1945.jpg
4 - In 1998 a memorial plaque was erected on the prison wall to commemorate the 283 known political prisoners executed on Rakowiecka Street between 1945 and 1955, as well as hundreds of others whose names and place of burial remain unknown.
https://en.wikipedia.org/wiki/Mokot%C3%B3w_Prison
5 - https://en.wikipedia.org/wiki/Martial_law_in_Poland
6 - http://www.kg-steinhausen.de/english/english.htm