Cecylia Klobukowska
THE FACILITATOR
by Barbara Scrivens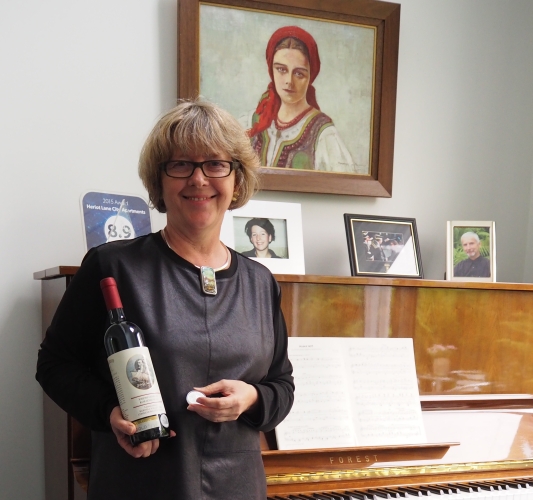 Wojciech Klobukowski loved English literature at high school, spoke with a BBC accent and dreamt of living in an English-speaking country.
So when he saw an opportunity to move to New Zealand in the 1980s, his wife, Cecylia, knew their days in Poland were numbered.
Wojciech graduated as a veterinary surgeon at the prestigious agricultural university in Warsaw, the Szkoła Glówna Gospodarstwa Wiejskiego (SGGW). He and Cecylia met and lived in Gdańsk, where Wojciech worked as a large-animal country vet for 22 years and Cecylia lectured in labour economics at the University of Gdańsk.
When Wojciech read in a 1983 international veterinary journal that New Zealand was looking for vets, the fact that he had to reset his medical exams in English did not faze him at all. Veterinary jobs in New Zealand became available when the European Union and America imposed new regulations on meat imports and exports.
By then Wojciech had a degree in English literature from the Adam Mickiewicz University in Poznań, something he had done extramurally for five years.
Cecylia: "I remember at that time how our friends and family, and especially his colleagues at work, other vets, were laughing and saying, 'Klobukowskis, they are dreamers. They dream about going to New Zealand.'
"His English was really, really good but before he could work in New Zealand he had to register as a veterinary surgeon and pass veterinary science in English, a special examination held at the British Embassy in Warsaw. The SGGW was the only Polish agricultural university recognised in New Zealand, so he was allowed to sit the examination. It took him three years to prepare."
He passed the exam in May 1986 and by September was in New Zealand with Cecylia and their two children, Łukasz (9) and Hanna (8).
"I had my PhD underway but you drop everything and follow your husband."
In New Zealand the Klobukowskis joined two vets from Ireland and one each from Canada and South Africa. Wojciech's position was as a supervising veterinarian for MAF (the former Ministry of Agriculture and Forestry) in Oamaru.
Unlike her eloquent husband, Cecylia spoke little English.
"I panicked. I have a university degree. I worked at a university in Poland and I landed in an English-speaking country. My English did not exist, it was high school English. It was so difficult even to communicate on a social basis. I never used the English language in Poland; there was no need.
"I didn't travel overseas before I came to New Zealand and I was the first in my family to emigrate—we don't have a history of emigrants in my family—but my husband with his English, it was his baby, he spoke much better than many New Zealanders.
"I said, 'You speak like the BBC,' but it was good because we could come and work and settle in New Zealand and we were not political immigrants like the people who emigrated because of Solidarity.
"When we arrived I tried to open myself to absolutely everything. It was a self-discovery. I said to myself, 'Here I am. We are going to live here. I like everything. I am positive.' I had a TV on, radio on, newspapers everywhere. I made a very conscious effort to go out and meet people and talk, and I was absorbing the language from all possible sources.
"I acquired English by absorption, absorbing from the social environment, so different because culturally we are from continental Europe and this is Anglo-Saxon country.
"Everything was interesting. I was keeping my eyes wide open. My attitude was to see how it goes. If something was okay, I would accept it, if it was not, I did not follow. I'm more positive than negative and I really tried to settle. I was homesick, yes, everyone is homesick. I come from an extended big family and we were very close and suddenly you land on the other part of the world and physically, you cannot see your parents, your brothers, your sister or your cousins. The family becomes very small so you have to be mother and grandmother and auntie, as one person, to your children. You have to substitute for everything.
"My husband came from work one day and said that a colleague had told him about a Polish lady living in Oamaru. We got an address and we met Czesia [Panek]. My children see Czesia as their New Zealand grandmother; that is how they introduced Czesia to their teenage friends, something I think is quite significant."
It did not take Cecylia long to feel comfortable enough to start teaching economics at Oamaru's Waitaki Girls High. After six years a vet position in Dunedin became vacant and the family moved south. During the first year in Dunedin, Cecylia worked as a relief teacher, and later at Columba College.
During her relief work, one morning teatime, in the Kings High School staffroom, another teacher questioned her strong accent. A conversation ensued and Cecylia found out that there was a church in Broad Bay built by Polish settlers, and that the other teacher had a key to it.
"I was completely blown away that something like that existed. I learnt that this church was built in Waihola in 1899 by the first Polish settlers to Otago and Southland. It was named after a Polish saint, Święty Jacek Odrowąż, Saint Hyacinth, very popular in northern Poland. When the Catholic population became very small in Waihola, the bishop decided to transfer this church to Broad Bay.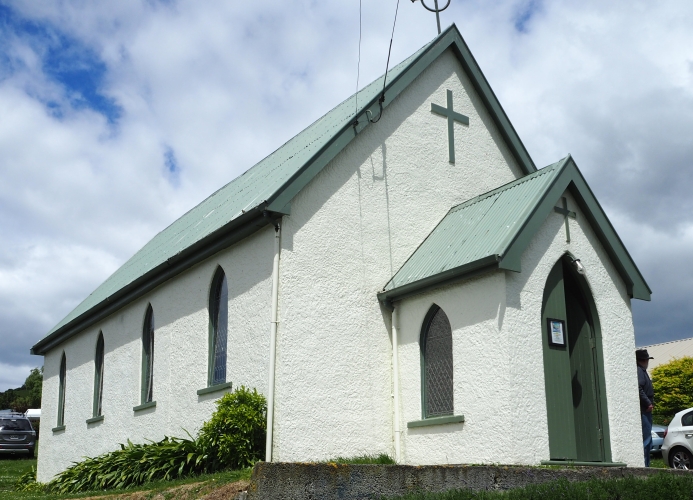 The Mary Queen of Peace church in Broad Bay, formerly the St Hyacinth church in Waihola.
"They cut the wooden church in two and in 1948 transported it on a bark, because there was a lot of water but very narrow roads then. They renamed it Mary Queen of Peace, so everything that had a Polish legacy became a closed chapter. There was an acknowledgement on a plaque that that church arrived from Waihola, but that was it.
"I learnt that in this region there had to be descendants of the first Polish settlers. Before, I thought that there are only Poles like myself, just modern immigrants."
Cecylia could not let go of that knowledge. "Two or three of us" placed advertisements in the otago daily times saying they wanted to contact descendants of those Polish settlers. People started to come to talk to us.
"Another eye-opening moment that made me want to be more involved in the process was when my husband said, 'There is a man who works with me who says his wife has got Polish heritage.' They both came for coffee.
"They didn't speak Polish but she said she's fourth generation and her maiden name was Halba, and I just thought, 'Halba? I went to school with Halba girls. This is not a very common surname in Poland.' And then she brought out her family history book, and there was a map of Poland, where her family came from. I looked at it and I thought, 'Oh my goodness, this is where my parents live. Her ancestor came from the Kociewie region near Gdańsk, from a village 10 kilometres from where I grew up.
"I came from Trąbki Wielkie but there were other villages that were on the map. And I said, 'Halba. So that means that those Halba girls I went to primary school with, there cannot be another way, there has to be a connection.'
"What struck me was that I grew up in this area and I had no idea—nobody talked about it—that there was quite a big group of Polish immigrants from the Kociewie region who came to Otago as part of the Vogel scheme, on the palmerston and other ships, and this church was built by Kociewian people.
"Coming from this region 120 years later I felt connected to them. It was incredible how strongly it hit me, like I belonged to them or they belonged to me, I felt like I'm part of them.
"I wrote to my mum—she was still alive—'Mum, can you go to Mr Halba in the village and ask him about the Halba brothers that Lorraine had in her book, Johan and Franz? Franz immigrated to the United States but he left his wife and a little son, Dominik, in Poland, and Johan with his wife and son immigrated to New Zealand.
"Three months later, I received a letter from Mr Halba in Poland: 'Dominik Halba was my great-grandfather.' His grandfather was the son of Franz Halba, who immigrated to the United States, left his son and young wife and little boy in Poland, and disappeared.
"That is how I figured out the Halba connection, but I went to school with Orłowski; the Orłowski family is here; and Gdaniec and Baumgardts… I lived in not a big area and probably went to school with family members who didn't even know they had a connection with New Zealand. They did not talk about it. Some of them knew. Some of them didn't.
"I felt I could not leave this church. It was growing on me. Through the advertisements we started to reach the descendants. Paul Klemick joined us, and we established a connection with the Kociewie region.
"We had the support from those local Poles, fourth, fifth generation. They don't speak Polish, but they wanted to learn about their ancestors. We reignited them.
"Paul said that when those first Polish settlers arrived on the Palmerston, the colonial administrator or customs worker looked at the group of immigrants and just said, 'They don't speak English.' Some of them could speak German, but they were [trying to explain] they were Poles.
"They came from Prussia, because it was Prussia at the time of Bismarck. There was no Poland on the map of Europe so they called them Polish Germans or German Poles. Religion would say whether you were a Pole or a German coming from Prussia: If you were Catholic coming from Prussia you were a Pole; Germans were protestant Lutherans. History was changing in that part of Poland, the Kociewie/Gdański area. Some people stayed Catholic and some associated themselves with Germany.'
_______________
The informal Polish group in Dunedin became the Polish Heritage of Otago and Southland Charitable Trust in 1998, the same year Otago celebrated 150 years of colonial settlement.
"The Scots were celebrating and we said, 'Hey, stop, there are Poles here too. They came as settlers too. They were working just as hard as other settlers and they need to have the status of settlers. Can we join the celebrations?'"
POHOS board meetings are in English and its members represent the three distinct strands of Poles in Otago. Like the rest of New Zealand, there are descendants of the earliest settlers, whose families have long lost their Polish language; those who have Second World War connections and those whom Cecylia calls the "modern Poles" born in Poland and bringing with them modern Polish culture and the language.
Members soon realised that although the Waihola church had a reprieve in Broad Bay, its future remained precarious. South Dunedin had what could be considered an over-supply of churches in dwindling Catholic parishes and at any stage the bishop could have decided to retire the Broad Bay church. They set about restoring the church's Polish heritage.
"I wrote to the bishop explaining that just like the Chinese or the Maori have their own heritage, this church has a Polish heritage and we need to preserve it and promote it.
"The altar windows were broken—vandalised in the 1950s—and just plain glass so we launched an appeal. All over New Zealand people gave, $10, $20, and then we got $2,000 from the Otago Community Trust and we recreated the stained glass in the altar windows of Saint Hyacinth and Saint Catherine of Siena. They were based on a black and white photograph, 60 or 70 years old, and the colour of the stained glass was taken from the side windows, which are original.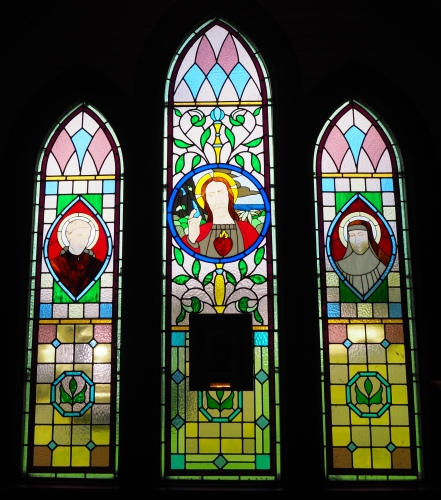 The re-made altar windows at the Broad Bay church with Saint Hyacinth and Saint Catherine of Siena on either side of the Sacred Heart.
"That was in 2001, and then we looked for the bell, which was lost during the move. We placed an advertisement: 'If you find the bell from the Waihola church…' and a lady from Balclutha contacted us. She said that she had the bell in her garden. She bought it many, many years ago for $50 and said if we gave her $50, we could take the bell.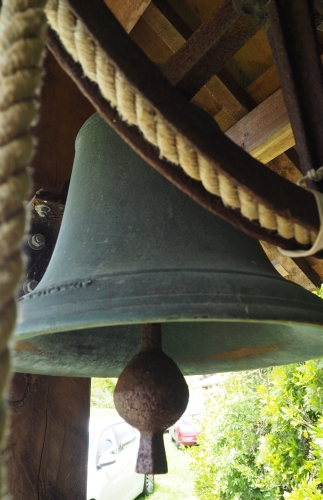 The Baumgardt family, whose first members arrived aboard the palmerston in Port Chalmers in 1872, donated the church bell to the original St Hyacinth church in Waihola in 1899.
"So we got the bell, and the restoration cost nearly $4,000, but then we couldn't put it in the church roof because the roof was eaten by borer, so we had to build a bell tower. So there was another substantial financial effort of the trust…"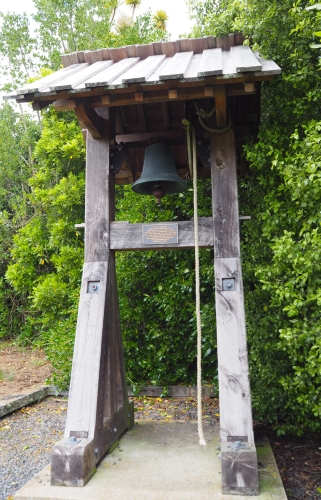 The plaque on the bell tower at the Queen of Peace church in Broad Bay explains that the bell was lost during the church's move from Waihola in 1948 and restored in 2003.
"And then there was the garden: The back of the section was a rubbish tip, lawn cuttings and all sorts of things and people complained that mice were running through it and it didn't look nice, so that was another project. There are not many of us so we asked the Corrections Department if they could send us prisoners, and they spent some time and cleared the entire back of the garden.
"The prisoners came to church, some of them coming for the first time to a church and some of them were very moved that they were doing something good.
"When I first saw the church, the congregation was about five people and Father was commuting from Dunedin. Mass was once a month. We still have a once-a-month service, but 20 years later the church has got a presence. There are still not many of us and it is quite a challenge."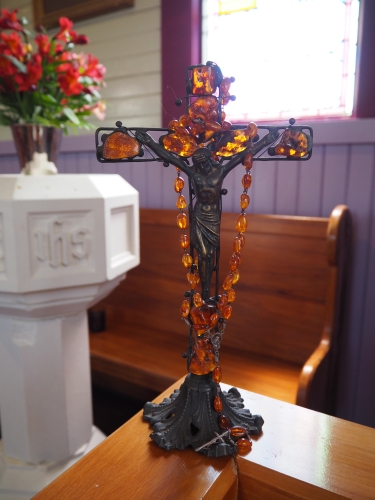 August Orlowski (the family name lost its diacritical in the 1872 passenger list), son of August and Franciszka Orlowski, donated the baptismal font in the background of this photograph to the Church of St Hyacinth in Waihola in 1921. Rosalie Prescott, née Klemick, asked Cecylia to buy something in Poland for the church in 2002. She returned with the amber-encrusted crucifix and amber rosary.
In 1999 POHOS acknowledged the Poles in Allanton with a plaque in the cemetery. Their resources did not stretch to restoring the Allanton Catholic Church to the same extent as Waihola's, even though Allanton's was the first church Polish settlers attended in the 1870s. (A story on the Poles in the Allanton cemetery is under the heading otago in the early settlers page.)
"There was a very strong push to preserve the Allanton church and it was a very difficult situation, but we were coming from a position that, with our limited resources, we could not preserve every church that Poles attended."
our southern poles, an exhibition that POHOS members organised in 2007 at the Otago Settlers Museum in Dunedin took on a life of its own.
During its four-month run, Cecylia was in Poland and visiting New Zealand's ambassador in Warsaw, Philip Griffiths. He invited her to go with him to the Royal Łazienki Museum for the opening of an exhibition about Polish settlement in Australia.
"I always say there is a lucky coincidence, opportunity knocks and you have to open the door, because opportunity never knocks twice, yes? I was networking between New Zealand and Poland. I was introduced to the director of the Łazienki museum, and the Australian and Canadian ambassadors—the Canadians were also eager to organise an exhibition—and I said, 'Do you know, Phillip, we already have an exhibition about Polish settlement, now, in the Otago Settlers Museum. We can have this exhibition ready in Warsaw.'
"I could see immediately he wanted this, so the next morning, my last day in Poland, I went again to the New Zealand embassy. He invited the director of the Łazienki museum and the curator of the exhibition, and the four of us made plans to bring our exhibition from the Settlers Museum to Poland.
"I sold [the Otago Settlers Museum's] exhibition without asking but they said 'yes' and it was simply transferred from Dunedin to Warsaw. It's the way, the personal connections.
"I said to Philip, 'If you have it in Warsaw, you have to have it in Gdańsk, in Starogard-Gdański,' so I networked in Starogard and they said yes. Łazienki helped Starogard with setting up the exhibition. From Starogard it went to Gdańsk. From Gdańsk it went to Kraków, to the Jagellonian University, and from Kraków it went to Lublin. For a year our southern poles was touring Poland and with it, the painting of our Lady of Perpetual Suffering from Broad Bay church.
"That painting of Our Lady was brought from Poland by an early settler family who donated it to the church. It originated from Polish settlers and returned back to Starogard-Gdański."1
"People were crying at the Starogard-Gdański exhibition because suddenly there was an awakening in Poland that there was an emigration from this area to New Zealand. The Halbas were there, the local Halbas."
Not long afterwards, the Dunedin Poles discovered their connection with Joseph Conrad (Józef Teodor Konrad Korzeniowski), the Polish-born English novelist.
It was thanks to New Zealand members of parliament visiting the Polish parliament. The delegation included Katherine Rich, then list MP for Dunedin. When speaker of the Polish senate Bogdan Borusiewicz found out that she came from Otago he asked her to explain the connection between the name of the Otago region and the ship otago, captained by Joseph Conrad (1857–1924).
"She couldn't, so Bogdan Borusiewicz wrote to Lech Mastalerz, who was the ambassador in New Zealand, and Lech Mastalerz sent the letter to us because we are in Otago… so we started to dig into marine history. Port Chalmers is a very old port, very buoyant in the 19th century, and we discovered that there was a ship otago, designed and built by the first captain of the ship, Angus Cameron, who lived in Port Chalmers.
"I went to the Hocken Library, got the box of historic information and white gloves and found out that Angus Cameron was a master of the harbour. He immigrated to New Zealand with his wife and three children in the 1860s. His wife died and he was so grief-stricken that he decided to return to Scotland with his children.
"In Scotland, he became a ships' architect. He designed a sailing ship, and he ordered it to be built in Glasgow. He named it otago, in memory of his life spent here, then he sailed the otago from Glasgow to Port Chalmers, re-immigrated to New Zealand and re-married.
"The ship was so beautiful that many ship owners and traders envied him and wanted to the buy the ship from him. 'No, you can't afford it,' he taunted them but when he set what he thought was a high price they said, 'Money on the table, the ship is ours.' He lost his ship to Adelaide merchants.
"It was Conrad's dream to be a captain. His hero was Captain James Cook. Conrad left Poland when he was 16. His life was extremely volatile. At that time that part of Poland was under Russia and he was a Russian subject. He went to Marseilles, France, and worked on ships but when his Russian visa expired, he knew he would not be able to stay because France and Tsarist Russia had an agreement that all Russian subjects had to have valid documents.
"He moved to England and started sailing under the British Merchant Navy at the age of 20. This is how he learnt English and is one if the greatest English writers, but he spoke French, he spoke Polish, he spoke Latin, Greek.
"When he passed his captain's exam, his first ship was the otago. He was in Singapore when the merchant navy told him there was a ship that needed a captain. He was captain of that ship for 13 months delivering cargo to wherever he was asked.
"He asked the owner of the ship if he could sail a particular route. The merchant allowed him and he retraced Captain Cook's first voyage. He always wanted to sail the route Captain Cook sailed on his voyage in the Pacific. He delivered the cargo and not long after resigned from the otago and started to write his books. He wrote about the otago in the shadow line."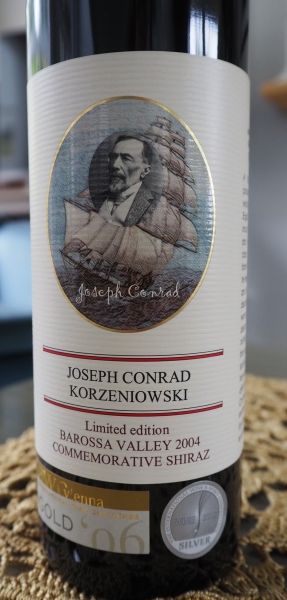 When Cecylia heard about an international exhibition celebrating the 150th anniversary of Conrad's birth, she suggested to Lech Mastalerz that it had significance in Dunedin. It came from China to the Otago Settlers Museum in 2007. Cecylia supplemented the display with a painting of the otago by Dunedin artist Margaret Ann Howard, a sheet of three-złoty stamps issued by the Polish Post Office to mark the Conrad anniversary and a bottle of red wine from the Barossa Valley that the Ross Estate issued to commemorate Conrad. The label shows a fully-rigged otago.
The governor of the reserve bank of Poland donated one of the specially minted 200-złoty gold coins and a silver 10-złoty coin to city of Dunedin, which Cecylia presented.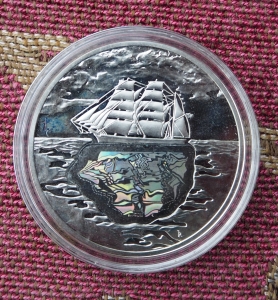 Two sides of the 10-złoty Joseph Conrad coin showing his image and the otago with its hologram reflection, apparently the first coin to use that technology.
For Cecylia the facilitator, finding the extra items personal to Otago Poles became part of the role she took on when she discovered the Broad Bay church and the early Polish settlers.
"I felt that I had a mission. It became very important to me."
In 2016, Cecylia retired from her teaching position at Dunedin's Columba College but her life remains filled with promoting the early Polish settlers and the Polish culture in New Zealand. These days Cecylia's mission has expanded from Otago to include the entire New Zealand. In 2017 she extended her Otago role and took over the president's role for the Federation of Polish Organisations in New Zealand.
Wojciech died on 16 January 2015. Łukasz graduated as a doctor from Otago University and works as a radiation oncologist at Auckland Hospital. Hanna followed her father into veterinary practice, graduating from Massey University and working in animal pathology.
© Barbara Scrivens 2018
ALL PHOTOGRAPHS BY BARBARA SCRIVENS.
THANKS TO:
THE POLISH EMBASSY IN NEW ZEALAND FOR TRAVEL AND ACCOMMODATION EXPENSES IN DUNEDIN.
THE NORTH AUCKLAND RESEARCH CENTRE IN THE TAKAPUNA LIBRARY FOR THE LOAN OF AUDIO RECORDING EQUIPMENT.
ENDNOTES:
1 - If anyone can furnish us with details of the story, we would appreciate it.