Remi Golębiowski and Izabela Wojcik
A PARADISE ISLAND BEYOND THE HYPE
by Barbara Scrivens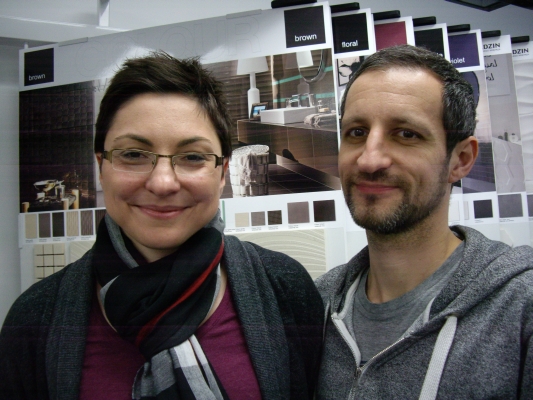 It was not the marketing—although they appreciated New Zealand's spectacular scenery, beautiful lakes and mountains abound in Poland. It was not that they believed New Zealand was a Utopia—despite its reputation in Europe as an idyll. What made Remi Golębiowski and Izabela Wojcik, pictured here, look on this country as their permanent home was the opportunity to, one day, become "new Kiwis."
And now, these two sensible and pragmatic Poles in their early 30s pour their energies into their Christchurch business venture—importing high-end construction products such as ceramic and porcelain tiles and engineered flooring from Poland.
Five years ago they were making a comfortable living in Warsaw. Then Remi received a job offer in Denmark, and it made them recognise that they were heading towards burn-out.
"We decided to go there and have a bit of a break. The contract was three months. In the end, we stayed for two years, but we knew it was not the place for us. We realised that to learn Danish would take up so much time and effort that it would take too many years for us to do the job we are good at," said Remi.
"It was not just the language. We were not fitting there perfectly, and we thought, 'We have come this far, maybe we can try something else.' We decided to move on… but to an English-language country.
"We started looking for work, trying in Canada and Australia. Then I remembered there had been earthquakes in Christchurch, googled it and found out there was a big demand for construction workers. I applied for two jobs and got both."
At first Remi, a former sound engineer, worked as a senior tiler for another flooring company, then joined Izabela in launching their own importing business on Opawa Road. Remi is still project managing and runs their sales business. Izabela, with a degree in economics and management of commercial companies, runs front and back of house.
An accent is always a giveaway and soon after Remi started work, a New Zealander asked him "many questions" about his background.
"At that point we did not know if we were going to stay here or go to Australia. He told me, 'Don't go to Australia. Stay here because here, after some time, you will be just a new Kiwi. In Australia you will be an immigrant to the end of your life.'"
Remi and Izabela met a Pole who arrived with his family on a visitor's visa, and who was disappointed to discover that New Zealand was not the "paradise" he expected.
"For most of Europe, New Zealand is like a kind of Paradise Island. When we were much younger we used to say, when we had problems in business in Poland, 'If this is not going to work, we will close it all and go to, instead of saying the end of the world, we would say we would go to New Zealand.
"We said to him, 'No, it is not a paradise, it's just a different country.'
"New Zealand has strong marketing and it is really difficult for some people to understand that it is just marketing, showing beautiful mountains and lakes and things like that. We saw all the beautiful pictures and read all the beautiful stories and said, "Okay, if it is a tenth like that, it will be good for us.'"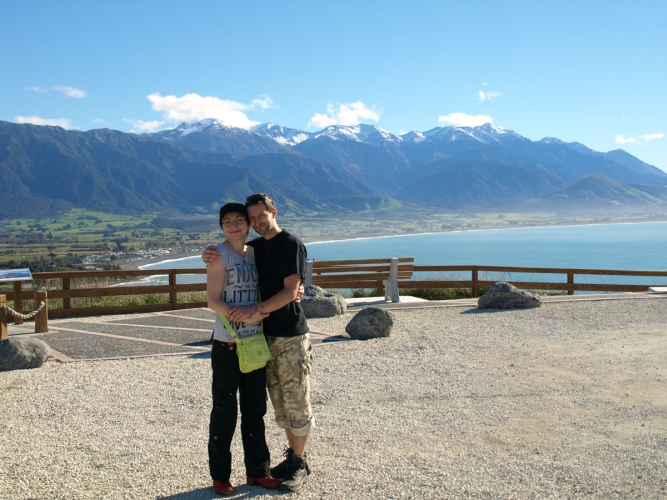 Remi and Izabela on the Kaikoura peninsula, north of Christchurch, in April 2014.
Izabela: "Most of the people we've met here from Poland have been in another European country for some time first. It's much easier to go somewhere else closer to home, have that experience first, then move so far away.
"If someone were to ask me about coming here, I say: First, find the job; second a work visa, then come—not through a tourist visa, because you don't have the stress of having to apply for another tourist visa."
Remi and Izabela love Christchurch. Its European atmosphere reminds them of Poland, and they feel far more comfortable than their first foray away from Warsaw. (Their favourite place to unwind, when they do get some time off, is Bottle Lake Forest and its extensive walking and cycling tracks north of the city.)
Izabela: "I came to work one day and said, ''I have a residency! I have a residency!' and the boss said, 'Ah, you are a Kiwi now…' It was very nice to hear. I never expected such a warm invitation.
"Here I feel more like home. For sure, we will stay in New Zealand. Where we will settle and buy a house, we don't know yet."
Long hours spent on the business have restricted their time to make personal relationships but they have made friends.
Remi: "In business relationships, sometimes people aren't confident working with foreigners. Sometimes there isn't trust. I am sure we will find some difficulties but we are working on it.
"People here don't realise that many of the European products they are buying, like some types of Italian timber flooring, are made in Poland and branded with an Italian stamp. German cars, take a close look at the main parts—they are made over the border in Poland. Poland is a factory of Europe, because it is cheaper to produce there and you still get the European quality and production control."
Izabela: "This is our goal here, to promote Poland and Polish products from our industry."
If their determination and work ethic is anything to go by, there is no doubt they will succeed.
© Barbara Scrivens, 2017
THANKS TO:
THE POLISH EMBASSY IN NEW ZEALAND FOR CONTRIBUTING TOWARDS TRAVEL EXPENSES TO DUNEDIN.
THE NORTH AUCKLAND RESEARCH CENTRE IN THE TAKAPUNA LIBRARY FOR THE LOAN OF AUDIO RECORDING EQUIPMENT.
KAIKOURA PHOTOGRAPH SUPPLIED BY REMI AND IZABELA.