A Polish Home
by Marysia Depczynski
Marysia shared the following story with the 201 guests at a luncheon held in Auckland on 27 October 2019, to commemorate the 75th anniversary of 733 Polish children and their 105 Polish caregivers arriving in New Zealand.
Fifty-six years ago, on the front page of the Auckland Star, was a photograph of a mother and her five-day-old baby. The headline read:
"BABY'S BEEN AN N.Z-ER LONGER THAN HER MUM."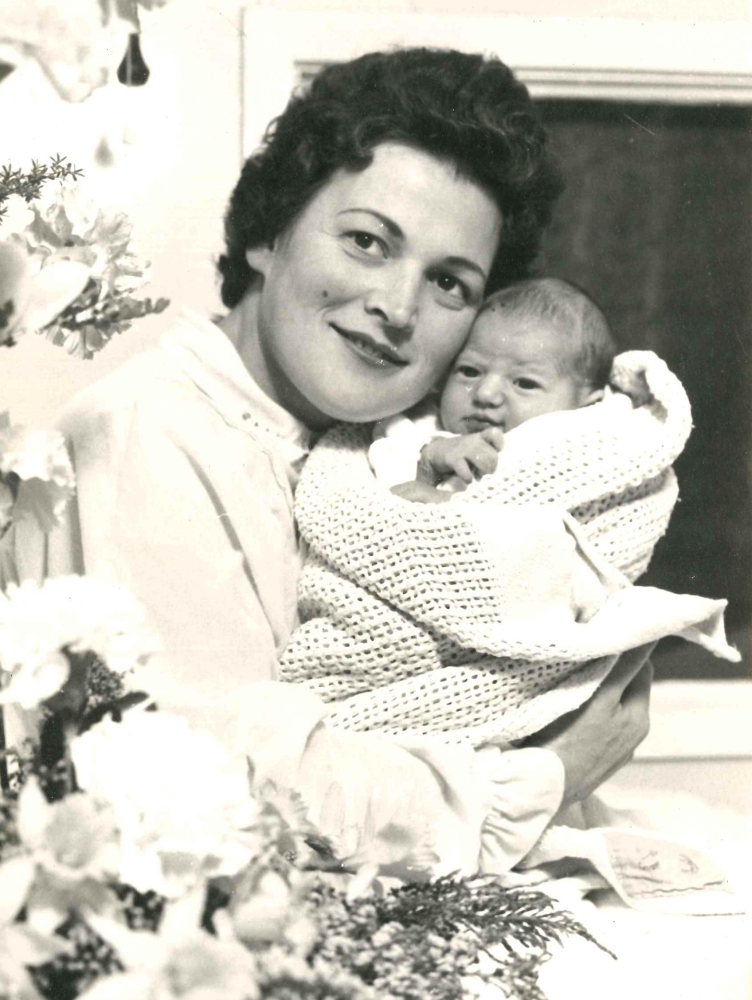 This article was about my mum, Marysia Jaśkiewicz who had to ask for permission to leave National Women's Hospital, to attend her naturalization ceremony with my father, Franciszek Jaśkiewicz. My parents were among the Polish children who had come to New Zealand some 18 years earlier.
I was christened Marysia Franciszka Jaśkiewicz, after my parents, and was one of four children. Having the same name as my mum always caused confusion when the phone rang, and the standard question was, "Did you want to speak with Marysia senior or Marysia junior?" Nowadays, it's easier for everyone to remember us by one name.
My siblings and I were all given Polish names, and my folks were adamant we were to be called by our correct names at school—even though the principal wanted us to have an English version. And of course, we have had a lifetime of spelling our first and last names.
Growing up, I shared a bedroom with my two younger sisters and all our names ended in the sound "sha" so whenever Mum called from the kitchen, which was at the other end of the house, we only heard the "sha!" and I always convinced one of my sisters to go and see what mum wanted. Invariably it was my help.
Mum is a talented seamstress, and had a dedicated sewing room, with industrial grade machines. She would sew into the early hours of the morning, and I still remember the roar of the machines as she pressed her foot on a pedal. I learnt to sew on them, and eventually managed to get to the same speeds as my mum. At the weekends Mum would dedicate her sewing time to making bridal gowns and I was always the model, having to stand still for long periods of time, perched on a box, as she made adjustments to the gown and pinned the lace inserts into place. If the timing was right, I was allowed to watch episodes of Coronation Street  to help pass the time.
Dad was a fitter and turner and had a fully equipped workshop in the basement. He became known as the Welder Out West, and could manufacture anything with his welding machine. He was also very creative, and made a trap door in the floor of the sewing room, and a metal ladder, so our home had internal access! I can still visualise the rugby scrum machine he made, as each weekend it grew larger and larger, and eventually overtook the driveway parking. It was the first ever machine of its kind in Auckland.
Dad not only taught us how to ride our bikes, but also how clean, grease and change the bike chain. He also taught us all to drive at the age of 15 and how to do general maintenance on the car.
Like most of the Pahiatua children, my parents were orphans when they arrived in New Zealand, and yet they were able to teach us valuable life skills. They certainly worked hard and played hard.
Saturdays were for chores, with the mornings spent cleaning, dusting and polishing, and the afternoon ironing everything from tea-towels, sheets and pillowcases to school blouses and work shirts. Sundays were definitely a rest and recreation day. After attending Mass, we would have friends and family over for a long lunch. The parents would then settle into games of cards, and this allowed the children to ride our bikes and explore the surrounding neighbourhoods.
I remember a lot of the school holidays were spent at home with another Polish family, the Paneks. The two mums worked together to produce batches of pierogi, bigos, gołąbki and other Polish foods and preserves, depending on the season.
Of course, Easter and Christmas were always celebrated with Polish traditions. Easter Saturday saw us decorating hard-boiled eggs and sculpting a pound of butter into a pascal lamb. These foods, along with sausage, bread, babka, salt and pepper were taken to Easter Sunday Mass for blessing. The tradition of Śmigus Dyngus was played out on Easter Monday, where a surprising splash of water awaited you at any turn—even in bed.
Christmas was the highlight of the year as we got to celebrate Wigilia on Christmas Eve, one of the great things about being a Polish child. It meant Santa would visit us twice—once after midnight Mass, and then again on Christmas morning!
I have had several opportunities to travel to Poland with my mum, the first visit in 1987. I was able to experience life in communist-controlled Poland, and was grateful that I lived in New Zealand. More recently, I travelled with my youngest daughter, Daniela, to the town Przemysl where my mother was born—a delightful town with at least a dozen churches, plenty of cafes serving Polish cakes, and full of colourful flowers and greenery. I have also stayed in Kraków for three weeks, attending a Polish language school, and had a magical white Christmas with my family in Zakopane.
I'm grateful for my upbringing and am proud to be a Polish Kiwi.
Thanks for listening to my story – Dziękuję!

© Marysia Depczynski, 2019.
The Auckland Star article appeared on 25 June 1963.
If you would like to comment on this, or any other story, or would like to contribute your own memories of living in New Zealand with Polish parents, please email editor@polishhistorynewzealand.org.