Jadwiga Jarka Cooper
NEW ZEALAND, LAND OF EVERYTHING (except bird milk)
by Barbara Scrivens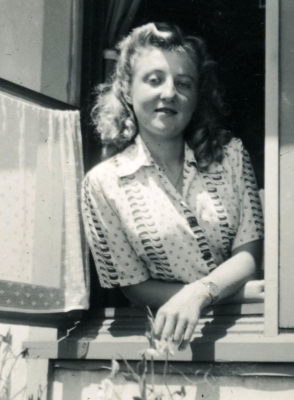 Persia, 1944: A man gave Jadzia Jarka and other Polish girls in their orphanage each a tiny tin of condensed milk and said, "Have this. This is like a bird's milk. You are going to the country that has everything except bird's milk."
Three months later, the girls from hostel number nine in Isfahan (now in Iran), stood on the deck of the uss general randall as it docked in Wellington harbour. For most of the 838 Poles on board, it had been nearly five years since Soviet soldiers forced them and their families out of their homes in eastern Poland and abandoned them in forced-labour facilities and kolkhozes in the USSR.
The 733 orphans and partial orphans and their 105 caregivers had escaped with about 115,000 others to Persia with the Polish army in 1942. From Pahlevi (now Bandar-e Anzali) Polish soldiers went to training camps, many teenagers to the Polish military schools (junaki), Polish mothers with their own and other orphaned children to civilian Polish refugee camps in Teheran, and Jadzia and her group to various large houses scattered around Isfahan.
By September 1944, allied countries in eastern and southern Africa, Mexico, India and Argentina had created refugee camps for the Polish civilians. New Zealand's offer of refuge, specifically for the orphaned children, became one of their last chances to leave the Middle East.
Two warships helped with the transfer. The British Ministry of Transport vessel, the sontay, took the group to Bombay (now Mumbai) from where they transferred to the general randall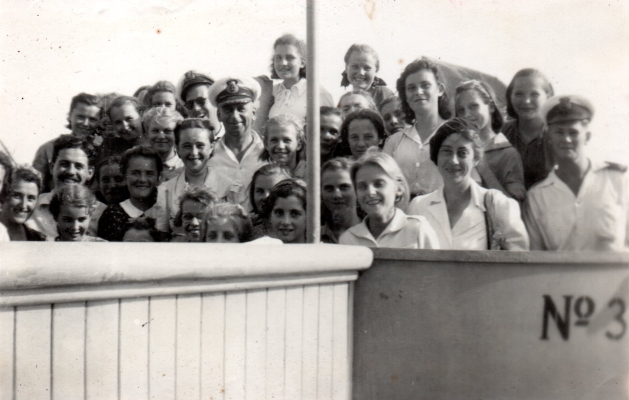 Polish children with some of the crew aboard the Sontay.
As if to prove its reputation as "the country that has everything except bird's milk," even the Wellington weather put on a special show for the newcomers on 1 November, 1944.
Jadzia: "I was in a fairy country. It was a beautiful day, greenery everywhere, beautiful houses, coloured rooves… I almost could not believe it." Wanting to remain a dignified young woman, she did not express her joy in the way the little boys did when, later that day, she saw them jumping with glee on their new beds, but felt and enjoyed their exuberance.
Friendly and generous crowds in Palmerston North and scores of smiling New Zealanders waved arms and flags as the two trainloads of rescued Polish exiles chugged slowly towards the Pahiatua railway station.
"People were standing even in isolated areas, and waving flags all the way to the camp, and we hadn't done anything to deserve that gratefulness. We were in that train station [Palmerston North] and our arms were full of flowers, lollies, apples, everything. I could not absorb this kindness after the life in Siberia.
"And then we came to Pahiatua and were allotted, according to age, to dormitories. And there was a flower on each little low-boy, white sheets on the bed, a blanket. Everything was arranged and so clean. We had mattresses and some little children were jumping… we always slept on flea-infested floors in Siberia.
"We were invited guests of this government, and they did all they could to make life extra special for us. The army managed the kitchens; they looked after us, and the Church, the Red Cross, Americans… New Zealanders would send their clothes to us so we could be elegantly dressed for church and going to the pictures in our big hall, because in the beginning we had army khaki button-through dresses for daily wear."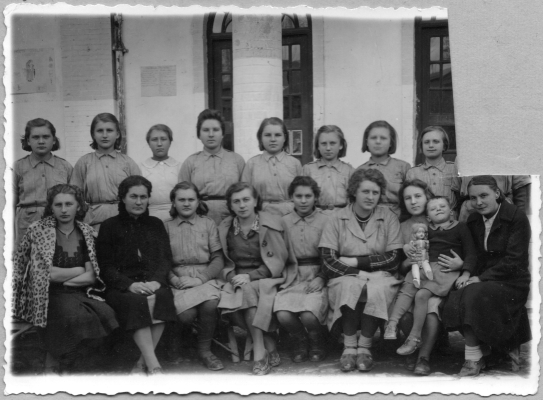 Teenaged Jadzia cut herself out of this photograph, taken at the Isfahan hostel shortly before the girls in those khaki button-through dresses joined the other Poles leaving for New Zealand. She was embarrassed at having her long blonde plaits cut against her will, after her stepmother had managed to keep lice at bay through shampooing her hair with kerosene.
At first, the children's limited English made it difficult for them to express their gratitude. Jadzia remembers how, in the two weeks before they left their Isfahan orphanage, Persian teachers taught them a few basic English words, "yes," "no," "thank-you," "bread," "butter."
"We learnt English in the camp but we also had the idea that we were returning to Poland after the war, after it regained independence, and kids being kids: 'I don't want to learn another language. I have my own.' It was our little Poland in Pahiatua. We all felt the same. We were all returning, which for a great number of us never ever eventuated. We realised that after the war Poland didn't gain independence; it was still under a communist government and we orphans had nobody to return to. And then we had  to learn English."
_______________
The siren ruled Pahiatua life. Its first wail during weekdays had children and staff prepare for school. Then it hailed breakfast, lessons, lunch, lessons, homework and dinner. The siren sounded; the children gathered.
"We shower, we get ready for school, make our beds, and after we are at school the supervisor will go and check that everything is tidy, pull the drawers from the three-drawer little low-boy by each bed, see if it's tidy. We didn't have many things—a little clothing—what would they find?"
Slices of bread hardened in some of the younger children's drawers. They had filled their pockets from the dining room "for later," copying the way their absent parents had squirrelled away pieces of bread in the forced-labour facilities and kolkhozes in the USSR. It took a while for some of the orphans to believe that they would continue seeing the tables laden with bread, butter, jams and cheeses, and that they no longer lived in extreme deprivation.
Jadzia remembers helping to get the younger ones to understand that, "Tomorrow the food will be there, the same as today, and the day after tomorrow. You will always have something to eat. You will not be hungry in this country."
New Zealand cuisine took a bit of getting used to. Jadzia, starved in Kazakhstan, had eaten anything she could find. In Pahiatua she tried to decline the "green stuff" on offer. The army cook had instructions to give a little of everything to everyone, and so she became used to silverbeet.
Another time she looked at the swede and told the cook, "Grandfather used to feed animals with that." The cook remained unmoved.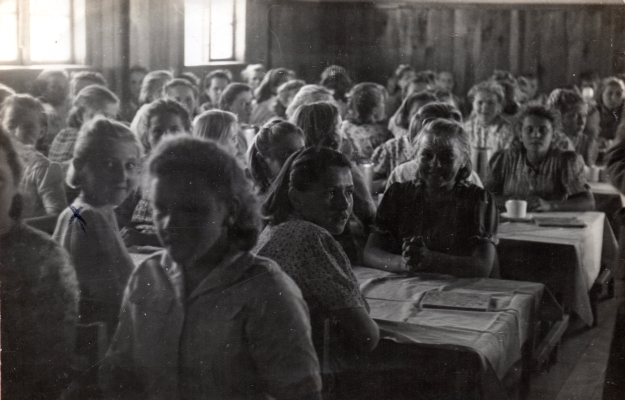 The older girls' dining room. Jadzia is front left.
"It was basic New Zealand food. The New Zealand diet is more sweet, ours more savoury. That is because of the climatic conditions in Poland. We have four distinct seasons. In New Zealand, one flows into the other, but in New Zealand you can live on lettuce and very simple food. You can't do this in Europe, in cold countries. You have to have something more sustaining. Years later we found some Polish Jews in Wellington making salami… There was nothing like it and we missed the Polish food, the crusty breads, buns, chała [plaited, soft, vaguely sweet loaf].
"The food was such a change and I suppose naturally if you want something and you can't obtain it, you long for it."
_______________
"The war left me with a lack of security—still with me now—but in Pahiatua, everything changed because New Zealanders offered us something we would not have in Poland. We had freedom, freedom of expression. We had food. We didn't have to scrape by, and our circumstances changed so much. As they say in English, you have to be in this person's shoes to realise what they have gone through. For example:
"New Zealanders at the weekends used to come and visit us in Pahiatua. Our English at the beginning was non-existent, but different things like rice, bread, food, yes, we had plenty, and one day we mentioned the word 'rice' for dessert. 'You had rice?' 'Yes,' we said. 'Oooh, I wish I could have some rice.' Because rice was imported to New Zealand then and it was on the little coupon. They couldn't go like they now go and get different types of rice. And I thought, 'Rice? Why is it so important to them, rice? They have everything else. You can do without rice.'
"When I was working [in the 1950s] and the word went around that they expected shortages, say, of sugar, or butter, the girls in the office asked for time off to go to the shop and buy some extra butter or sugar. They'd say, 'Vickie, aren't you coming?' 'No. I'm not going. You can live without sugar. You can live without butter, or whatever else—because you have all the other ingredients for your meals. The grocery shop is full of food.'
"Some Pahiatua children adapted, embraced, fitted in, more easily than I. Lack of family scarred me forever, even at this age now, I still miss my family. Our mother died so young, life was different; stepmother came, life was different; through the war, life was different. When father left and the Germans came for a fortnight or so, life did not change. Once they retreated and the Russians came, things changed again. Shops never opened, everything was rationed, everything was taken to Russia—including us. So that was another loss of family, loss of freedom, loss of family again. After the 'amnesty' in Siberia, it was better, because I was among my own people in bigger numbers." [For an explanation of why the word 'amnesty' is in quotation marks, see military timeline, 30 July 1941, on this page.]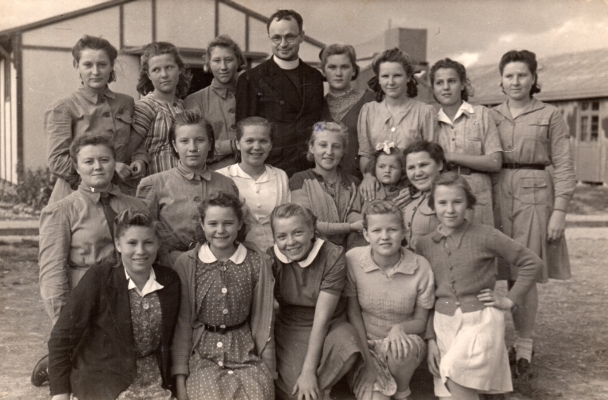 Fr Wilniewczyc, the Pahiatua camp's first chaplain, with some of the girls in 1945. He transferred to a similar Polish children's camp in Lebanon in December 1947. Jadzia is in front of him, to the right. New Zealanders donated the civilian clothing worn by some of the girls. Photographers regularly arrived in Pahiatua and Jadzia collected many mementos from them.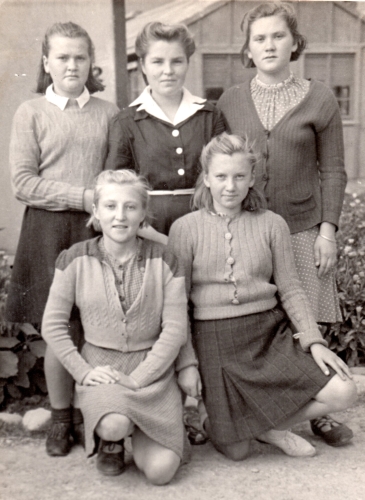 Another photograph taken soon after the group arrived in Pahiatua. Jadzia has forgotten the name of the girl standing in the middle at the back. (If anyone knows, please contact us through our home page.) On either side of her are Jadzia Różycka, left, and her sister, Janina. In front are Jadzia, left, and Zosia Głogowska.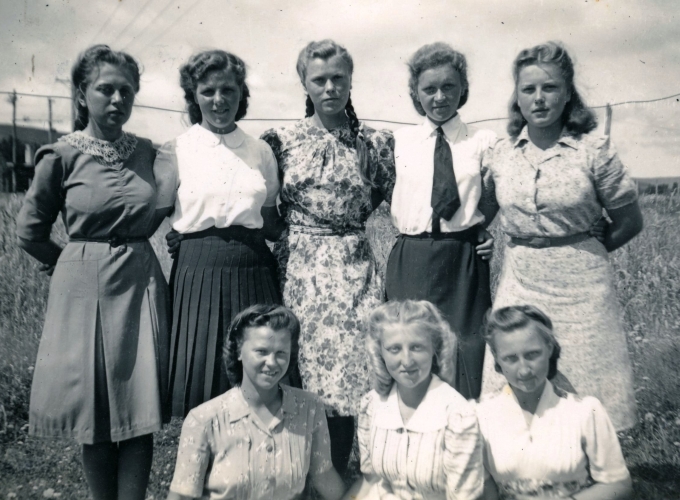 A few years later, standing back from left – Bożena Terlecka, Helela Sochoła, Irka Niedźwiecka, Jadzia Lutomska wearing the Sunday uniform and Jadzia Hilderbrandt. Sitting in front from left, Janina Niedźwiecka, Jadzia Jarka and another girl whose name Jadzia cannot remember. (Again, if you do, please let us know.) Jadzia decided her dress was not good enough for this photograph and is wearing Bożena's.
_______________
"I had my brother, Janek, but we never lived as a family in orphanages. Even if it's the same big building in Siberia, or in a normal house, boys were on the one side, girls on the other. I cared  for my brother—in Poland we called him Januszek—but I didn't. The orphanage took over."
In the camp grounds the hall, hospital, chapel and administrative offices were in the centre, along with family groups in their family houses. The boys in their dormitories and dining rooms were on one side of the camp, girls on the other. The smaller number of senior students meant they later shared a classroom but the younger boys and girls had separate classrooms.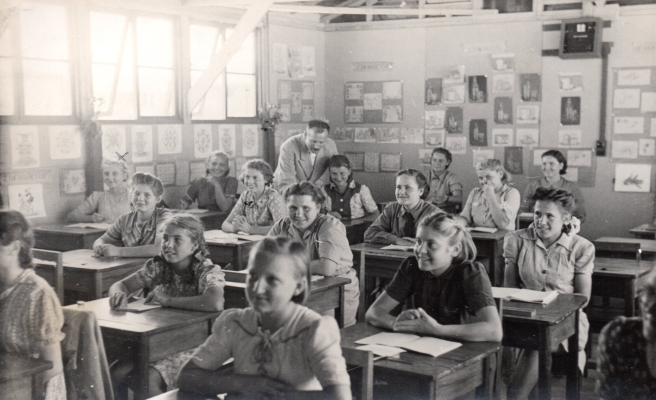 Jadzia, front along the left wall, remembers this teacher as [Józef] Holoma. This photograph was taken while classes were still in Polish.
"This was our world; that was their world. Of course we all went to church on Sundays, in the big hall where we had the films. We made a beautiful altar from plywood, panels decorated with grapes and things all carved out, and it was beautiful. The panels were taken out, opened, and it was arranged as a church, with an altar, and we came, all 800 of us there."
In December 1948, when this photograph was taken, the camp had been vacated by all but its youngest children and their caregivers.
"In the big hall we had films, and it was every week, the company would come and show us films and we didn't have to pay. That was so generous of them. From the government and the Red Cross, we were getting a little pocket money to buy us sweets or whatever."
In the afternoons, most of the boys played sports or explored their surroundings. The girls stayed closer, although all enjoyed summer swims in the Mangatainoka river, meandering along Pahiatua's north-western boundaries. On Sundays after Mass, if there were no visitors or outings, the children occupied themselves.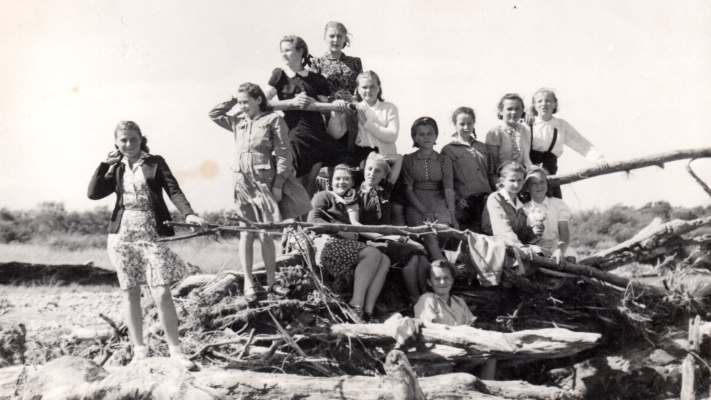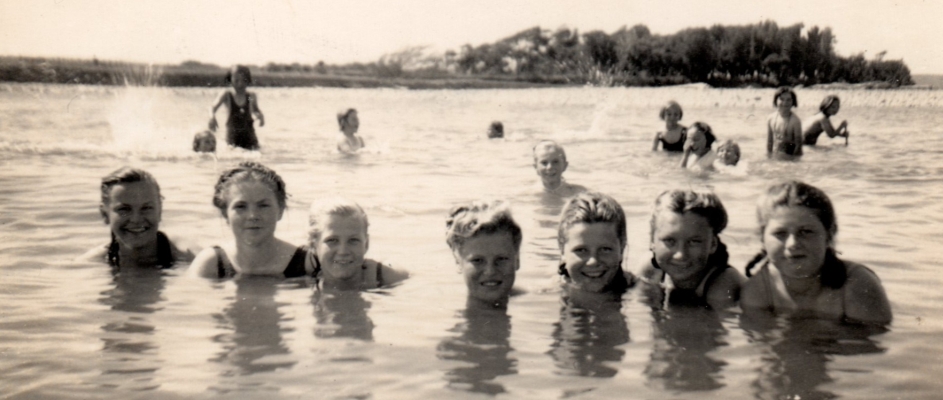 Above, Jadzia is seated in the middle, second from left and left, immediately behind the row of girls in front.
"We'd get together for concerts. We had Christmas. We had dances. We celebrated our national holidays together. There was always something happening."
After WWI scouting gained prominence in Polish schools and Pahiatua continued that tradition with regular meetings.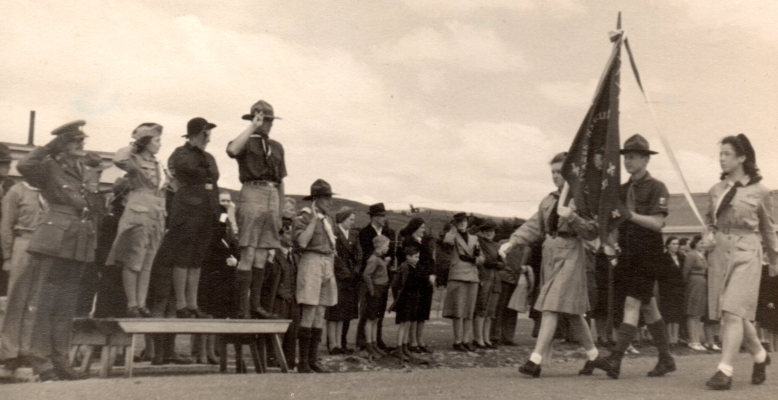 One day, as Jadzia and some friends explored the rolling hills surrounding the camp, the look of the lush green grass on one of the adjacent farms became too enticing to resist.
"It looked so fresh and clean and beautiful, I went up to the farmer and, even though my English was just a few words and I would normally not have been so forward, I used hand gestures to ask him whether we could roll down his hill. The grass was so inviting, so green compared with that dryness in Persia, that I could not resist. I had this urge to be in it.
"That farmer had a smile from ear to ear as he watched us rolling down the hill, running and singing in the grass. That lifted our spirits, and I am sure it lifted his too."
Jadzia had time to indulge her love of singing, learning songs and teaching them to her friend, Wiesia Kruszyńska. At one stage they decided to become nuns.
"There was a chapel but it was only little. Every day we would get up, have a little 'catwash,' go to church, put the light on and pray. Then somebody complained so we were told off: 'Take the little aluminium cup you got in Persia, wash your faces in water from that and have a good wash when you return. Go to church—but don't switch on the light.'
"And we prayed, both of us, like we never prayed before. It was for everybody and everything and especially a happy return—if possible—to our country."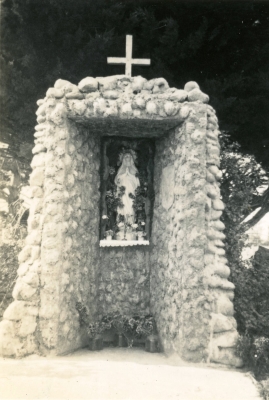 Following the Polish tradition of religious road shrines at the boundaries of villages or towns, Pahiatua children collected stones from the Mangatainoka river for one of their own. Boys, led by Henryk Wołk, built what became a place of solace and reverence to Mary, Queen of Poland.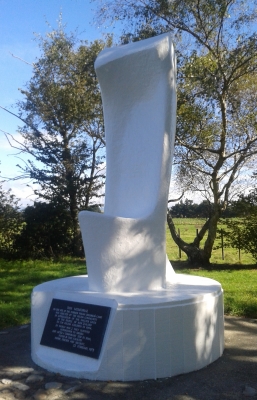 The grotto was dismantled and replaced in 1975 by this more permanent sculpture at the former entrance to the camp on what is now State Highway 2. The plaque on the new sculpture reflects the children's appreciation of the shelter given to them.
"We had a library. There wasn't much in there but a lovely lady from Pahiatua village—I think her name was Mrs Watson—would come and play piano and we learnt to dance. She played with her whole body and encouraged me to learn piano too. She was lovely. Some of the caregivers were cross about it: 'How dare you dance when Poland is under [post-war communist] occupation?' Kids will be kids… Perhaps we were not thinking realistically? Perhaps it was better to dance after all that had gone previously?
"I belonged to the Ensemble of the National Dancers, Góral, Krakowiak and Kujawiak. And when we came here to Auckland, I organised a substitute for the Kujawiak stories."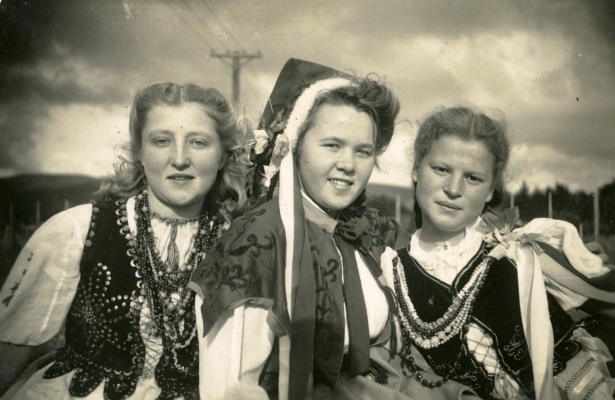 Jadzia with Renia Błażewicz, middle, and Teresa Brejnakowska. Jadzia remembers Renia having a particularly beautiful singing voice and being a remarkable actress.
"Dancing was on my brain from the time I could remember. I always wanted to be a teacher, and teach dancing too. My father said, 'Yes, that's fine, but you have to have another string to your bow, because you have to be more practical and learn sewing, because there will always be well-to-do people. You don't know what's ahead of you, war, no war, but there are always poor and very well-to-do people too who will want something sewn, and that could be your bread. You will learn dressmaking.'"
Jadzia avoided the machines in Pahiatua's sewing room but enjoyed crochet.
"We wanted those good things we couldn't buy. We weren't allowed to go to the township, Pahiatua, without supervision. We went in a group. The gymnazjum [school for pupils 13 to 16] in Poland had a special navy dress with a white collar and blue piping. I saved enough money, then girls who could sew got the fabric and made me one."
At the Whanganui convent she "couldn't make enough" crocheted doilies and special handkerchiefs, made by substituting pulled-out threads with coloured embroidery, all of which she gave to her fellow students as gifts.
"You missed so many things and you try to make up for it in a very simple way because there was no factory, no shop where you could go and buy things."
Jadzia never did take to her father's suggestion of sewing as a career. She took compulsory sewing classes at the convent but started sewing seriously only years later—through sheer necessity when she had her own family.
"We weren't well-to-do people. It was tough. I would buy a curtain, a zip or cotton one at a time, fabric, and then sat down. I would have some other garment, undo that, and use it to make another."
_______________
For the children who lived in the Pahiatua dormitories and who could remember it, the Polish traditional wigilia (Christmas Eve meal) became a dream.
"The adults in the little houses, family houses, they did have wigilia. I lived with Mrs Kalińska, the art teacher, for a certain time in her little cottage—I was tutoring her daughter, Danuta, in geography and Latin. There was another teacher sharing the house with her, Mrs Sójka. Mrs Kalińska had two children and Mrs Sójka none. They tried [to make a wigilia] but then there was no time. They were working: Polish cooking takes time.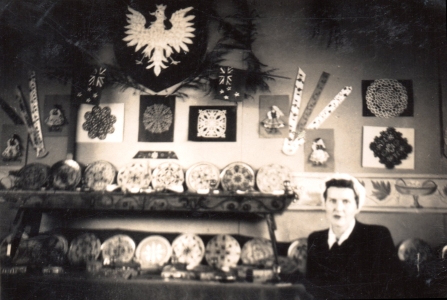 Mrs Kalińska with some of her pupils' traditional Polish craftwork, displayed for an exhibition in one of the gymnazjum classrooms. At the beginning of this story, it is Mrs Kalińska's cottage window that Jadzia is leaning out of.
"When we came here, they didn't have kwaszone ogórki [gherkins], roll-mops, herrings, or sauerkraut for bigos [hunter's stew].
"I was married when I went to Papakura. They were opening a big mall… I saw 'sauerkraut' and so I got some. It was just plain fresh cabbage, salt and vinegar and I had to throw it out. There was nothing that looked or tasted like sauerkraut.
"When we got married, we tried out recipes with the Poles from Pahiatua who had mothers who had shown them, and they were passed on, and that's how we learnt. I made pierogi [large filled pasta], and chrust [dessert pastry] that just disappeard. I introduced my family to gołąbki [stuffed cabbage rolls]."
_______________
After two years' "pressure-cooker" learning to catch up on lost Polish education, it became clear that World War Two had not produced a free Poland, and the authorities put more stress on the older children to learn English.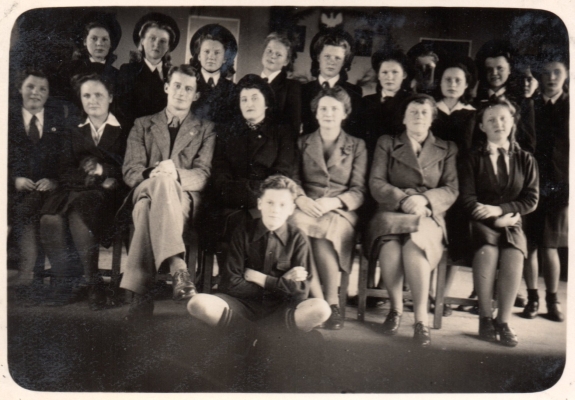 Jadzia, back second from left, with her English "pressure-cooker" class in 1946. She remembers the man as their history and geography teacher Frank Muller and the woman to the right as Mrs Żerebecka, who returned to Poland. Next to her is the English teacher, Miss Neligan. ("She was so lovely, how could I forget her?")
For two months before Christmas 1946, Jadzia and two others went to Nelson to "be among" New Zealanders.
"Everybody wanted each one of us to talk so we were forced to separate. We had to speak English because all the other girls wanted to know about you. The emphasis was learning the English language, and it helped us to become more conversant and more able to fit in and accept the two cultures."
They returned to Pahiatua but left again at the start of the school year, as boarders at the Sisters of St Joseph College in Whanganui.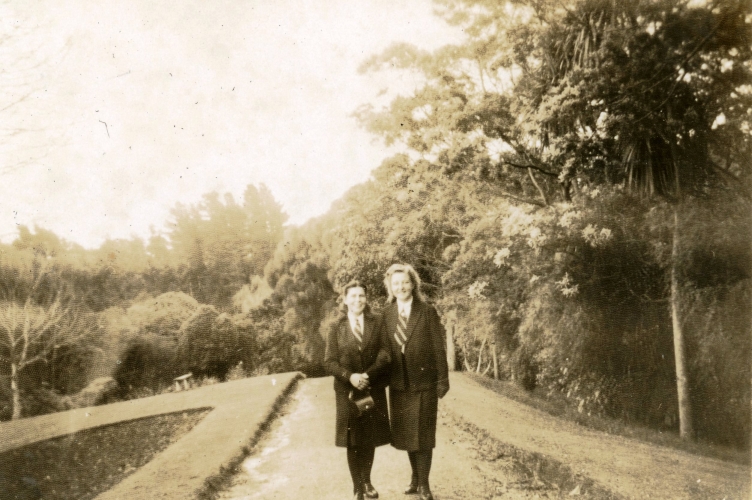 Jadzia and a Whanganui schoolfriend in the park near the school grounds, where the girls walked on Sundays.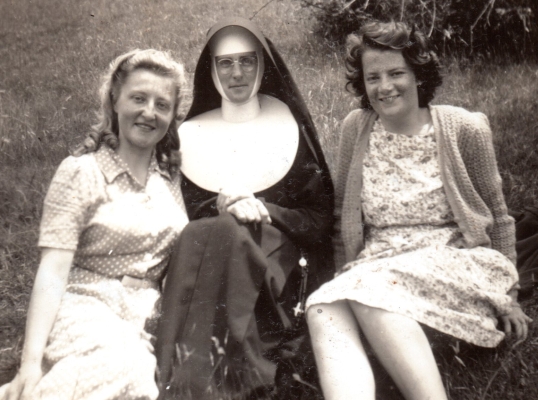 During a picnic along the Whanganui river in 1949.
"When you are in a group with your own countrymen, you speak your own language. Anyhow, we didn't know English, so why would we speak it among ourselves? In Whanganui College, where I went for three years to finish off my English education, I had less chance of speaking my own language because I had to communicate.
"In New Zealand, they couldn't pronounce my name and I'm known as Vickie. So here I am, a Pole, no name and no parents, no country, no home, nothing, a foreign name—and that hurt in the beginning. Now, it doesn't matter.
"I brought up my children on my own. It was hard but I had means. I had help. I lived in a country that didn't look at me and say I'm the wrong person to be there. They welcomed me. I was one of them. They treated me like one of their own citizens, but in spite of having all this, and my own family, as a Pole who went through the hell, I was always, I suppose, envious. New Zealanders, they have mothers, they have fathers, they have aunties. I did not. You know you haven't had what you knew you should have had. There was always a longing—but that was your life.
"There were about 50 from the camp who found their husbands or parents and families in Poland and went back. My brother and I, we never returned to live there. I joined him and his wife on holiday in 1996 and we met two girls from the camp. They said that after 50 years of communist occupation, Poland was drained. For them, life was hard from every angle."
"And here, we lived in God's land. It took a time to get used to—learning and understanding, and being understood and doing the things New Zealanders do—but we were determined to fit into New Zealand life."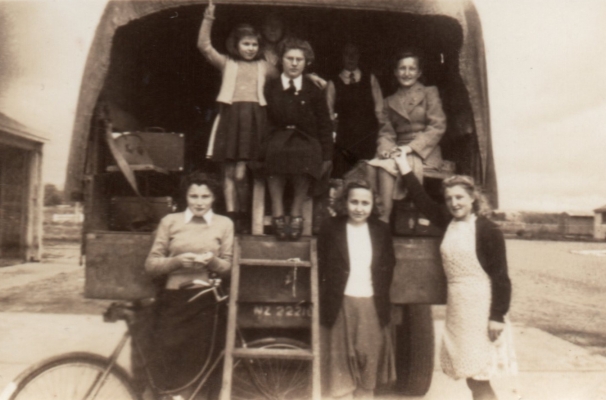 Some of the Pahiatua children and caregivers on their way back to Poland. By then the New Zealand soldiers had taught the Poles the intricacies of their enormous kitchen gadgets and had gradually left the camp. The children helped during the weekends. Jadzia, wearing the apron, was on one of the kitchen-dining room duties when she stopped to say farewell to some of her friends.
_______________
Jan left Pahiatua the same year as Jadzia. He went to school first in Oamaru, then finished his education in Auckland. Jadzia, after completing her schooling, moved to Auckland to be closer to her brother.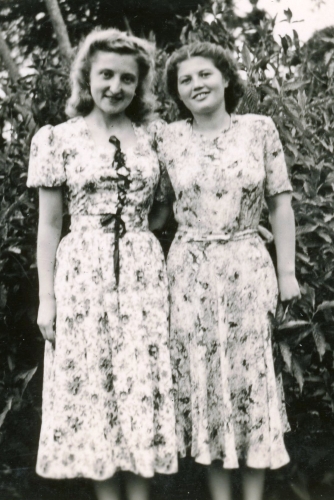 Jadzia with Zosia Surynt, in Devonport, Auckland, where they then lived. Jadzia is wearing the first dress she made, by hand, following a traditional Polish chłopka pattern with ribbon ties down the bodice.
The Pahiatua Poles living in Auckland, and who had been meeting informally for years, created an official Polish association in Auckland in 1960 and built a meeting house in Morningside. They arranged a celebration for the 25th anniversary of the children's arrival in New Zealand. During discussions regarding entertainment, someone suggested the children in the community do the dancing.
"We said, 'No, this is our celebration. We are the ones who will dance.'"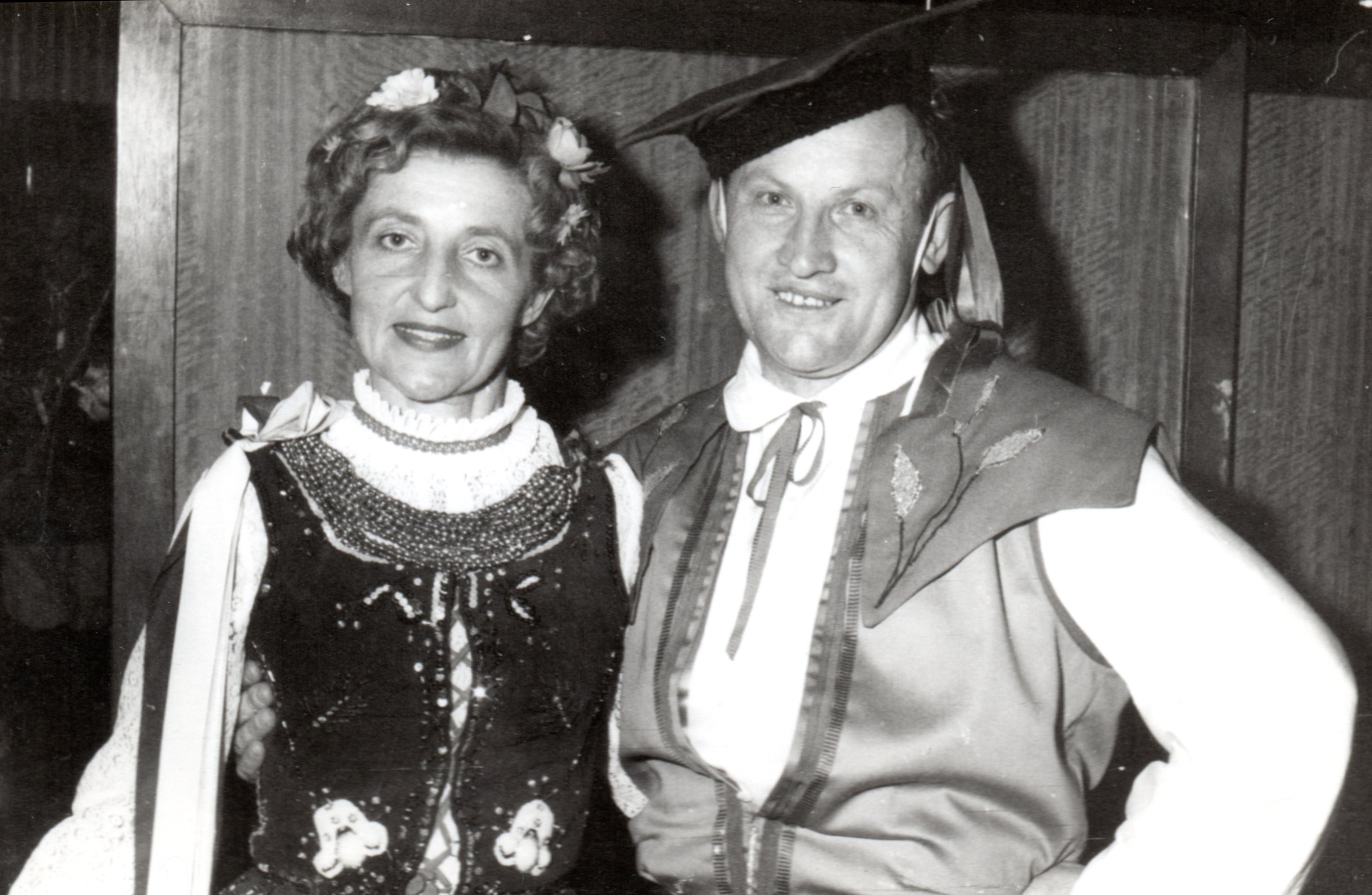 Jadzia with Jan at Auckland Polish Association's celebrations of the 25th anniversary of the Pahiatua Poles' arrival in New Zealand.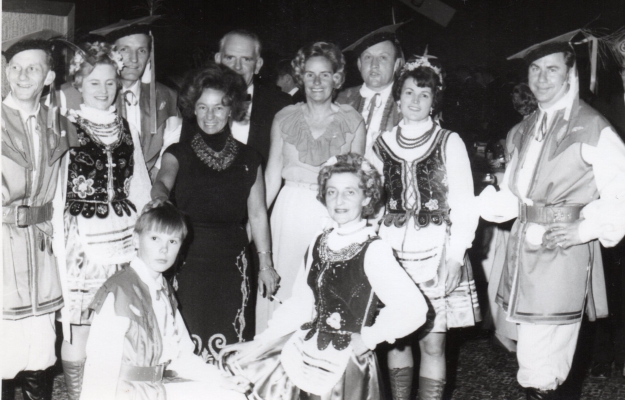 On the same night, 31 October, 1969, are (standing from left) Staszek Wójcik, Stasia Nowacka, Staszek Wołk, unidentified, Mr and Mrs Subritzky, Jan Jarka, and Marysia and Franek Jaśkiewicz. Rysiek Nowacki is kneeling with Jadzia in the front.
_______________
"It was imperative for me that my children spoke Polish. I spoke with them in Polish and my husband in English and there was no problem. Then, once they went to school, an English word would pop into the Polish conversation. They were playing one day and put in what I considered were one too many English words. I went in and corrected them. My son said, 'Mamusiu, tylko bawimi, prosze nie przeszkadzać.' [Mummy, we are only playing, please don't bother us.]"
While Jadzia continues to live in gratitude to New Zealanders, she is adamant that her three children, Christine, Mark and Louise, and grandsons, Harrison and Kian have as much information as she can gather about their Jarka family and the history of the Pahiatua children. She continues to update the already bulging files she has compiled for each of their families.
Jadzia has been able to find practically everything she ever wanted in New Zealand—even the condensed milk, bird milk, that she had been warned would not be available. But there is one thing that her antipodean home does not have the power to give her:
"Losing Poland, my home, was like losing a mother. Nobody can replace your mother. The hurt is always there. I still feel great loss of my country and my family and I still wish I could visit my country as if were a next-door neighbour."
© Barbara Scrivens, 2017,
Updated July 2019.
ALL BLACK AND WHITE AND SEPIA PHOTOGRAPHS COME FROM THE JARKA-COOPER COLLECTION. BARBARA SCRIVENS TOOK THE COLOURED ONE.
THANKS TO THE NORTH AUCKLAND RESEARCH CENTRE IN THE TAKAPUNA LIBRARY FOR THE LOAN OF AUDIO RECORDING EQUIPMENT.