Condensing History
Teenaged Zosia Kowal made my day at the Polish festival in Wellington last Sunday. She stood next to her dad as we were chatting about the photographs in the collage I made for the event, and she surprised me with her curiosity and interest.
One 1914 family photograph showed August and Apolonia Neustrowski with their eight adult children, obviously taken to commemorate the two young men in military uniform. I told dad and daughter that even though the men of Polish families who had arrived in New Zealand in the 1870s, fought in WWI, their parents and siblings not born in New Zealand were classified as "enemy aliens" who had to report weekly to the police station, and had to carry a permit to travel more than 20 miles. This, despite the parents being well into their 60s, living in New Zealand for 40 years, and being naturalised.
Zosia's shocked face: "I didn't know."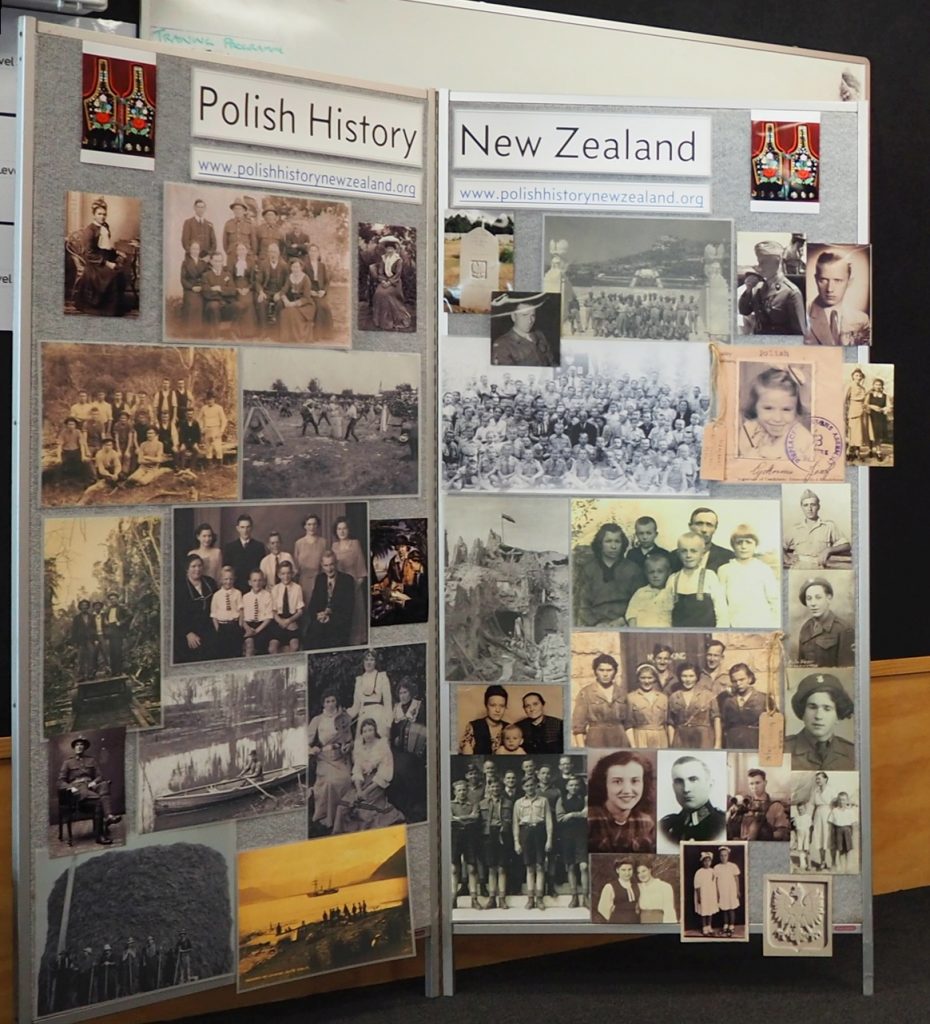 And why should she know? She had not been taught that history. She is in the majority. Her father, Polish Ambassador Grzegorz Kowal, did not know either.
I know that I only scratched the surface of New Zealand's Polish history with them, but the photographs of Polish bushmen and a chopping competition also begged for explanation. I told them about the Polish man who started photographing the final moments of wood-chopping competitions—after too many judges made contentious decisions against Polish winners. Sons of the early Polish settlers who bought land covered in dense bush inevitably developed into experienced axemen.
The left side of my collage-stand reflected stories about early settlers, the right about the Poles who arrived here in November 1944, and after eastern Poland, post-WW2, was given—by her alleged allies Britain and the USA—to Stalin's USSR.
I wondered which of my grandfathers died the 'better' death. My mother's 34-year-old father was killed in action in northern France in September 1944. He left her mother with three surviving children, but died believing he had been fighting with the allies "For Our Freedom And Yours." Much sadder, to me, was my paternal grandfather, who died knowing Poland had been betrayed by those allies.
He was 47 and with the Second Polish Corps when they captured Monte Cassino in May 1944. He survived that battle, and others in Italy, and at war's end, remained in Italy with other Polish soldiers who refused to return to a communist-controlled Poland. Like him, most had lost their land in eastern Poland. In July 1946, his wife and two sons were in Africa, my father was in Egypt, a daughter and son were in communist-controlled Poland, and he was working with other Polish veterans in an office in Civitanova. I hope the water was warm when he had his last swim in the Adriatic Sea, and that he did not suffer too much when he had a heart attack, and drowned.
I had no swanky banners or touch-screens last Sunday, but the photographs in the collage told their thousand stories. Władysław Błażków gave me the one of him and his mates at the Polish cemetery at Monte Cassino, so I put him on one side of it, and General Władysław Sikorski on the other. The general was smelling a flower given to him after a parade during his last trip to Egypt in 1943, days before he died in a suspicious aircrash off the coast of Gibraltar. That image came from Pani Ula Poczwa, who I put with her sister, Celina, lower down, between images from the Zioło siblings of Christchurch.
Tadeusz Zioło gave me the photograph of him and six other Pahiatua boys posted to the Maritz Brothers' High School in Greymouth, where they were sat at the back of a classroom and ignored. To their teacher, they didn't exist, Pan Tadeusz told me in 2019.
Quite a few people tried to find a familiar face in the largest photograph of about 100 boys—one holding a dog—with their caregivers at an Isfahan orphanage. As my mother said about a photograph of her and other girls in an orphanage, "Look how happy we are." Smiles are rare, although in the Isfahan photograph I used, there are some cheeky ones. Most of the children, and adults, look straight ahead. Below that was one taken at one of the hundreds of forced-labour facilities in the USSR—the Zatorski family in Archangielsk. It came from Pani Anna née Zatorska Piotrkowska, so I had to put her late husband, veteran Władysław Piotrkowski next to her.
Pani Zenona Pąk's identity photograph with the stamp: Displaced Persons Assembly was a joyous counterbalance to the sadness of DP Pani Janina Iwanica, her mother and son in their IRO photograph, and the studio formality of the other soldiers, and Katyń victims. Pani Zenona's five-year-old smile hid her traumatic life in the cold DP facilities in Germany's post-war British Zone. Above her ID photograph is her nationality: Polish. Staples stab her hair-ribbon and shoulder.
Next to the smiling girl was a cut-out copy of the name tag that a Mrs T Campbell of No. 3 Line, Wanganui, kept for Kazik Zając. The Pahiatua children carried such tags around their necks when they took trains to spend holidays with New Zealand families, usually but not always with Polish heritage. Kazik, who arrived in New Zealand not yet six and not knowing the full names of his parents, was lucky. That loving Campbell family "more or less adopted" him, guided him through his boyhood and adolescence, and supported his love for flying. That's teenaged Kazik below the group of Polish women at RAF Eastleigh in Mombasa, Kenya, and the other side of his old tag. He's in a motor mechanics workshop.
I could not resist adding the headstone of A Soldier of the 1939-1945 War – Polish Forces – Known Unto God who lies with my maternal grandfather and 17 other Polish soldiers at the Canadian War Cemetery in Leubringen, south of Calais, or of my paternal babcia, aged 40, with my uncles at the civilian tent-camp in Teheran. Mainly because it is her angel who has pushed me to continue this website. She argued with Soviet soldiers who wanted to take her hogs in 1939, and I honour her bravery.
On the early settler's side, I met only four of the people in the photographs—the ones in the 1950s Kuklinski studio shot. I chose it because that family was the epitome of Polish warmth, hospitality, and graciousness, descendants of the Kuklinski, Drewicki and Fabish families who arrived on the Fritz Reuter in 1876. (My babcia would have loved them.) To me, it is the perfect family photograph: a gentle mum and dad, sophisticated older sisters, and brother, and four imps. I loved interviewing Benna and Gertie Kuklinski, and their brothers Joe and Patrick.
When I was invited to take a table at the Polish festival in Wellington, I said yes because I thought I had to sort out only a laptop and large monitor. Irena Lowe then included two screens in the offer, and I bless her for that, because my hunt for suitable photographs reminded me of the amazing people I have met since I started this website in 2012. There have been so many, I could replicate this collage a dozen times and still not use the same photograph twice. What Sunday's Polish festival showed me was that the hundreds and hundreds of hours producing this website over the past nearly 10 years have been well worth it.
Bless you all who are like me, pieces from the jigsaw of Polish history lucky enough to land in New Zealand.
—Barbara Scrivens
7 May 2021
_______________
There are too many story links to list, but you will find them all if you hit the Return to Home Page button.
_______________
If you would like to comment on this post, or any other story, please email editor@polishhistorynewzealand.org.
Return to Home Page