Silent Support
When I first heard of the Polish Army League, the first image I had was of men in khaki milling around a musty office with dull windows and overcrowded desks. It had to be somewhere in England, where the Polish government-in-exile resided after the fall of France to Germany in 1940. I was so wrong.
A group of women in Palmerston North with no connection to Poland at the time, established the Polish Army League in December 1941; its only function—to ease the loneliness of Polish soldiers then in the Middle East.
The men were among those who had escaped Poland with the Polish army in the early stages of WW2, and had lost contact with their families left behind in a Poland under the grip of German and Russian occupation. However much they may have yearned to, any communication between them and family still in Poland would have placed the latter in extreme danger.
Like many others in New Zealand, when the war started, Ann Jacques joined so-called patriotic drives to collect, make, and pack items to send to New Zealand servicemen abroad. The Red Cross concentrated on sending weekly food parcels to the 8,469 New Zealand prisoners-of-war, and gave towns the space to support their own residents serving overseas, which they did with generosity.
In Palmerston North, the United Guild's members were soon running an effective production line of parcels for soldiers. They solved their own problems: The country lacked wool for knitting; they invited spinning experts to show them how to spin. Ann Jacques was the United Guild's honorary secretary and in October 1941, became patron of the Rosemary Club, formed for the wives and relatives of soldiers. She used the local newspapers to great effect, advertising events and meetings, writing letters to the editors, and making editorial contributions.
Ann wasted no time once she learnt that Polish soldiers fighting alongside New Zealanders in the Middle East did not receive as much as a message from home, far less the letters and "comfort packages" so familiar to their New Zealand counterparts. She could not accept that on mail days, the mailroom the New Zealanders and Poles shared became a stark reminder of the discrepancy.
On 14 December 1941, she gathered the core of the women who became the heart of the Polish Army League. They worked in the United Guild's workrooms in the PDC department store in central New Plymouth, where passers-by could not fail to see their advertisements in one of the window displays.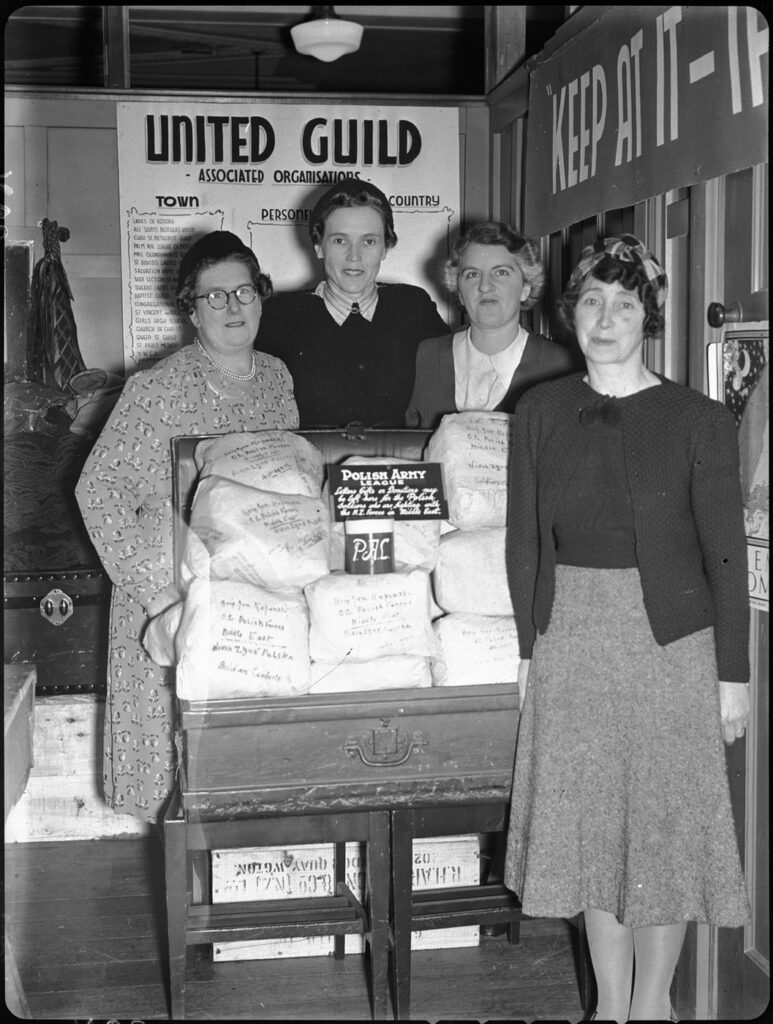 All sorts of groups and clubs donated items that the women of the PAL packed into parcels. In September 1942, a Mr Hickin contributed 60 tobacco tins that he had painted, for use as "permanent soap boxes." By then the women were well-able to transform the bales of wool donated by farmers into yarn.
New Zealand members of the Polish Army League took the time to write letters to Polish soldiers desperate for contact with the "outside world." The PAL organised Polish members to translate. Members baked, sewed, knitted, and collected. Any monies donated went into buying goods, and the PAL executive paid for all postage sent from Palmerston North.
By the end of the war, the PAL had become a nation-wide hub of around 8,000 members who 'adopted' the lonely Polish soldiers. Ann Jacques and her team gained the gratitude and appreciation of the Polish soldiers—to such an extent that in 1946, soldiers of the 3rd Carpathian Infantry Division sent their own artworks to the Polish Army League, which led to a country-wide exhibition.
After the war, Ann and the PAL continued to raise funds and encouraged members to send food parcels to needy families in communist-controlled post-war Poland.
This week, writer and cinematographer Warren Elliott, who introduced me to Ann Jacques and the Polish Army League, reminded me that we don't make enough of a fuss about the silent support that those soldiers received from 'ordinary' people who read about Ann's campaign and did something about it. During his research on his wider documentary project surrounding the Polish Army League, he discovered a humanity on both sides of the language barrier.
I started to write for this website because I wanted to give a platform to Polish stories. I had grown up hearing a distorted history of Poland's effort in WW2, and was spurred into action by Churchill's statement: "History shall be kind to me because I intend to write it."
Delving into the stories of Polish service men and women in the Polish army, navy, and air force has been a satisfying task, and our War Immigrants pages abound with stories where Polish soldiers played pivotal roles in several crucial battles during WW2.
But Warren is right: Too often we don't acknowledge enough some of the quiet angels who work behind the scenes, like Ann Jacques, who never took on a role as chair, but who gave a special meaning to the description "organising secretary."
—Barbara Scrivens
July 2023
_______________
If you would like to comment on this post, or any other story, please email editor@polishhistorynewzealand.org/
Find the Ann Jacques/ Polish Army League story on our War Immigrants page, or click on: https://polishhistorynewzealand.org/ann-kathleen-nee-jobson-jacques/
The photograph was taken by Elmar studios, 459 Main Street, Palmerston North, in May 1942, and digitised by Manawatū Heritage, Palmerston North Libraries.
Return to Home Page