Chipping Away
There is a new name on the list of Poles in Jackson's Bay: Marianna Bielawska, who arrived there as a single woman in 1875, along with 13 Polish families.
Although there seems to be no link between her and the other Polish families, I have placed her at the end of those who arrived in August 1875 because she happened to be listed near two of them on the Lammershagen, which brought them to New Zealand.
The Jackson's Bay record takers noted 15-year-old Joe Maskrunski, but 25-year-old Marianna's name is not on any list that emanated from the West Coast Special Settlement. She is linked to the place only through her marriage certificate.
She immigrated to New Zealand under her own name—and may have been five years older—and the only reason that I know she was at there at all was through her marriage to Irish widower and father of two, Robert Nelson, at Jackson's Bay on 28 October 1876. Although the registrar who officiated the event spelt her first name "Emilge," he got her surname correct.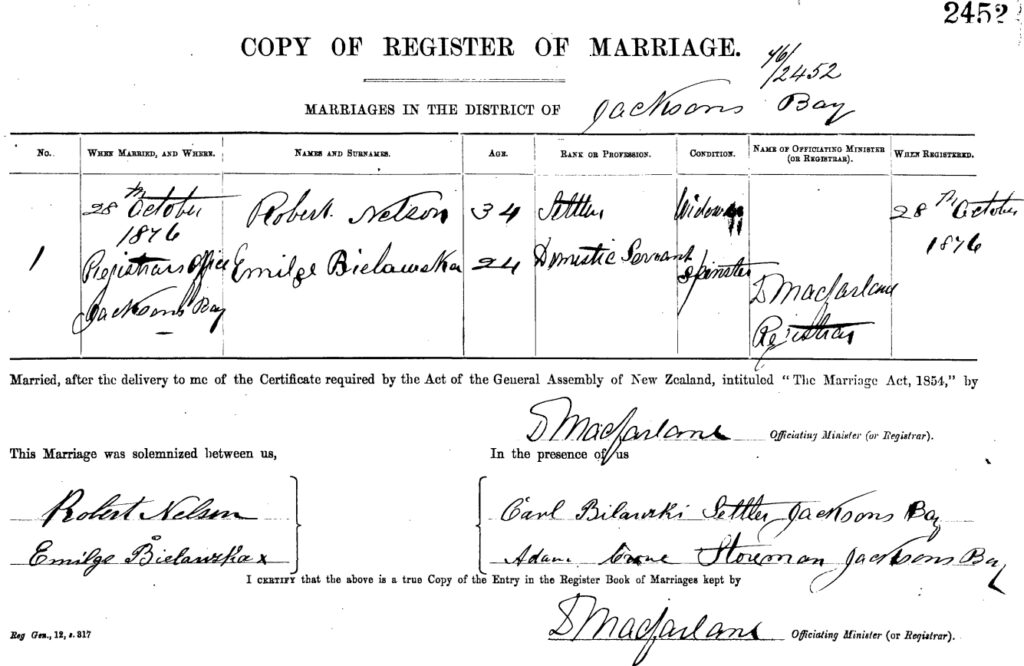 My Polish friend in Canada calls them gems, those pieces of integral information that appear unexpectedly and add depth to our ancestors' lives. Single Polish women are an especially thin gruel, so when our Polish ambassador to New Zealand, Grzegorz Kowal, asked me whether there was anything else that could replace a travel grant that Covid curtailed last year, I immediately suggested BDM certificates.
Those two dozen certificates have allowed me to look deeper into mainly single women who arrived here in the 1870s, and babies and young children who died soon after arriving, or who were born soon after. Single women and daughters within families often seemed to vanish after marriage. Whom did they marry? Did the young children disappear from records because they died? What caused their deaths?
My questions started when I expanded our previous linear database of early Polish settlers in 2020 into something more useable for researchers. The deeper dig led to many more questions than answers, questions not helped by sometimes wild spelling variations of names registered within the historical birth, death, and marriage records at the Department of Te Tari Taiwhenua/ Internal Affairs (BDM). Similar forenames among siblings, cousins, husbands, and wives further complicated matters.
I have appreciated the gems. For instance, on Marianna's marriage certificate, one of the witnesses was "Carl Bielawski, settler, Jackson's Bay." He and his family arrived in New Zealand off the Terpsichore in 1876. My earlier information on him pointed to his being related to the Bielecki family and, even though he was naturalised in Inglewood as Carl Bielawski, I kept his family under the Bielecki name. No longer.
Despite the Bielawski-Nelson marriage certificate having no provision for parents' names—yet needed the registrar's three times—it provided the key to Marianna's connection to Carl, or Karol in Polish: Dunedin researcher Paul Klemick had already found Karol Bielawski's parents recorded as Szymon Bielawski and Anna Laellman. Roy Szyhowski, a Bielecki relative from St Louis, USA, who contacted me shortly after we updated the website, sent me a link last week to a Polish website where he had entered the name Bielawska. Last night I looked on that site for a Szymon Bielawski, and found that a person of the same name, and married to an Anna Celman/ Celmann/ Cymerman/ Zelman, between 1840 and 1850 had fathered a Karol, Marianna, Jan, and Hubert in the same town, Józefkowo.
That's enough for me right now to accept that our Marianna and Carl were siblings.
_______________
Jackson's Bay saw several births among the Poles, two for the Górowski family. Franz Jorofski was born on 2 January 1877, and his brother Joseph, on 22 February 1878, both at the family home at the Arawata river. Franz survived, moved with his family to Hokitika, married, died aged 81, and is buried with his wife at the Hokitika cemetery as Frank Groufsky, the name the family adopted in New Zealand.
Joseph Górowski's death certificate shows he died on 5 April 1878, aged six weeks. His cause of illness was "unknown," he had been "ill from birth," and there was no medical attendant for him. Polish settler John Stobbo was one of three witnesses to Joseph's burial at the Arawata cemetery.
The details on babies' death certificates underline the harsh living conditions the early Polish settlers endured. Barely two months after the Duszyński family walked to Inglewood from New Plymouth, Barbara, née Drozdowska, gave birth to Maria Augusta, who died 11 days later. Again, there was no "certified" medical attendant, and the Inglewood postmaster of the time who signed the certificate put "gradual decline" as the reason for her death.
That certificate showed that, although there was again no religious minister, three other Taranaki settlers besides Joseph Duszyński witnessed the baby girl's burial at the Inglewood cemetery: Matthew Dodunski, Anton Potroz and August Neustrowski.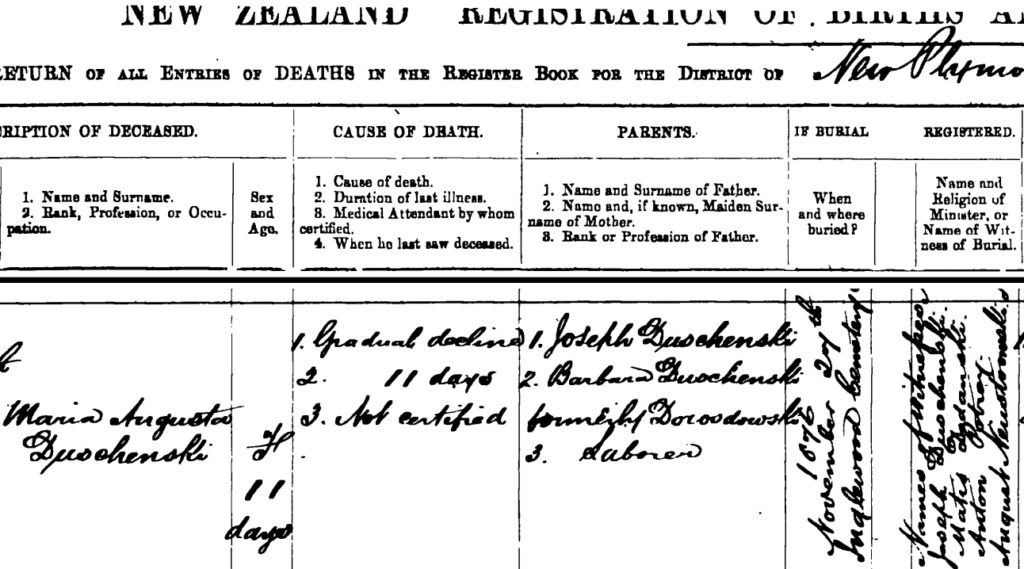 One can only order a certificate from the BDM if one can match a surname on its database. I could not find Anna Agnieszka née Jabłońska Bucholc, who apparently died in childbirth in Waikaka in on 5 October 1882. The baby was named Martha Barbara. Anna's husband, John, is buried at the Gore cemetery with his wife Anna—but not Anna née Jabłońska. He married an Anna Dovaloska in Gore in 1883.
And this is where I bless our regional heritage centres and their researchers' generosity: I found a reference to the death of an Anne Bouchols at the Hokonui Heritage Centre in Gore and wrote to them. Its Heritage Research Officer Bruce Cavanagh replied, and steered me towards a variation of the name I had not tried with BDM: Bouchles. I found Anna, but no baby dying around the same time. Bruce tracked down Barbara, born to John Bouchles and Anna Yablouske in Waikaka on 5 October 1882; Martha Bucholz's marriage to John Wyatt at her father's home in Otakerama in 1903; John Wyatt's death in 1909; Barbara Wyatt's marriage to Albert Green in 1913; her death on 18 February 1944; and a recent plaque on Barbara's grave: that of her son, Alan Francis Green.
How could he be so sure? Because he found Alan's marriage certificate that recorded his mother's maiden name. Bruce became Anna Agnieszka's and her daughter Martha Barbara's gem.
Otorohanga is another regional council that is helpful. I would never have been able to confirm that the Margaret Roberts buried at the Otorohanga cemetery in 1942 was the Waleria Jokobowska who arrived here aged 13 months in 1876 if they had not taken the trouble to fill out her place of birth: Poland.
I expect to continue to add and amend the early settlers' database on this site. If anyone has a query, or can help, they can contact us through the Home page. Only information that I have been able to verify through several sources gets onto the database, so every bit helps.
—Barbara Scrivens
28 February 2022
_______________
The database is available at https://polishhistorynewzealand.org/search-settlers/. We allow wild-card spellings.
The list of Polish settlers at Jackson's Bay between 1875 and 1879 is available at https://polishhistorynewzealand.org/list-of-poles-in-jacksons-bay/.
More on the first few years and the first families who arrived in Taranaki in 1876 at https://polishhistorynewzealand.org/under-the-mountain/.
_______________
If you would like to comment on this post, or any other story, please email editor@polishhistorynewzealand.org/
Return to Home Page