A Gem of a Cemetery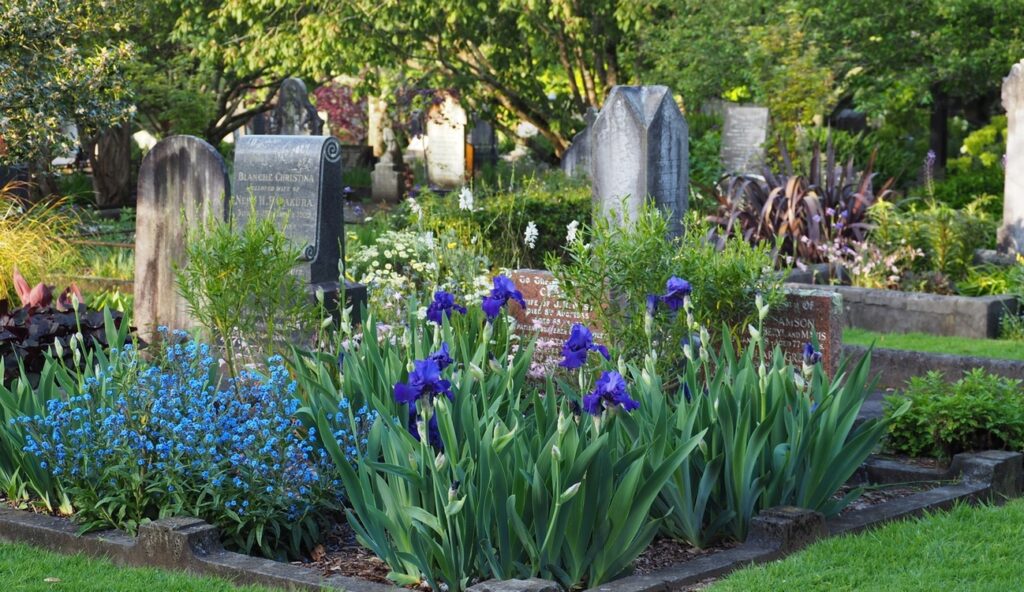 The swathe of royal-blue irises and soft mounds of forget-me-nots caught my eye as soon as I drove into the Te Henui cemetery in New Plymouth. It took a few minutes to realise that they were just the entrée.
As I parked and looked around, I could not help smiling at the completely unexpected pleasure.
Riots of colour within the trees and shrubs made it clear that this was a much-loved place of rest, and it dawned on me why parking had been hard to find: I had inadvertently stepped into the Taranaki Garden Festival. A garden in a cemetery?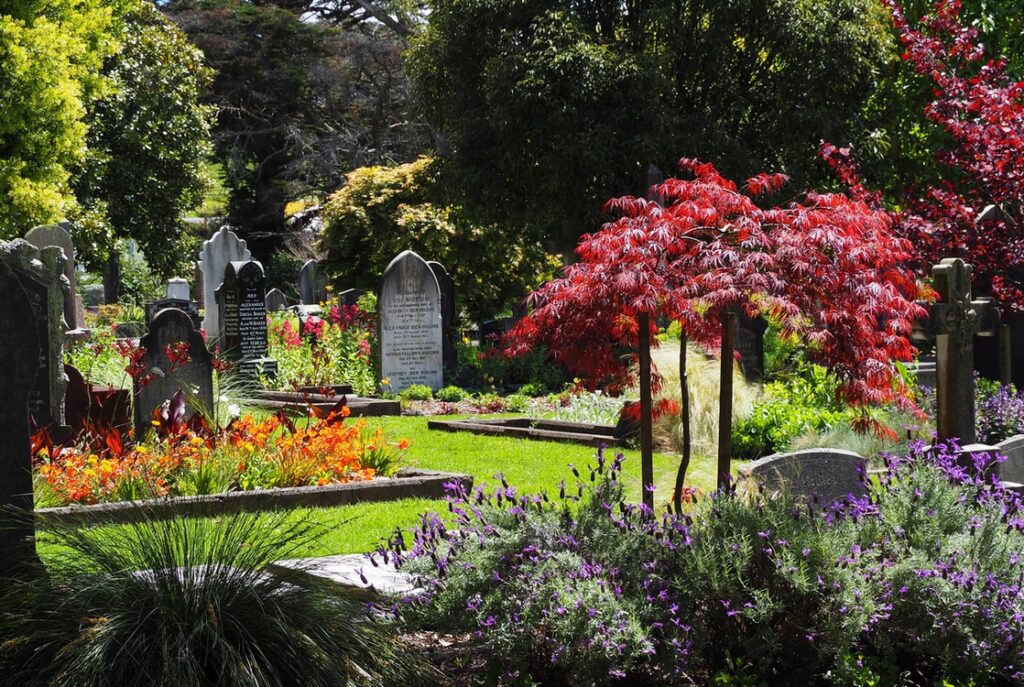 Usually, I wonder alone around cemeteries. There may be a contractor—or maybe one other car—but that is it. Usually, it takes me a while to orientate a cemetery's paper map with the physical layout. Not this time: Rob, one of the gardening volunteers responsible for the stunning show, who happened to be ready to receive visitors, explained the intricacies of cemetery's layout.
I had 45 names to find—all early Polish settlers to Taranaki, or their first-generation descendants—and appreciated the help, especially when it became clear that some of the early Catholic graves did not follow orthodox lines of the Presbyterians next door—or any of the others in the rest of the cemetery.
I found Martha Gray surrounded by other graves. Martha's father, Frank Uhlenburg, was with the first eight Polish families—off the Fritz Reuter—to arrive in New Plymouth in August 1876. He was the only single man, then aged 27. He married Julianna Myszewska, who was also among the first group, and then aged 17. Their ninth child, Martha, married William Gray in 1911, and is buried with her husband.
Nearby is Mary Rose née Wotkowski Lehrke, who arrived with her family aged four in 1876, aboard the Shakespeare. She married Anthony Lehrke junior, who arrived the same year, aged six, aboard the Terpsichore.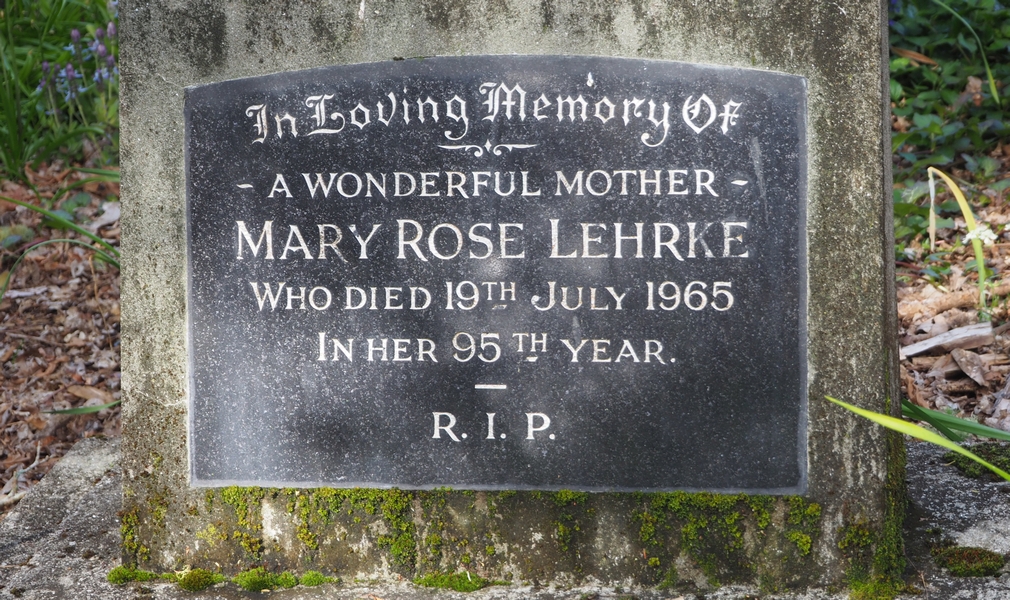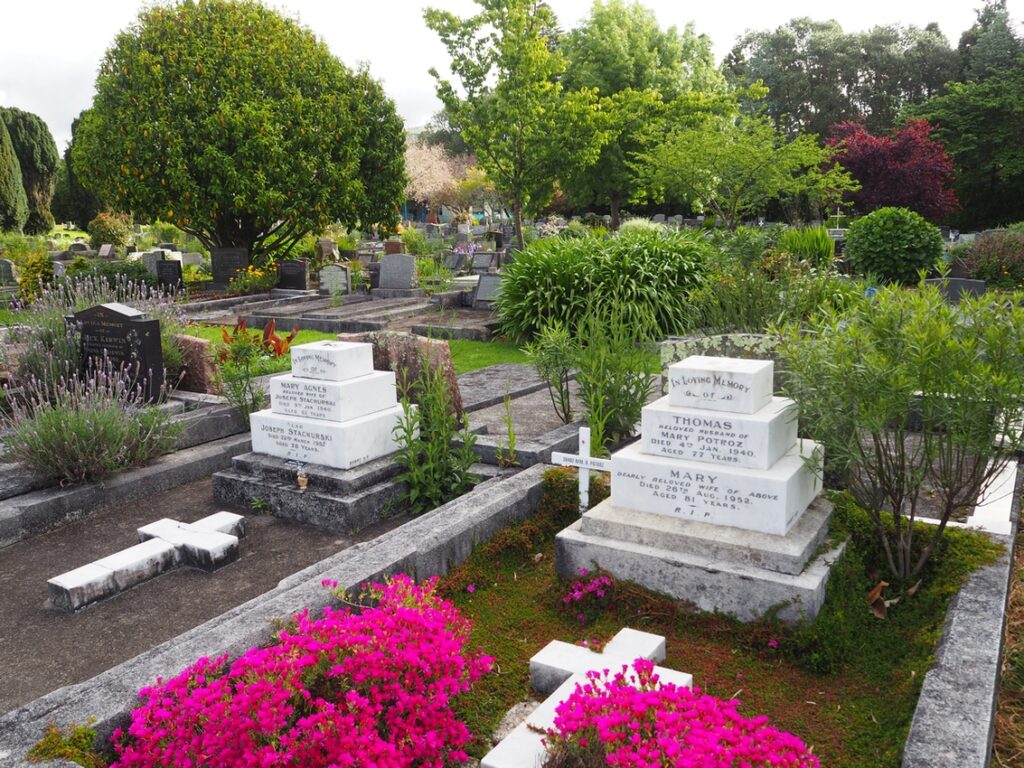 In the more conventional Catholic section lie Polish settlers such as Thomas and Mary née Stachurski Potroz. With them is a memorial to their son Bernard, who was killed in action in WWI. In the neighbouring plot is Mary Agnes née Potroz Stachurski. Mary Agnes's father, Anton, was Thomas Potroz's older brother. Mary Agnes was born in Taranaki, but her parents and two older brothers were also among the first eight Polish families to arrive in New Plymouth in 1876, and settle in Inglewood.
During a second visit to the cemetery, I asked Rob more about the plantings. I am a gardener, and have walked though many New Zealand cemeteries. I told him I was Polish, that the Poles knew how to do cemeteries, and that this one could challenge the best of any cemetery in Poland. Poles lean towards plastic flowers and candle lanterns, but their cemeteries are colourful and well-tended.
The cemeteries I have visited in New Zealand tend to be dour, grey, and often decrepit. Not all of them. The first time I saw Inglewood cemetery, the bluebells were out, and gave a spectacular display, but I remember how upsetting it was in 2013 to see sheep grazing among broken headstones in the Midhirst Old cemetery. (Sheep now gone and a volunteer gardening group has started to emulate Te Henui's practices in Midhirst Old.)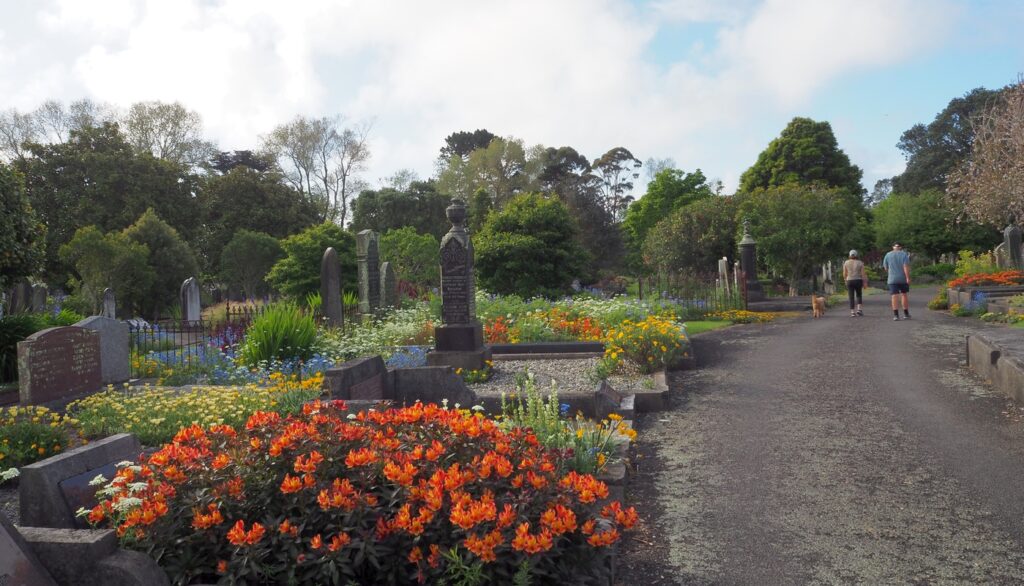 Te Henui, which had it first burial in 1861, has benefited from a more sympathetic council. The site was originally 10 hectares, and the council planted trees that Rob and the handful of other volunteers appreciate for giving structure to the area. The first volunteer started contributing her gardening love to the cemetery 13 years ago, and worked alone for many years.
Any gardener can see that their work is not a mere once-a-month working bee: they can be found among the graves most days, scattering seed, planting bulbs, or grooming the perennials. They have created a joyful tranquillity that will never lack appreciative visitors.
—Barbara Scrivens
30 November 2022
_______________
For more information about the first Polish settlers to Taranaki, go to https://polishhistorynewzealand.org/under-the-mountain/
If you would like to comment on this post, or any other story, please email editor@polishhistorynewzealand.org/
All photographs: Barbara Scrivens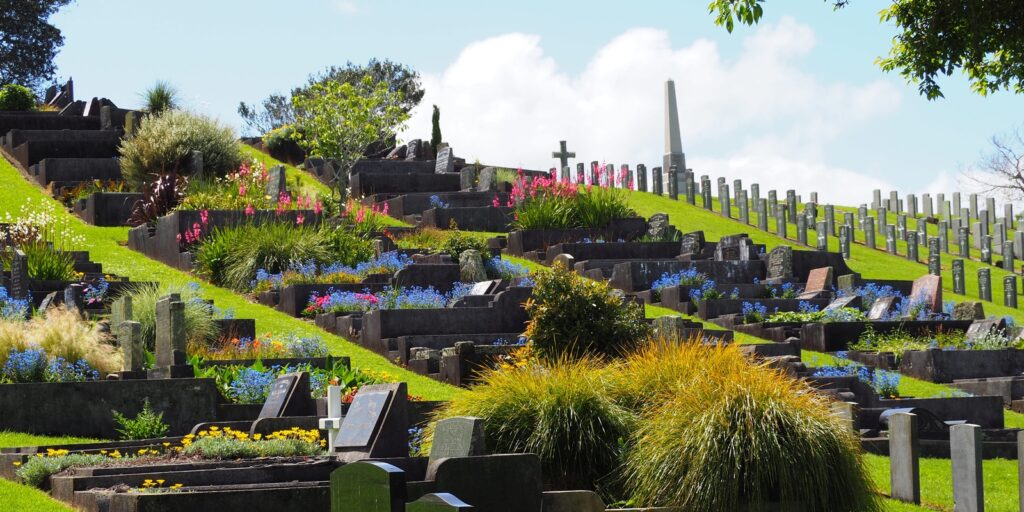 Return to Home Page