Locked-in Anzac
This morning my husband and I walked down our right of way to our first Anzac Day Non-Parade. Eight other neighbours stood near us and listened to the service.
Our defence minister Ron Mark spoke about New Zealanders commemorating the efforts of their soldiers with a special Anzac Day since 1916, and I envied nations that had remained whole during wartime conflicts.
I remembered my old mate Ron Cossins, a former British paratrooper who loved Anzac Day parades, and who recited the Ode of Remembrance at his retirement home last year. He said it would be his last time. He was right.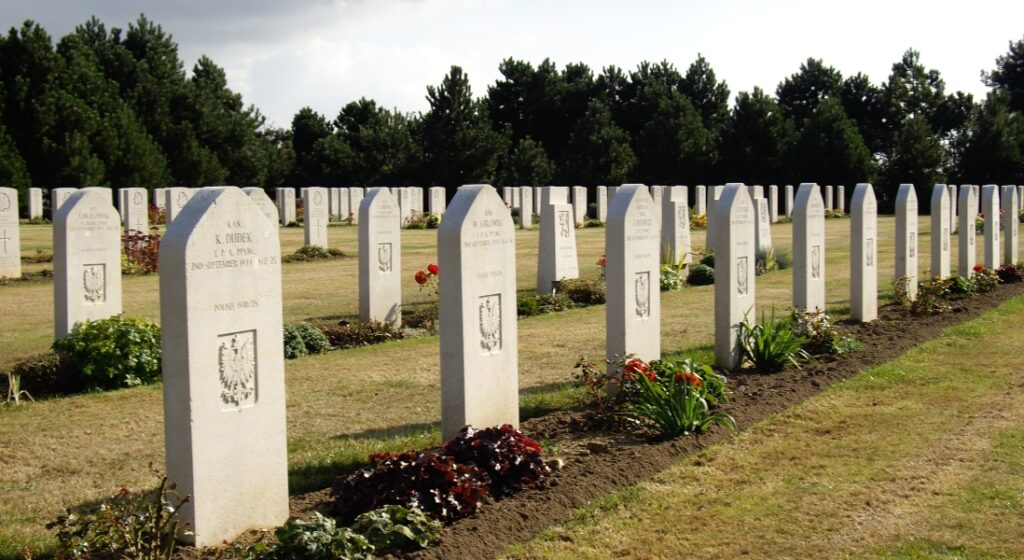 In today's pre-dawn, I thought of my grandfathers, Polish soldiers who fought in pivotal battles in Europe in 1944. I thought of other Poles in the military in WW2. Those who died at least did not have to bear the knowledge that their sacrifices were for nought. Those who survived had to face the fact that their so-called ally, Britain, so quickly turned her back on their efforts.
Poles were missing during the massive Victory parade in London on 8 June 1946. Their absence was unlikely to have been noticed in a celebration where columns of military vehicles and personnel from Britain and her other allies snaked for kilometres through vast crowds of joyful people. The Royal Air Force had invited 25 Polish pilots to join it, as a foreign detachment to its section: the Polish 303 Kosciuszko fighter squadron was the most successful of all the RAF's Battle of Britain squadrons. The Polish pilots declined, saying that if their army and navy compatriots were not invited to participate in the parade, they could not either.
The 1946 British government did invite Stalin's new communist-controlled Polish government to represent Poland in the parade. This horrified the democratic Polish government-in-exile headquartered in London since 1940 and to whom the Poles in Britain remained loyal. In the end, no Pole took part in that 1946 parade, or any other official veteran's parade in the UK until 2005, when the concerted efforts of Poles in Britain finally had their veterans recognised.
Twelve years ago I respected Anzac Day from a distance. I had no connection with New Zealand or Australian veterans. I accepted that mates like Ron took part in the Anzac Day parades, but had no urge to join him.
That changed 12 years ago today. My husband had left for an early morning fish and I happened to be pottering in the kitchen with the TV on, when I heard someone say that he had found his granduncle's grave on the Commonwealth War Graves website. Thankfully, I did not stop to think that Poland is not part of the Commonwealth, but immediately went to my laptop.
There he was, my maternal grandfather, Władysław Surowiec, bombardier, aged 36 on 2 September 1944, one of 19 Polish men in the Canadian War Cemetery in Leubringhen, south-west of Calais in northern France. The Canadians buried their own around three perimeters, and their guests in the centre.
I did not know he existed until I was about 13. My mother happened to mention late one night when we were bringing in the washing that things like the dark never scared her, because she knew her father was looking over her.
What was she talking about? Surely her father was still alive? No, that wasn't her father, he was babcia's second husband. But you call him Ojciec. Yes I do, she said.
Despite my pushing, mother did not tell me much about her dad, then or later. She didn't know much: apparently whenever she questioned her mother about what happened to them in the war, her step-father stopped the conversation.
The Commonwealth War Graves website showed me that at least three others died on the same day in Gouy sur Somme, on the outskirts of Abbeville: Karol Dudek, Kazimierz Popczyk and Tadeusz Szyszko. They were aged 25, 27 and 26. I read that they were all in the 1. P.A. Ppanc. or 1st Anti-Tank Regiment of the 1st Polish Armoured Division (1PAD). They were all in the same unit—1 Dyon—so I presumed they died together.
I say at least three others died that day, because immediately alongside them in the cemetery is "A Soldier of the 1939-1945 War; Polish Forces; Known Unto God."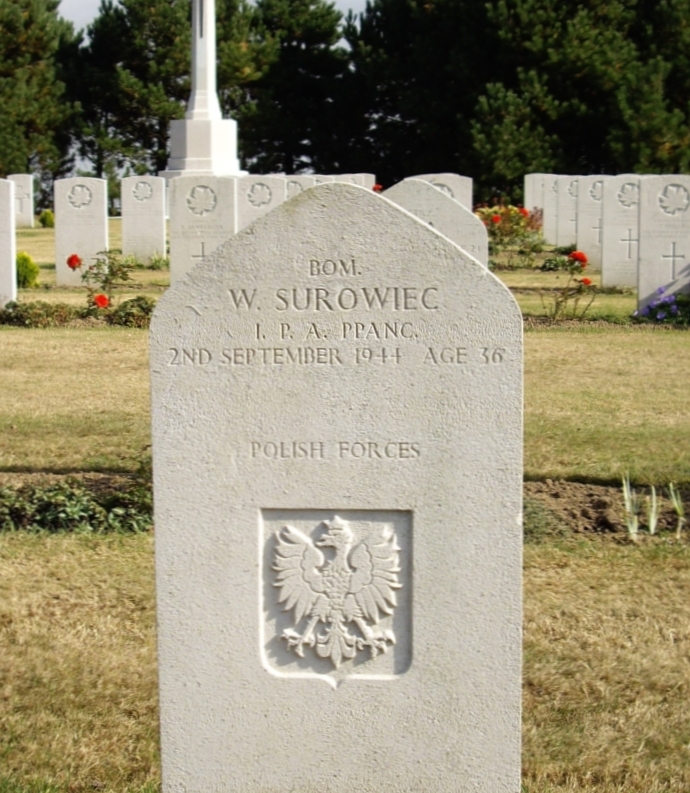 The 1PAD landed in Normandy on 1 August 1944, and quickly cut through the static mass of allies at Caen. Some of the Poles' first casualties resulted from American aircraft mistaking the advancing Poles for Germans. Farther south at Mont Ormel, the Poles were pivotal in closing the Falaise Gap and encircling the Germans. On 21 August 1944, Canadians fighting in parallel with the Poles, came to the rescue of more than 100 Polish soldiers holding the last piece of that Gap.
A week later, 1PAD prepared to cross the Somme from the outskirts of Abbeville. I've gone through 1PAD orders of battle, looking for mentions of 2 September 1944. No major battle, no mention of 1 Dyon. Unless I learn differently, I have to conclude that the three (or four) killed with Władysław Surowiec that day were part of a side-skirmish, targeted by the tanks they hunted.
I found my paternal grandfather, Stanisław Nieścior, the following Anzac Day through a website dedicated to Polish Fallen Soldiers. He fought with the Second Polish Corps in Italy, survived the battle for Monte Cassino aged 47, and is buried in the Polish cemetery in Bologna.
Later that year, my husband and I retraced the 1PAD's route from Arromanches-les-Bains, on the Normandy coast, to Abbeville. We then headed north to Leubringhen. I photographed all 19 of the Polish headstones in the Canadian cemetery : Stanisław Krzemionka and Jan Tyrna died on 1 September 1944; Józef Brezniak, Jan Ferenc, Emil Pala, Bronisław Skoda and Bronisław Telke died on 4 September 1944; ZT Cwil, Józef Lipa, Kajetan Manugiewicz, Stanisław Zabijak and Antoni Zakrzewski died on 5 September 1944; Józef Broekere died of his wounds on 7 September 1944; Czesław Zyzyk died on 24 September 1944.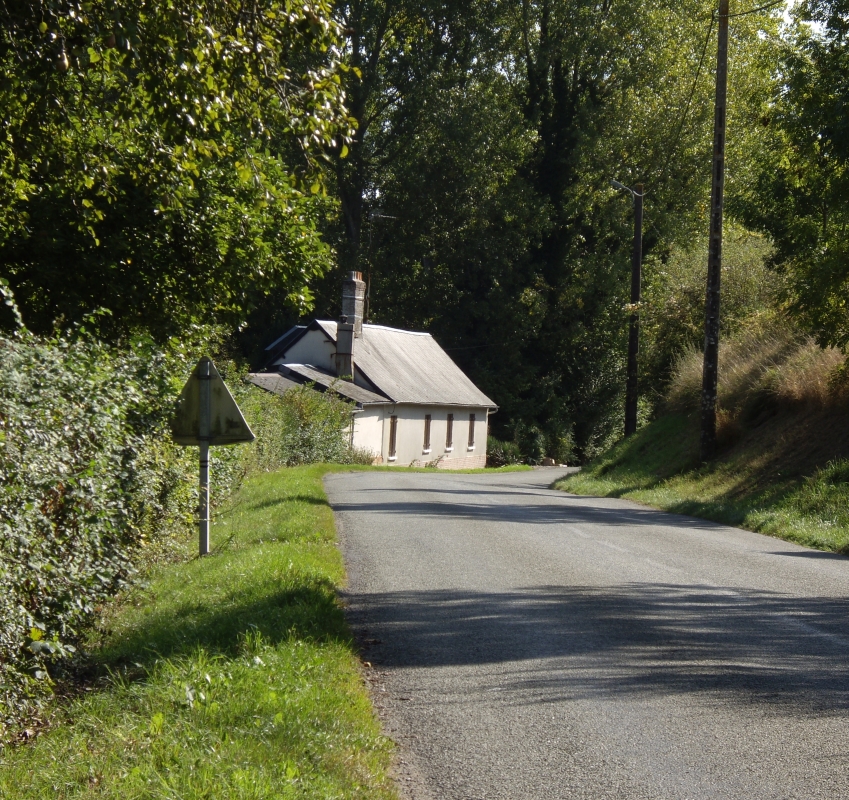 Of course, Anzac Day has nothing to do with the Poles, or the Polish military. In Poland, Armed Forces Day on 15 August commemorates the Polish victory over the Soviets in the 1920 Battle of Warsaw, known as the Miracle on the Vistula, and which ensured—then—that Poland retained its independence from Soviet Russia.
But I live in New Zealand, and it is on this day that I remember my soldier grandfathers and, parade or no parade, contemplate what might have been.
And Ron, who saw many of his comrades die in action and later, rest in peace my friend. I miss you.
—Barbara Scrivens
25 April 2020
_______________
The top photographs show some of the Polish graves at the Canadian War Cemetery in Leubringen. The other two were taken on the road to Gouy, on the outskirts of Abbeville, France.
If you would like to comment on this post, or any other story, please editor@polishhistorynewzealand.org/
Photographs: Barbara Scrivens
Return to Home Page