Full Circle
Pani Marysia née Dac Jaśkiewicz was a Pole typical of her time. Deeply religious, generous, stubborn, single-minded on many topics, she exuded the kind of Polish hospitality that she should have grown up with.
The St Mary of the Immaculate Conception church in Avondale was packed on 15 June. People nodded, smiled, and shed tears with her family and the priest, Pa Peter Tipine, whom Pani Marysia had known all his life, as they recalled tributes and reminiscences of a life heavily intertwined with the church. This was where she married Franciszek Jaśkiewicz in 1961, where her children Kazik, Marysia, Basia, and Krysia were baptised, where her daughters were married, where she sat for Franciszek's funeral in 1994, and where there was not a priest nor an altar boy or girl who had not worn something she had sewn.
Pani Marysia was the local doyenne of sewing. She made her own wedding dress, and those of her four bridesmaids and, besides her daughters, did the same for countless others. At the funeral, one of her granddaughters wore one of the Polish embroidered national costumes that she had created. The last time I visited her, I saw several badly frayed red school jerseys on her kitchen counter. Basia, a school teacher, had brought them to her for repair. To me, they looked beyond help; to Pani Marysia, it was a fiddly job, and she did it. While she was conscious, her hands never stopped.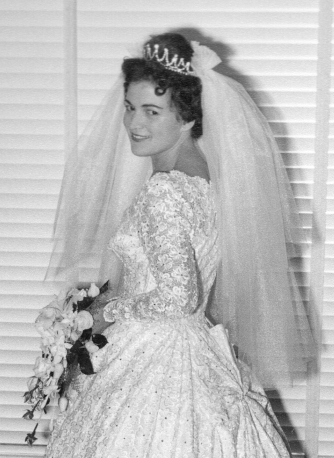 The recessional song at her funeral was Góralu, ci czy nie żal? The English translation of the song's name, Highlander, do you not feel grief/ sorrow/ regret/ desolation/ woe? is as complicated as the feelings of anyone forced from their home, as Pani Marysia was as a young girl. It took me back to my own 1960s childhood and Polish gatherings when, late into the evenings, the men would stand and sway and sing the mournful melody. (Anyone hearing it at a faster tempo is not doing it justice.) I did not know that it was one of Pani Marysia's favourite Polish folksongs, so old that there are disputes about its musical origins, but that she interpreted as leaving her heart in Poland.
Apparently the author, poet Michał Bałucki, was imprisoned in Kraków in 1863 with a highlander farmer who had been arrested when crossing the border between Russian- and Austrian-partitioned Poland. Because he happened to be carrying the implements of his trade, a pitchfork and a shovel, he was accused of being an insurgent. The man's grief at not being able to get back to his hills stayed with the poet.
I first met Pani Marysia in 2013, at the entrance to the Dom Polski in Morningside. Although I had immigrated to New Zealand 15 years earlier, it had not occurred to me before I started researching my family and became involved in this website, that there may be a proper Polish organisation here. I found out that the Auckland Polish Association was holding its annual general meeting. What better way to assess people?
Walking into a roomful of strangers is always intimidating, and I was grateful that this bird-like woman came up to me and started chatting with—probably interrogating—an unknown visitor. Whatever it was, I appreciated it, because no one else was as friendly.
I grew to understand Pani Marysia through interviewing her in 2016. She insisted in speaking Polish, despite my telling her that I was not fluent, but it was as if she needed to be within her Polish self to recall the horrors of her childhood after Soviet soldiers barged into their home in Przemysł one early morning in February 1940, and told the family to pack and dress warmly because they were they were "going to Siberia for a vacation."
Her father was shot in the forest near the forced-labour facility where they were imprisoned for nearly two years. Her mother died soon after getting Marysia and her older brother and sister to Kazakhstan.
With their parents dead, three Dac siblings roamed the streets looking for food. She was small enough to climb under a fence in a vegetable garden to steal what she could, and was almost shot by guards on horseback patrolling with dogs. Another time, the older ones left her playing with other children and she came so close to remaining in the village after a Russian girl decided to take her home. Weeks later, her brother heard her name being called, and retrieved her.
One of the youngest of the 733 Polish children who arrived in Wellington in November 1944, Pani Marysia loved her five years at the Polish children's camp in Pahiatua. It gave her back some of what she had lost, and she absorbed the Polish traditions.
I am so glad that our Auckland Polish Association, instigated by Eva Sherer, made a special presentation to Pani Marysia at our annual general meeting on 29 May. She did seem tiny and more frail than usual when I hugged her goodbye, but I fully expected her to live much longer, despite her regular stays at Auckland City Hospital.
I am not sure what it will be like without our long phone calls that I found out recently were typically Polish: A good amount of complaining about whatever it was in the beginning, the reason for the call in the middle, and a good amount of saying goodbye at the end.
Rest in Peace, my friend. I will miss you.
—Basia Scrivens
30 June 2022
_______________
For a fuller story on Pani Marysia, go to https://polishhistorynewzealand.org/marysia-dac-jaskiewicz/
If you would like to comment on this post, or any other story, please email editor@polishhistorynewzealand.org/
Return to Home Page