Allanton cemetery, Otago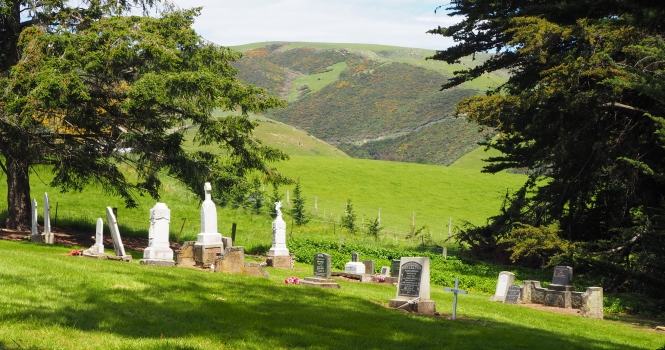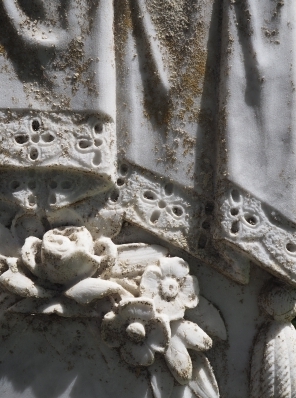 There is no mistaking the Poles in the Allanton cemetery. Their headstones form the bulk of the Catholic section, separated from the Protestants by a wide swathe of lawn.
They lie on the south-west slope of the hillside cemetery, facing away from the town and towards the McLaren gully and Otokia hills. A plaque on a large stone acknowledges their Polish origins.
Founding members of the Beleski, Dysarski, Gorinski, Kovaleski, Kreft, Pedofski, Perniski, Smolenski, Switalla, Velenski and Wroblenski families arrived in New Zealand from Prussian-occupied north-west Poland in the 1870s (although one pushed 17 days into 1880).
At that time in northern continental Europe Otto Von Bismarck, Prussia's prime minister and the founder and first chancellor of the then-future new German Empire, had a single-minded vision. During his rise to power, he subdued anyone who he felt challenged his pro-German consolidation policies, including Roman Catholics—and especially the Roman Catholic Poles then living under Prussian rule. A series of governmental decisions eroded Polish identity through the forced germanisation of geographical and personal names and the eventual outlawing of Polish schools and the Polish language. Bismarck attempted to erode their Catholic identity by purging their clergy. (For more, see the conundrum of nationality and polish anchors: 1872–1876.)
Around 1,000 Polish families took up New Zealand's call for immigrants to help build a new colony in dire need of public infrastructure. The offer of financial assistance with that immigration would have eased the Poles' decisions.
As I walked around the cemetery for the first time, the dearth of maiden names on the headstones saddened me. I wondered how many Polish women absorbed by marriage would never make themselves known. Two modern exceptions were Shirley Isobel Homes, née Pedofski, and Mona Todd, née Velenski.
Like most of the Poles who arrived in New Zealand in the late 1800s, most of the Polish names in this cemetery went through several tweaks. Even in their new country these Poles, without a full grasp of the English language, were at the mercy of official record keepers. In this regard, I am grateful for the Dunedin City Council's unselfish cemeteries search facility: it allows "wildcards" to replace any number of letters in a name as long as at least three letters are used.
These snippets of the families here are just that. If anyone reading this would like to contribute a fuller story of his or her family, please get in touch with us through the home page.
Allanton is the town's third name. Before 1875 it was known locally as Scroggs' Creek. A name change that year to Greytown clashed with another Greytown in the North Island's Wairarapa. In 1895 the Taieri County Council renamed it Allanton after local community leader James Allan, who died in 1891. All mentions of Greytown in this story refer to the South Island.
—Barbara Scrivens
THE HEADSTONES
The terpsichore left Hamburg on 15 December 1875 with seven members of the Bielecki family, including 12-year-old Joseph, Martin and Marianna Bielecki's oldest son.
Marianna died during the 120-day voyage, of typhoid fever, which also claimed nine others. Immigration officials quarantined the ship in Wellington while they investigated the cause of the disease and why it spread so rapidly.1
The New Zealand government fined Hamburg shipping agent RM Sloman £500 for quarantine costs.
Sloman disputed the "excessive" amount and wrote to Sir William Power, Agent-General for New Zealand in London: "… with a little good management, the bread might have been kept sound, plenty of good water could have been served out, and no rotten herrings would have been offered to any one." 2
Martin and Joseph disembarked with Paulina (13), Maria (9), Anna (3), Franz (6 months) and Martin's nephew, Augustin Bielecki (2). Martin took his family to the Waikaka Valley, today about 130 kilometres from Allanton, where he worked on the railway construction.3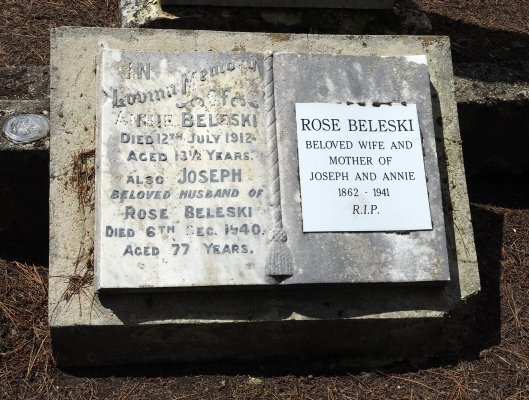 Joseph Beleski (spelt Belisky in marriage records) and Rose Kowalewski (spelt Kovalaveski on marriage records) married in 1889 in a double wedding ceremony (see below). Rose travelled to New Zealand as nine-year-old "Rosalie" on the palmerston in 1872 with her parents, August and Jozefa, brother Franz (11) and sister Augustina (4).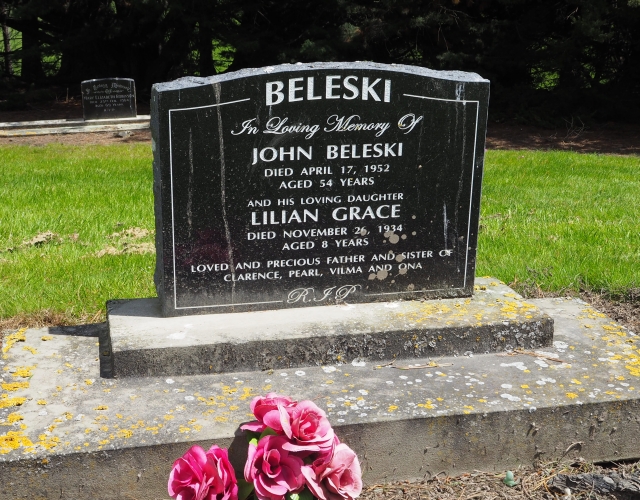 Rose and Joseph had eight children, Albert, Joseph, Frank, Barbara, John, Annie, Olive and Mary. Annie died aged 13. She shares her grave with her parents, who died in 1940 and 1941.
John Beleski, who died in 1952 aged 54, and his daughter Lillian, who died in 1934 aged eight, lie near Rose, Joseph and Annie.
_______________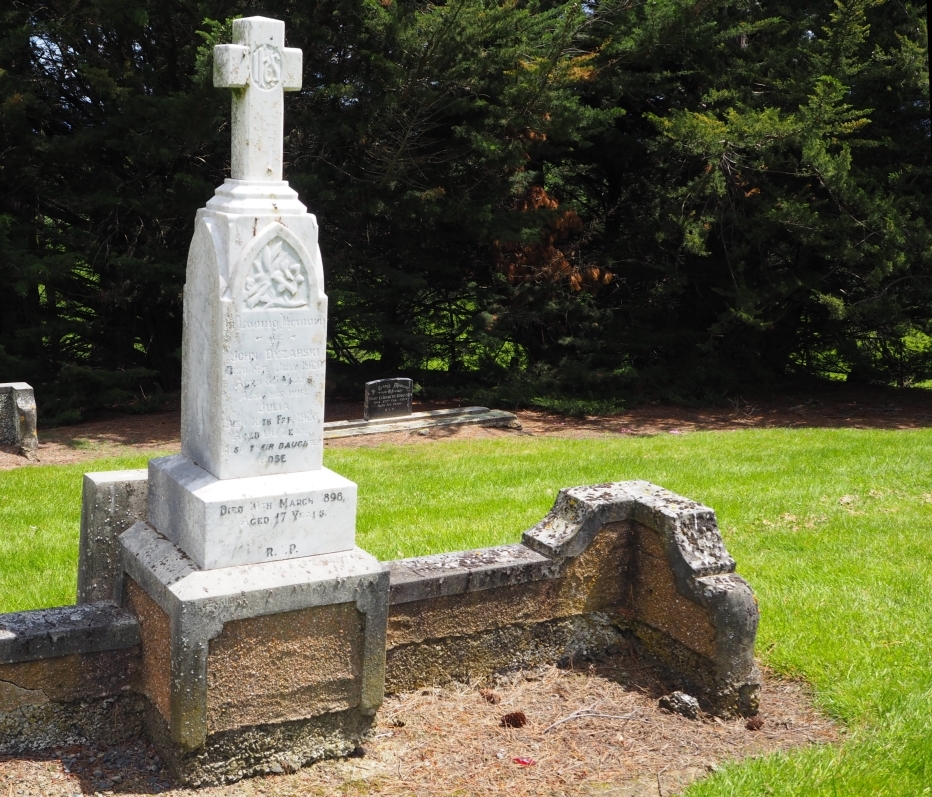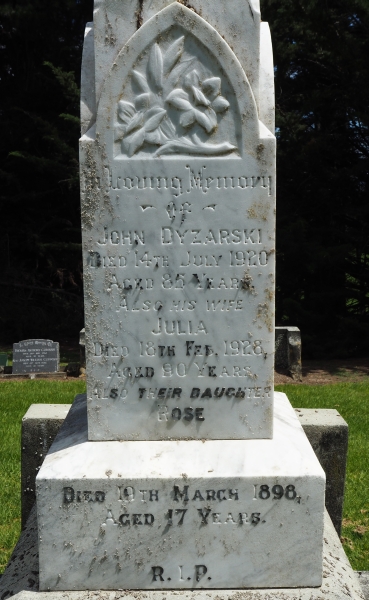 "Johann" and "Joanna" "Dysars" arrived in Port Chalmers with their children, Pauline (4) and Marie (18 months) in December 1872. They spent 130 days at sea on the palmerston.
On Christmas Eve, after 18 days in quarantine, port officials released the passengers to the Dunedin immigration barracks.
Julia (Julianna) gave birth to Annie Martha on 6 January 1873.4
The construction of the southern railway line through the Taieri valley gave Johan Dysarski, a farm labourer, his first employment in New Zealand.
Johan bought land in Waihola, where John (1874-1909), Franz (1876-1930), Julianna (1878-1917) and Rose (1882-1898) were born.5
The 1882 freeholders of new zealand records Johan "Dysarsh," labourer from Waihola, as owning two acres valued at ₤200 in Bruce County. In 1884 the family moved to Allanton, then still known as Greytown, where they settled.
John Dysarski died in 1920 aged 85, Julia Dysarski died in 1928 aged 90. They are buried with their daughter Rose, who died in 1898 aged 17.
Although there is no separate headstone for Mary Elizabeth Dysarski (Marie), records show she shares the same plot as her parents and sister. She died without marrying in 1942, aged 72.
_______________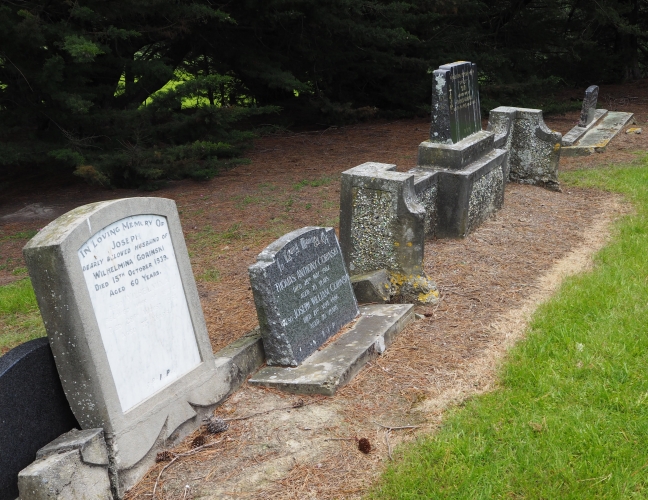 Hamburg officials recorded five members of the Gurzyński family in 1872: Joseph (31), Anna (27), Franz (5), Johann (4), and Franciska (2). On 29 July 1872, the family boarded the palmerston, which had arrived eight days earlier to pick up passengers for New Zealand.
Danish passenger Christen Christensen kept a diary and noted that two children had died by the time the ship left port on 30 July. On 8 November, he wrote that a "one and a half year old boy belonging to Polish parents" died, bringing "until today's date 17 children born and 15 dead in this ship…"6
The Gurzyński family survived the journey, but the spelling of their surname did not. It was spelt Gwenzenski in Hamburg, Ginezinski on the palmerston passenger list, Gurincky in the 1882 freeholders of new zealand list—which recorded Joseph owning 80 acres valued at £280 in Taieri—and Goriskie, Gorinsky, Gurgnsky, and Gurzinsky in other New Zealand records.
Joseph and Anna senior seem to have opted for Gorinski, but it took until the birth of Joseph junior in 1879, their fourth child in New Zealand, for the spelling to remain stable. School records show that Bernard (Birdy) was born 1873, Rose (Rosa) in 1875 and Alexander August in 1878.
After Joseph came Peter (1881), Annie (1883), Mary (who lived for seven weeks in 1885), Thomas (1886), Anthony (1887) and James (1889). Their older brother Johan, who became John, died in 1880 aged 11.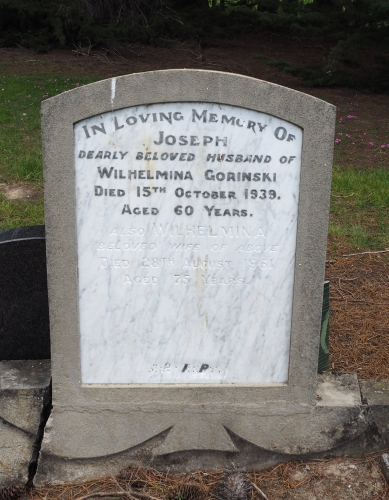 Joseph Gorinski senior died on 6 July 1909, aged 65. He avoided the indignity of being placed on New Zealand's list of Enemy Aliens in 1917, which recorded Annie Gornski of Taieri, aged 73, born in Poland and having lived in New Zealand for 47 years. She died on 28 September 1923, and shares her grave with her husband, their 11-year-old son John, and a J Gorinski, whose birth date was "unrecorded," and who died in 1920.
Joseph Gorinski junior died in 1939 aged 60 and is buried with his widow, Wilhelmina (née Simpson), who died in 1961 aged 65.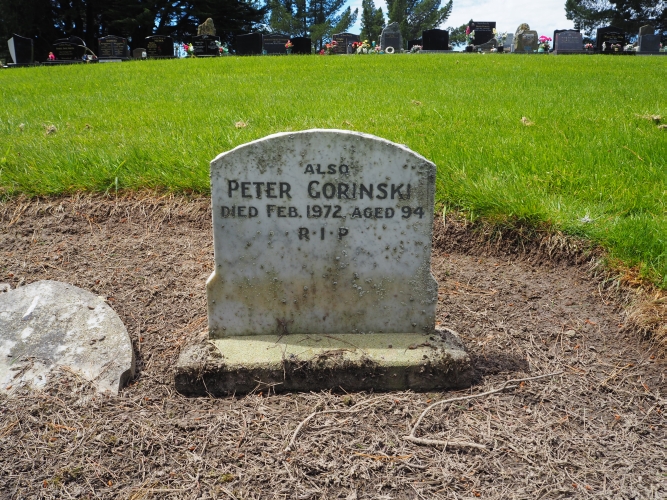 Peter Gorinski's is the only other headstone remaining from the original family. It stands on the edge of the lawn cemetery, which now dissects the Catholic and Protestant sections. According to his death registration, the date on his headstone is a year premature. If New Zealand's Department of Interior's birth records are correct, his headstone also ages him by two years.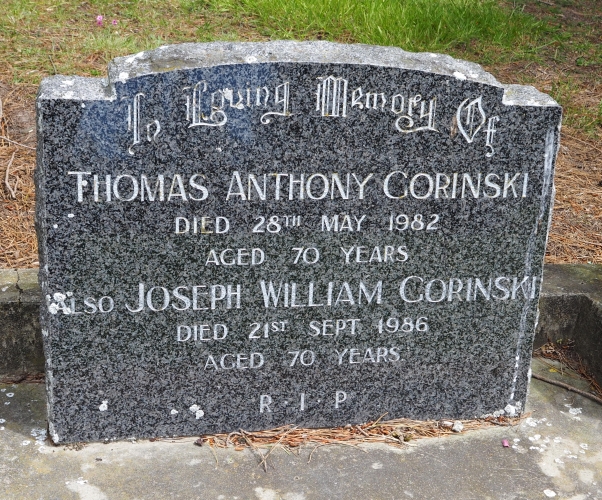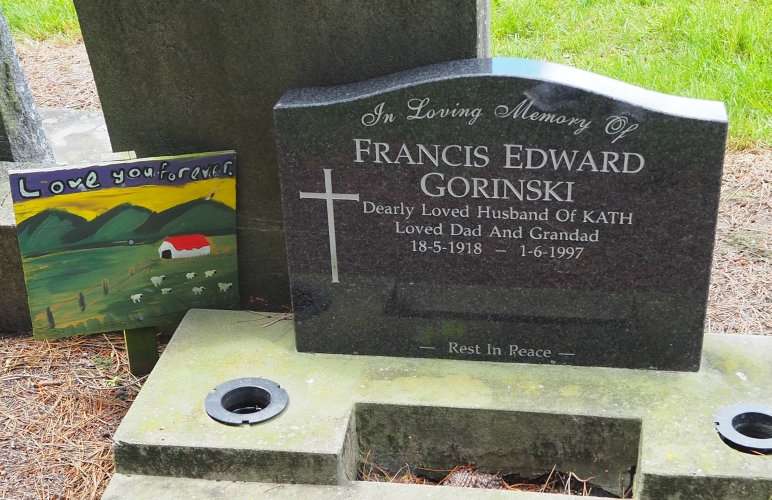 Three of Joseph and Annie's other grandsons rest with them: Thomas and Joseph, who died in 1980 and 1982, both aged 70, and a recent headstone in the Catholic section: Francis Gorinski, who died in 1997 aged 79.
_______________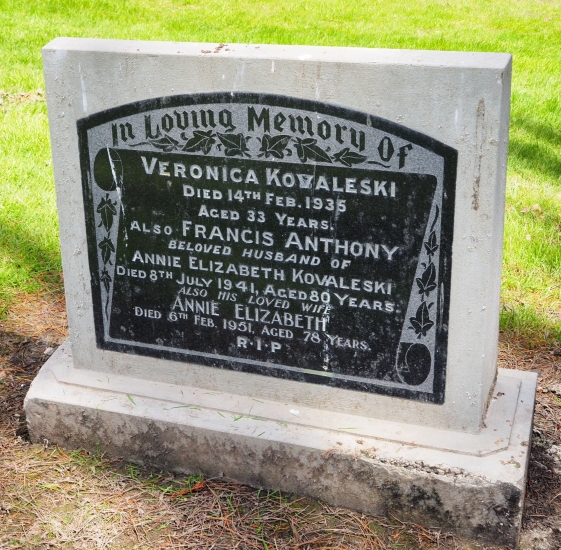 A double wedding for brother and sister siblings on 1 May 1889 entwined the Beleski and Kovaleski families in Allanton.
"Frank Kovalevski" married "Annie Belisky" and "Rose Kovalevski" married "Joseph Belisky" at the new Catholic Church of the Sacred Heart, which opened in Greytown seven months earlier.7
Frank and Rose Kowalewski had left their home in Prussian-occupied north-west Poland in 1872 with their parents "Loring Aug" and "Josephine Kowalenska"8 and sister Augustina (4). By then three of the six Kowalewski children had died, the sixth, Martha, that year. Josephine gave birth to Mary during the arduous journey to New Zealand on the palmerston.
The 1882 freeholders of new zealand lists August Kowalewski as "August Kovalevske," farmer of Greytown, Otago, owning 250 acres valued at ₤800. He eventually became known as Lawrence Kovaleski and is buried in the Southern cemetery in Dunedin with Josephine and their 20-month-old granddaughter, Agnes Ellen Knudson, Mary's child.
The Kovaleski and Beleski siblings married together and are buried close to one another at the Allanton cemetery. Frank Kovaleski died in 1941 aged 80 and Annie in 1951 aged 78. They share their burial plot with their unmarried daughter, Veronica, who predeceased them, aged 33.
_______________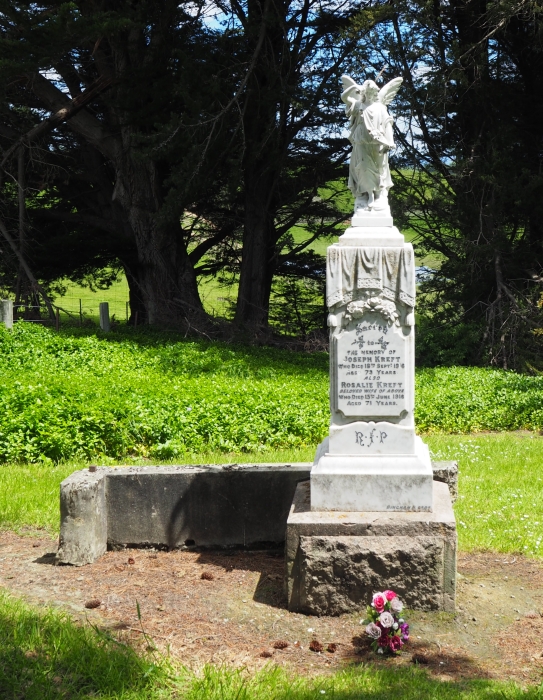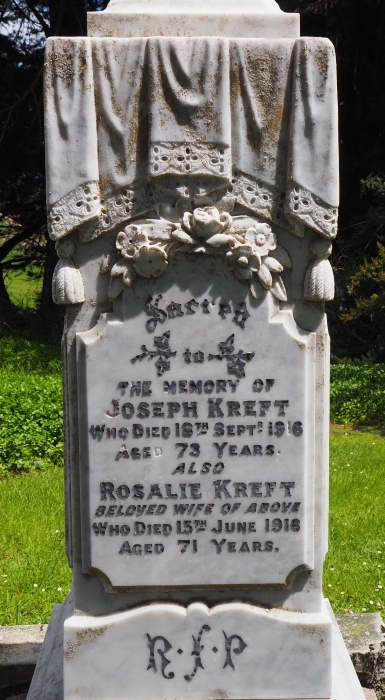 Joseph (30) and Rosalie (27, née Gdaniec) Kreft left Prussian-occupied north-west Poland via Hamburg with their three children, Anna (6), Thomas (4) and Pauline (1).
Rosalie's widowed mother, Maria "Gdanitz" (54), and siblings Jacob (28), Maria (21), Julianne (18) and Wilhelmina (15) travelled with them on the palmerston. They landed in Port Chalmers in December 1872. Both families made their first homes in Dunedin,9 where Joseph and Rosalie had eight more children.10
Of their three Polish-born children, only Anna lived to adulthood. She died aged 77.
Thomas (13) died in a fire on the night of 21 February 1882 with three of his cousins, Francis (8), Minnie (6) and Martha (4) Byszewski.11 Thomas's aunt Maria Gdaniec had married her brother-in-law Julius Byszewski in 187312 after her sister died in childbirth in February 1873. (Julius and Anna Byszewski had travelled with the Gdaniec family on the palmerston.)
Thomas, a pupil at the Christian Brothers School in Dunedin had been overnighting with them after bad weather stopped him from getting home.13
Baby Pauline may have been one of the 17 deaths on the palmerston because she seems to have disappeared from records. Officially, three adults and 10 children died "chiefly [from] pneumonia and dysentery" and the ship was quarantined off Port Chalmers for 16 days through fear from scarlatina and typhoid fever.14
In 1888 Joseph Kreft bought property in then Greytown and spent the rest of his life there with Rosalia. He lived only three months longer than his wife, who died on 15 June 1916 aged 71.
Joseph and Rosalia share their burial plot with five of their sons: Thomas; John Frank and William Ernest, who died in infancy in 1881 and 1883; Joseph, their second New Zealand-born child, who died in 1960 aged 85; and another "John Francis," who died in 1965 also aged 85.15
_______________

In 1872 a German supervisor whipped Polish stablehand Józef Pędowski for feeding the farm's horses too many oats.
The supervisor probably did not expect Józef, then 26, to retaliate—Poles were the lowest class of citizen in then Prussian-occupied Poland—but he did and the German landed unconscious. Józef believed the other man was dead, and knew he would either be condemned to death or face a long term of imprisonment for assaulting a German.
Józef disappeared west, towards the port of Hamburg.16
Even if he had wanted to farewell his parents—if they were still alive—or his siblings, he would not have: The family story says that some of his sisters had married Germans and were unsympathetic to him, so if he had lingered, he risked capture by the police searching for him. (Years later Joseph found out that the supervisor had not died.)
"Joseph Pedowski" boarded the palmerston with Johan and Joanna Halba and their nine-year-old son, another Joseph.17 Joseph Pedowski's mother's maiden name was Halba, so perhaps he joined a cousin or uncle and perhaps he did manage to get a message to his parents. He was certainly the only Pedowski to immigrate to New Zealand from Hamburg during the 1870s. The lack of chain migration shows the extent to which he cut his family ties.
"Joseph Pedonski" married "Maria Walenski" in 1875.18 Marianna Walińska, aged 15, had travelled with the Świtala family on the reichstag, which landed in Wellington in August 1874. She moved with that family to Greytown.
Joseph and Marianna (who became known as Mary) Pedofski settled in Greytown and had 13 children: John, Annie, Martha, Joseph, Mary, Matilda, Frank, Antoni, Alexander, George, Emily Sophia, James William and Veronica.
Records show the first 12 attended the local school until they were at least 13 (Veronica's records are incomplete). First-born John left school at 15 to take on farm work and second-born Annie's few breaks coincided with the birth of the Pedofski's eighth child, Antoni. Matilda went on to Roman Catholic school, as did Frank when he was 12. He returned to the local school when he was 14 and eventually also left to do "farm work." Alexander went on to Mosgiel High School. The most common reason for the children to leave school was to work at the home farm.19
Joseph died on 1 August 1926 aged 81 and Mary on 1 January 1934 aged 77. They share their burial plot with their 12th child, James William, and his wife Mary Isabel. With them are Shirley Elizabeth Homes (née Pedofski) and Veronica Stewart, who died in 1939 aged 36.
Beverley Maretta Pedofski, who died in 2016 aged 80, shares a nearby plot with an unspecified member of the family, who died in 1903. Two other Pedofski descendant headstones belong to Russell Frederick and husband and wife, Joseph Alexander and Mary Kathleen Pedofsky. Others in the family are buried at Andersons Bay, Green Park, Middlemarch, Port Chalmers and Southern cemeteries.20
_______________
Most Poles who emigrated from Prussian-occupied Poland in the 1870s and 1880s did so directly via Hamburg but some, like the Piernicki family, had to add an additional leg to their journeys and depart from the United Kingdom.
Anton Piernicki (38), his wife, Anna (38), and their children Franz (13), Anton (11), Marta (9), Johan (6) and Valentin (1) seemed to be the only Polish family among the predominantly English passengers aboard the dallam tower.
At 1,499-tons the ship would definitely have towered over the 950-ton palmerston. The larger vessel left London on 21 December 1874 and Portsmouth on Christmas Day.
The dallam tower carried 257 passengers, 40 fewer than the palmerston, and made the voyage from London to Wellington in 88 days—42 days fewer than the palmerston—and docked on 19 March 1875, a Friday.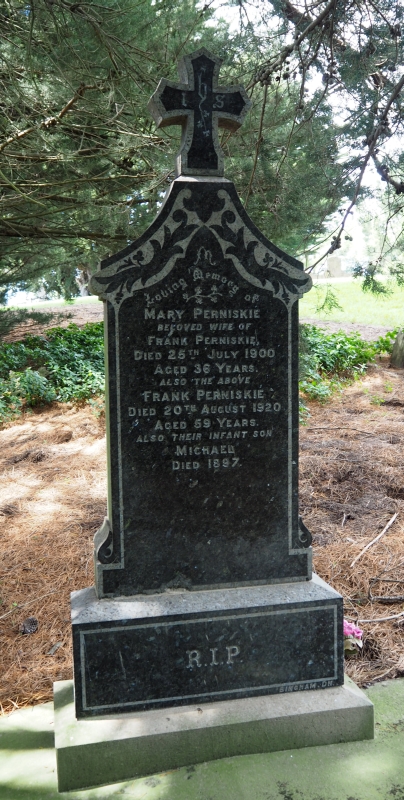 According to newspaper reports, 146 of the dallam tower passengers destined for Otago had to wait until the following Monday for the taranaki, which delivered them to Port Chalmers on 24 March 1875.21
The Piernicki family moved to Greytown, where Michael and Peter Paul were born in 1876 and 1877, but returned to north Dunedin where Anton worked as a dairy farmer. By the time Annie was naturalised in March 1901, the family name had changed to "Perniskie."
Frank married Mary Mulligan in 1886 and after several years living in Dunedin, moved his family to Allanton.
Although Frank remarried after Mary died in 1900, he shares his grave with his first wife and their last-born infant son, Michael. Frank died in 1920 and Michael in 1897.
Anton and Annie Perniskie died in 1914 and 1924 and are buried together at Dunedin's Southern cemetery.
_______________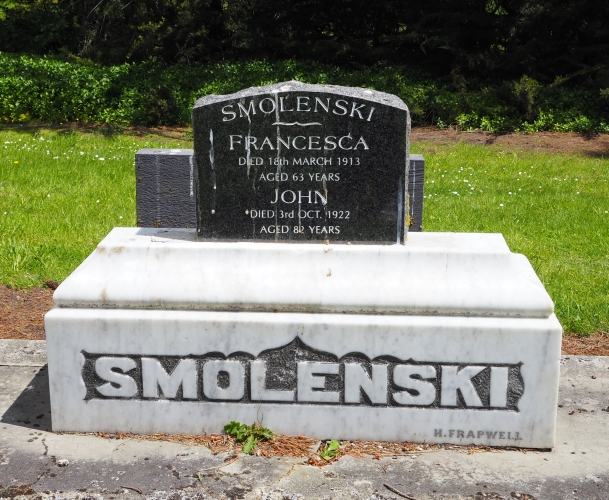 The Smolenski (Smoliński) family also sailed to New Zealand via the UK. Johan (36), Francisca (30), Johann (6) and Franz (2) left from Greenock, Glasgow on the marlborough on 23 October 1879 and landed in Port Chalmers on 17 January 1880.
By 1883, the family had settled in Greytown. John (Johann) senior enrolled his sons, John (Johann) junior and Franz, into the local school on 26 November that year. John and Francisca (Fanny) had seven more children: Martha, August, Minnie, Rosie, James, Annie and William. Apart from Minnie, who died as an infant, all the rest of the siblings attended the school, although Annie for only a few months before she died in 1898.
That same year, after the school failed to elect a committee in 1896 and 1897, their father was elected to the Allanton's School Committee Board.22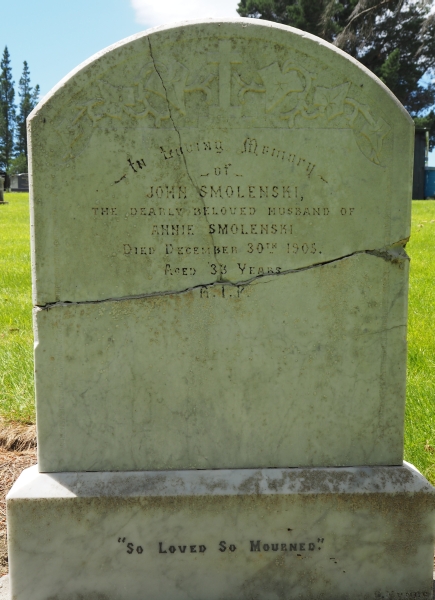 Although they both died in Dunedin, John and Francesca are buried at the Allanton cemetery. John died in 1922 and Francesca in 1913 aged 63. Judging from three different records John senior would have been between 78 and 80.
John junior, who died on 30 December 1905 aged 33, rests near them. His widow, Annie, included a verse as part of his memorial notice in the otago daily times two years later:23
He is gone, but not forgotten—
Never shall his memory fade;
Fondest thoughts shall ever linger
Round my darling husband's grave.
_______________
The Świtala family epitomised the complexities of life, death and practicality in the 1800s.
The reichstag passenger list on 10 May 1874 shows a family of eight: Johan (47), Franciska (45), Johan (17), Marianna (15), Michał (13), August (9), Jakub (5) and Antoni (3).
But Marianna's surname was not Świtala, and Franciska was not the mother of Johan, Michał, August or Jakub, and Johan junior's mother was not Michał's, August's, Jakub's or Antoni's. Johan junior's mother, Jozefina, died two weeks after giving birth to his brother in 1860. His six-year-old sister, Marianna, died a year later.
Johan Świtala remarried in 1860 to Catherina Zelinska, with whom he had five more children. Two died in infancy, one possibly in childbirth. Catherina died in April 1873.
Franciska, the widow of Józef Waliński, became Johan's third wife in June 1873 and Johan Świtala her second husband. Marianna and Antoni were brother and sister.24
In 1872, the same year Franciska's first husband died, her 17-year-old daughter, Anna, accompanied her 19-year-old married sister, Catharina Wroblewski, on the palmerston.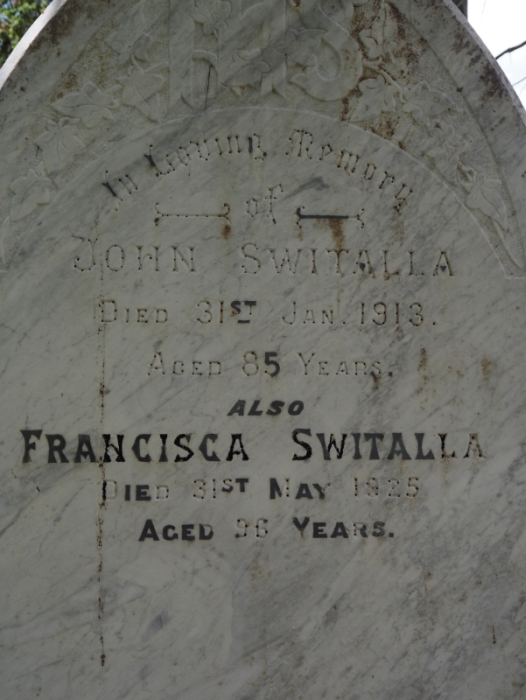 The reichstag reached Wellington in good time on 6 August 1874, a sea passage of 85 days plus 11 "working along the land to her port of destination."25 The Świtala family and 27 others "nominated by friends in Otago" arrived in Port Chalmers by the end of the month.26 Two of Franciska's other daughters, Catharina and Anna, had settled in the Greytown/Waihola area and it is no surprise that the Świtala family joined them.
Both Johan Świtalas became known as John Switalla. Both are named in the 1882 freeholders of new zealand list as "Switall," labourers from Greytown owning land valued at £150 and £70 respectively.
John junior married Martha Piernicki. They had 12 children.
Marianna married Joseph Pedowski (see above) and followed her mother's career as a midwife in the Taieri area.
Michał appears on some reichstag passenger lists but not on others.27 It is not clear what happened to him but there appears to be no trace of his name in New Zealand.
August married Elizabeth Templeton and lived first in Greytown, then Milton, and later Mosgiel. They had five children.
Jacob remained unmarried and died in Dunedin in 1934. He is buried at the Andersons Bay cemetery with at least 11 relatives.
John senior and Franciska had two sons in New Zealand, Joseph, born in 1875, and his brother who lived for three hours on 8 September 1878.
Joseph Świtala also did not marry. He changed his name to Switalli. Among his possessions was a WWI British War medal awarded to him for his military service service between 5 August 1914 and 11 November 1918.28 Joseph died in 1952 and is buried at Anderson Bay cemetery in Dunedin.29
John and Franciska share their Allanton grave with their baby son. John died in January 1913 aged 85 and Franciska in 1925 aged 96.
_______________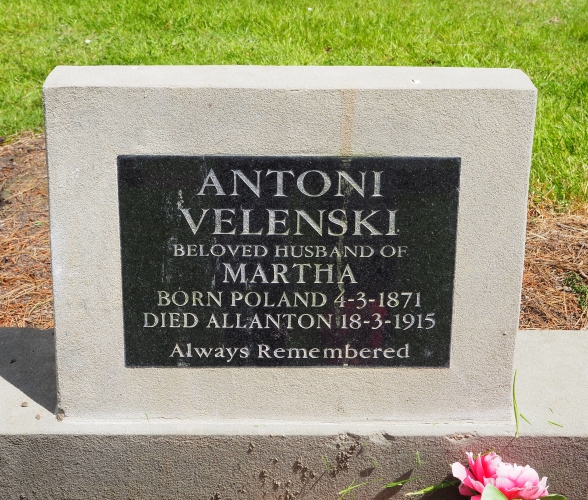 Three-year-old Antoni "Świtala" on the reichstag passenger list at some stage reverted to an anglicised version of his surname, Velenski. He married Martha Smolenski (see above) in 1899. According to family story, Antoni had intended to marry Martha from the time she was a girl.30
Antoni and Martha had five children, Frank William and Eric George in Allanton and Minnie, Thomas Edward and Mona in Dunedin.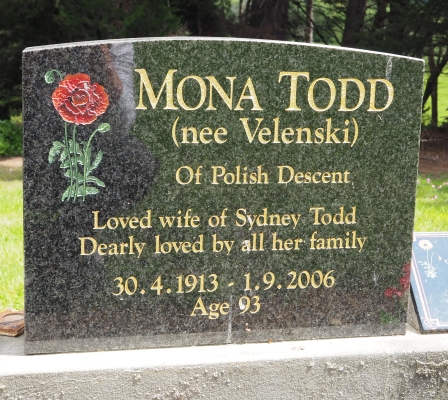 Antoni died aged 44 in 1915. Martha outlived him by 40 years. She married Arthur Palmer in 1920 and had two more children, Phylis and Rita, but when she died, joined her first husband in the Allanton cemetery.31
Also in the Velenski plot is Antoni's sister Catherina's twin sons, born in 1875. John "Vrovliski" lived for four minutes and his brother, Joseph, for two weeks.26 Mona and her husband, Sydney, are buried beside them.
_______________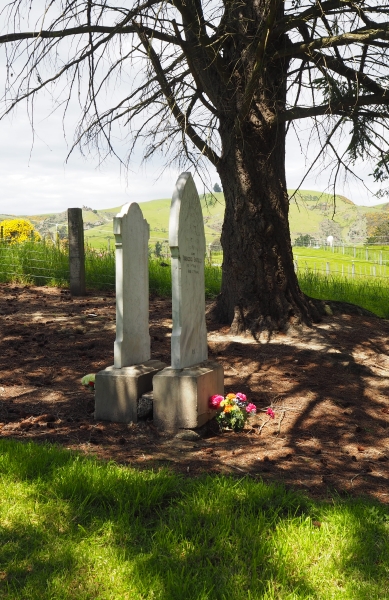 Marriage changed their surnames but Franciska Switalla will remain close to her daughter Catherine Wroblenski as long as time allows.
The Switalla and Wroblenski headstones stand back-to-back at the Allanton cemetery. There is so much space around them one doubts coincidence had much to do with their positioning.
Catherine Walińska married Johan Wróblewski in Prussian-occupied north-west Poland on 28 May 1872,32 two months before they stepped aboard the palmerston, which took them to Port Chalmers. The ship listed them as Johann (27) and Valencia (19) Wroblenski, the surname they kept in death.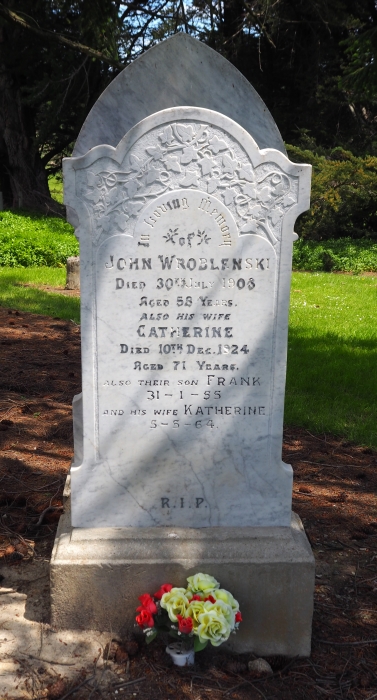 They had 12 children between 1874 and 1895. Annie (1885) and Joseph (1885) were registered under the Wroblenski name. Mary (1878), August (1881), John Patrick (1883) and Catherine (1890) were spelt "Wrobleski" in a set of registrations where their mother's name was spelt "Catrina," "Katrina," "Kate" and "Katerina." By then Johann had become "John" and that spelling remained stable. Martha's 1892 registration named her "Marthie Wroblefski."33 As well as these spellings, the children's school admission records show "Wroble," and "Wrobflensky."
Their school records show the family's varying need of the children's help at home. Some of the siblings did the latter part of their schooling at the Roman Catholic school in Mosgiel; others stayed at the Greytown school. They finished their schooling aged between 13 and 15.
John Wroblefski, labourer, became naturalised in Allanton in 1899. He died aged 58 in 1903. He shares his burial plot with his wife, Catherine, who died in 1924 aged 71 and his son and daughter-in-law, Francis and Katherine, who died in 1955 and 1964.
© Barbara Scrivens, 2018
Updated August 2022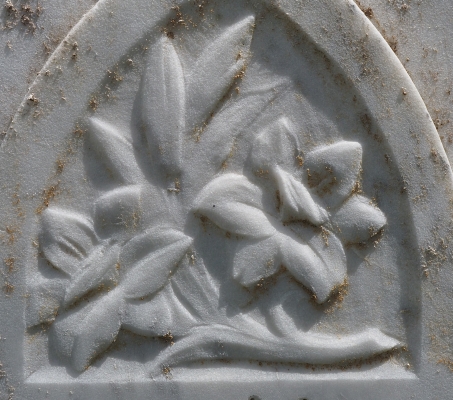 THANKS TO THE POLISH EMBASSY IN NEW ZEALAND FOR TRAVEL AND ACCOMMODATION EXPENSES IN DUNEDIN.
THANKS TO NGAIRE OCKWELL OF THE DUNEDIN GENEALOGY GROUP, WHO CREATED THE 1977 ALLANTON/GREYTOWN/GREY HEADSTONE TRANSCRIPT. IT WAS INVALUABLE DURING MY VISIT.
ALL PHOTOGRAPHS BY BARBARA SCRIVENS.
ENDNOTES:
1 - Appendix to the Journals of the House of Representatives (AJHR), 1876, D-3, IMMIGRATION TO NEW ZEALAND, LETTERS TO THE AGENT-GENERAL TRANSMITTING REPORTS UPON IMMIGRANT SHIPS, page 40.
2 - AJHR, 1877, D-2, IMMIGRATION TO NEW ZEALAND (LETTERS FROM THE AGENT-GENERAL), page 21.
3 - From Poles Down South:
https://polesdownsouth.wordpress.com/in-new-zealand/early-polish-settlers/annis-family/a-d/bielicki-family/
4 - From the Poles Down South website:
https://polesdownsouth.wordpress.com/in-new-zealand/early-polish-settlers/annis-family/k-l/dysarski-family/
5 - Ibid.
6 - http://andreassend.blogspot.co.nz/2009/12/voyage-of-palmerston-1872.html
7 - Thanks to Monsignor John Harrison, through the Roman Catholic Diocese of Dunedin, for providing copies of the marriage records.
8 - Spelling from the Palmerston passenger list in OTAGO/SOUTHLAND (NZ) ASSISTED PASSENGERS 1872-1888, Otago Early Settlers Museum, Dunedin, 1992.
9 - Poles Down South:
https://polesdownsouth.wordpress.com/in-new-zealand/early-polish-settlers/annis-family/k-o/kreft-family/
10 - Thanks to the Department of Internal Affairs' Births, Deaths & Marriages Online.
11 - Evening Star, page 3, THE SMITH STREET FIRE, Papers Past, through the National Library of New Zealand,
https://paperspast.natlib.govt.nz/newspapers/ESD18820223.2.26?
12 - Thanks to the New Zealand Society of Genealogists for directing me to this union through their CD, New Zealand Marriages, 1836-1956. The bride's name was misspelt "Gedendz" and the groom's "Bischoszke." The CD is available through:
https://www.genealogy.org.nz/
13 - Ibid, Poles Down South.
14 - Appendix to the Journals of the House of Representatives (AJHR), 1873, Session 1, D-1, IMMIGRATION TO NEW ZEALAND, MEMORANDA TO THE AGENT-GENERAL, page 36.
15 - Thanks to Dunedin City Council:
http://www.dunedin.govt.nz/facilities/cemeteries/cemeteries_search?
16 - Incident recalled in:
https://polesdownsouth.wordpress.com/in-new-zealand/early-polish-settlers/annis-family/l-o/pedowski-family/
17 - Ibid, the Otago Early Settlers Museum list.
18 - Ibid. Marriage records through the NZSG allow looking for different spellings of names, which can then be confirmed through the DIA.
19 - Records sourced from Poles Down South and NZSG's Kiwi Collection.
20 - Ibid Dunedin City Council.
21 - Otago Daily Times, page 5 (supplement), 13 March 1875, IMMIGRATION ITEMS,
https://paperspast.natlib.govt.nz/newspapers/ODT18750313.2.25?
and page 2, 19 March 1875, TELEGRAMS,
https://paperspast.natlib.govt.nz/newspapers/ODT18750319.2.11?
Both items from Papers Past, through the National Library of New Zealand.
22 - Evening Star, page 1, 17 July 1986, EDUCATION BOARD,
https://paperspast.natlib.govt.nz/newspapers/ESD18960717.2.5?;
Otago Witness, page 27, 27 May 1897, Otago Education Board,
https://paperspast.natlib.govt.nz/newspapers/OW18970527.2.87.3?;
Otago Daily Times, page 7, 28 April 1898, SCHOOL COMMITTEE ELECTIONS,
https://paperspast.natlib.govt.nz/newspapers/ODT18980428.2.54?
All items from Papers Past, through the National Library of New Zealand.
23 - Otago Daily Times, page 4, 1 January 1907, IN MEMORIAM, from Papers Past, through the National Library of New Zealand
https://paperspast.natlib.govt.nz/newspapers/ODT19070101.2.21?
24 - Marital information from Poles Down South,
https://polesdownsouth.wordpress.com/in-new-zealand/early-polish-settlers/annis-family/r-s/switala-family/
25 - New Zealand Times, 7 August 1874, page 2, Papers Past, through the National Library of New Zealand,
https://paperspast.natlib.govt.nz/newspapers/NZTIM18740807.2.11?
26 - Evening Post, 29 August, page 2, SATURDAY AUGUST 29, 1874. Papers Past, through the National Library of New Zealand,
https://paperspast.natlib.govt.nz/newspapers/EP18740829.2.7?
27 - Hutt City, Petone Settlers Data,
http://www.huttcity.govt.nz/Leisure--Culture/Museums-and-galleries/Our-museums/petone-settlers-data/?page=4&searchString=Reichstag&searchYear=1874
28 - Medal information from:
http://www.nzmuseums.co.nz/account/3021/object/73111
29 - Ibid, Dunedin City Council,
An image of Joseph's NZEF plaque on:
http://www.dunedin.govt.nz/facilities/cemeteries/cemeteries_search?recordid=23029&type=Burial
30 - Poles Down South,
https://polesdownsouth.wordpress.com/in-new-zealand/early-polish-settlers/annis-family/t-w/walinski-family/
31 - Ibid, Dunedin City Council.
32 - Poles Down South,
https://polesdownsouth.wordpress.com/in-new-zealand/early-polish-settlers/annis-family/t-w/wroblewski-family/
33 - The Department of Inland Affairs' Births, Marriages and Deaths on-line records only allow specific name searches, making variations of unusual names difficult to find.