EARLY CHILDHOOD IN MARSHLAND
by Sister Mary St Martha Szymanska
When my oldest sister Gert was 12 years old she had reason to ride her bike down to our great-uncle Matt (Matheusz) Schimanski's place. The day was hot and Uncle Matt offered her a cool drink. Matt brewed his own beer and gave Gert some of his parsnip wine. Gert ended up walking home and wheeling her bike because she could not get her feet to go on the pedals. After our Dad (Albert Schimanski) questioned her as to why she was not riding her bike he went Uncle Matt who never again offered Gert a drink.
A while later when Albert was himself visiting his uncle Matt with a Mr Kiesanowski they were offered some of that same parsnip wine. Mr Kiesanowski became so intoxicated he could not walk and was crawling home on his hands and knees. Gert was sent to tell his wife to go and help her husband and received such a telling off from Mrs Kiesanowski who could not believe her husband was drunk and ordered Gert off the property.
When Mum's nephew Francis Dodunski came down to Christchurch for a holiday from Taranaki he and Dad went to the town and called in at the pub on the way home while my brothers waited outside in the wagon. They got tired of waiting so one of them went into the pub to tell Dad that they wanted to go home. Dad said, "Well go home then," and they did. They took the horse and Dad then told Frank to ring Mum up and tell her Dad was drunk and in jail and see what she says. All Dad wanted was a ride home. Mrs. Alexander looked after the Post Office and phone calls had to go through her office. Because she was a very big woman and had run up to the farm to tell Mum she arrived puffed out. When Mum received the message she said, "If he is so stupid to get himself drunk and put in jail he can stay there. He has a wife and family to look after and should not be so stupid."
Sometime later when Frank and Dad walked in, Dad sounded a little disappointed. "You didn't come and get me," he said. Gert was surprised at witnessing this side of her father because she had never known him to put a foot wrong. He was always a good husband, father and provider.
On Boxing Day our mother would round up all her children and the whole family would go to the New Brighton Boxing Day Gala. Martha could have won the prize for the largest family if she could have kept them near her for the event. As it was they could not all be found so the prize went to another family with fewer members than the Schimanskis.
Visiting relatives on Sundays was the highlight of the week. The whole family would go to an aunt's for a hot Sunday dinner after Mass. Since Martha was such a lovely looking person and so very sweet and gentle she was a favourite of all the aunts and was always welcome. Martha seemed to have a preference for Aunt Mary Rogal whom I remember came to visit our farm 10 or 12 years after the family moved to Taranaki.
Aunt Esther's home in Kaiapoi was a great place to go on Sundays. She was a favourite aunt with a big kitchen and an oven that turned out the most beautifully made apple pies.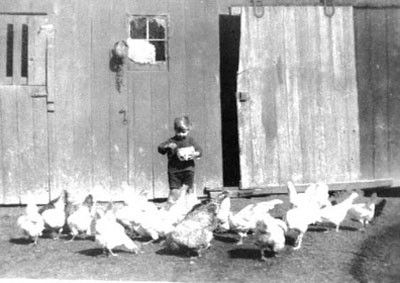 When Doug was little he loved to feed the fowls and any time of the day he would push himself into the big shed and help himself to a tin full of wheat and start calling to the hens "chuck, chuck, chuck," just like Mum and Dad did. With his little hand full of wheat he would happily throw it out to while he watched his feathered friends contentedly pecking.
Sixty years after the event Vic told me a story he still laughed about. One night at teatime when Mum called the children in to eat, Vic, Phil, Reg and Theresa probably did not hear because they were playing in the bank of sand across the road. Dad said he would fix them, went behind the bank where he was hidden and made a noise like a bull roaring. Vic said he was the first one home. I can imagine the surprise on Mum's face to have the four children suddenly rushing in together. Dad was probably the last one inside. I can see him coming in with a pleased smile on his face and winking at Mum's puzzled look.
After the bull episode there was a time when Dad had to sort out a 'ghost.' Gert and Theresa were kneeling down beside their beds saying their prayers and they heard a weird noise. The girls crept out of the room to Mum and Dad to tell them about the ghost outside. Dad went out to listen and knew immediately what the noise was—someone had put a piece of gum-covered cotton on the front door and was rubbing it up and down to make the scary sound. The gum from blue-gum trees was used to rub on the thread to mend the horses harnesses. It made the thread as strong as wire. Dad had a good idea who was behind this prank—his nephew Frank Schimanski. Dad picked up a horsewhip and took off out the back door but the noise he made alerted the two pranksters. They dropped the evidence and their footsteps could be heard running away as fast as they could.
Sometimes when he was talking to a salesman out on the street and there was the possibility of bad language or swearing, Dad would say to the children standing by, "I can hear Mum calling you, I think she wants you." Then the children would arrive inside and say, "You want us Mum?" Mum would quickly catch on and think up something for them to do.
Reg took hours to get up in the mornings. When Les was home he would take a bucket of water to wake him. On the Marshland farm there was a three-quarter acre bathroom outside with two twin bathtubs under the hedge.
Every Sunday before church Dad always brushed Gert and Theresa's hair. One night when Gert got up for some reason she saw Dad brushing Mum's hair.
Gert never had time to mend her stockings. She was always too busy doing chores for the family. She would pull the stocking out over her toe and tuck any hole under her foot before she went to school. Not Theresa—she would never go to school with a hole in her stocking. After school the first thing Gert did was to make a billy of tea and some sandwiches to send down to Mum and Dad working in the market garden. Mum would have the little ones down with her. Gert would then start clearing the kitchen sink that was covered with breakfast and lunch dishes. Vic would often be a bigger help to Gert than Theresa.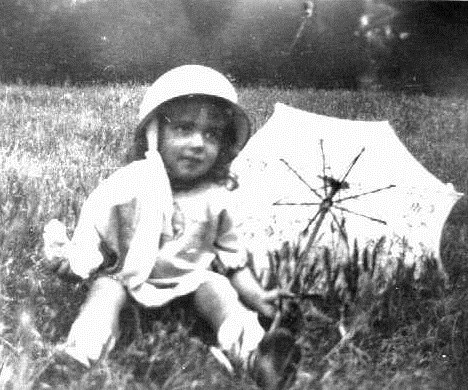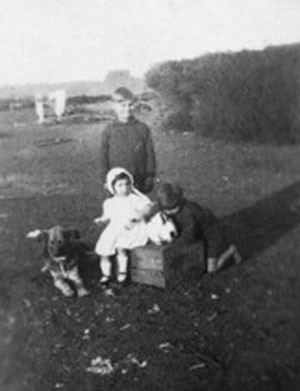 Above is Ngaira in the garden at the Prestons Road farm and on the right are Reg and Doug, the brothers immediately older than she was, looking after her.
Vic liked to ride ponies after school until when he grew older he helped weed the onions. When the boys weeded the onions they knelt over one row and weeded the two rows each side. When Mum weeded she knelt over one row and weeded five or six rows as she went along. When vegetables were ready for marketing Reg and Vic went off to town every afternoon after school with a load of cabbages and cauliflowers, load up the dray and away they would go. At first this was Les's job and then Vic and Reg took over. Once when Vic and Reg had a load of cabbages they were taking to the sale, a Chinese man came up and said, "I'll give you three pence each." After that Vic would always keep three or four cabbages back to sell on the way home so he could buy lollies.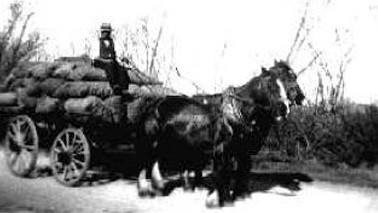 Dad looked after the potatoes. Here he is on his way to market with a bagged load.
The dray the boys used to carry the bags of vegetables had special steel rims. Dad had fixed the wheels to stop them from sinking into the soft soil by putting six-inch rubber tyres onto the iron around the wheels. When Vic was three or four years old he used to climb up a wheel to get on the dray. One day Les was about to lead the horse off and did not notice Vic was half way up the wheel. Vic fell off and under the wheel and it passed over his head. Dad was close by, saw this happen and ran and picked up the little fellow and ran with him through two paddocks and into the house, to see Vic get up and walk about unhurt. The special wheels Dad had made saved Vic from injury but he was a sickly lad after the incident. He had nightmares thinking he had grass growing on his chest and he was rolling in barbed wire.
One night when Dad went down the road to play billiards, Vic was calling out and Mum was holding him down in the bed. Mum sent Gert and Theresa to get Dad. They went down to the hall and knocked on the door and asked to see Dad. Everyone knew everyone in the hall and Dad was called for. When Dad saw the girls he dropped everything and took the girls by the hands and hurried home.
When Vic was on his way home from school at three o'clock his Uncle Michael who lived near the school would come out to the gate and say, "I want four or five boys to come and help me plant cabbages." It would take an hour and he would give them all one shilling and six pence. The boys were quick and they liked the money. Uncle would have all the cabbages laid out and ready. Martha didn't even realise he was missing. That sporadic employment meant Vic had a new bike when he was 11 or 12. One day Vic was on his bike going home to get a spanner. He was so engrossed in what he was going to do that he did not see his [unnamed] Aunt and Uncle driving their horse and gig. As they came to the crossroads he ran into them and knocked himself out. They had to pick him and the bike up and take him home. As for the holidays from school, Vic never remembers having one away from home. At the weekends when they were about 13 or 14 Vic and Phil would take their ponies and ride to the New Brighton Beach.
The last couple of years that the Albert Schimanski family lived together in Christchurch were spent 27 miles west of Marshland. Dad bought Melrose farm, 1,400 acres of flat land with sheep and crops in Norwood.
When the family moved to Melrose farm Les and Gert moved the five or six house-cows along the road. They had a horse and a bike between them. Les rode the horse and Gert rode the bike. Dad said, "If you get tired swap the horse and bike."
The farm was situated off the main road towards Darfield on the west side of the Selwyn River and six miles from the Burnham Military Camp. The Ashley River ran behind the house property. There was a drive of about a quarter of a mile from the road to the farmhouse, which had bells in all the rooms. One of the farm's distinguishing features was a line of blue gums a mile long.
The younger children attended the Darfield Church and Charing Cross School. The school was three miles from the house off the Darfield Road.
Phil, Reg, Doug and Ngaira went to school on a governor's cart, left, which had a door at the back and a step to get up. Phil drove.
Vic left school when the family moved to Norwood. He did all the ploughing and top work such as disking and sowing with a tractor, pictured below.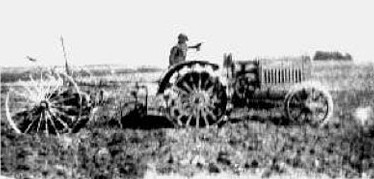 There were no horses on the farm when they first moved there. Dad bought more horses saying that the tractor was too dear. Les came home and he did all the ploughing with the horses. Dad now had a team of six horses. One horse was at the back and was not pulling so Dad put a rope around his neck and tied him to the front horse. Eventually he had three teams of horses.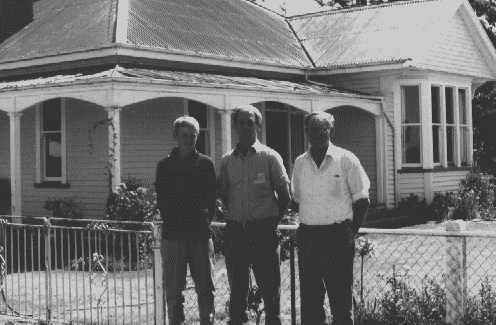 The lovely old house still remained in 1985 with the same old sheds and the cowshed where Mum used to milk the cow. Dad also kept sheep. A friend of Kevin Schimanski, Vic's son, bought the farm early in 1980. Vic is on the right here, with Kevin, middle, and his son, Nathan, visiting the Melrose farm in 1985.
© Sister Mary Saint Martha Szymanska, updated June 2017.
ALL PHOTOGRAPHS FROM THE SZYMANSKI COLLECTION