Mary Watemburg le Vavaseur
Mariane Watemburg, arrived in New Zealand as a three-year-old on 30 August 1872 aboard the bark friedeburg.

With her parents, Wojciech and Katarzyna Watemburg, her older brother, Józef, and younger brother, Franciszek, she was among more than 90 Polish passengers who disembarked at Lyttelton harbour that day. They were the first group of Poles arriving under the New Zealand government's Assisted Immigration scheme.

They had fled Prussian oppression—their country had by then been partitioned for nearly 80 years—and had taken up the promise of better lives far from Bismarck's persecution.

In English-speaking New Zealand, Mariana, or Marysia, became Mary, her parents became Albert and Catherine and her brothers Joseph and Frank. The family settled in Marshland. (Under family stories see the neustrowski-watemburg family.)

Mary "Wattenbury" married John Joseph "Le Vavasaure" in 1888. Her father died in 1908, her mother days after her brother, Joseph, in 1915.

On 16 January 1938 Wilfred Walter, a former Marshland farmer and member and chairman of "a large number of authorities" in the Christchurch area interviewed Mary as part of his collection of his own reminiscences and those of others who had long-resided in the area. The collection is available through the Christchurch City Libraries.1

We have also transcribed Mr Walter's interviews with Martin Sharlick and WJ Boloski. All the handwritten transcriptions are in the same handwriting, with no paragraph breaks. For ease of reading, we have created such breaks.

Mr Walter headed Mrs le Vavaseur's story "Radley." Her grandnephew, Ray Watembach, does not recall the name mentioned in his family research. If anyone can enlighten us, we would appreciate it.
—Barbara Scrivens
April 2017
MARSHLAND'S FIRST WEDDING
narrated by Mary le Vavaseur
"I came with my parents from Papanui to Marshland, or Rhodes Swamp, as it was then called in 1878. Isiah McSaveney who leased a block of land from Mr RH Rhodes, subleased it by cutting it into blocks, my father taking over a 5-acre section from him on Mc Saveney's Road, where Sid Watson is now farming.
"J Schomski [sic] lived on the paddock facing the road. He lived in a house partly sod and partly timber in the SE corner of the paddock. The next paddock was occupied by C Rogal, 5 acres. The third paddock was occupied by A Watemburg and the top paddock by A Rhoda. In the NE corner of Rhoda's paddock lived J Rhoda, a brother of A Rhoda, but better known as Jack Rock. He changed his name so that there would be no confusion in the letters for him and his brother. He afterwards was known by the name of Jack Rock, but few really knew his real name was J Rhoda.
"I remember the land was full of stumps and my father had a busy time of hard work taking out the stumps before any cropping could be done. The soil was very rich, but was very spongy and wet, and had to be drained before the land could be cropped. The houses, if they could be called houses, were really only shacks of one room each, with the exception of Albert Rhoda, whose place had two rooms. Bunks were built around the walls and were screened off."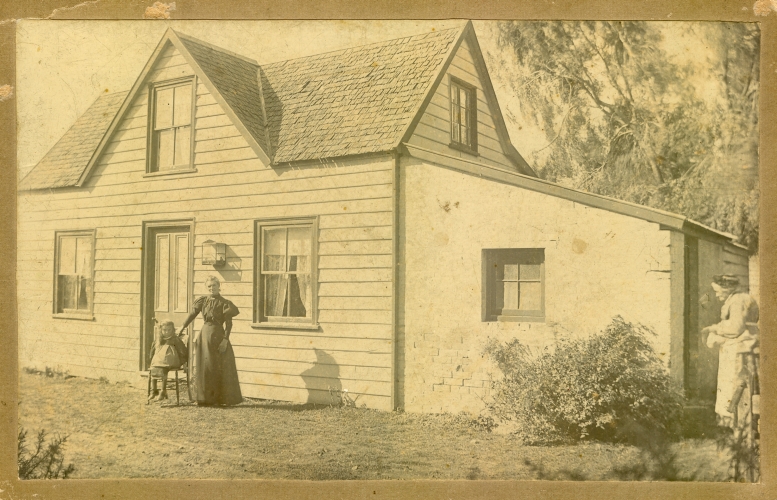 Mary le Vavaseur's grandnephew, Ray Watembach, found this photograph in his grandmother's collection. He does not know whose house it is although the appearance—an early concrete and sod section with a wooden addition—describes the Suchomski house. John Suchomski married Ray's great-grandaunt, Mary Rhoda, who remained close to her sister, his great-grandmother and Mary le Vavaseur's mother, Katarzyna. (The sisters are buried in adjoining graves in Linwood Cemetery.) Ray has been unable to identify either of the women or the girl on the chair. If anyone can help, please contact us through the get in touch option on our home page.
"When we came to the district, J McSaveney lived at the corner of Hills and McSaveney's Road. He lived in a sod house built by himself. He had a fairly big block of land, and went in chiefly for dairying. He worked bullocks to do most of the work on the land. John Gearschmanski[sic], who was a pioneer in the district, lived in a small thatched house on McSaveney's Road on the land now occupied by A Gibson.
"My father afterwards shifted to a place on Horseshoe Lake Road, but did not stay there long. He then came to the place where John Gearschmanski[sic] lived on McSaveney's Road, and it was from there that I was married, April 25th 1888, to Mr J Vavasour, the wedding being the first to take place in the district.
"It was a customary thing in those days for uninvited guests, better known as 'Tin Kettles,' to roll up in strong force in the evening to add jollification to a wedding. There was a big jolly muster in the evening at my marriage. They sang songs and drank something stronger than water to wish us happiness and prosperity.
"There were no means of conveyance in those days. There were no bridges and the roads were unformed. When my father bought a dray, we used it to go to Church and to town. We could not travel along the Canal Reserve, so we went into town via Hills Road.
"We had to work very hard in those days, men and women alike. I remember going out in the paddock weeding onions, carrots etc. We got very little for our produce. Most of the weeding was done by us girls and workers, and our pay was not more than 2/6 per day. Saturday was the market day for all to go to town and it was quite a procession of all kinds of drays going to town on a Saturday and were left in a yard, free at the back of Morris's blacksmith shop in Tuam Street.
"The settlers would meet together in some well-known pub to have a good old yarn about how they were getting on, and a pint or two would be drunk to add cheer to the event. On several occasions some of us would get merry, and they gave vent to their feelings by letting their horses go full speed ahead for home, and the noise and the hullabaloo on the rough road could be heard a long way off.
"The residents held little shikeroos at their different places and they appeared to be happy and enjoyed life, perhaps more real than those of today.
"I might mention that my mother went under a remarkable operation for a tumour to be removed. Dr Russell performed the operation. He was a very dark person and a noted doctor of the day. The operation was very successful, the tumour weighed 89lbs, and was on exhibition for some time."
_______________
NOTES:
Wilbur Walter's hand-written transcript of Mary le Vavaseur's testimony seems to end abruptly, and at the bottom of a page. It is unclear whether this did indeed mark the end of the interview, or whether later pages had been lost.
The operation Mary mentioned in the last paragraph, an ovariotomy, happened on 24 January 1883 and was reported in at least three different local newspapers:
On 15 February 1883 Mary's father took out an advertisement in the lyttelton times appealing "to the charitable public" to help pay for "Board and Nurse" for his wife; on 5 May 1884 a Dr Russell used the operation as an example in a lecture he gave in Ashburton; on 17 March 1885 the star gave details of Dr CJ Russell's unsuccessful civil case against Albert Watemburg for £57 19s 6d in unpaid "professional services." 2
In his public appeal, Albert said that his wife had been ill for five years and had tried many remedies "with no benefit." He had taken her to see Dr Russell, who said that if she did not have the tumour removed, she would die. Katarzyna, aged 43, had had 14 children—five living—and a month after the procedure was "nearly well."
"My family is large. I am a hard-working man. I have lost near everything what I have got."
Albert had written the advertisement on Dr Russell's advice, which specified Albert's appealing only for his wife's board as "one lady" had objected to Dr Russell's being paid for his "medical attendance" through "public assistance."
Katarzyna's surgery featured in a lecture—the Medical Aspect of the Temperance Question—that Dr Russell delivered in Ashburton on behalf of the Church of England Temperance Society. He "recounted an instance in Christchurch of a tumour weighing 89lb removed by himself with the assistance of several Christchurch surgeons, from a woman who for long had been ill, no alcohol at all being given her."
His audience did not seem to question whether the surgeons had used any other form of anaesthesia.
Most of the evidence heard by the Magistrate's Court in March 1885 revolved around Dr Russell's bill: The doctor insisted he was owed money. Defence witnesses stated that they heard the doctor saying he would provide his services free of charge. One of these was Wilbur Walter's father, Charles, who remarked it had been "very kind of Dr Russell, and no doubt would improve his practice."
Dr Russell admitted that, "It was a case that I or any medical man would wish to have on his hands."
A Dr RH Bakewell, present at the operation, considered it "almost the gravest operation that could be performed on a human being, and was specially so in this case, considering the large size of the tumour removed. It involved great anxiety afterwards and long attendance."
Katarzyna had previously "obtained no relief" from visits to Christchurch and Wellington hospitals. She thought that Dr Russell, as an Indian doctor, was kind to the poor. Dr Russell had told her he would "give his services" if she was "near at hand" for him to perform the operation, and he would charge very little for her board and lodging.
The tumour had been unusual enough for Dr Russell to make six house calls to Katarzyna in Rhodes Swamp. The ordinary fee for visits within the town was 7s 6d, with or without medicine.
Albert had "been persuaded by Dr Russell not to send his wife to the Hospital, where the operation and attendance could have been obtained almost if not quite free of charge. Dr Russell represented that the case was one he wished to have himself." The actual tumour weighed 16lb and a further 105lb "total weight of matter" was removed from Katarzyna's abdomen.
Albert told the court Dr Russell's reason for not admitting his wife to Christchurch hospital was that "there was too much quarrelling amongst the doctors there."
In 1883 the Watemberg's five living children included Joseph (16), Mary (14) and Frank (11), who had arrived with them on the friedeburg. Edward (6) and Annie (5) were born in Papanui, as was the last-born Watemberg child, Bernard, who would have been four, had he lived. The family's only income came from the land. A Mr Stringer, appearing for the defendant, described their house as "little better than a hovel."
Their neighbour, Jessie Henshaw, repeated to the court a conversation between Dr Russell and his patient just before he performed a procedure for "tapping" the tumour during one of his house calls: Katarzyna had to go to town so as to be away from the damp swamp and the noise of the children; he would take a room—the cost would be 18s or £1 per week— and he would give his services and find everything that was required free of cost.
The court heard that Albert had paid Dr Russell £36 for his wife's board, a further £42, and had given Dr Russell "two loads of carrots." When Dr Russell sent his groom to the Watemburg's house with another invoice, Albert said he would pay "after the harvest."
The case may have hinged on the magistrate believing one story or another, had Katarzyna not kept a meticulous account of moneys paid to Dr Russell:
"Mr Stringer, in addressing the Bench, pointed out that it was a curious thing the debits and credits in the little book in which the account for board and lodging of defendant's wife was kept exactly balanced, and that the final payment was an odd sum… His Worship had no hesitation in giving his decision… judgement for the defendant."
Katarzyna lived for another 28 years. She became known in the area for her generosity, and walked for miles delivering vegetables to the needy.
© Barbara Scrivens, 2017
PHOTOGRAPH FROM THE WATEMBACH COLLECTION
THANKS TO THE CHRISTCHURCH ARCHIVES FOR ACCESS TO THE WJ WALTER PAPERS.
THANKS TO THE POLISH EMBASSY IN NEW ZEALAND FOR CONTRIBUTING TO TRAVEL EXPENSES TO CHRISTCHURCH.
ENDNOTES:
1 - Information regarding WJ Walter from:
http://christchurchcitylibraries.com/Heritage/Cemeteries/Waimairi/WaimairiCemeteryWalk.pdf
2 - Lyttelton Times, page 1, 15 February 1884, Public Notices, Papers Past, through the National Library of New Zealand:
https://paperspast.natlib.govt.nz/newspapers/LT18840215.2.2.3?query=russell%20+%20tumour;
Ashburton Guardian, page 2, 5 May 1884, Magna Est Veritas et Prevalebit, Papers Past, through the National Library of New Zealand:
https://paperspast.natlib.govt.nz/newspapers/AG18840505.2.7?query=russell%20+%20tumour;
Star, page 3, 17 March 1885, Dr vs Patient, A CIVIL CASE OF UNUSUAL INTEREST, Papers Past, through the National Library of New Zealand, digitised in partnership with the Christchurch Libraries:
https://paperspast.natlib.govt.nz/newspapers/TS18850317.2.28?query=russell%20+%20tumour.