Faye née Major Dravitski
There could not have been a more appropriate person to receive the certificate for Keith Voitre's induction into the New Zealand Racing Hall of Fame than his second cousin, Faye Dravitski.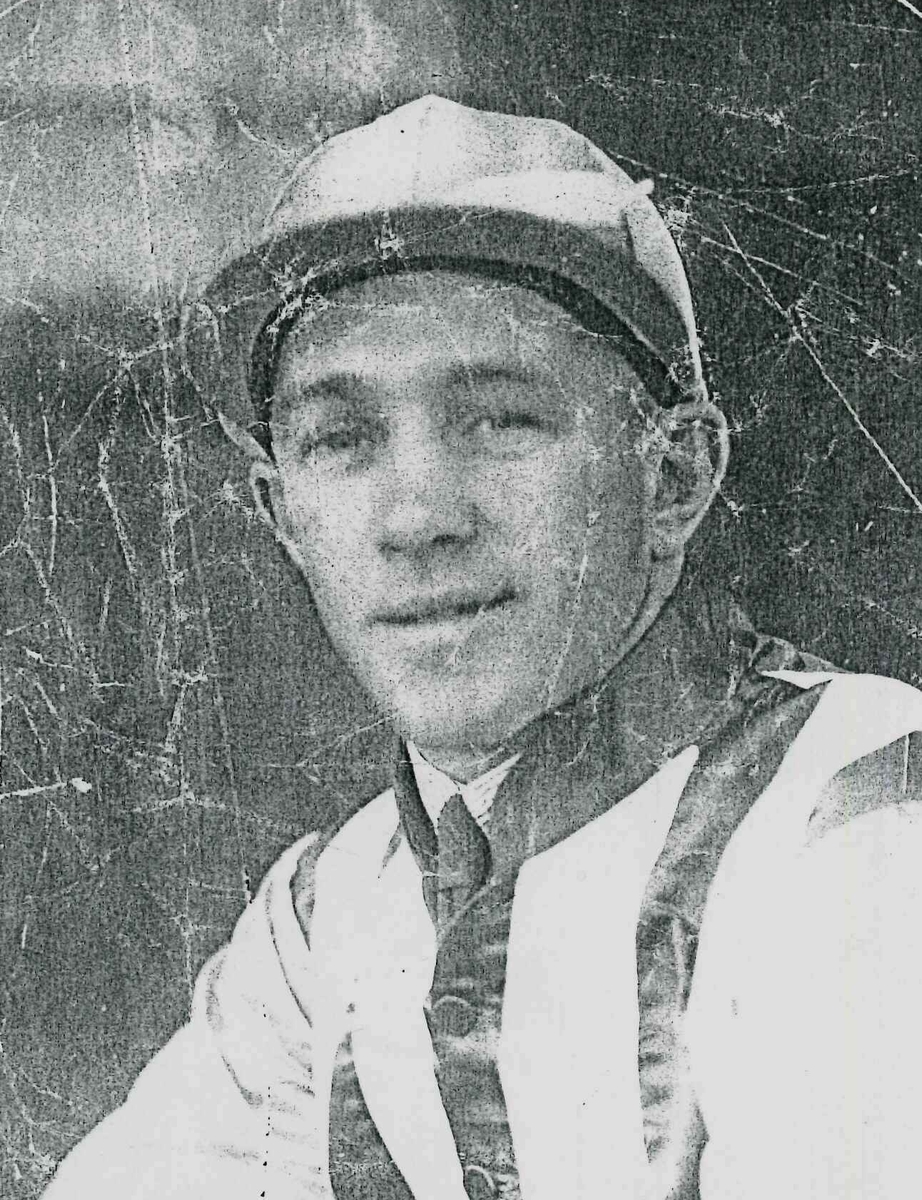 The certificate describes the record-breaking and twice-champion New Zealand jockey's "thrilling rides and gentlemanly manner." In an interview after his win in the 1935 Melbourne Cup, Keith credited his numerous successes in New Zealand and Australia to the lessons he learnt under Palmerston North trainer Roley Hatch, who gave him his apprenticeship in 1927.
Faye was only five months old when her 25-year-old cousin died in a race at Moonee Valley, Melbourne, in September 1938, but she instinctively took hold of his reins. She was barely three when she met her first racehorse at Ellerslie, and more than 80 years later is still manning the gates at the New Plymouth Raceway.
Thousands of mourners lined up to six-deep to watch Keith Voitre's 12-kilometre funeral procession file through gridlocked Melbourne streets. They held a deep respect and affection for the young horseman who stole their hearts with his riding talent, his obvious love of the beasts he rode, and his charm on and off the track.
Racing writer Brian de Lore's story about Keith Voitre and his achievements is alongside this one. The organisers of New Zealand Racing's black-tie 2023 induction dinner in Hamilton this May asked him to look for a relative of Keith's. In Faye, he found Keith's kindred spirit, both in blood and in their shared love of horses.
Within days of Brian's finding Faye in New Plymouth, one of her relatives, Fiona Dravitski, drove her to Hamilton. Brian, and Fiona's brother-in-law, Bob Brycki, escorted Faye to the dinner. Faye's chuckles peppered our chat a few weeks later, as, still buzzing, she admitted that the event brought back memories.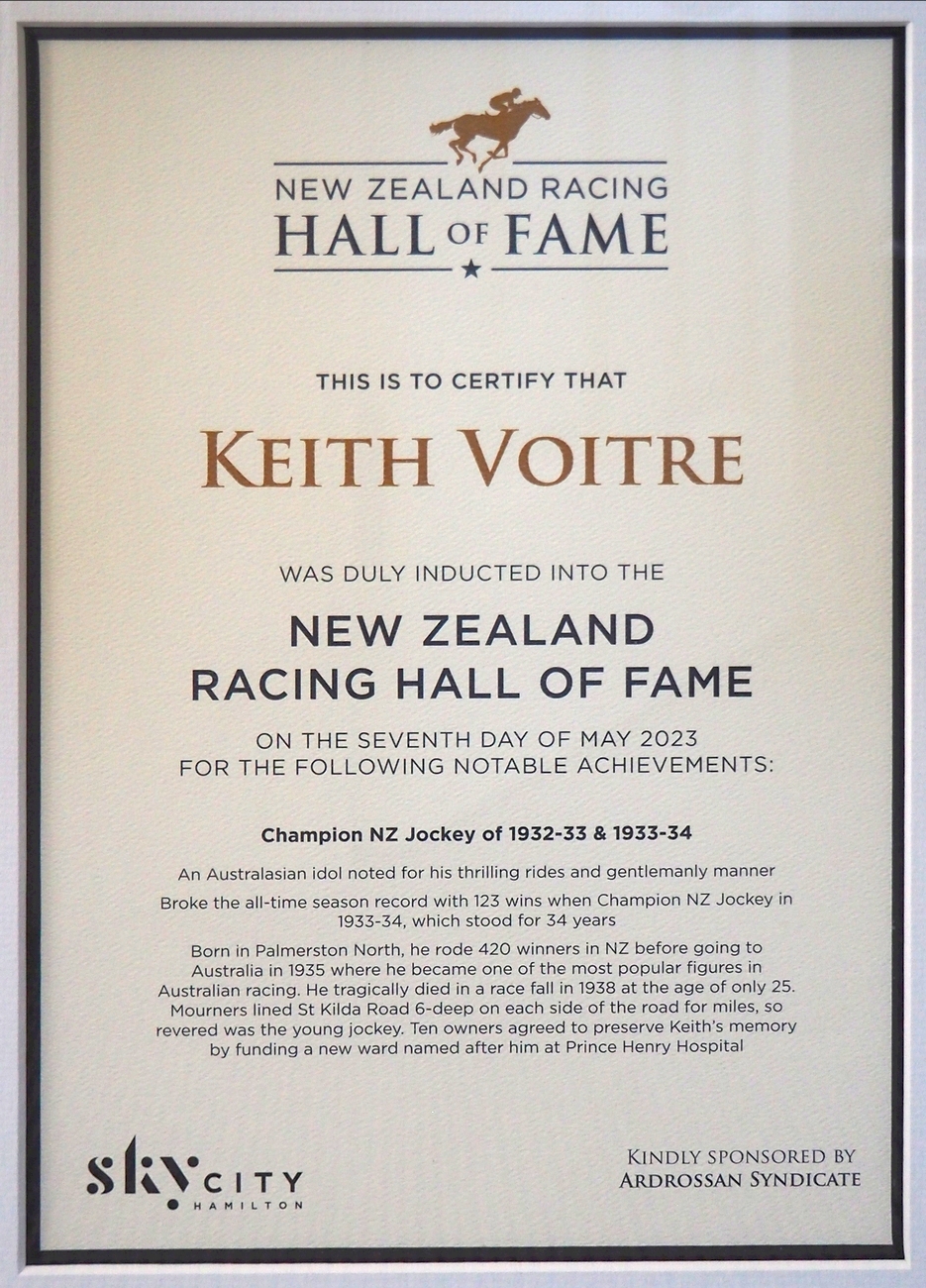 Keith discovered his riding ability at 13, and progressed quickly along a racing trajectory. Faye's neighbours discovered her talent as a horse whisperer when she was much younger, a talent that assured her of a ride to and from her primary school in Huirangi, south of Waitara. Over the years, she absorbed the horses' comfort too: by the time she was 12, she had experienced both her father and mother becoming ill with cancer and dying within three years of each other. She caught polio before her mother died, an experience that has given her a unique nuance to her twice-weekly volunteer stints at the New Plymouth Riding for the Disabled. For 25 years, the children and the horses at Barrett Domain in New Plymouth have enjoyed Faye's attention and affection—and have returned it.
Faye Dravitski was one of the first people I met in Taranaki when we introduced this website there in 2013. She did not shout about her own achievements when she gave me the Voitrekovsky family story to use, and it took Keith Voitre's Hall of Fame induction, and Brian's questions, for me to return to find out a bit more about her.
There will be no New Zealand Riding Hall of Fame accolade for Faye, but someone once told her that she was one of the most photographed people at the New Plymouth races: because she works the gates to and from the track and the birdcage, she is often caught in the background.
Thank you, Faye, for being the inspiration you are. It has been a pleasure to meet and write about you.
—Barbara Scrivens
THE MOST PHOTOGRAPHED PERSON AT THE RACES
by Barbara Scrivens
Faye Dravitski walked up to the stage at the New Zealand Racing Hall of Fame's inductee dinner with the grace and ease of someone completely at home.
The 85-year-old knew barely a handful of the 200 or so people in the hall, but she shared their passion for horses. That was enough. The audience caught an insight into her character as she received the certificate acknowledging her cousin Keith Voitre's stellar career in New Zealand and Australia.
"I had to go up on stage and be interviewed. I had no idea who [the interviewer] was, or what he asked me. The only question I remember was when I was holding Keith's framed whip, and he said, 'I believe you work at the racecourse?' And I looked at the people sitting in the audience, and I said, 'Yes, well, I might let some of your winners in and off the track next week!' There were races in New Plymouth the next week… Of course, they all roared with laughter…"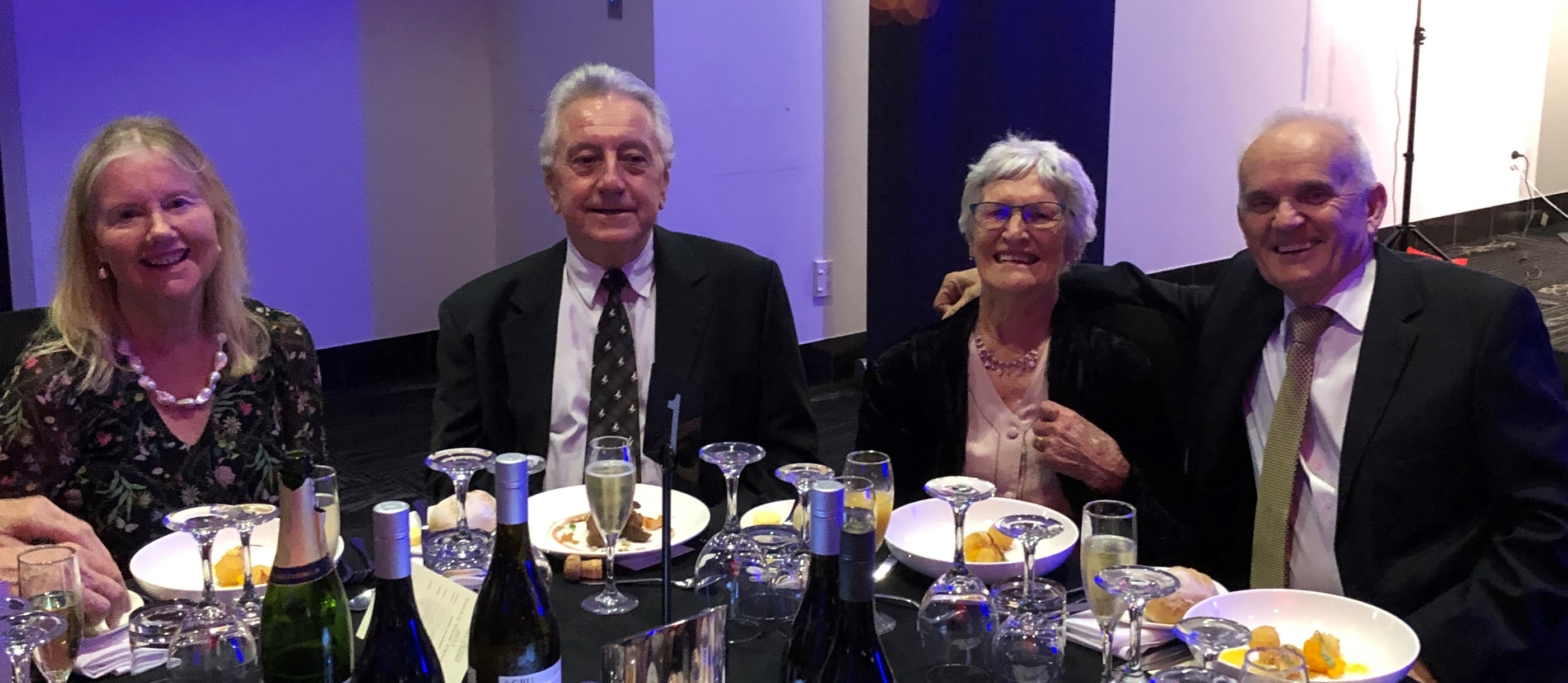 At the 2023 Racing Hall of Fame Dinner in Hamilton, Faye was seated between racing writer Brian de Lore, second from left, and Hamilton resident Bob Brycki, whose sister-in-law drove Faye up from her home in New Plymouth. Bob arrived in New Zealand from England as a 10-month-old in 1950 with his Polish parents and sister. They were one of two Polish families aboard the rangitoto.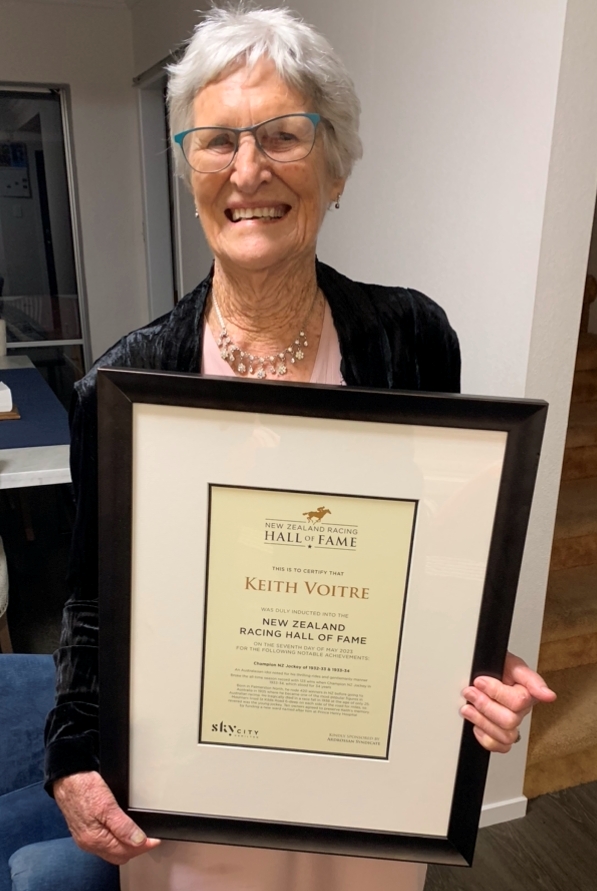 Faye Dravitski with Keith Voitre's Hall of Fame certificate. Faye's maternal grandmother, Nell née Voitrekovsky Yearbury and Keith's father, Ernest Voitre, were brother and sister.
Faye may seem an unlikely person to have at the gates of a race track, but her calm and fearless control has proved useful when a horse suddenly needs its reins held.
"I was never scared of animals, and still not."
She keeps two photographs in her purse: In one she is in a nappy and nuzzling a large black dog. In the other, what seems to be the same dog looks on as she sits on a horse.
"I'm about three, and I'm on this big draft horse, my legs sticking out. Dick was his name." Faye is talking about the horse, not the dog nor the man, a farmhand called Stan.
The backs of the photographs note that Faye was aged three on the horse, and that both were taken at the Princess Street, Waitara, farm of Faye's maternal grandparents, Bill and Nell Yearbury.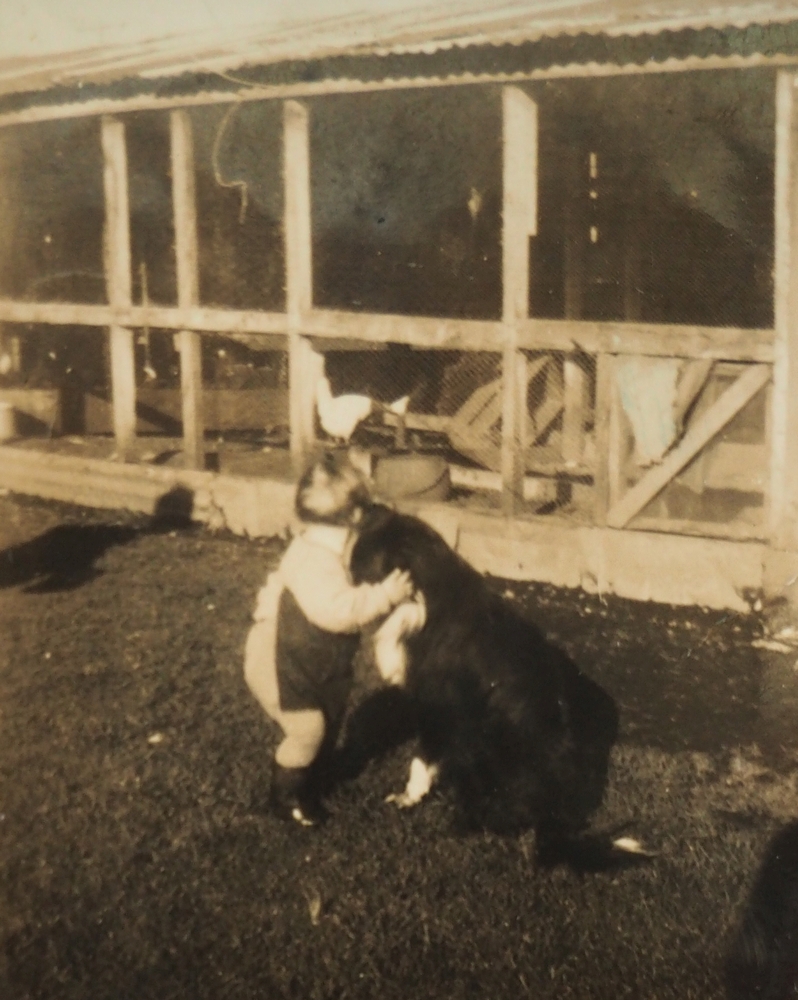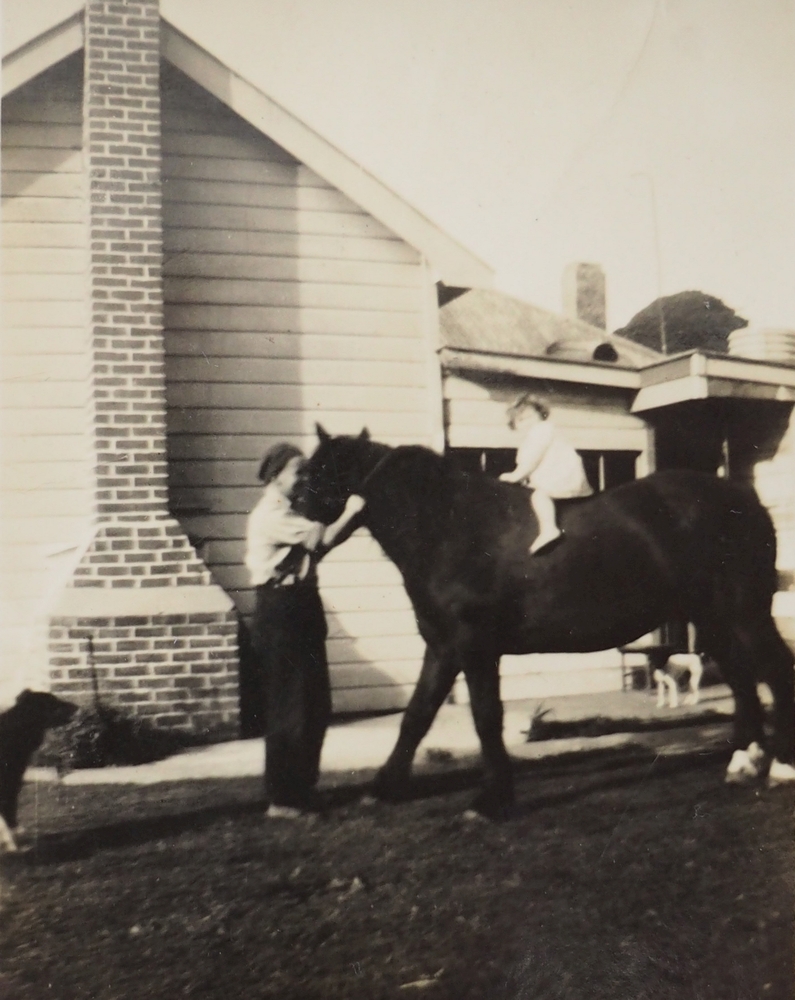 "Animals will come up to me easy. They just do. Years ago, at Riding for the Disabled, I was shown how to give horses carrots to stretch their necks. I do three strips of carrots: I go on one side, come down, go round the other side, then either pull their mouth down or up, and then they dive their heads in-between their legs, and I feel their teeth too, quite often, when I put the carrot in their mouth.
"As I walk along the pens—go to each pony, and do things like fill up their buckets—they sniff my fingers. They daren't bite, cos they know they'll get such a crack on the snout, but they all have a go. They all have a sniff—but they don't get carrots every day!
"And dogs. I can be around different dogs, and they'll come and sniff me. I'm very cautious, but animals sense that I'm not afraid of them."
Faye in her happy zone with therapy pony Deanna at the New Plymouth Riding for the Disabled arena. With 25 years' service, Faye is the RDA's longest-serving volunteer, and Deanna, born in 1992 and with 15 years' service behind her, is the oldest and longest-serving of the ponies. (Photo from the New Plymouth RDA.)
"Horses have been my saviour, I suppose, because my parents died so young. Dad died when I was nine, then I got polio, then mum died when I was 12, and then my husband died when I was 52."
Faye was born in Whakatane in April 1938 to Joyce née Yearbury and Colin Major. Her brother, John, was born there in 1940. She was five when the family moved back to Taranaki to live with her Yearbury grandparents, first at the Princess Street property, then on a farm in nearby Huirangi.
"We used to come down from Whakatane quite often to see grandad and grandma in Waitara. Grandad had a horse and cart, and I used to have rides on the horses. I had to be put up there, but I loved having rides on them.
"I was the oldest of the grandchildren, and Grandma Yearbury [Keith Voitre's aunt Nell] used to take me up to Auckland to visit the relations. I was only very young when they first took me to the races at Ellerslie. I was always interested in the animals, and I wanted to pat the horses, so they let me go down by the fence. Somebody leading a horse stopped and let me pat it. The next time they took me to the races, I was a little bit older, and they wrote all the horses down that they wanted to bet on, gave me the money, and sent me up to get all these tickets. You can't do that nowadays! I was only a young kid!"
The relatives were Keith's parents, Ernest and Ivy née Lane Voitre, who had moved to Auckland after Keith's death to be close to their daughter Melva.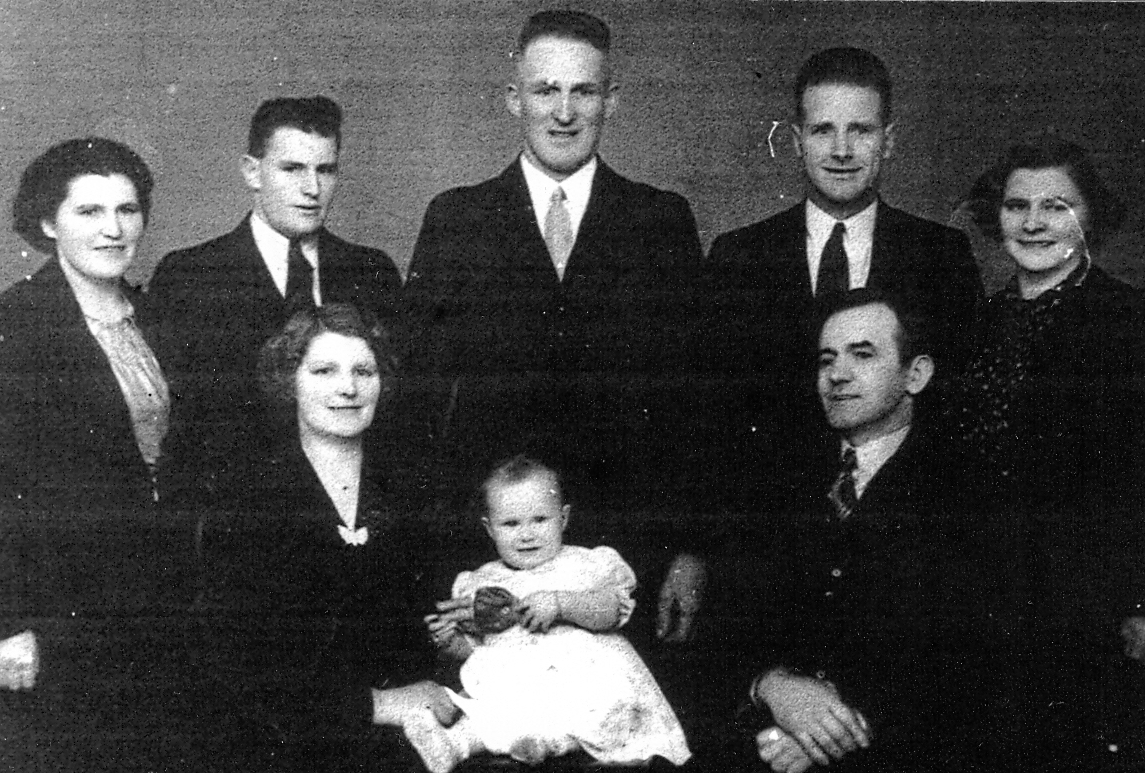 First grandchild of the family, Faye Dravitski sits between her maternal grandparents Nell and Bill Yearbury. Standing, from left, are Faye's mother, Joyce Major, her uncle Douglas Yearbury, her father, Colin Major, and her maternal aunt and uncle George and Myrtle Young.
_______________
Faye rode to Huirangi school on neighbour's horses.
"I didn't have my own pony for a long time. We couldn't afford one, but people in the neighbourhood, would ring up: 'Could Faye quieten our pony?' and I had them at home. I rode all shapes and sizes.
"It was about five or six miles to school, past Pukerangiora, the Māori pa. My girlfriend Mary Butler went with me. My brother never rode. He played rugby. There was a paddock next to the school where we put our horses, and a cemetery next to that, and when there was a funeral, we had to catch our horses and tie them up. There were quite a few of us who rode to school.
"When one of the neighbours had a horse that was worse than the horse I had quietened down, they'd ride away with the quiet one, and I'd get another one. We swapped horses."
Faye received her first horse for Christmas 1948. Her father had died the year before. She had caught polio—the only child in Huirangi school to be infected—but doctors had arranged that she could stay home for Christmas Day.
"They had the Christmas tree… and all my cousins, and everyone got their presents, and there was one little envelope left on the tree: 'Oooh Faye, look, it's got your name on it.' And it had: It said go out to a certain shed.
"Of course, no way could I run out to the shed. The others all ran and got to the horse before I did. I just had to waddle along, walking the way I could walk, and there's this horse out there—my first pony—but I couldn't even ride him. The next day, I went into hospital for six weeks' lockdown with polio.
"After I came out of hospital, I still couldn't walk a lot, and we had a hilly farm, maybe one or two flat paddocks, so it was a good excuse to ride the horse. They didn't keep me off for long!"
Faye's mother, Joyce, died aged 34, in 1950. Joyce's older sister, Myrtle, and her husband, George Young, took over the Huirangi farm, which allowed Faye's Yearbury grandparents to retire to a house with a small garden in Fitzroy, New Plymouth. The Youngs had three children, but Faye's paternal uncle, Eric Major, and his wife, Ida née Bridgeman, did not have any, and lived in Kelly Road, near the Huirangi farm, so Faye and John moved in with them.
Faye's modes of transport did not change.
"If I wanted to get anywhere from any place where I lived, I either rode the bike, walked, or rode a horse. I'd go down to the pony club at Tikorangi, near where grandad and grandma used to live, and get home at half past nine some nights. Nobody worried about you, because there wasn't much traffic. You can't ride out on the road now!
"I've done some mileage on the horse. We used to go out past Urenui for some gymkhanas. People would put them on and we, as a Pony Club, would ride out to them, because hardly anybody had transport for horses in those days. We'd all ride out, and one of the farmers would let us put our horses in his paddock.
"The farthest I've ridden in a day is from my aunt and uncle's place in Kelly Road to Ngariki Road and Rahotu in a day. We were going down Devon Street in Stranton and I saw the tram coming and thought, 'Oh gosh, I suppose he's going to tip me off now!' That was my Mr Banjo. Devon Street was two-way then. There wasn't a lot of room, and Mr Banjo didn't even flinch at that tram. He was lovely.
"I can't remember anything else about that day—just seeing that tram, thinking that it would scare the horse, and so relieved that it didn't."
"My first horse was Leo, but I bought Mr Banjo myself. He was younger. I used to milk the cows for my uncle for a dollar a milking to save up for a new horse.
"Then my brother decided he wanted to earn some money, so I had to give him my night milking, and then one of the ladies up the road, a cousin of my guardian aunt, said 'I need you to work for me. I want to help my husband milking and you can look after the children.' She had two little ones, and while I was there, she said, '… and also, I want you to do some sewing for me—and I'm going to pay you.'
"It was the first payment I got for sewing."
Faye's first sewing customer had heard about the dress she made for herself in the primer sewing class a few years earlier:
"I'll always remember the material… a white background with blue forget-me-not flowers. I was probably seven or eight. The teacher would have helped me.
"Mum used to do all our sewing. We couldn't afford to buy things, so she used to make them. Mum used to milk at the shed and that's where she had a treadle machine—one of those old Singers. I used to get onto it. I don't know how many needles I broke, but I can never remember being told off. I taught myself to sew. Nobody else taught me. And I'm still sewing. I've gone through a lot of machines since then!"
Faye had not started at Waitara District High School when she made the dress for the neighbour, but the experience prompted her to ask her high school sewing teacher to teach her to draft.
"The teacher didn't know how, so she sent me to Waitara to the library to get some books, and I was allowed every lunch-hour to stay in and teach myself how to make patterns for dresses—and then I taught the teacher. They gave me a book on Princess Elizabeth at prizegiving at the end of the year, and next thing, this certificate arrived in the post from London. It would have had to be arranged by my teacher, because my aunt and uncle didn't know anything about it."
On 30 August 1955, the Women's Institute of Domestic Arts and Sciences Ltd in London acknowledged Faye Major's "proficiency" in drafting, cutting and fitting, and designing foundation patterns for clothes. The course included work on bodices, sleeves, collars, skirts, one- and two-piece dresses, cutting and fitting, designing with foundation patterns, and designing and planning clothes.
_______________
In the 1950s, Taranaki's younger generations gathered at weekly dances. Faye met her future husband, Barry Dravitski, at one held in Fitzroy on Wednesday nights.
"My girlfriend was going with his elder brother, and she said to me, 'Go and teach Barry how to dance.'" That dance lesson sparked a romance that led to their marrying in 1958.
"We were the last ones married at the St John Bosco school. We were supposed to be the first ones married in the new church in Fitzroy, but they didn't finish the building in time. We had already arranged our wedding, and they were too slow with the building.
"In those days, we all got married in one of the classrooms. I'd just become a Catholic and it was the first time I had Holy Communion, and I was glad that the guests were behind me because I didn't want them to see me poke my tongue out when I received communion.
"When I went to the priest to get instructions about becoming a Catholic, he asked me if I had asked my parents. I said that they were dead, and that my grandmother had been a Catholic and had become a Methodist, and I was a Methodist and wanted to become a Catholic. He didn't ask me anything more after that. I had wanted to be a Catholic like my best friend, for years, and I finally did it. And I'm still a Catholic."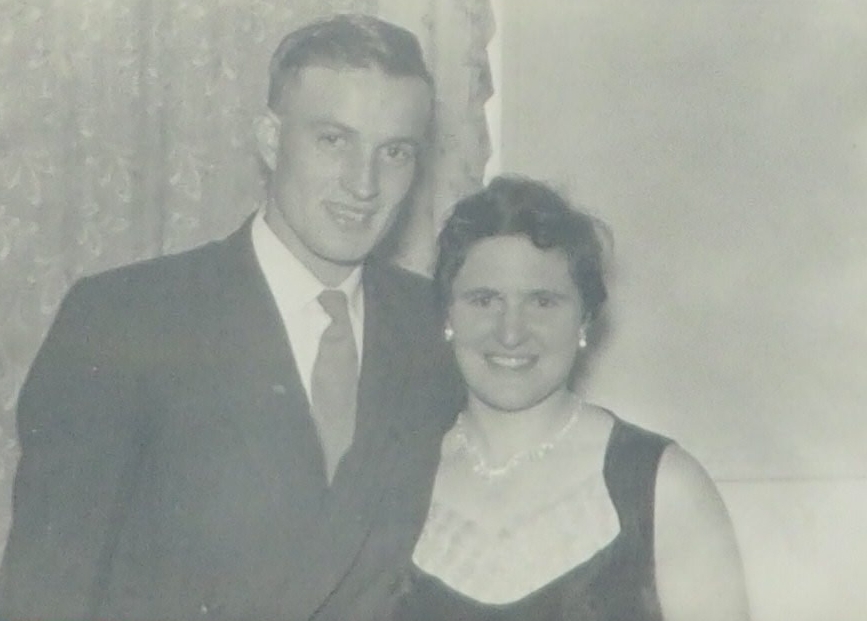 Faye Major and Barry Dravitski before they married.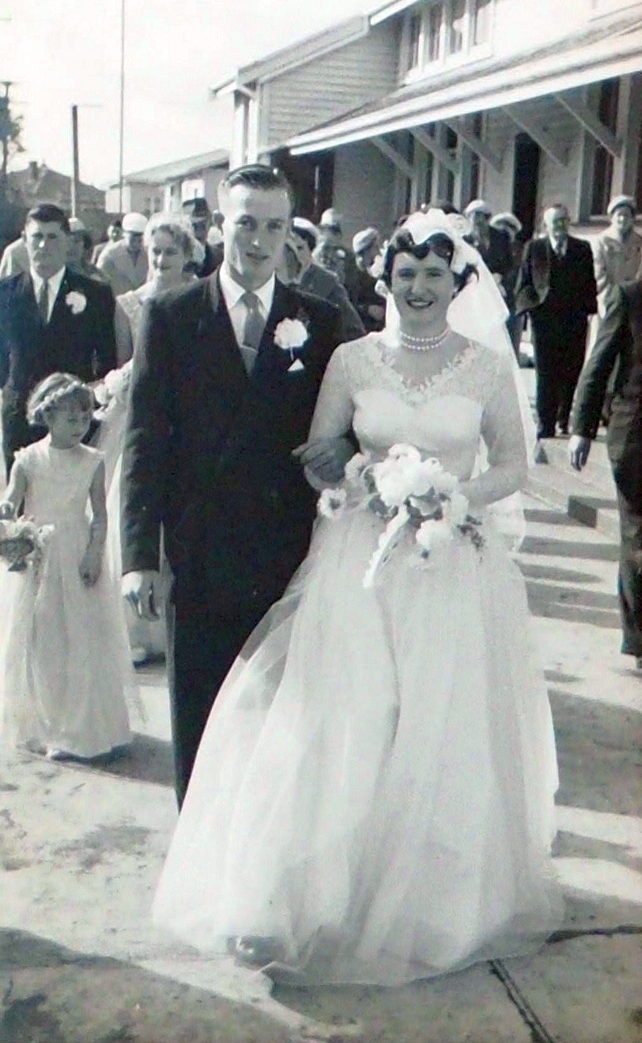 On 7 June 1958, Faye Major and Barry John Dravitski married at the St John Bosco School in Fitzroy, shortly before the new building of the church of Our Lady of Christians church in Fitzroy was completed.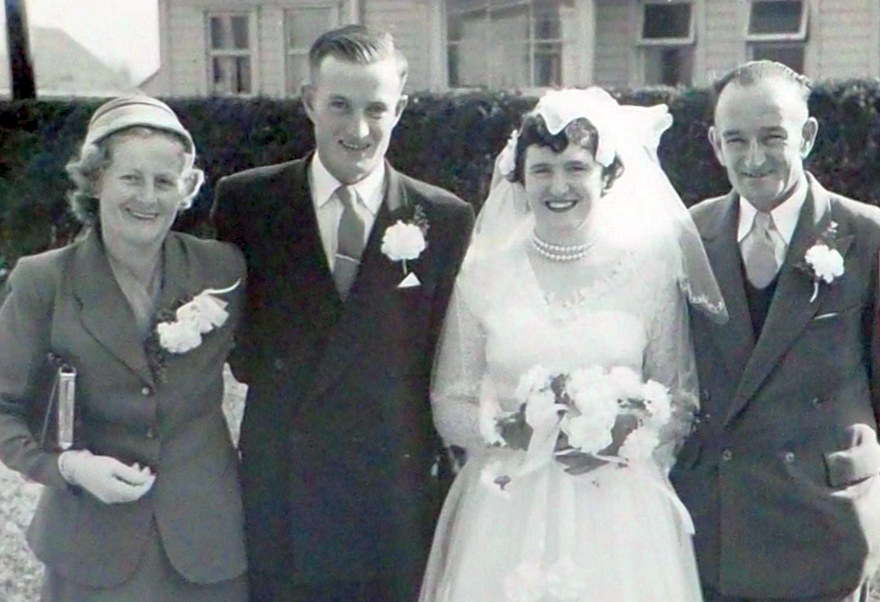 The newly-weds with Barry's parents, Betty (née Hedgemen) and John Dravitski.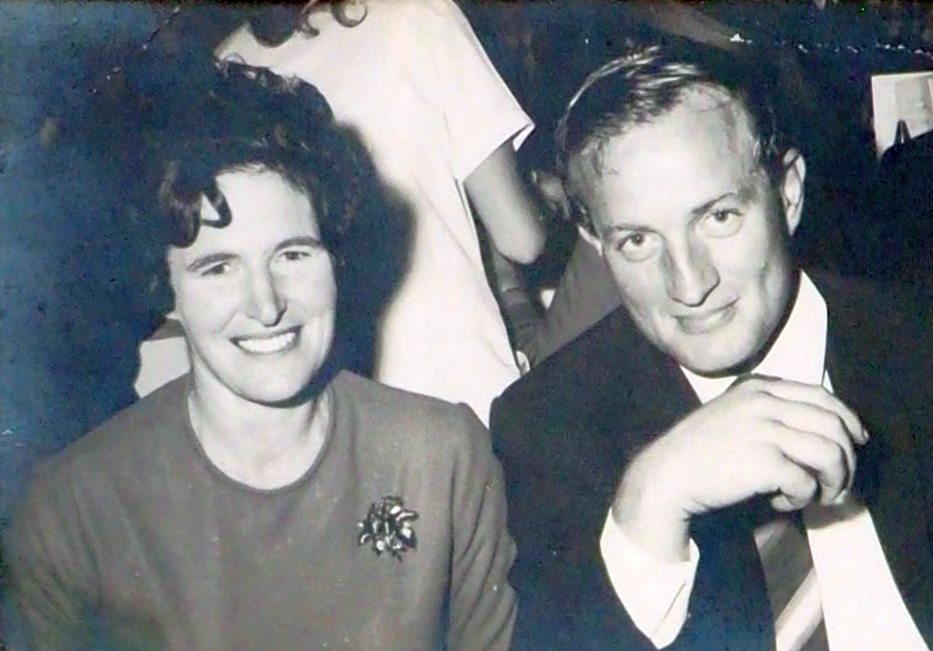 Faye and Barry Dravitski at a family wedding.
Faye and Barry had three children, Colin John, born in 1960; Phillip Barry, born in 1963; and Shirley Mary, born in 1966. Barry senior died in 1992.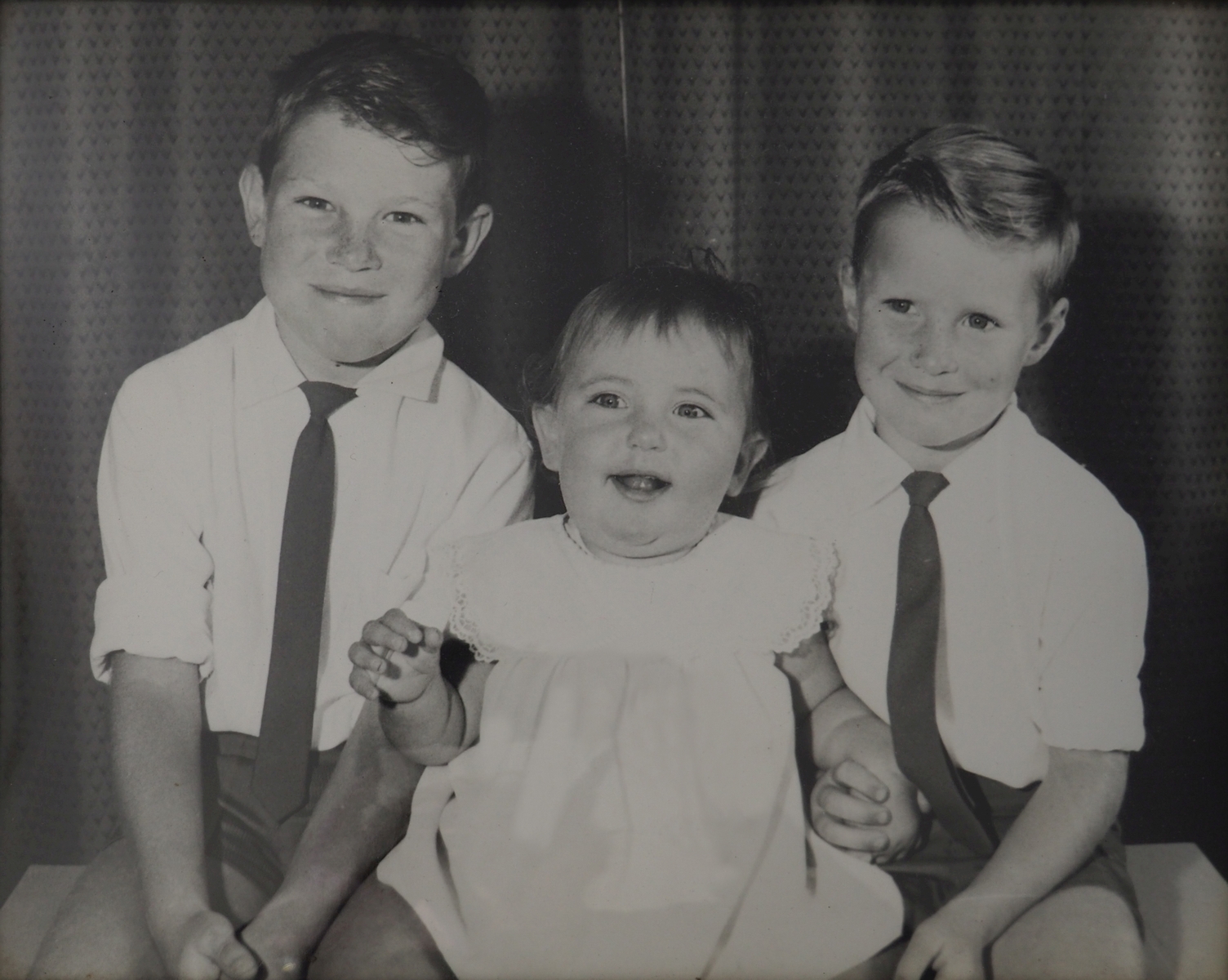 Shirley Mary Dravitski with her brothers Colin John (right) and Philip Barry.
When she married, Faye gave up her life on farms and lived with Barry and their growing family in conventional houses—their last in Merrilands—until they moved into a farmlet in Brixton. It would have been a short horse ride to the Kelly Road farm for young Faye, but they did not have animals in Brixton. Instead, Barry turned the front paddock into a market garden, and sold vegetables.
"We loved it out there."
The children had already left home by the time Barry died. Faye remained on the property for the next year, then bought a house in Inglewood and opened a dressmaking shop, Fayz, "to fill in time." When the lease ran out, she realised that her house was ideally designed to run her business from home, which she did.
It was in Inglewood that Faye regained her connection with the gentle beasts she loves so much. In 1998, she had just joined the Lions, when a member told them that Riding for the Disabled "could do with some more volunteers," and did anybody want to help? Every Monday, five of them used to take turns to drive down to the RDA stables in Alba Street, New Plymouth. Faye had to extract herself from that arrangement 16 years ago when she moved to New Plymouth, but she was then free to increase her volunteer mornings to include Tuesdays.
Faye's days of riding alone for miles are over, but she is still keen.
"I don't ride much, because you've got to put the kids on. I love being with the kids, and sometimes I can get them to do some things they won't do for others… but if they need somebody just to do something, I'm on that horse so quickly, they laugh at me. I haven't had a ride for a long time. They're a bit scared to let me get on after I've just been in hospital, but I would if I got the chance—I'd be on like a shot."
A few months ago, Faye misjudged the effect her angina medication would have on her, "dropped down" at the RDA stables, but recovered and managed to get herself to a seat.
"One of the girls stood up from brushing and yelled out to the head coach, 'Look at Faye!' I don't know whether she said I was grey or white, and I was sweating like a pig, so gumboots and all, they put me in the car, took me up the hospital. I went into the hospital with my gumboots on; I came out of the hospital with my gumboots on!"
Faye sums up her work at RDA as: "I'm just there as an extra," but the RDA has a different view. Its entry for Faye in its recent 50th Anniversary book includes the sentences: "Her slight frame and unassuming disposition give little hint of her generous nature and dogged determination to help others… Put simply, Faye is one of the givers in society."
_______________
Items are still spilling out of Faye's sunny sewing room, but these days they are more likely to be practical horse paraphernalia such as bags and rugs, and repairs to saddles and bridles—as part of what she does as a volunteer seamstress for the St Patrick's School Pony Club. No forget-me-not dresses, although there is no doubt that the recent recipient of a bed cover made of winner's ribbons appreciated Faye's fine needle skills: the seams connecting those ribbons were perfectly straight.
Faye is pragmatic about how, despite her strict regime of daily exercises, her polio is slowing her down—slightly—and will continue to do so: instead of leading the horses carrying the children, she now stays in the main arena and builds up the confidence of children not yet riding, by teaching them the correct way to groom the horses, pick out their hooves, saddle and bridle them, and eventually put on their helmets, and mount their rides.
"It's such rewarding work, even if it takes me two years sometimes with those who don't like horses to get them on one," she told an audience in 2018, when she received one of New Plymouth Citizen's Awards for 20 years' service with RDA.
That award ceremony reminded attendees that Faye was still active in the local Lions club. She refuses to give up that work, or her Floral Art group, where she has been active for equally as long. There is a fair bit of time-juggling when all three activities are scheduled on the same day, but Faye refuses to let people down.
Volunteering New Plymouth summed up Faye at an awards ceremony in December 2020: "Her whole life is taken up by caring for others—certainly a very beautiful lady."
© Barbara Scrivens, June 2023.
THANKS TO THE NORTH AUCKLAND RESEARCH CENTRE IN THE TAKAPUNA LIBRARY FOR THE LOAN OF AUDIO RECORDING EQUIPMENT.
BLACK AND WHITE PHOTOGRAPHS FROM THE FAYE DRAVITSKI FAMILY COLLECTION.
RIDING FOR THE DISABLED IN NEW PLYMOUTH OPERATES FROM THE BARRETT DOMAIN, 1 ALBA STREET, WHALERS GATE, NEW PLYMOUTH, DURING SCHOOL TERMS, BETWEEN 9AM AND 2PM FROM MONDAYS TO THURSDAYS. PHONE: 06 751 3601.
IN HIS COLUMN THE OPTIMIST, BRIAN DE LORE WRITES ABOUT ISSUES PERTINENT TO THE THOROUGHBRED RACING AND BREEDING INDUSTRY: https://www.theoptimist.site/about-the-optimist/.