Percy Dodunski
One does not have to go far in Taranaki to come across a Dodunski descendant. Brothers Mathias and Michał Doduński arrived with their families in New Zealand in 1876 and 1883, and added to the families they had started in Prussian-partitioned Poland. Their children married and had their own families…
Percy Dodunski's grandparents, Mathias and Apolonia Dodunski, arrived in Wellington off the fritz reuter with with Franciszka (7) and Franciszek (2). Percy's father, John, was their first New Zealand-born child. John Dodunski married Amelia Cowell and Percy was the eldest of their three children.
Mathias and Apolonia added Albert, Thelka, Joseph Felix, Paul, Catherine, Martha Mary, Anton Felix, and Mathias junior to their family. Catherine died aged three, and Paul was killed by a falling tree when he was aged 20, but all of John's other siblings had large families, and Percy had at least 70 paternal cousins, and 25 maternal cousins through his grandmother's Drozdowski family.
Percy Dodunski was born in Inglewood on 14 September 1901, and married Elsie Elvina Hayman in 1932. Like his father and uncle—and so many of the Polish settlers in Taranaki—Percy took up farming. He died on 27 July 1975, and in 1993, his widow gathered her notes and chatted with Ray Watembach about her late husband.
This is another in our series of stories originally published by the Polish Genealogical Society of New Zealand, and updated by us.
If anyone from Percy's family has a photograph or snippet to add to this story, we would welcome it. Contact us through our home page.
—Barbara Scrivens
NO STICK-IN-THE-MUD
Farmer Percy Dodunski put a post in the ground near the bridge at the end of his driveway, nailed a batten across the top and wrote: NO AGENTS WANTED.
He had work to do on his farm on Upper Norfolk Road, south of Inglewood, and was frustrated with uninvited stock and station agents who wasted his time.
One day, an agent left a note on a piece of writing paper and stuck it on the batten. It read: IF YOU ARE NOT INTERESTED IN HEARING ABOUT NEW ADVANCEMENTS IN FARMING MACHINERY, CARS, ETC, THEN STAY IN THE DARK, YOU OLD STICK-IN-THE-MUD.
It is not clear whether Percy ever did make peace with the local stock and station agents, who worked for companies that provided farmers with anything from machinery and seeds to livestock and feed, and offered facilities from finance and insurance to real estate and exporting.
Percy could never be called a stick-in-the-mud. When Elsie first met him, she noted that he had a great interest in riding motorcycles such as BSA and Norton. In 1924, Percy won the Novice Handicap in Hawera on his 3½ horsepower Brooklands Special. The hawera & normanby star wrote:
All got away well with the exception of Roberts, whose machine failed to start. Ross took the lead early from Dodunski, who went to the front in the fourth lap and was never troubled, eventually winning by about 200 yards, approximately the same distance separating second and third.1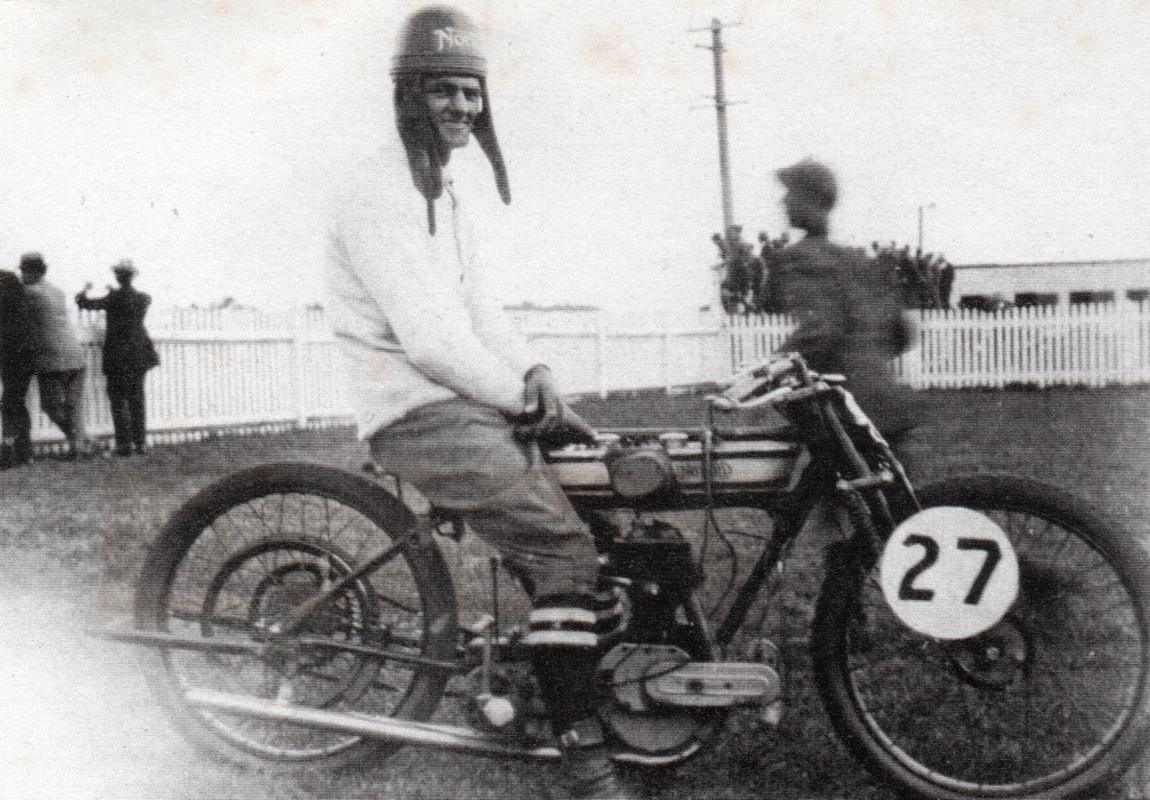 Percy on his racing bike on 24 February 1924. Judging by his smile, this photograph was taken after his winning race.
Percy was also keen on aviation, but his parents managed to persuade him that they needed his help on their Durham Road farm more than he needed flying lessons.
Elsie Hayman was born on 19 August 1909. She lived with her parents and two brothers in Ermington, a village in south Devon, England, until her family immigrated to New Zealand. The Haymans sailed on the ionic, which arrived in Wellington on 6 September 1913, and were among 28 passengers contracted to land in New Plymouth.
A headline in the dominion called the 554 ionic passengers: AN "EXTRA SPECIAL" LOT:
As of that number 490 travelled third-class, it is competent for one to conclude that the population of the Dominion will benefit to the extent of at least 500 genuine settlers.2
Elsie's father, Thomas Hayman, was among the 43 farmers, whom the dominion suggested "were assisted in their bookings" by the New Zealand government.
Percy and Elsie Dudunski took up dairy farming on upper Norfolk Road, Inglewood and in time had four children. The birth of their first child, Gordon, made Percy so happy that he whistled—the only time Elsie ever heard him whistle. Later came June, Dawn, and Alan, who worked the farm after his father had a stroke in 1967.
Dairy farming in Taranaki was never easy. The first dairy farmers in the 1880s read about cattle diseases in other parts of the world but by 1894, they found out that the diseases had crossed New Zealand's borders: some cattle imported from New South Wales carried with them rinderpest, pleuro-pneumonia, and foot and mouth disease.3
Testing cows came in two broad categories: the negative disease-prevention, which could result in a farmer losing his entire herd, or the positive milk production testing, which told a farmer exactly how much butterfat each cow produced. By 1909, dairy farmers supported the initiative of the New Zealand Herd Testing Association for the latter, but the former took more convincing.
At their meetings in the early 1930s, the Taranaki branch of the New Zealand Dairy Managers Association received regular visits from representatives of the Department of Agriculture, who talked to them about the latest scientific findings associated with diseases that had the potential to effect milk, butter, and cheese production.4
By 1934, experts thought that Johne's disease had been present in Taranaki for six years. Caused by a bacillus called Johne's (after the man who discovered it) that lodged in the membrane lining of a cow's intestines, its "slow, insidious" progress eventually caused "chronic scouring with emaciation" in the animal, which if not slaughtered, died from "sheer exhaustion."5
From 1937 into the 1940s, Percy Dodunski co-operated with the government veterinarian in Stratford, a Mr EH Stephens, who was researching Johne's disease. A handful of other farmers in Taranaki also offered their herds to Mr Stephens to study and test his research, but Percy was the only one to continue, ultimately, as Elsie said, for the benefit of all dairy farmers.
Percy and Elsie then had 40 cows. During Mr Stephen's study, the Dudunskis were not allowed to buy in stock: although the government paid compensation for every animal killed, they had to rear their own. Periodically, Percy had to milk the cows in the morning, and bring them in again before lunch, when the veterinarian injected each cow. The next day, they did the same.
On the third day, Mr Stephens measured the site of the injection for any reaction such as swelling or hard lump. If there was a reaction, the animal was sent to the Waitara Freezing Works for slaughter, Mr Stephens retrieved the necessary intestinal tracts from the cow, and sent them to the Wallaceville Research Station in Upper Hutt for further testing.6
Percy became a director of Maketawa Co-operative Dairy Company for a few years, and was also a delegate to a Dairy Companies Conference in Wellington.
Elsie joined the Norfolk Country Women's Institute in 1939. Her 50 years in Norfolk and Inglewood Country Women's Institutes included serving as secretary, treasurer, and president. She took on roles such as group convenor, Press reporter, reporter for the magazine home & country, and was even once president of the North Taranaki Federation of CWI.
Percy Dodunski, like many other Polish descendants in Taranaki, was interested in the arrival in Wellington in November 1944 of more than 700 Polish children who had been invited to wait out the balance of WW2 in the safety of the Pahiatua Children's Camp. The Poles born in New Zealand would not have known the details behind the children's visit, that they and their caregivers had survived incarceration in Soviet forced-labour facilities, that most had travelled many thousands of kilometres from the depths of the USSR to the relative safety of Polish orphanages in Isfahan, now in Iran, or that many had seen their parents and siblings die.7
During the May 1945 school holidays, Percy, Elsie, and their children hosted 14-year-old Roman Kołodziński. In January 1946, Roman's brother, 13-year-old Jan, arrived with his friend Joseph Wnęk, also 13.
Percy had a severe stroke in 1967, and Elsie and their children cared for him until he died eight years later. After Elsie sold the farm, she lived for two and a half years with her son Alan in Waitara, then took a flat in Inglewood.
Elsie remained active in the Country Women's Institute, and during the 11 years prior to chatting with Ray Watembach when she was 84, she was still preparing teas and lunches for the Care and Craft Society.
Elsie Elvina Hayman Dodunski died aged 86 on 22 November 1995. She is buried with Percy at the Inglewood cemetery.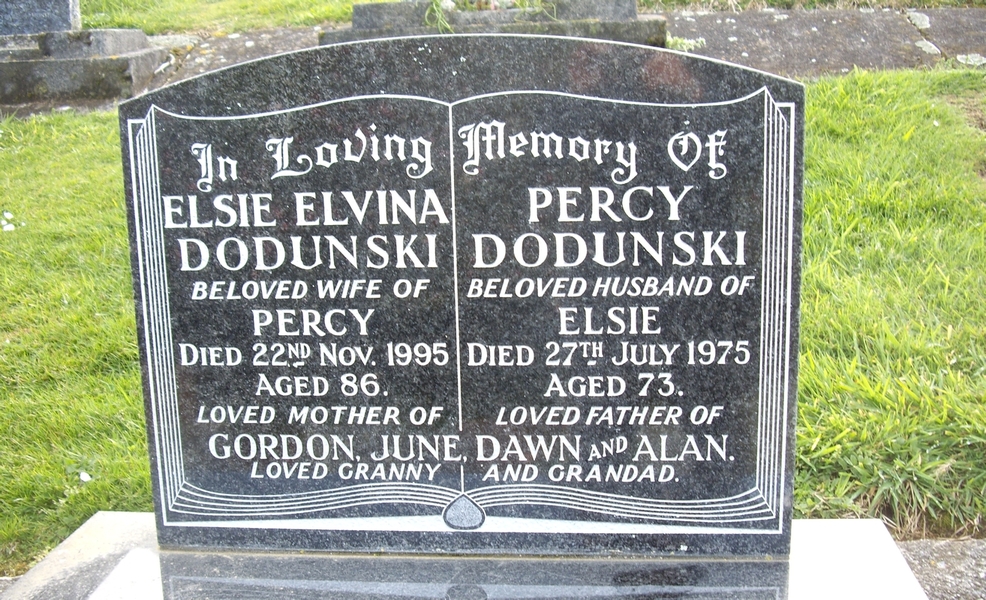 The original story appeared in the first newsletter of the Polish Genealogical Society of New Zealand in March 1993. It was updated for this website in February 2023.
ENDNOTES:
1 - Hawera & Normanby Star, 20 February 1924, page 7, MOTOR CYCLING; RACES AT HAWERA, Papers Past, through the National Library of New Zealand, Te Puna Mātauranga o Aotearoa.
https://paperspast.natlib.govt.nz/newspapers/HNS19240220.2.98
2 - Dominion, 8 September 1913, page 7, IONIC'S IMMIGRANTS; AN "EXTRA SPECIAL" LOT; SEVENTY-NINE DOMESTICS, Papers Past, through Stuff Ltd, Creative Commons BY-NC-SA 3.0 New Zealand.
https://paperspast.natlib.govt.nz/newspapers/DOM19130908.2.72
3 - Taranaki Herald, 31 October 1894, page 2, LATEST INTELLIGENCE; CABLE MESSAGES; DISEASE OF AUSTRALIAN CATTLE, Papers Past, through the National Library of New Zealand, Te Puna Mātauranga o Aotearoa.
https://paperspast.natlib.govt.nz/newspapers/TH18941031.2.3.1
4 - Taranaki Daily News, 5 February 1934, page 2, BACTERIOLOGICAL SCIENCE: VALUE TO THE DAIRY INDUSTRY, Papers Past, through Stuff Ltd, Creative Commons BY-NC-SA 3.0 New Zealand.
https://paperspast.natlib.govt.nz/newspapers/TDN19340205.2.6
5 - Taranaki Daily News, 11 September 1934, page 22 (supplement), PRESENT DAY CONDITIONS; INTENSIVE RESEARCHES; ASSISTANCE TO DAIRY FARMER; EFFORTS OF STATE OFFICIALS, Papers Past, through Stuff Ltd, Creative Commons BY-NC-SA 3.0 New Zealand.
And
New Zealand Journal of Agriculture, Volume 54, Issue 1, 20 January 1937, page 1, JOHNE'S DISEASE, Papers Past, through Stuff Ltd, Creative Commons BY-NC-SA 3.0 New Zealand.
https://paperspast.natlib.govt.nz/periodicals/NZJAG19370120.2.2
6 - A fledgling Wallaceville laboratory in 1903 could not produce enough vaccinations for "black quarter" disease in Taranaki. The first proper facility, built in Upper Hutt in 1905, was apparently the first veterinary laboratory in the southern hemisphere. It eventually became known as the Wallaceville Animal Research Centre. The name changed in 2005 to AgResearch Limited, which closed the Wallaceville establishment in 2008.
7 - For more details about the backgrounds to the Polish children who arrived in New Zealand in 1944, go to our War Immigrants page:
https://polishhistorynewzealand.org/war-immigrants/
A story dedicated to the children's arrival:
https://polishhistorynewzealand.org/blue-skies/