WHO'S BEHIND THE NAME?
Finding Polish Connections
Twenty-one-year-old Julianna née Krakowska Szczodrowska probably gets more visitors to her gravesite than any other early Polish settler in New Zealand.
Strictly speaking, she never got the chance to become a settler. She died in childbirth on 30 January 1876, after 109 days at sea on the shakespeare, within sight of the Wellington hills, and seven days after the ship docked for quarantine at Matiu/ Somes Island.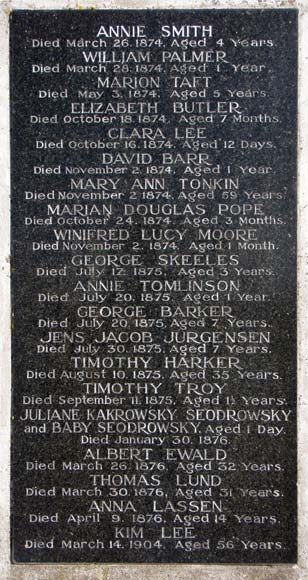 The quarantine station had been set up in 1869 and was first used in 1872 when the england arrived with smallpox. These days the island gets about 15,000 visitors a year.
One wonders whether the effects of the fumigation shed were worse for the heavily pregnant Julianna and her unborn baby than the threat of typhoid that immigration officials feared might enter New Zealand. There had apparently been cases of typhoid in Hamburg, when the shakespeare left the port on 6 October 1876, and one on board when it arrived with 394 people.
Tourists now file past the hilltop memorial plaque displaying Julianna's misspelt maiden and married names, her one-day-old baby, and 18 others who died there between 1874 and 1876. Most are babies and children.
Our old list of early Polish settlers recorded Julianna as Drozdowski, the passenger list spelling. Today we are replacing that list. Julianna's entry in our new searchable database allows her to be found under any of her names, or parts thereof. We have also added context to her entry, so the fact that her husband Anton remarried in Taranaki later the same year she died should not, for instance, lead researchers to believe she was a sister who disappeared.
About 1,400 Poles arrived in New Zealand in the 1870s and 1880s. They were fleeing Prussian-partitioned Poland, the first responding to the 1871 Vogel immigration scheme, the later arrivals often joining their families.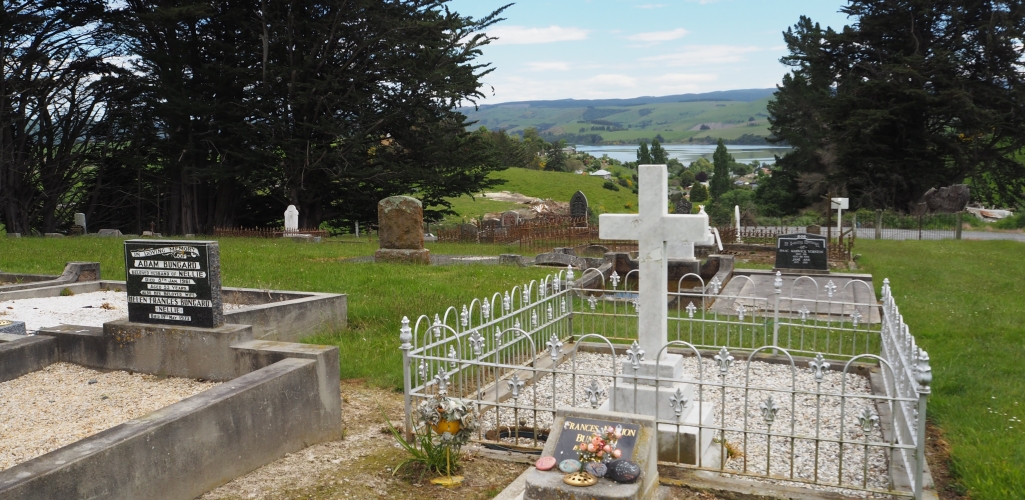 The several generations of Poles who rest at the Waihola cemetery originate from the palmerston, which docked in Port Chalmers in December 1872, and which was the second ship to carry large groups of Poles to New Zealand.
The numerous misspellings of names that created challenges in compiling the first list have not gone away. The Prussian government had been germanising the names of its Polish population for years, so the links to the Polish origins of families like the Schroeders (Szreder), for example, were not always apparent. Families arrived here with their names misspelt on passenger lists, those misspellings often compounded in transcriptions. On the shakespeare, I overlooked 25-year-old Anna Ciefsing—transcribed from Ciepieng on the ship's list—until Anna Ciepielusz's great granddaughter Kay Whelan contributed her story.
One can understand how those misspellings were compounded in the new colony: British officials and French or Irish priests had to interpret Polish names belonging to often illiterate owners who could not write for themselves. Some officials tried more than others. Some were downright nasty, like the person who decided that Martha Piekarski should be baptised in Christchurch in 1889 as Martha Pie Karsky. That parish's record book shows 10 variations for 10 entries between 1879 and 1889 of that ancient Polish name. A piekarz is a baker.
The New Zealand government's Te Tari Taiwhenua/ Internal Affairs department is little help. Its Births, Deaths and Marriages Online (BDM) allows searches of only full names—no helpful "wild cards" or "starts with." The BDM spellings range in inventiveness, so where I have been able to get a BDM confirmation, I have included it.
_______________
The officials who inspected the shakespeare passengers the day after Julianna Szczodrowska and her baby died declared them "a healthy and robust body of people" and recommended that the colonial government pay their passage to the shipping company. Immigration officials then steered the Polish shakespeare passengers, on smaller vessels, towards the "special settlement" in Jackson's Bay on the West Coast and the few did disembark there—the Bielecki and Osiofski families, and Frederyk Czyglowski, whose wife, Anna, refused to follow.
Several families refused to disembark after Poles already there warned them about the dire conditions, and returned to Hokitika. Joseph Stachurski managed to scramble back on the smaller vessel, despite the efforts of the skipper to prevent those who had disembarked from returning. Although he could not speak English, Joseph Stachurski stood up to an enquiry in Hokitika that attempted to make the shakespeare Poles change their minds. Meanwhile at Jackson's Bay, children at the school bullied the growing Frank Bielecki for wearing clothing made of flour sacks and he refused to return. On his father's death in 1896, he spelt the family name Bilski.
The Stachurski family, and several others including the Bielecki families, later settled in Taranaki. Once the fritz reuter Poles arrived later the same year, the area soon became the largest settlement of Poles in New Zealand. They took on contracts to fell the dense bush, helped build roads, railways, and New Plymouth's Pukekura Park, created farms, milked cows and sold cream. Their descendants retain a strong camaraderie. My first meeting with some of them in 2013—a bring-a-plate lunch after a presentation after Sunday Mass in Inglewood—left me reeling with names, relationships and an interwoven mass of familial links.
The memorial area at Inglewood cemetery. Any walk through there reveals numerous Polish connections.
The previous list linked the early settler families to the ships by which they came, and the numerous variations of their names. My IT angel, who helped me to recreate this website in March 2015, suggested we could do better. A seed grant from the Polish Charitable and Educational Trust late last year pushed us into turning our tinkering into a finished product.
I wanted to show connections between families. I also wanted to place families in a geographical area, and show how those families began to integrate with other settler families through marriage. The widower Anton Szczodrowski married Johanna Myszewska in September 1876, but not all Poles married Poles. This database records early Polish roots in surnames from Bell, Blake, Bottin and Benney to Mc Mahon, Mc Donald, McLachlan and McPhee; from the Smiths, Blacks and Browns to the Waters and the Wrights.
Multiple marriages complicated matters, especially when, say, a Mary from one family married someone who had a daughter or a sister Mary, and that Mary married someone who also had a sister Mary. Mary née Potroz Stachurski Zimmerman would have had a few quiet chuckles from her vantage point atop Inglewood cemetery if she had known how long it took for me to untangle her history.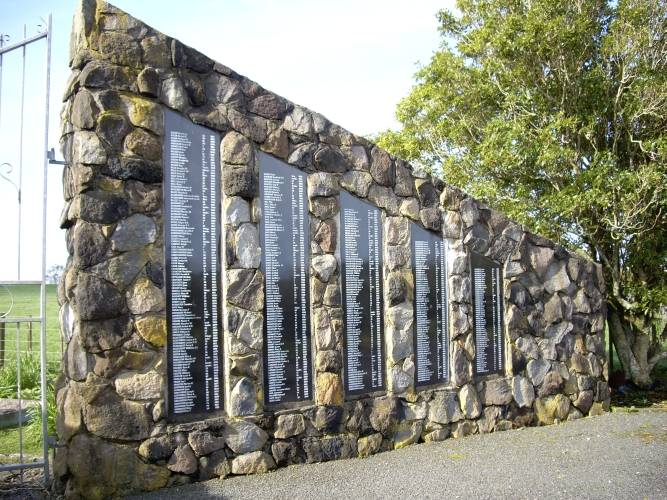 The entrance at the Midhirst Old cemetery. The cemetery holds many of the first Polish settlers in Taranaki but was allowed to fall into disrepair. Now sheep graze among the broken headstones, and the inmates' names are recorded on this memorial wall.
Sister Mary St Martha Szymańska alerted me to the single women on the friedeburg, which landed in Lyttelton in 1872. The single women travelling alone disappeared into a new colony needing domestic labour and marriage partners. It was one thing to be able to identify misspellings like Gwenzenski (Gurzyński) through a ship and ages of family members, but single women remain tough to find. Wilhelmina Arczikowska, Johanna Ramon and Julianna Warczyńska have eluded my attempts to match a name with a marriage—or a death—but I have leads to some of the others.
Some of the notes sections are empty, but that does not always mean I do not have information on the person. Rather, I do not have enough corroboration to be confident of an entry. Some cousins with the same name and years of birth are too close to call, for instance, and I have let them be for a while. Franciszek, or Frank, was one of the early Poles' favoured names.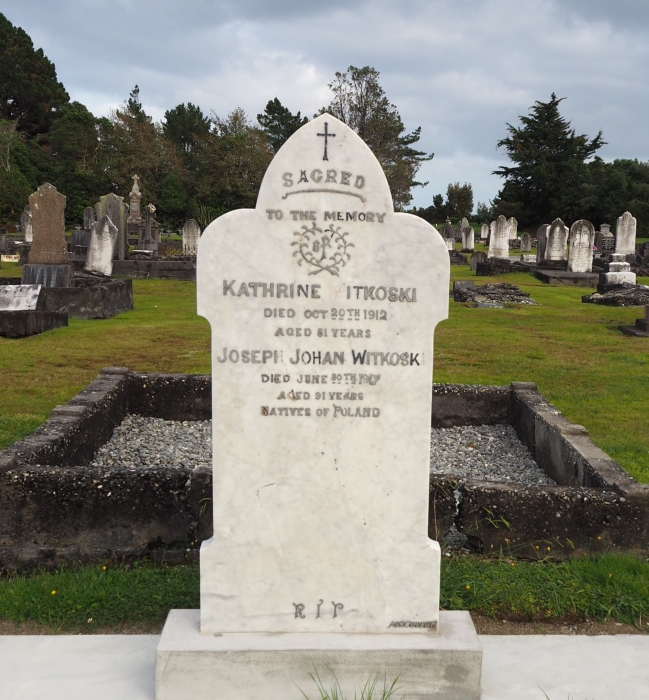 Joseph and Katherine Witkowski, who arrived in New Zealand in 1876 aboard the Fritz Reuter lived out their lives in Hokitika and retained their love of their birth country.

The Hokitika cemetery.
Records brush clinically over family turmoil and individual bravery. Joseph and Katherine above, who lived to 91 and 81, had three grandchildren dying within five months. One cannot imagine how they must have felt losing one granddaughter, Annie May Kroening, at aged 18, then two of her siblings, Albert Ernest and Emilie Paulina, aged nine and two when they drowned in the Greymouth lagoon on 24 April 1901 after falling off a bridge. The papers past story tells of Albert carrying his sister on his back.
I wondered what happened to Marcin Schroeder, who died aged six: He was playing at his home and found some gunpowder at the bottom of a container. With his mother out of the room, he experimented, as little boys do. His discovery stopped when he threw some gunpowder into the fire. He died of his burns 12 days later, in February 1884, in the New Plymouth hospital.
Who would have thought that William Crowder was Polish? He died aged 42 after an accident at the Taupiri coalmine near Huntly on 11 May 1897. I may have overlooked him and his wife and daughter, named Kraudolat on the orari shipping list, if he had not put Poland as their place of birth. He and his family made sure that Poland appeared on other official documents in New Zealand.
Joseph Stachurski, who stood up to the colonial bullies in Hokitika, died in Inglewood aged 45 in 1888, two years after his wife, Anna. Eleven months before her father died, his eldest daughter, Mary, aged 17, married Thomas Potroz, bringing her younger siblings into the marriage, including four-year-old Barbara.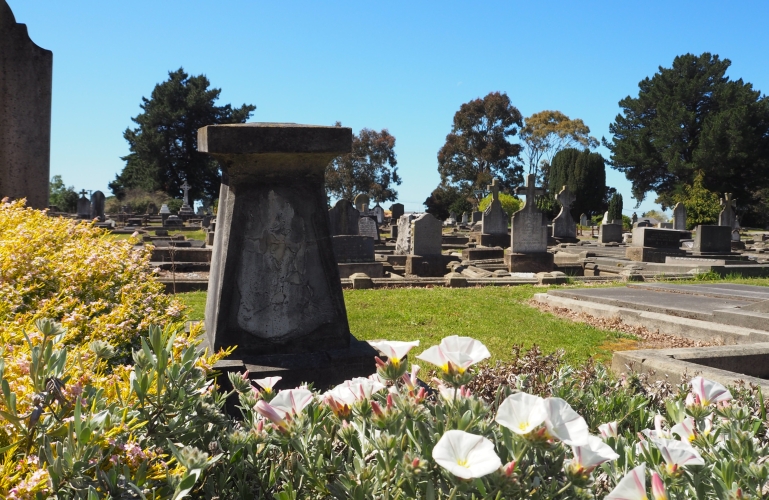 This Polish headstone stands solid among the shattered remains of many of the others at the Linwood cemetery in Christchurch. One wonders what the occupant would have felt if she had known that someone had cemented over her inscription.
Entry after entry, story after story, many heroes, some scoundrels, much courage, these 1,400 Poles left lasting impressions.
I welcome any contribution—and correction—to this list, and to the growing list of family stories, and I encourage questions.
My heartfelt thanks to Ray Watembach, president of the Polish Genealogical Association of New Zealand, who guided me out of many quagmires, and to my IT angel, Colin Smith, who had the vision, made it work technically, and prodded me just enough. My other sources are listed below.
—Barbara Scrivens
PHOTOGRAPHIC ACKNOWLEDGEMENTS:
The first photograph is by Kerryn Pollock, 'Public health - Managing public health', Te Ara - the Encyclopedia of New Zealand, http://www.TeAra.govt.nz/en/photograph/31358/memorial-on-matiu-somes-island.
Barbara Scrivens took the others.
THANKS TO:
- The Polish Charitable & Educational Trust Christchurch, for its grant of $1,000 towards the IT component of the database.
- Paul Klemick, for sharing his genealogical research on the early Polish settlers. He has extended his research from Dunedin to the rest of New Zealand. His work in unearthing the parentage of the early settlers helped me untangle many a family.
- The late JW Pobog-Jaworowski for his work on the Polish Settlers in Taranaki 1876–1876, which helped me to clarify who was who in the early Polish community. Many names appear on this list because of him.
- The people who wrote clearly on the original cards from the National Archives, on films that helped me create the original list. I accessed copies through the Family Research Centre in Panmure, Auckland, which makes them available for researchers.
- The library at the FRC in Panmure, run by the New Zealand Society of Genealogists. I've done a lot of thumbing through their many shelves of cemetery records, and trawling through their fiche records and their CDs.
- The librarians at the archive in the Toitū Settlers Museum Otago, in Dunedin, who steered me to the Palmerston's records.
- The district councils who curate their cemeteries records with consideration. If the curators of the Otorohanga cemetery records had not taken the trouble to record Poland as Margaret Roberts' place of birth, I would not have have been able to positively link her to Waleria Jakobówska, who arrived in Wellington with her family on the Fritz Reuter in 1876.
- People like Jill McIntosh of the Clutha District Council. Their cemetery records are not online, but thanks to her help, I was able to confirm the burials of several early Polish settlers in the Milton Fairfax cemetery, including confirming that Barbara née Wełowski Hand and her husband, Henry, died the same day.
- Descendants who gave or loaned their family history books to me.
- But most of all thanks to the early family genealogists who wrote those books, those who worked before digitisation and online searches, who wrote letters the old-fashioned way, and who typed up their findings for their families. Flossie Lambert, the granddaughter of Felix Voitrekovsky, who arrived alone on the Lammershagen in 1875, was one such person. Her niece, Fay Dravitzki, Polish on both sides of her family, was one of the Taranaki descendants I met in 2013, and the first to trust me with her hand-typed family story.
© Barbara Scrivens, June 2020
If you would like to comment on this, or any other story, please email editor@polishhistorynewzealand.org.