Martin Sharlick
Martin Szaluga, 16, and his brother, Michael, 13, accompanied their mother, Louise (née Nikel), and her second husband, Christianus Szymanski, on their emigration from Prussian-partitioned Poland to New Zealand.

They sailed on the firth of forth from London and arrived in Lyttelton on 5 February 1883. With them were Martin's and Michael's stepsisters Julia (10), Augusta (5) and Mary (3). Their stepbrother, John, was born at sea.

Christianus, who became known as Christopher, was bringing his family to join his brother, Mateusz, who became known as Matthew, who arrived on the friedeburg in 1872 as a 22-year-old and had settled in Marshland.

Martin "Shalug" married Mary "Gearsehawski" in 1892.1 By the time their eight children were born, Martin had taken the name Sharlick.

In his later years, former Marshland farmer, Wilfred Walter, interviewed several of the early township's residents. Mr Walter had held several positions of authority in the area. After he died in 1946, his wife, Emma Marie, a former schoolteacher at Marshland Primary School arranged for students from Mairehau High School to type up her late husband's transcripts.2 For ease of reading, we have created paragraph breaks.

The collection is available through the Christchurch City Libraries.

Mr Sharlick spoke to Mr Walter on 4 October 1943.
—Barbara Scrivens
April 2017
EARNING A LIVING FROM A SWAMP
by Martin Sharlick
I was born in the year 1866 and came to New Zealand in a sailing boat named firth of forth, arriving in Lyttelton in the year 1877 [sic]. We were met at Lyttelton Bay by Mr Matthew Schimanski, my uncle, and taken to his home on the Canal Reserve (now Marshland Road) a few chains north of McSaveney's Road, and lived there for six months.
Afterwards we shifted to a house built by Mr M Schimanski about ten chains north of Preston's Road on the east side of the Canal Reserve on the property now owned by Mr Hibbard and on the present side where Mr Hibbard's house now stands. My father built a house further along north, next to Mr W Dunlop's property. Mr Charles Rogal built and lived in a house alongside of Mr Dunlop's close to the road, my father's being farther back, a right of way leading back to it. There were very few residents in the district at the time.
Mr John McSaveney, one of the first residents, lived at what is now known as the corner of McSaveney's and Walter's and Hill's Road. I remember McSaveney's sons, Isiah, Robert and John. Isiah broke in a lot of land for cropping. I remember him ploughing with an old fashioned plough, pulled by a horse and a bullock. I remember Mr Rainbow living at the corner of Brigg's Road and Canal Reserve, nor'west corner.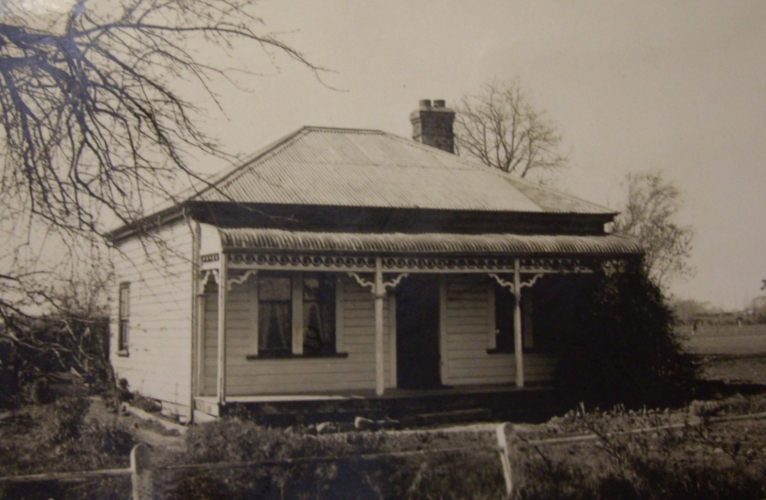 One of Marshland's early bungalows. This photograh was taken circa 1939.3
Mr David Dunlop lived on a hill along the Canal Reserve north of Brigg's Road. He owned a farm of about a hundred acres. Further on, on the west side of the road Mr Michael Gearschawski built and lived in a small house, and at the corner of Cemetery Road (now Reeve's Road) was a house, but I do not know who lived in it. On the other corner Mr Martin Gattermeyer lived in a thatched roofed house.
A man named Wallace lived also in a thatch roofed house where Mr Frank Kiesourski [sic] now lives. Mr Matthew Schimanski lived in the place I have mentioned of our arrival here. A man named Berkitt lived next place further north. He built the house at the corner of Canal Reserve and Preston's Road on south east. Mr D Arps built a two storey house and lived in it for a long time. He raised a large family.
Further on were the people I have already mentioned. Mr John Maffey was one of the first settlers on Preston's Road. He built a house on the corner of Preston's Road and what is now Walter's Road. He had about 100 acres running to the Canal Reserve, dairying.
Mr David Gibbs lived on a block of land on the corner of Preston's and Hill's Roads, and further on towards the North Road Styx was the Harris family. On the east side of the Canal Reserve Borcoski, Joe Borcoski, J Rock.
When I first arrived in the district it was in a wild state, practically in its virgin condition. The Canal Reserve was not formed, not fit for a horse and cart to get along it, and a person had to keep along the drains to find footing to walk along. The land was covered with flax and [Carex secta], and was full of stumps. The settlers had to work very hard to clear the land before any crop could be produced. The women played a great part in the development of the district. They did nearly all the weeding of the crops. Their wage being 2/6 per day and a man's wage was 4/- to 5/- a day.
The district was really a swamp and no end of digging drains had to be done before it could be ploughed. The land had to be practically trenched to get rid of the stumps. A visitor passing would be impressed with the big stacks of wood to be seen on nearly every place. Then the soil being cold and sour had to be nourished and enriched by manuring and this was done by the settlers going to the city to cart thousands of loads of stable manure. Quite a procession of carts would be seen every morning going to and from the town to the district.
The settlers went through hard times. Although the crops were good the process of produce grown were very poor. Carrots were 10/- to 15/- a ton, potatoes seldom worth more than ₤2 per ton and many a time being unsaleable owing to a glut. Onion growing grew in favour in the district as the land was suitable for growing good crops, but the prices were seldom more than ₤4 per ton, ₤2 per ton being about the average price.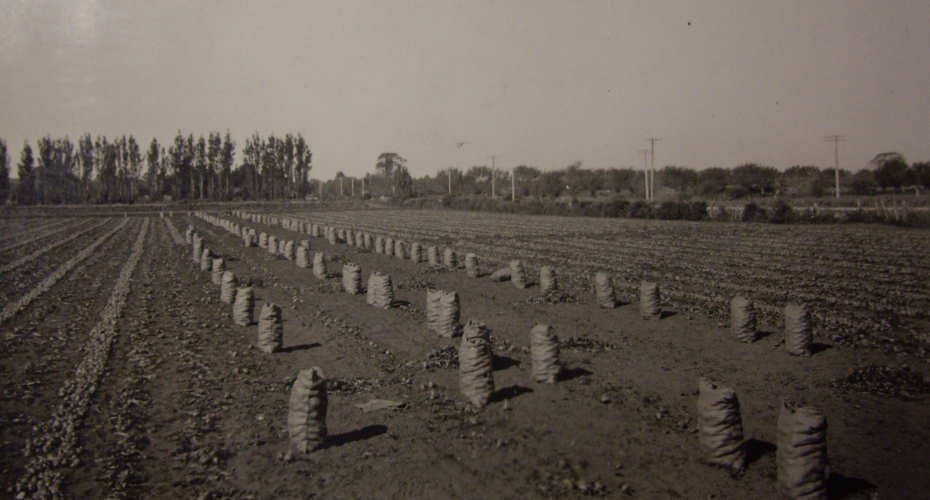 This photograph comes from HW Hughes' 1939 thesis on the Marshland community and is captioned: "Onions bagged ready for market. Notice the 'topped' onions on the left." 4
Most of the settlers reared a few pigs and poultry like Pat to "pay the rent." The people just lived. They had no banking accounts; they just lived and struggled along.
When I was a young fellow, nearly all the young men of the district went once a year to the Peninsula "cocksfoot" harvesting. They looked forward to it with eager delight as they earned cheques from ₤20 to ₤30 each season. For the time being they thought they were millionaires in the making.
Potato digging in adjoining districts was the means of earning money by the young men. They were on the road to their work at daybreak, four pence per sack for digging and picking including loading being the wage paid.
THANKS TO THE CHRISTCHURCH ARCHIVES FOR ACCESS TO THE WJ WALTER PAPERS AND THE HW HUGHES THESIS.
THANKS TO THE POLISH EMBASSY IN NEW ZEALAND FOR CONTRIBUTING TO TRAVEL EXPENSES TO CHRISTCHURCH.
ENDNOTES:
1 - Thanks to the New Zealand Society of Genealogists' Kiwi Collection for directing me to the alternative spelling of Martin Sharlik's surname on his official marriage registration at the Deopartment of Internal Affairs, and also the incorrect spelling of his wife's maiden name.
The NZSG's website is: https://www.genealogy.org.nz/.
2 - Information regarding WJ Walter from:
http://christchurchcitylibraries.com/Heritage/Cemeteries/Waimairi/WaimairiCemeteryWalk.pdf
3 - HW Hughes, MARSHLAND: A SOCIAL SURVEY OF A NEW ZEALAND RURAL COMMUNITY, p 37, 1939, Christchurch Training College.
4 - Ibid, p 55.