HORSE TEACHINGS
by Sister Mary Saint Martha Szymanska
In the early days when the Schimanski children were growing up places like Marshland used to have three or four shows a year when the schools broke up. Lazy Stick, or Tug-of-War as it was sometimes called, was a game played at the shows. Two men would try to pull each other off the ground. The bigger and stronger the men the better but it was a great strain on them. Dad used to play it and so did men like Gottermeyer, Jack Boloski, Jack Kiesanowski and Jimmy Jacobs.
One woman who attended the show was a Miss Box who had four beautiful ponies. She had a reputation for being able to ride anything yet one day a quiet horse threw her and she broke her neck. There was a sale of all her riding tackle and Albert Schimanski bought much of the breaking-in gear.
The shows were full of horses racing, jumping and showing. Dad bought a horse called Dick but could not ride him. As soon as someone tried to put a saddle on this horse it would buck. The same applied to any one who tried to ride him—Dick would buck them off. This horse would work in chains but it had never had a girth on him. The exception was Les who at eight years could ride Dick anywhere.
Queensland Harry was a part-Aboriginal horse rider who came from Australia to ride in the shows and he reckoned "there wasn't a horse he couldn't ride." Queensland Harry was a big man like Dad and when Dad met him Dad said he had a horse he wanted Queensland Harry to ride and sent Les to bring in the horse. Les was so small he had to climb up the horse's front legs to get on. Harry saw Les riding the horse and said, "You want me to ride that horse?" He got on and was no sooner on than he was off again. Later Dad lent Queensland Harry the horse to take around the shows as a buck jumper.
Dad always had three or four ponies or horses to ride. Les was not very old when he first learnt to ride a horse and Dad often laughed at him. Les, however, had a knack. Another horse Dad had that would buck with a saddle and girth Les could ride well with just a sack. One day Dad when was in town Les caught a young horse, put a bridle on it and went for a ride off down the road. Dad came home, saw the gate was open and no horse about and thought it had got out. Dad got a bigger surprise a while later when he found the horse standing with a bridle on it with Les successfully putting on a saddle.
Les could do anything with horses except bet on a winner at the races. He put £3 on a race horse and lost it. He borrowed 30 shillings and lost that and never went back to the races again.
Dad was paid 10 shillings to take a racing horse to the abattoir at Chaney's Corner that we called The Glue Factory. This horse had become tangled in barbed wire so badly the wire had to be cut in order to extract the horse. Dad could see the horse was a good one and wanted to save it. He took it home on the back of a dray and put it in the paddock close to the house. Mum sent Gert out with a bucket of warm water with a little Jeyes fluid added to it to tip over the wounds caused by the barbed wire. Each following bucket had a little more Jeyes fluid to help heal the cuts and help keep the flies away. After about two weeks Gert could get close enough to the horse to rub some Rawleigh's ointment onto the wounds.
As the horse became well enough to want to get up, Dad arranged a block and tackle to lift it onto its feet. Three days later the horse felt its feet and learned to stand. By this time it had also become tame enough for Gert to sit on it. She named it Maireita. Dad told Gert to take it down to the seawater to walk it in the seawater but not to run it. As the wounds began to heal the hair grew over and covered the scars.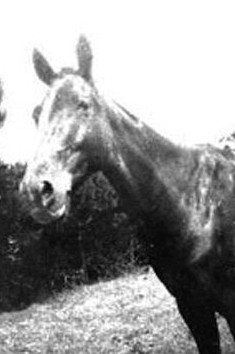 Maireita, right, became quite well again. Gert called her "my beautiful horse." One day Dad was offered £80 for her. Gert had so many horses given her that she could not say, "I don't want you to sell this one," for in the meantime Dad had bought home another half-dead white horse and a brown felled horse. Dad gave his children many horses and ponies to ride but he never gave them money.
It was said of the Schimanski boys in Marshland, "They are as mad as rabbits, they get on a horse and go like hell." Les declared that Vic could not hold a horse. He would put his arms around the neck and hang on. The horse would bolt and Vic would too. Vic would jump on a horse and wouldn't have a care. He had no fear of the horse or what it could do. He would jump fences, jump in a cow yard and out again. By the time he was 14, Vic drove a team of six ploughing horses.
Phil could ride a horse as though he was glued to its back. No matter what the horse did he could stay on.
As a young teenager Gert used to drive the horse and gig to the Belfast Freezing Works to buy and collect meat from the butcher shop about four miles away. One trip Gert was involved in an accident. She was adamant she was not the cause of the accident because she could pull the horses up in time. Dad went to the court with her. To prove that she could do what she said she could do with the horses Gert had to show the judge and jury her driving skills. She proved to them that she could handle the horses as well as she said she could. They watched her driving the team of horses and were convinced of her capabilities. They congratulated her on her driving and she was not charged for any wrongdoing.
When Doug was six he got on a horse and rode it so fast through the gate that he went straight over the horse's head and fell off. Theresa and Vic used to ride to Selwyn River on a Sunday.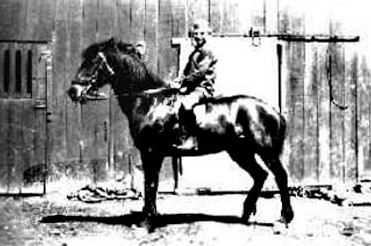 Vic on one of his horses outside the shed at 393 Prestons Road.
There were good horse sales in Christchurch at the Tattersall Sales where Albert and Jack Dunick would buy horses. They were cunning enough to know who else would be looking for a horse to buy and they would make it up between themselves to get horses as cheaply as possible. If Albert wanted a horse, he would bid for it and Jack would not. When Jack wanted a horse, he would bid for it and Albert kept quiet but if the two of them knew that someone else wanted a horse then they would both bid against the third bidder. Afterwards one of them would go and offer the horse to that third bidder for an extra pound and in this way they would make a few extra pounds for themselves.
Dad made many horse deals. The Wright Brothers of Christchurch used to put horses aside in a yard for him. When Albert later moved to the North Island farm in Taranaki he made a trip to Christchurch, purchased 80 horses of all shapes and sizes, and had them shipped up.
He dealt in dogs too. After training one particular dog Dad sold it to a man who bought it back to him saying that it wasn't any good. I was only a child but I had worked with this dog and I knew it was a good dog. Dad found out that the dog would not go with anyone who held a stick, declaring that the dog had been ill-treated and beaten.
Dad used to buy carts, do them up, then hire them out. Les would be sent around to collect them. Dad owned three milk carts, six spring carts and wagons and hired them out for 30 shillings a week.
There were no horses on Melrose farm when they first moved there in 1926. Dad started to buy horses for the ploughing. He would go to the Tattersalls on Wednesdays or where there was a sale, at least once a week.
Sometimes Dad would buy up some cheap horses. Vic always went with Dad and rode the horse home. Dad would come after him in his Model A Ford which he called his New Beauty Ford and give Vic something to eat and see how he was going. Once Dad bought a horse for ten shillings. The horse was lying down and Dad had to move it. He went to the chemist where he bought a bottle of something, put it down the horse's throat, it got up and Vic rode it home. At 14 Vic often drove a team of six horses for Dad. There was no thought of getting paid for his work. Once Vic was so shaky afterwards he could not hold a cup of drink in his hand.
Vic and Gert used to go round the sheep together on their horses. When they were finished they would race their horses home and on the way would jump the gap between the poplar trees. Once when Vic jumped, the girth on the saddle broke and Vic went through the air on the saddle and landed on the grass quite comfortably still sitting in the saddle and looked around to see where his horse was.
On Melrose farm Vic rode a horse to the line of blue gums with Reg on the back. Vic told Reg, "I can't hold the horse. You hang on to me. I won't fall. See the gate? I'm going to turn him into the gate so hang on, I can't hold you and the horse." Vic and the horse went through the gate and Reg went straight, flew into the gate and ended up with his head covered in blood. Vic said, "Get on the back again and I'll take you home."
When Dad got his first car in Marshland, he drove the car into the shed and instead of putting his foot on the brake, he had both feet hard on the dashboard, pulled on the reins and said, "Whoa!" The car went right through the shed. It stopped when it came up against the macrocarpa trees. Soon after, the same thing happened. Dad cut down the macrocarpa tree and laid it down where the car should have stopped and said, "That should do it now."
Those cars were made so well the tree would have hardly dented the car. I was told of a Mr Hastie bringing his new car up to the farm to show it off and when he got to the gate it was shut so he did the same as Dad. He called out "Whoa!" and went straight through the gate. He demolished the gate but there was not even had a scratch on the paintwork of the car.
© Sister Mary Saint Martha Szymanska, updated June 2017.
BOTH PHOTOGRAPHS COME FROM THE SZYMANSKI COLLECTION.