The Voitrekovsky family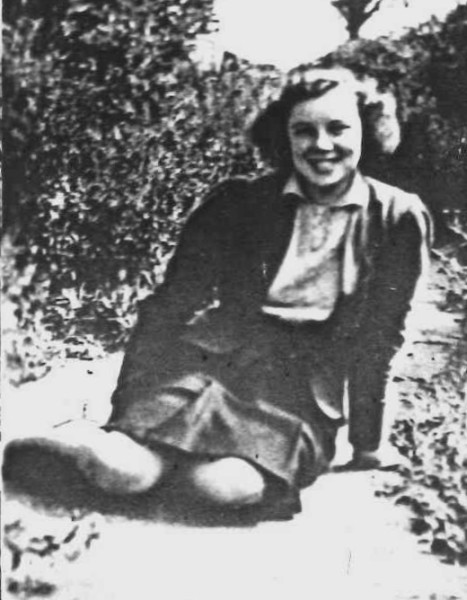 Any investigation into the history of Poles in Taranaki will inevitably lead to Florinda Lambert, pictured here. Many years before they were digitised, she poured through early newspapers and compiled 11 volumes, known colloquially as the green books, now kept in the Puke Ariki museum in New Plymouth.
I met her niece, Faye Dravitzki, in 2013. Faye trusted me with her copy of Florinda's family history, finished in 1987. It formed the core of this story and I have appreciated Faye's help and patience during the process.
Florinda Louisa Voitre Lambert died in March 2007, a month before her 87th birthday.
Most of the photographs on this page are scans of photocopies. I apologise for the poor quality but I chose to use them and give readers a hint of the person rather than nothing.
If anyone has original photographs, I would appreciate being able to replace them.
—Barbara Scrivens
"DON'T STOP TO LOOK BEHIND"
by Barbara Scrivens
Felix Voitrekovsky avoided cameras and conversation regarding the life he left behind in 1875 Prussian-occupied Poland.
His success at keeping most of his secrets particularly frustrated his granddaughter and family genealogist, Florinda (also known as Floss or Flossie) Lambert. Despite his family's curiosity and speculation, Felix did not enlighten his descendants.
The lack of details about himself on the lammershagen shipping manifesto may have been exactly how Felix planned it.
He disembarked at Wellington harbour as Wyzickkowski, F, aged 25. The scrambled surname could have stemmed from an official's hurried handwriting, or Felix protecting the family he left behind, or—if he did not write down his own name—a clerical error. He later told his family he was born in 1854, so he managed to muddy his age upwards on leaving Hamburg, pictured below.1 The busy German emigration hub processing thousands of people pursuing opportunities outside Europe allowed Felix to be less than forthcoming with his precise details.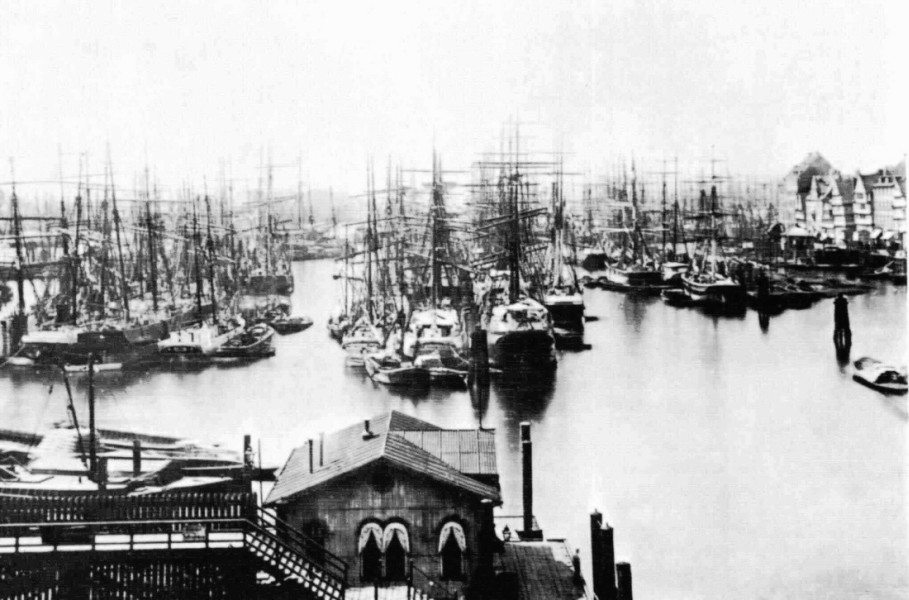 By the time he left his home in north-western Poland, Prussia had already occupied his part of the country for 80 years and entrenched the germanisation of the Polish population there. Polish citizens were coming under increased pressure to integrate with the Prussian regime. Polish Christian names were germanised on birth certificates and surnames on marriage certificates, and Polish schools did not exist. It was illegal to speak, write, read, or keep anything written in Polish. Prussian soldiers monitored misdemeanours. (For a more in-depth explanation see the conundrum of nationality and polish anchors 1872-1876.)
"… persons approved… as suitable immigrants, and who pay their own passages… are entitled to obtain grants of land in the colony, free of cost, but subject to conditions…"
Felix did divulge that he and a married brother had owned a fruit farm near Strasburg (now Brodnica, about 180 kilometres south of Gdańsk). Crippling taxes added to the already difficult living conditions and his descendants believed Felix chose to disappear when he became eligible for conscription to the Prussian army. This may also explain why he increased his age.
Six weeks after Felix stepped on shore in Wellington, his sister, Marianne, arrived in Napier with her husband, Walentin Ostrowski. Her age is recorded as 27 and his as 33. They travelled on the friedeburg.
The Polish spelling of Felix's name is Feliks Wojciechowski. Felix continued to use the germanised version in New Zealand. He was among the 401 "souls" or 330 "statute adults" who arrived on the lammershagen on 11 July 1875. The number included at least 80 Poles. According to the Immigration Commissioner's report, the six births and five deaths during the 102–day journey amounted to "one and a half adults" and the immigrants arrived "healthy and of good physique."2
The lammershagen's berth in the new colony coincided with the government's curtailing its previous offer of free passages for immigrants. New settlers who could not afford their passage had to sign promissory notes but the 1873 Immigration Land Act, still stated that "persons approved by the Agent-General as suitable immigrants, and who pay their own passages… are entitled to obtain grants of land in the colony, free of cost, but subject to conditions of occupation and cultivation."3
Whether Felix had been able to pay for his passage or whether he took up a land grant, he brought to New Zealand something impossible to put a price on—his work ethic.
Another of Felix's granddaughters, Myrtle Young, remembered being about five years old when she helped him weed his carrot crop and started complaining that the work was too hard. Felix told her:
"Don't stop to look behind, Myrtle, and don't stop to look ahead—just look down and keep plodding on and you'll get there. That's what life is like." Myrtle said she never forgot that advice.
_______________
By 1884, Felix Voitrekovsky appeared in the return of the freeholders of new zealand, a publication compiled by the Property Tax Department. He and a Michael Bollet, both described as farmers in Kumeroa, owned 299 acres of land, valued at £600.4 Kumeroa, east of the Manawatu River, was expected to become part of the railway network between Gisborne and Wellington. Florinda found a newspaper clipping describing the settlement:
It was originally all heavy bush, being part of the famous 70 Mile Bush. It was surveyed and cut up into suitable blocks in the early 1880's [sic].

In the early days as the bush was coming down and the fencing going up, the district carried a fair population with large families the rule, rather than the exception. The school opened in 1884 with one teacher and at one time had a roll of 120 and three teachers.

There was a two-storied hotel, two or three blacksmith shops, three butchers' shops and a Post Office. But with the advent of the motor car and the passing of the horde together with gigs, buggies, wagons and drays—modern high powered cars, tractors and lorries are now seen on the highways and byways.

The village now has only a Public Hall built in 1896 after the earlier one was burnt down, a small church and a two-roomed school.
Florinda found her grandfather's name on a list titled names etc, of alien friends who have been naturalised in nz, 1918. His entry reads: Voitrekofsky (Wojciechowski ) Felix, settler, Puketoi, 17.10.1883.
A government land grant and the promise of a railway would explain why Felix moved to such a remote place. On the south-eastern side of a ridge more than 50 kilometres south-east of Kumeroa, Puketoi—now a wind farm—has become an isolated reference on a topographical map.
Two months after he was naturalised in 1883 Felix, 29, married an apparently unwilling 16-year-old Margaret Reidy, born in Castleisland, County Kerry, Ireland. The bride's parents hosted the ceremony at their home in Kumeroa.
Felix's descendants speculate that Margaret's father, James, orchestrated the marriage, believing that an already "reasonably wealthy" Felix was a catch for his youngest daughter. Their first child, James Anthony, was born on 31 August 1884 in Puketoi.
Did Margaret vote in the historical general election that month—the first in the world allowing women to vote?
By the time Mary, the second of their 12 children, was born in March 1886 Felix and Margaret lived in Kumeroa. According to Florinda, her grandmother had a reputation as a capable housewife and—even when she had her own large family to manage—was much sought after for domestic work. Florinda described Margaret as "a tall woman, very clean, and skilled in the art of crochet. She crocheted bedspreads, curtains and, as many women did in those days, made rag mats." Margaret loved horseracing, as did the entire Reidy family. Her grandson Keith, one of New Zealand's most successful jockeys, was born three weeks before she died.
Felix continued to acquire land.
In 1887, he bought two sections in the Tahoraiti Survey District about 20 kilometres north of Kumeroa. Five years later, he bought another 250 acres in nearby Woodville and the family moved there. Their seventh child, Agnes Maud, was born in Kumeroa in November 1893.
Did Margaret vote in the historical general election that month—the first in the world allowing women to vote? Her name appears on the Waipawa electoral roll, her occupation stated as Felix's wife.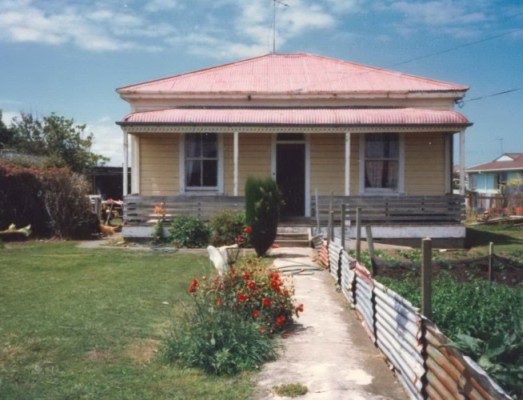 One is left wondering why, with property in the Manawatu, Felix decided the following year to move his family more than 200 kilometres away to Hawera on the southern Taranaki coast. He became a bricklayer and bought this house—still standing—at 6 Vogel Street.
Agnes's death in Hawera at 11 months did not augur well for the family. With six other children to look after, 27-year-old Margaret had little time to mourn and she soon had more babies to add to her workload. She may have hidden her sorrow when her twelfth child, Margaret Cathleen, died aged three months in August 1900 but after her eleventh child, Joseph Edward (known as Eddie), died four months before his fourth birthday, Margaret left Hawera, Felix, and their older children.
According to family story, Eddie, born in Hawera in 1899, was playing with his brother, Herbert, in the Catholic presbytery garden, fell into a "carelessly-covered well," and drowned before his brother found help. It was Herbert's fifth birthday.
The hawera & normanby star of 2 February 1903:5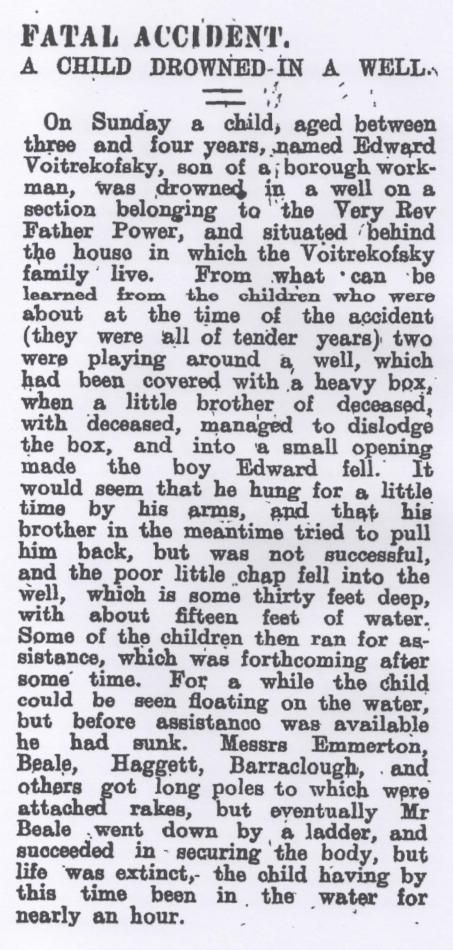 Either of the two stories—the apparent carelessness of the Catholic Church or her own children's behaviour—could have provided the final push for Margaret to leave Hawera. She took an unknown number of her younger children and moved to Gisborne, apparently helped by the man she had originally hoped to marry, Joseph Gurzinski. Felix found them and insisted that the children return with him to Hawera.
Supporting statements on Margaret's second marriage certificate, dated 22 March 1911, indicate that she cut her ties with Felix and her surviving Voitrekovsky children. Her occupation is "nurse." Under the section "Conjugal Status" is the entry "A Married Woman whose husband has been continually absent from her for the 7 years past she not knowing at any time during that period whether he was dead or alive."
A second Mary Voitrekovsky is recorded as having lived for just a day in 1904 and Dora Voitrekovsky died at eight weeks in 1905.
That second marriage certificate inaccurately records Margaret's age as 40. She was 43. Her new husband, Joseph Gurzuiski, born in "Danzig, Germany" (Gdańsk in then Prussian-occupied Poland) stated his age as 37. In another official list of marriages, and on Margaret's death certificate, his name is spelt "Gurzinski," which links him to the Gurzinski family arriving on the palmerston in Port Chalmers, Dunedin, in December 1872 and a one-year-old Józef, the Polish equivalent for Joseph.
According to the New Zealand Department of Internal Affairs' list of Births, Marriages and Deaths, Margaret Voitrekovsky had another two children with Joseph. A second Mary Voitrekovsky is recorded as having lived for just a day in 1904 and Dora Voitrekovsky died, aged eight weeks, in 1905. It is not clear why Margaret named another daughter Mary. She did have an older sister of the same name.
Margaret's second chance at marital happiness did not last. Two years after her marriage to Joseph, she died in Gisborne Hospital of cardiac failure and acute bronchitis.
Florinda remembered Felix as "a small, quiet man with a typical guttural Polish accent. He was bald, had greying, gingery whiskers and smoked a pipe, using a pocket-knife to cut flakes of plug tobacco." She also recalled his pock-marked face, a result of small-pox. She was nine when he died from a cerebral haemorrhage in 1929.
Felix's sons Frederick and Herbert enlisted in World War I but it was the influenza epidemic that the returning soldiers carried with them from Europe and introduced to New Zealand in 1918 that claimed their oldest brother brother, James Anthony. (In the three months to December 1918 more than 8,600 New Zealanders died of the disease—nearly half as many as those who died during the entire 1914–1918 conflict.)
Frederick, Florinda's father, and Herbert, her uncle, both survived four years' service. When Frederick returned he accepted a returned soldier's farm on Norfolk Road, four miles south of Inglewood, and Felix lived with him and his family until his death.
Felix's headstone at the Inglewood cemetery is engraved voitre. The family shortened the name by deed-poll in 1936 "for practical purposes."
_______________
JAMES ANTHONY VOITREKOVSKY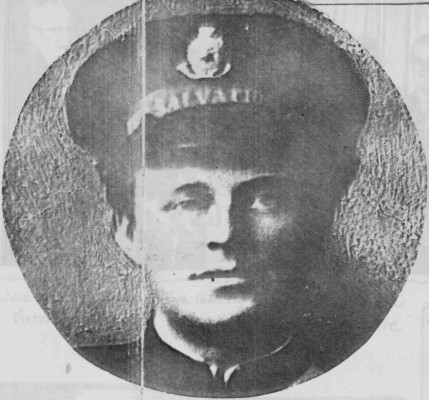 James, known to the family as Jim, was an accomplished double bass player and a keen member of the Palmerston North Salvation Army.
He married Winifred (Winnie) Davey in August 1906 at her mother's home in Palmerston North and the young couple lived in Chelwood Street until James's death at the age of 35. Their three children, Ena Winifred born in 1907, Wilbur James born in 1909 and Esther May (Tess) born in 1911, all attended the Salvation Army Sunday School.
James's entry in the 1910-11 stone's wellington, hawke's bay and taranaki commercial, municipal, and general directory and new zealand annual showed that he had followed his father as a bricklayer. The wairarapa daily times advertised the publication as "containing 1450 pages, together with numerous Maps, corrected to date, the whole handsomely bound in cloth, gilt lettered." The 12-shilling price—if ordered prior to publication—jumped to 15 shillings after printing. When James registered for the Second Reserves in 1914, he gave his occupation as a drainlayer.
After James's death Winnie remarried and moved to Auckland. The family lost touch until Florinda found her cousin Tess, who told her that although Winnie was young to be left a widow, she had been "a wonderful mother to her three children and they had enjoyed a happy childhood."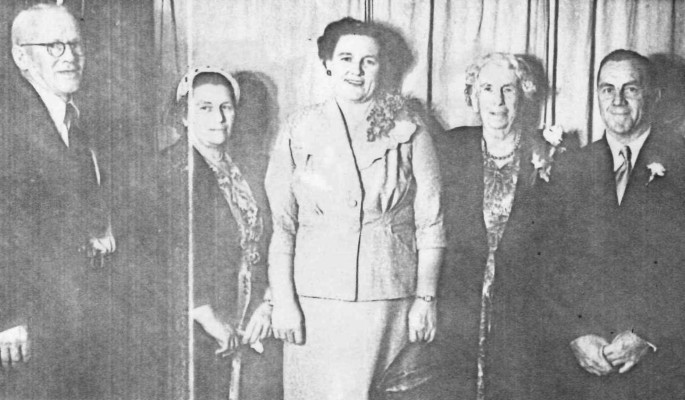 Winnie, second from the right, between Wilbur and his wife, Eva. Winnie's and James's daughter Ena and husband Jack Fletcher are on the left.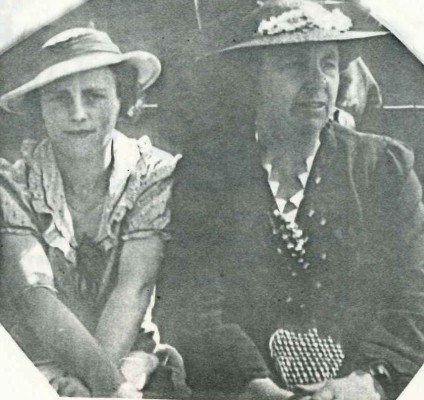 A teenaged Tess with Winnie at the races.
_______________
MARY VOITREKOVSKY
Florinda believed Mary was born at the small hospital/nursing home in the new settlement of Kumeroa.
As a 17-year-old in 1904, Mary married 27-year-old Walter Mundy, who was "connected" with the railways.6 They lived in Ohingaiti and had three children, Walter Albert, John Alexander and Margaret Mary. According to newspapers, Walter died of appendicitis on 5 August 1907 and left two children.7
On Margaret Mary's 1907 birth registry, her mother called herself Mary Voitre. She had reverted to her full maiden name by the time she married Alexander McPherson in 1929. Walter Albert felt so highly of his stepfather that he officially added McPherson to his Mundy surname.
_______________
ELIZABETH (LIZZIE LILLIAN) VOITREKOVSKY
The third Voitrekovsky child, "Lizzie," shed the family's nick-name and became "Lillian." Her birthplace and date is another family mystery but Florinda noted that Lillian was often bracketed with Mary and would have been born between 1886 and 1889.
There seems to be no record of her birth under either Voitrekovsky or the two misspellings of her name in marriage registers, Voitrekousky and Voibrekovsky. She married Francis Guy in 1909 and had two children, Fred and Muriel. They moved to Australia.
Muriel's granddaughter, Fiona Timmins, told the family that after Francis died Elizabeth supported herself and her children in two ways: She used her horse and cart to take fare-paying passengers between the city and country. And during sheep shearing season, taking her children with her, she followed the shearing gangs around the farms and worked as their cook.
"She later owned a boarding house and was a fine gardener, rushing out once the horses had passed to gather up the manure. At one stage she started a business making and selling amazing confectionery—until her business partner took all the profits and disappeared."
_______________
ERNEST FELIX VOITREKOVSKY (VOITRE)
Ernest Felix Voitre, a "charming man," approached his fiftieth year with a secure marriage, six children, the words "Voitre and Sons" outside his cordial factory in Palmerston North, and enjoyed following his son Keith's career as a jockey.
On 10 September 1938, Ernest's world collapsed when Keith, his eldest son, died after his mount, Frill Prince, fell while competing in the Budgeree Handicap at the Moonee Valley Racing Club meeting in Melbourne.
Keith, born in 1913 in Palmerston North, won the Dominion Jockey's Premiership for the 1931-1932 racing season while still apprenticed in his hometown. His 82 wins that season set up a career that led to his living in Australia. In 1935 Keith rode Marabou  to win the Melbourne Cup.8
In his book winners of the melbourne cup Costa Rolfe wrote:
… The breathtakingly brilliant Voitre was regarded as one of New Zealand's most talented riders of all time, renowned for his soft hands, patience and strict aversion to using the whip, and his premature loss was mourned deeply on both sides of the Tasman.9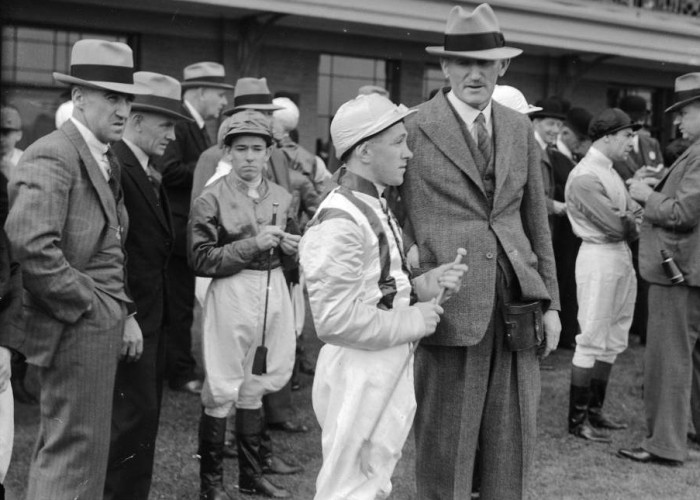 Keith Voitre and Marabou's trainer, Lou Robertson, chat before the two–length win by the 1935 favourite. The horse's gravely ill part-owner, Joseph Fell, watched the race from his car, which was "drawn to the edge of the lawn." Fell died two days later.10
Keith's success as a jockey allowed him to help set up his father in business in the cordial factory at 65 Albert Street, Palmerston North.
Ernest Felix was born on 20 December 1889 in Woodville and married Ivy Lane at his brother Jim's house in Palmerston North, where they lived before moving to Hawera with their sons Keith Felix Hawkins and Noel Steven. New Zealand Service Personnel & Reservists records show Ernest's occupation as a cordial manufacturer for Sharp Brothers in Hawera. Melva Ethel was born there in 1918 but by the time Joan was born in 1920, the family had returned to Palmerston North. Ernest drove a baker's van and the family lived opposite the bakery on what was then known as the Foxton Line (now State Highway 56).
After Leila was born in 1925, the family moved to Otaki where Ernie worked for the local council as a drainlayer. The dates coincide with the borough council's failed attempts between 1921 and 1927 to provide Otaki with a modern sewerage system.
Ernest moved his family to Whanganui, where Raymond Ernest was born in 1928. There Ernest worked for Sharpe Brothers' Whanganui branch and learnt enough about the process to later manage his own factory. By the end of that year Ernest had shortened his surname to Voitre. The "practical purposes" that Florinda referred to earlier may have been for Keith's benefit. One of the first newspaper articles naming him in December 1928 states:
The riding of the paper-weight apprentice Keith Voitre has been commended ever since he first donned silk and his handling of The Raider in the Colyton Handicap on Saturday was another example of good judgement and vigorous riding. The fact is that he is sure to go to the top of the ladder in his profession and to stay at the top.11
Florinda recalled visiting her uncle Ernie and his family in Palmerston North 1942 and being impressed by the home and the shrine to Keith.
"So successful was the firm by this time that Ernie was able to build a beautiful home in Guy Avenue, complete with a swimming pool, a turn-table for the family cars, and a built-in bowling green. The residence also contained a small room sacred to the memory of Keith. In it had been gathered together all his cups, prizes, photographs and memorabilia, as well as his riding outfit, saddle and whip etc."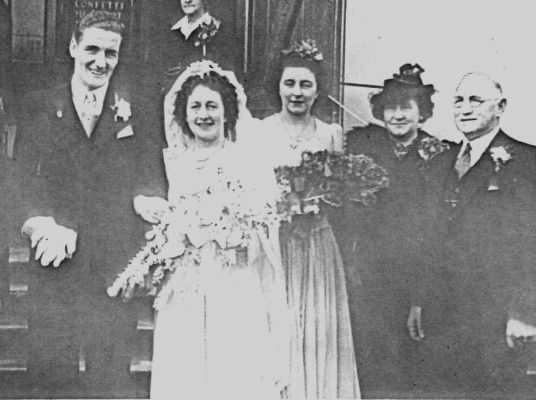 Ernest and Ivy pose with Leila and new husband Bill Barton. Joan is in the centre.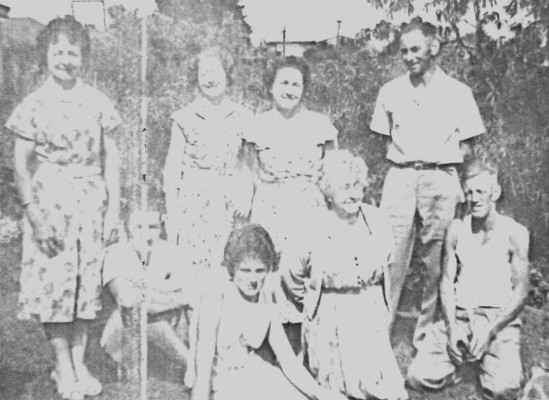 Standing left to right are Joan, Leila, Melva and Jack Inkster, Joan's husband. Seated left to right are Bill, Leila's daughter Tricia, Ivy and Jim Allen, Melva's husband.
Ernest's continuing heart problem forced him to employ a manager for the cordial factory and he and Ivy moved to Auckland to be near their daughter Melva and Jim.
Melva recalled a story of her father's convent schooldays (probably in Hawera) when he and some of the other boys, in a continuing battle with a particular nun, tried to trip her by tying a rope across her path. Another favourite family anecdote recalled the day their uncle Stanisław (Violet Voitrekovsky's second husband) plied Ernest with whiskey before taking him to the dentist to have a tooth extracted.
"Ernie loved all children and all children loved him. They called him 'Pop,' as did his own family, and when he died in 1958 in Auckland, there were many others besides his own that mourned his passing."
_______________
FREDERICK RUDOLPH VOITREKOVSKY (VOITRE)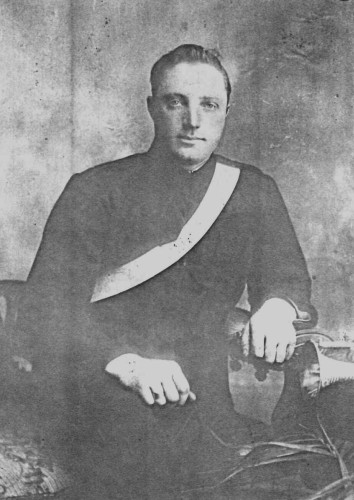 Florinda's father, Frederick, was the fifth Voitrekovsky child and born in Kumeroa in March 1891. She is named after her mother, Florinda Louisa Journeaux, also known as Florrie, whom he married in Waitara in July 1919. Here is Florrie in her EPS (Emergency Precautions Scheme) uniform during World War II.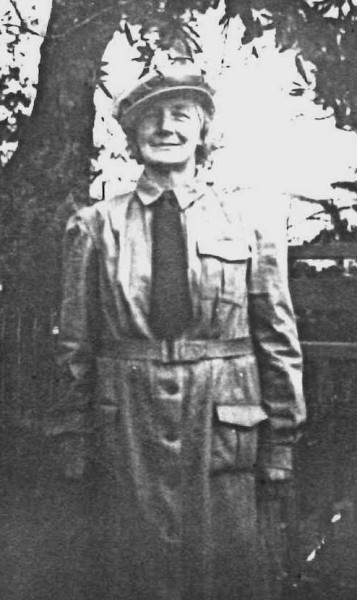 Fred enjoyed regaling his daughters Valerie, Florinda and Robyn about his "far from affluent family" and growing up in Hawera.
"Once he collected bottles and sold them to a householder in Hawera but, still desperate for pocket-money, he slyly visited the back garden of the house at night, purloined some of the bottles and then had the temerity to sell them again to the unsuspecting gentleman the next day.
"Another almost incredible episode was when he 'played the wag' from school for six weeks, spent the days in a tree-house he had built, and sneaked home at night to sleep and procure food. However, when discovered, he took his resultant punishment philosophically and decided to turn over a new leaf, with such success that he was top of Standard 6 at the Hawera Primary School in that particular year."
During his high school years, Fred worked at the Hawera Catholic presbytery as an 'odd-job man.' He slept on the premises and "discovered the gastronomic delight of licking the cream off the top of the milk each day" until a "deeply suspicious" Father Power caught him.
When he left school, Fred helped his father with brick-laying and concrete work.
Like his brothers James and Herbert, Fred loved music and played the coronet in the Hawera Band, and in the New Zealand Army Band during his service in World War I. He enlisted in 1915 and joined the Wellington Battalion's 7th Reinforcements in Gallipoli. He eventually joined a signallers' unit and served in Belgium and France, where he lived a "charmed life" in the trenches until the 11 November 1918 Armistice.
Before he left for Gallipoli Fred and Florinda Journeaux had an 'understanding' but in 1918, Fred wrote her a letter absolving her from her commitment and served another year in the army occupying Germany. Flossie later learnt her mother was grief-stricken at receiving the letter.
On his return home in 1919, Fred met Florrie again and, aided by Florrie's sister Mabel and Fred's sister Ellen (Nell), the two eloped in July and married in the Methodist Church in Waitera.
Fred and Florrie applied for—and obtained—a returned soldier's farm on Norfolk Road, near Inglewood, where their daughters were born.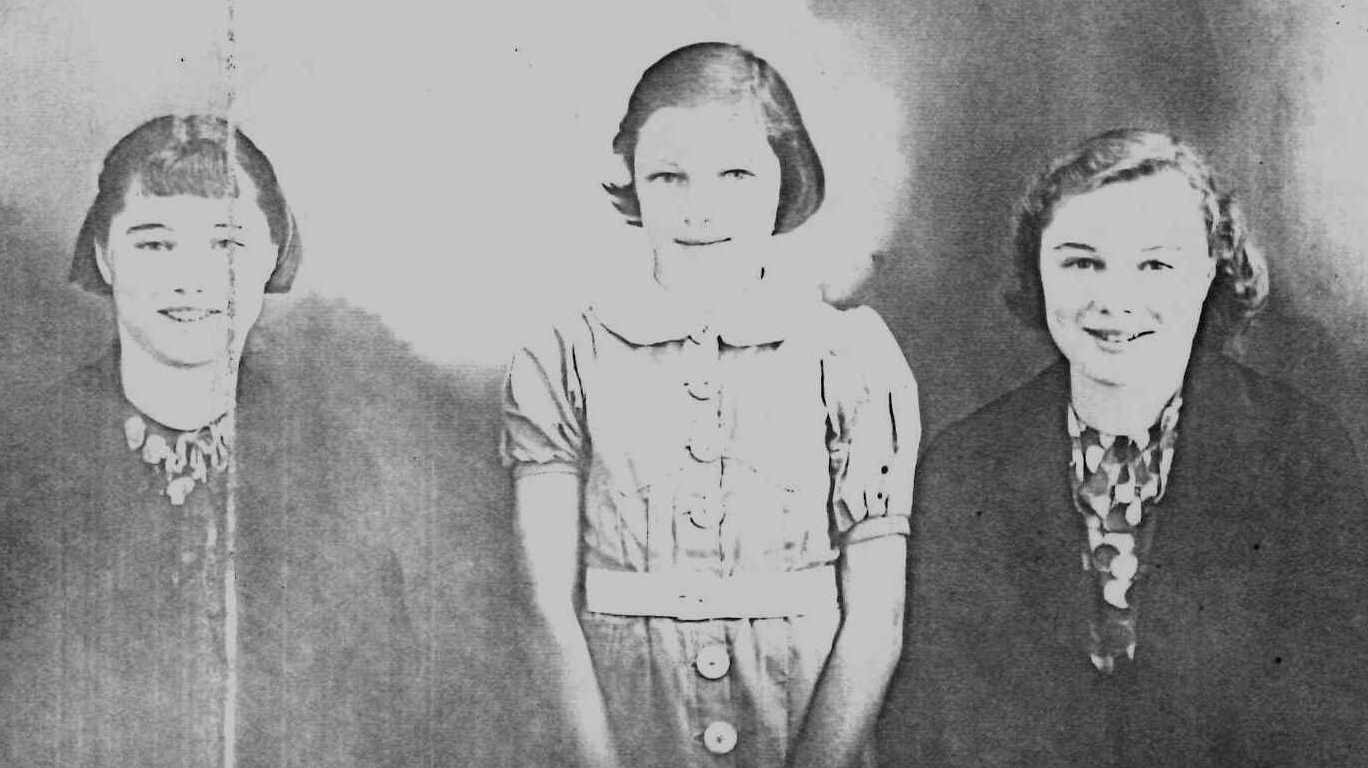 Valerie, Robyn and Florinda Voitrekovsky.
The New Zealand government had a plan for their returned soldiers similar to that of the new post-war Polish government. Both encouraged the men to take up farming. In Poland, the land lay in reclaimed eastern Poland and offered as part of the new government's strategy for building up a nation that had been wiped off the geographical map for 146 years. In New Zealand, the potential farmland was scattered all over the country. Both countries included tax concessions and loans in the deals.
One difference between the schemes was that the Poles created new settlements, so communities formed. In New Zealand the land blocks were often remote. Another difference was that the New Zealand government advertised its offer of land during World War I as an incentive to single men to join the army.12 In Poland, volunteer soldiers did not know about the land offer until after they fought and won the 1919–1920 Polish-Soviet War.
At the outbreak of World War 2, Fred joined another signallers' unit, this time attached to the Home Guard's Inglewood Battalion. An expert in semaphore and Morse code, Fred was in his element working for the highly mobile, organised and 'top-secret' unit.
Florinda recalled how a "dug-out" her father excavated in a clay bank race he had previously constructed on the farm became became his "home away from home." It contained a table, chairs, a bunk, lights, cooking utensils, a fireplace, food, and "all the sophisticated radio equipment of the day."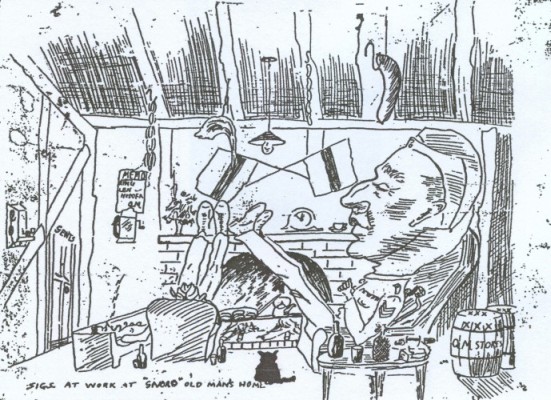 In this cartoon of Fred by Ena Wilkinson, the Polish kiełbasa (perfectly spiced garlic sausage) and other meat drying on hooks in the ceiling nods to his Polish heritage.
After the war, the Inglewood Signallers' Unit became the Inglewood Radio Club. Despite his proficiency in Morse Code, Fred never did obtain his Amateur Radio (Ham) Licence.
In 1952, Fred and Florrie retired to Elliot Street in Inglewood. Although Fred led a "quiet life," gardening and playing bowls he was still sought after for his bricklaying and concreting expertise. He died in 1971 after a stroke. Florrie died in 1981.
_______________
ELLEN CECELIA VOITREKOVSKY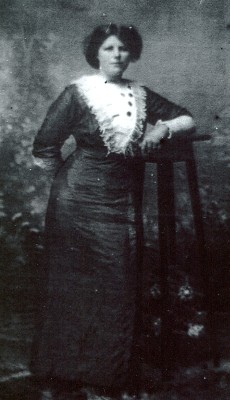 Ellen (always known as Nell) was born at Woodville in 1893 and married William (Bill) Yearbury in the Methodist Church at Hawera in 1914. They had three children, Myrtle, born in Hawera in 1915, and Joyce and Douglas, both born in Waitara.
Bill worked at the Waitera Freezing Works for most of his life. He challenged his family by regularly moving houses, the first in Blake Street.
Myrtle best-remembered the second house on a 10-acre farmlet in Raleigh Street. She told Florinda how, after she fell into the outside toilet one day, her mother solved the foul-smelling problem by turning the hose on her.
One day while the family was living on Raleigh Street the freezing works whistle blew continuously. Nell piled her two daughters into the pram and set off to join the Armistice Day celebrations.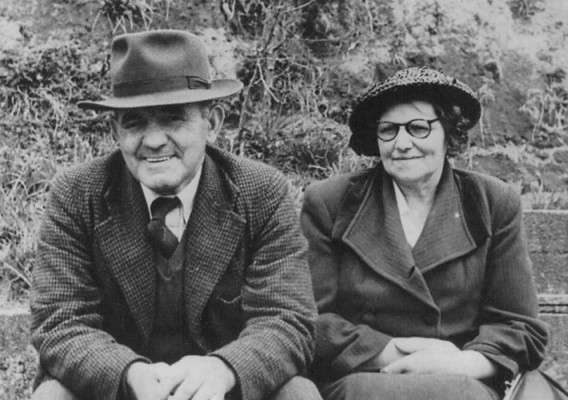 Bill and Nell in New Plymouth's Pukekura Park.
The Yearburys moved twice more within Waitara—to Grey and Hutchins Streets—before relocating to Princess Street in neighbouring Tikorangi, where Bill had a milk-run in addition to his freezing works job. The children remembered the 12-acre farmlet farther along Princess Street for its lack of electricity.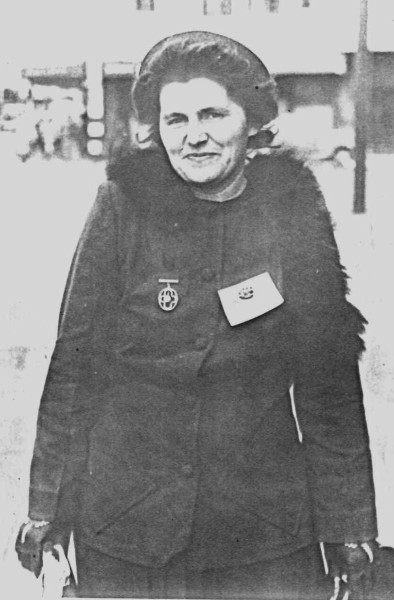 Joyce Yearbury Major.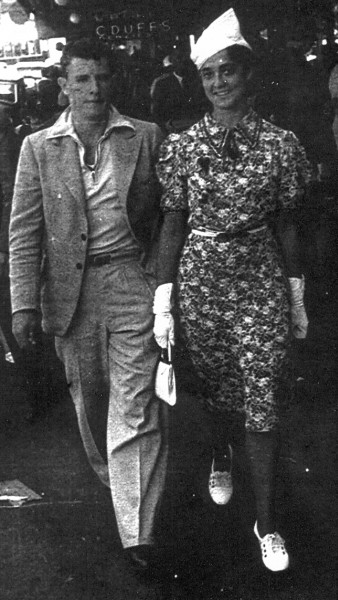 Douglas and Kathleen Yearbury.
The Yearburys were one of the first families in Waitera to own a car and Nell quickly learnt to drive. The children recalled the only time they heard their father admonishing their mother: Nell, always late and consequently always in a hurry, "scorched past her husband sedately riding a bicycle."
Nell and Bill sold the Princess Street property and moved to neighbouring Huirangi in a joint-farm agreement to assist their daughter Joyce and son-in-law Colin Major, who shortly afterwards died from cancer. Three years later, in 1950, Joyce died from a brain tumour. This was the second double-loss for Nell and Bill. Ten years previously Douglas died in a motor-cycle accident, aged 19, leaving his two-month-old son—also named Douglas—and his wife, Kathleen. When Kathleen died of renal failure two-and-a-half years later, Nell and Bill decided to rear their grandson.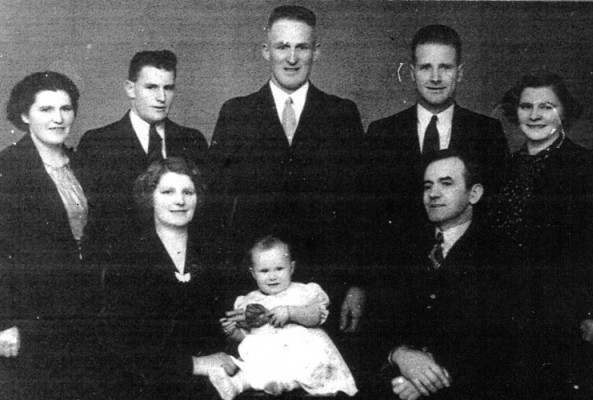 Nell managed to gather her clan for a rare photograph together. She and Bill are seated on either side of their baby granddaughter, Faye Major (now Dravitzki). Standing, from left, are her mother, Joyce Major, her cousin Douglas, her father, Colin, and her aunt and uncle George and Myrtle Young.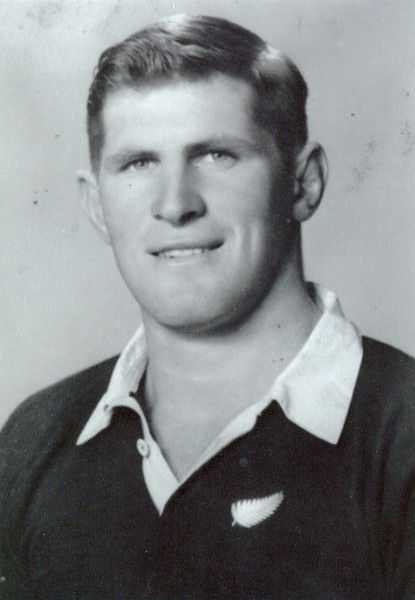 Faye's brother, John, right, had not yet been born. Whereas Faye inherited the family's love and affinity for horses, John excelled in another competitive sport—rugby. He played for the All Blacks from 1963 to 1967.
Myrtle and George bought Nell and Bill's share of the Huirangi farm and the older couple retired to "a pleasant house with an attractive garden and glasshouse" in Sackville Street, Fitzroy. They specialised in developing and growing unusual plants and their collection of fuchsias became famous locally.
Nell baked competitively, often winning points prizes in the homecraft sections of local shows. Once, after she fractured her wrist ahead of an upcoming show, she was so determined to compete that she persuaded Bill to bring all the ingredients and utensils to the kitchen bench. Under her strict supervision, he measured, mixed and baked—and won the points prize. Equally competitive Bill later ran against his wife in a chocolate cake section and won first prize.
When the house and garden became a burden, Nell and Bill moved to a flat in the High Street, Waitera, where Bill died of cancer in 1972. Nell died in 1982.
_______________
VIOLET VOITREKOVSKY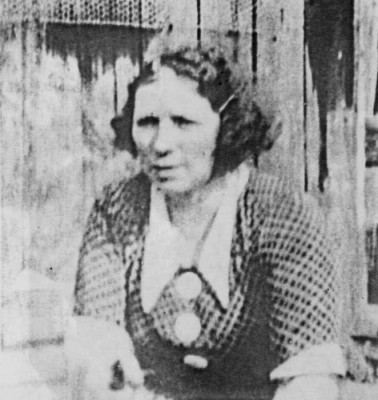 Frederick Voitre used to recount how his sister Violet possessed a small suitcase with her married name on one side, and her maiden name on the other.
If a "likely lad" appeared the suitcase was quickly turned so that "Miss Voitrekovsky" faced the unsuspecting male. Fred recalled another favourite game of hers—to date several young men at the same time on the same evening: Violet would hide behind the curtains and with "great glee" watch the waiting escorts eyeing one another suspiciously at the front door. She would then creep out through the back door with someone else.
Violet was the first Voitrekovsky child born in Hawera, in 1895, a year after baby Agnes Maud died. In July 1914, she married 30-year-old Ernest Balmer, a telephone linesman who lied about being a bachelor. That marriage was dissolved by decree absolute  in May 1924, the same month Violet married Stanisław (Stanley) Sundborn, with whom she adopted a daughter, June. Violet and Stanisław divorced and Violet married Eddie Beattie in 1942.
Violet and Eddie owned a fish shop in Hastings, where one of Violet's tasks was peeling and cutting potatoes for chips. Aged 87, she was the last of Felix and Margaret's 12 children to die—six weeks after her sister Nell—in 1982.
_______________
IDA LAURA VOITREKOVSKY
Family and friends remembered Ida for her striking and curly auburn hair, inherited from her mother, and seldom bestowed.
Born in 1896 in Hawera, Ida married Alex Jackson in Wellington in 1919. They had six children: Dorothy, Thelma, Ethelda (Ettie), Gladys, Nelson and Peggy.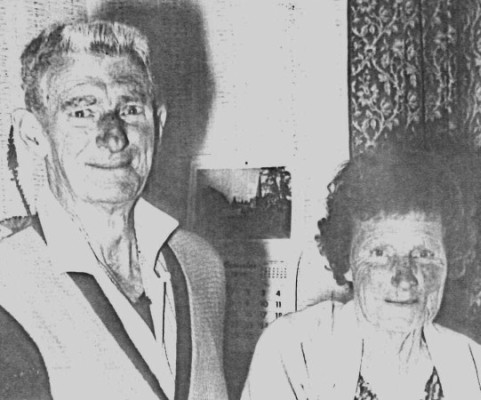 Alex and Ida Jackson.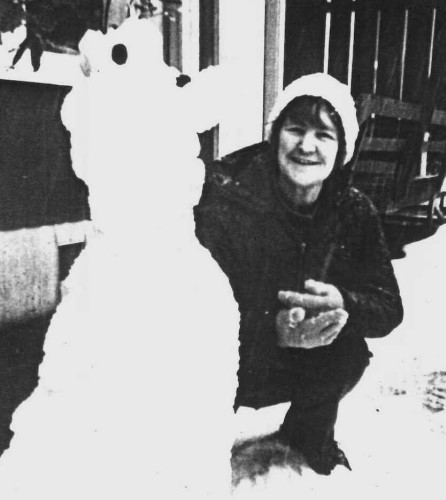 Dorothy Jackson. The white apparition with her here is a snowman.
Dorothy's first memories are of the Kaponga dairy factory north of Hawera where the family lived when Alex became an assistant in the cheese-making department.
Alex worked as first-assistant at the Kaimata dairy factory near Inglewood and the family lived in a factory house—since demolished—on the premises. Ida grew and maintained a "very fine" vegetable garden and helped establish the Kaimata Women's Institute.
Ida's children witnessed what the family called a "motoring mishap." Ida, still learning how to drive the car, realised that she had left her glasses at her brother's Norfolk Road farm and decided to return for them. Her attention was momentarily diverted by her children in the car and she did not notice a flock of sheep in the middle of a culvert. She drove over the bank, landing the car on a "well-placed" mahoe tree that stopped her from crashing into the stream below. No one was injured and a team of horsed dragged the car back on the road.
A more serious accident at the Kaimata factory involved a tub of boiling water scalding Alex badly and forcing him to relinquish his position. The Jacksons moved to Brown Street in Inglewood, where Ida took on domestic work while Alex recovered. She became familiar figure in the town cycling to and from her various commitments.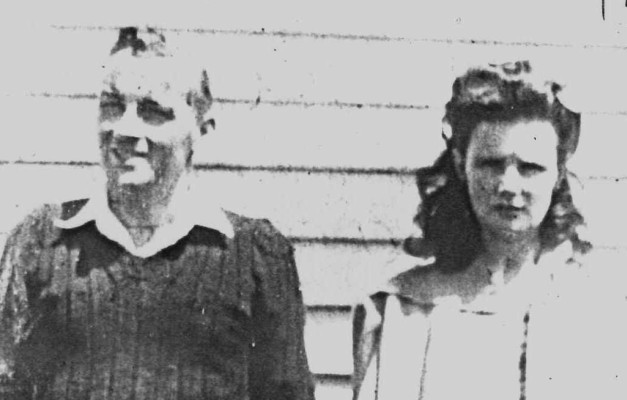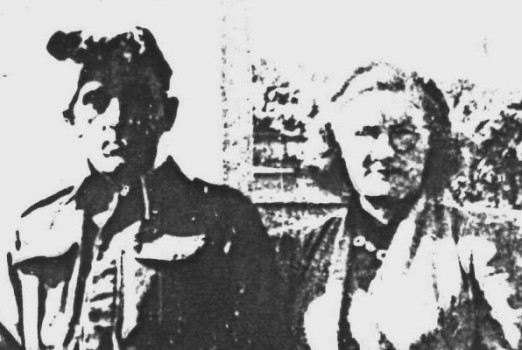 The rest of Alex's and Ida's children:
Above on the left are Thelma and Robert McCardle and right are Ethelda and Robert Moran.
The large image below is of Gladys and Jim Irving. The single images are Nelson and Peggy Jackson.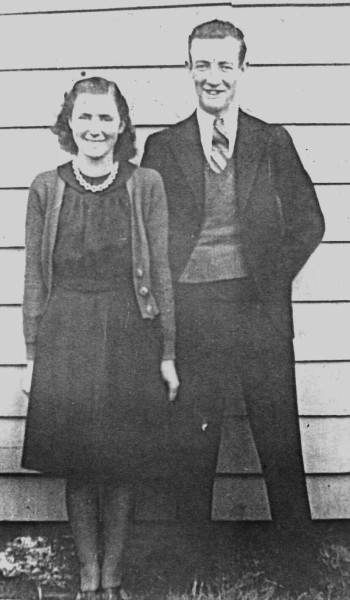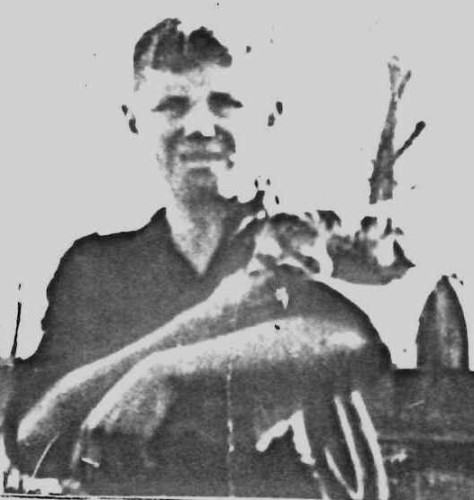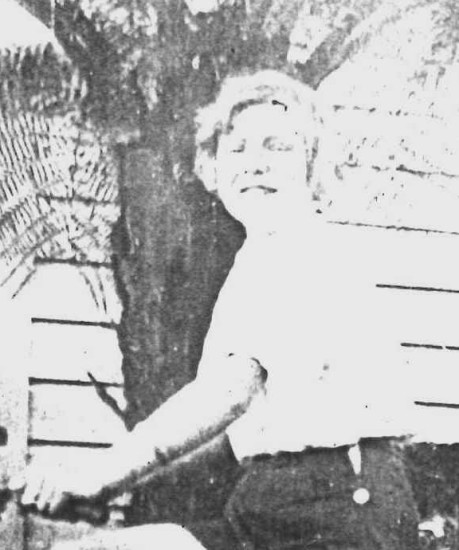 The family moved to the corner of Elliot and Carrington Streets and Ida made use of a vacant section by keeping a dog, a cow and some chickens there. Alex by then worked for the Inglewood County Council driving a roller and grader on roads in rural Tarata and Purangi.
Alex suffered a heart attack, which forced the family's move to New Plymouth—more convenient for medical treatment. Later he worked on the New Plymouth harbour dredge, Paritutu, but Ida, homesick for Inglewood, persuaded him to return for a while. Alex's deteriorating health forced them to move back to New Plymouth for the last time. He died in 1968 and Ida in 1977.
_______________
HERBERT FELIX VOITREKOVSKY (VOITRE)
Herbert (Herb), right, born in 1898 in Hawera, falsified his age and joined his brother Frederick and other New Zealand soldiers in World War I. He never married.
He qualified for a returned soldier's farm, which he established on Norfolk Road, next door to Fred. Possibly emulating his brother's "dug out," Herbert created a two-roomed "bachelor establishment" and possessed one of the first radios in the district.
He moved in with his sister Nell's family in Waitara a few years later, helped them renovate their house and did casual farm work in the district, such as draining and stumping. At times he camped out while on a particular job—something that Nell disapproved of, especially after she found out that Herbert had had a lung removed at the Stratford hospital years before and omitted to tell her.
Herbert bought a caravan and lived on a section in east Waitera, where he established and managed a successful market garden. He made use of the drain running through the property by constructing a water-wheel that supplied him with electricity.
Herbert rediscovered his childhood joy for music and played in the Waitara Band. His innate ability showed when, as a new 14-year-old member of the local Hawera band, he entered a New Zealand coronet solo contest and was "suitably commended."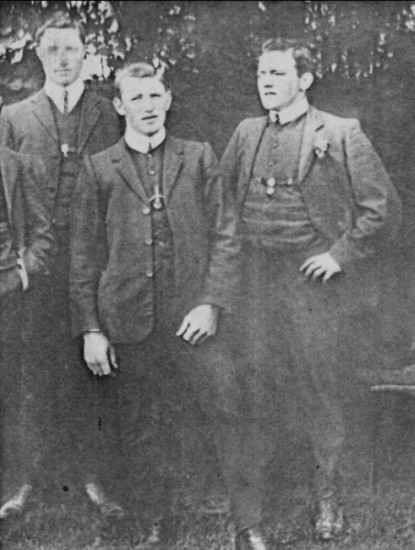 Herb, centre, at a wedding with his brother Fred, left, and brother-in-law Bill Yearbury.
Ill-health forced Herbert to live with various members of his family but he was not an idle guest. He lived with Nell and Bill while they were still on their Tikorangi farm and when that was sold, he moved in with his niece Myrtle and her husband, George, and took on casual labour. While he was living with his niece Joyce and her husband, Colin, on their Huirangi farm he helped them build their new house.
When he was in New Plymouth hospital, being treated for lung cancer, Herb developed an interest in hospital toy-making therapy and made optimistic plans to make toys for Myrtle to sell. He gave a green donkey to Myrtle's daughter, Pamela.
Herb died in 1954. With no Catholic Church in Fitzroy then, his funeral service was held in a converted classroom at St John Bosco School in Clinton Street.
_______________
Florinda Lambert's final words in her 1987 family story:
There will be, inevitably, in this intriguing family tree, mistakes and discrepancies. If so, please forgive me. It's sad too, that there are so many missing dates and unanswered questions, especially as regards Mary, Lillian and Violet. I commenced the whole history just five years too late, for when Nell died at Waitara in 1982, the last link with the past was broken. Everyone rallied round nobly of course, especially with photographs. Thank you, all for your gladly-given assistance. Please keep on searching for and adding information of your own—those gorgeous grandchildren will thank you for it one day.
Postscript:
Felix's great- great- granddaughter, Fiona Timmins, would have made Florinda smile. Fiona saw our story and contributed some extra information about both Mary and Lillian (Elizabeth).

"We learnt that music, vegetable gardening, and farming run in the family. That was neat for two of my sons. One is a classical guitarist and the other a budding organic horticulturist."
© Barbara Scrivens, 2016.
Updated November 2018
ALL PHOTOGRAPHS, UNLESS OTHERWISE STATED, COME FROM FLORINDA LAMBERT'S FAMILY STORY, SUPPLIED BY HER NIECE, FAYE DRAVITSKI. IF ANYONE HAS THE ORIGINAL PHOTOGRAPHS, WE WOULD APPRECIATE BEING ABLE TO REPLACE THE PHOTOCOPIED ONES.
ENDNOTES:
1 - Image from:
http://orsted-jensen.weebly.com/scandinavians-in-pre-1914-australia.html
2 - Appendix to the Journals of the House of Representatives (AJHR),1876, D-03, IMMIGRATION TO NEW ZEALAND (LETTERS TO THE AGENT-GENERAL TRANSMITTING REPORTS UPON IMMIGRATION SHIPS), page 5.
3 - AJHR, 1875, D-01a, IMMIGRATION TO NEW ZEALAND (FURTHER LETTERS TO THE AGENT-GENERAL), 7 & 8.
4 - New Zealand Society of Genealogists Inc. 2010, ISBN: 978-1-877217-54-8. A CD of the publication is available from the NZSG through its website:
www.genealogy.org.nz.
5 - Hawera & Normanby Star, 2 February 1903, page 2, FATAL ACCIDENT, from Papers Past, through the National Library of New Zealand.
https://paperspast.natlib.govt.nz/newspapers/HNS19030202.2.9
6 - Hawera & Normanby Star, 8 August 1907, page 7, Advertisements Column 2,
https://paperspast.natlib.govt.nz/newspapers/HNS19070808.2.53.2
7 - Manawatu Standard, 7 August 1907, page 5, PERSONAL, from Papers Past, through the National Library of New Zealand,
https://paperspast.natlib.govt.nz/newspapers/MS19070807.2.16
8 - A YouTube clip of Keith Voitre winning the 1935 Melbourne Cup can be seen on:
https://www.youtube.com/watch?v=h44KpgB93d8
9 - Rolfe, C, Winners of the Melbourne Cup, ISBN-10: 1742591280; ISBN-13: 978-1742591285
10 - Press, RACING AND TROTTING, LATEST NEWS FROM FAR AND NEAR, 16 November 1935, page 17. From Papers Past through the National Library of New Zealand,
https://paperspast.natlib.govt.nz/newspapers/press/1935/11/16/17
11 - Auckland Star, AWAPUNI JOTTINGS. NO MANAWATU HORSES GOING ABROAD: PALMERSTON NORTH, this day, 4 December 1928, page 12, through Papers Past and the National Library of New Zealand and digitised with the help of Auckland Libraries.
https://paperspast.natlib.govt.nz/newspapers/auckland-star/1928/12/4/12
12 - Examples of newspaper stories:
North Otago Times, FRUIT FARMS FOR SOLDIERS, 23 September 1915, page 2,
https://paperspast.natlib.govt.nz/newspapers/north-otago-times/1915/9/23/2;
Sun, LAND FOR SOLDIERS. WHAT THE GOVERNMENT WILL DO, 18 January 1916, page 11,
https://paperspast.natlib.govt.nz/newspapers/sun/1916/1/18/11;
Hawera & Normanby Star, SOLDIERS AND THE LAND, 6 July 1916, page 5,
https://paperspast.natlib.govt.nz/newspapers/hawera-normanby-star/1916/7/6/5.
All stories from Papers Past, through the National Library of New Zealand.