Mabel Autridge
Franciszek Kurowski saw none of his grandchildren but by the time his widow, Franciszka, died in July 1904 aged 58, they had 21 grandchildren—and she had delivered many of them.

Mary Kurowski (later Crofskey) was Franciszek and Franciszka's fourth child, born in Prussian-occupied Poland on 25 March 1876, arriving in New Zealand with her parents aboard the fritz reuter four months later. She married Irishman Martin Francis Ryan on 30 July 1900 and died on 4 July 1965.

The fifth of Mary and Martin Ryan's nine children, Mabel Autridge, born on 25 October 1909, did not experience her grandmother's touch but grew up under her generous influence in a large and loving household with older brothers David and Frederick and older sister Lillian, pictured with her below, left, and younger siblings Maude, Thomas, John and Myra.

Mabel Annie Ryan married Henry Watson on 21 July 1927. Their only child, Joyce, was born 10 weeks after Henry died of rheumatic fever on 21 April 1929. Mabel married Humphrey Autridge in 1944, and had another four children. She died 27 June 2004.

In 1990 and 1993 she shared some of her childhood memories with her niece, Sandra Singleton, for the purposes of publication.

Here are the two letters.
KINDNESS AND COURAGE
by Mabel Autridge
1990.
Mum and Dad married in Eltham in 1900. Lived at Rawhitiroa until they bought 100 acres in Surrey Road, Tariki. They bought some heifers but only a few calved so Father got a job cracking stones up at the barracks on Mt Egmont [now Mt Taranaki] for metal to make roads. He had to walk three miles across swamps and creeks to catch the old train going up to the mountain.
Mum bought the top 100 acres and Uncle Jack (her brother) [Jack or John Crofskey] built the little "top house" surrounded by bush and swamp.
The eldest sister [Mary Rose] died of diphtheria when I was nine months old. Mother always blamed the first old house for Rose's death (being so draughty) so as they only had a few cows in milk she took on a boarding house in Stratford to help build a new home on the farm.
The two oldest boys stayed on the farm with Father to milk the few cows. The milk was put in large tin flat containers and after a day cream was skimmed off and later churned into butter. Dad and boys used to go into Stratford weekends and Mum would have supplied them with baking to take back to the farm with them.
Mary [Ryan] worked very hard in the boarding house (18 hours a day) usually, besides looking after children, and was well-known for her wonderful meals at the time. She stayed there till the First World War broke out in 1914 when she shifted back to the farm and they were able to get a herd of cows together to milk by hand of course.
Father would dig a huge piece of land by hand and we'd all have to help to plant potatoes. They also planted cabbages, curly kale, carrots, onions, beans, pumpkins and shallots. When the crops were ready everybody helped with the digging, mostly potatoes, onions, shallots, pumpkins and dried beans.
In the spring there'd be watercress salads with the fresh cress from the clean creeks. We would have enough potatoes, dried beans, onions and pumpkins to last from one season to the next.
Mum used to have a stone crock of pickled onions, one of red pickled cabbage, one of white pickled cabbage, also a crock of melon jam, one of rhubarb and dried fig jam, one of blackberry jam, plum jam and any other fruit available.
The parents used to fatten the pigs and cure their own bacon and hams, also make sausages, black pudding, white pudding and Polish sausage. Three or four of the farmers would take turns slaughtering a steer and would share the meat, always curing and smoking a certain amount. There were always a few cows milked thru' the winter and always plenty of milk and homemade butter.
At Xmas time Mum would always send away for McNeills Xmas Hamper and there would be enough goodies to do us over Xmas, including dried fruit for two Xmas cakes and puddings, a bottle of wine and lollies and nuts. It was great excitement unpacking the hamper. There was always icing sugar for the cakes and jellies and custard powder for the desserts.
We made our own fun and had a happy life.
Our mother was a remarkable woman. We always had plenty of good food and a comfortable clean home. She always had nice flower gardens. Huge clumps of daffodils, jonquils and primroses in the spring with red, white and pink camellias. Other seasons there were old-fashioned roses, pansies, pinks among other flowers and they planted flowering shrubs along the creek that was in front of the section. There were so many native plants, Koninis,1 light woods, beautiful lush ferns (hen and chickens, shiny leaf and various others), even some lawyer vines2 with their beautiful creamy-white scented flowers in season. I can still imagine it all.
Dad also planted clumps of agapanthus, red hot pokers and daffodils along the creek. They made it into a real show garden. What a pity there were no colour cameras then.
Any traveller who called at the house was always treated to a good meal, and any sickness in the district, Mother was always there to help out. She made our clothes for years on an old Werthern sewing machine.
I can remember there were school concerts where we're dressed in white embroderie dresses each with a different coloured sash (we girls). We travelled by horse and dray over the rough Derby Road, which was full of pot holes and mud. Anyway we usually arrived in good condition, which was a wonder.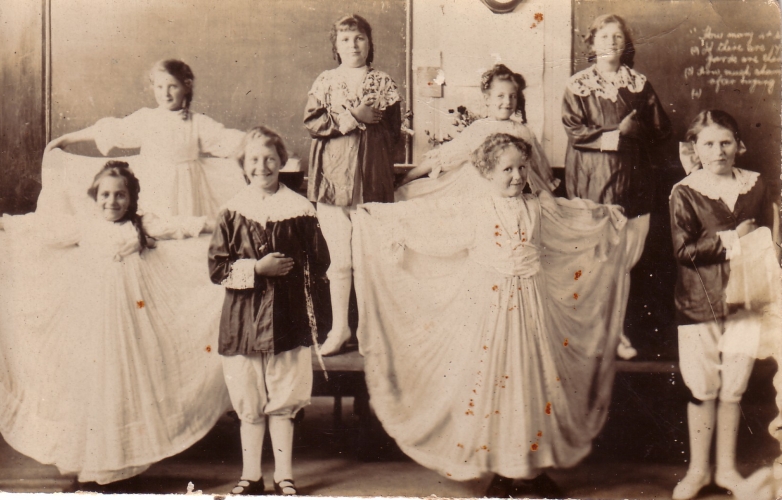 Helen Meads (Joe and Barbara Crofskey's fourth child, born in 1907) supplied this York Road school concert photograph for the family book. None of the children have been identified, so if anyone is able to, please contact us through the get in touch section on the home page.
Lil [born 1907] had naturally curly hair, which always looked nice but mine was straight as sticks and refused to curl even in rags. Maude's [born 1912] was quite wavey and easy to train. The parents always used to take food to these parties and we children were always mad with excitement and looked forward for weeks to the occasions.
_______________
July 1993.
In 1921 Mum and Dad had purchased a farm in Omata3 and we shifted there in July of that year. The furniture and provisions went on ahead and Mum and children arrived by train. We were all excited and kept asking how much farther we had to walk from the station. I'll never forget how weary we were. The first things which greeted me were a golden mass of gorse and huge macrocarpa trees, almost to the door, which the men had to cut down and lever down an 80ft well too near the house.
The wind whistled under the huge trees and it was so cold until the menfolk dug [out] bamboos, which were all along the roadside and planted them under the macrocarpa trees, which were left for shelter. It made a wonderful hedge in the years to come.
The people Mum and Dad bought the farm from had not been too honest in some ways. There were supposed to be 25 milking cows but only 18 calved, one old work horse always jibbed and they discovered there was £100 mortgage which had not been paid, so the parents drove to [New Plymouth] to see the person's lawyer. He fixed things up for them so they did not lose on the deal.
All the family capable of working worked very hard for years. The youngest sister, Myra,4 was born in 1922 so Lil,5 being the eldest girl and being very capable, took over the breadmaking and looking after the home and family while Mother was in hospital. She did not have an easy life poor girl.
Mum was always ready to help anyone in trouble and was a good businesswoman. I remember poor Mrs T. Her husband was a good neighbour but dropped dead in the cowshed. He'd just got word that he would have to walk off the farm as they couldn't pay the interest on their loan. The poor woman was very upset, so our Mother came to the rescue. She drove Mrs T into town in the gig and went to see the lawyer. Anyway, after explaining the position that she still had two schoolgirls to support and a 16-year-old son and they'd put £1,800 into the farm, they were allowed 14 cows, six pigs, two horses (hacks) and the poultry. Mum mentioned them to Mr Ally Wood and he put the son on one of his farms and they were allowed a house and free milk so were able to manage working for Mr Wood.
Strangely enough, several years later, when Fred T married, he and his wife came to visit. They had a delicate little baby girl who would not sleep at night and the parents were desperate for want of sleep so Mum took over that day. I remember she sent us to show them the garden, which was a mass of lovely flowers, while she attended to the baby. The next day Fred appeared and said his wife had had the best sleep in weeks and the baby was also happy and contented, so Mother explained what she had done and what she'd fed the child on.
About 15 or so years ago [circa 1978] I heard how an old lady had saved this man's wife when she was a little delicate child. He was a telephone supervisor in our district. It's a small world isn't it?
[Mum] was always ready to help sick people and those less fortunate than we were. She helped with food or the necessities of life.
When I was left when Henry died I was welcomed back into the home. They were a great help to me as death is so hard to bear when you are so young. I'll never forget that night at the hospital. April 21st [1929]. Henry just adored me and we were so happy together. When it happened I just stood and shook. I couldn't cry, until the nurses thought I had better stay the night as they thought I might lose the baby.
While they were planning I managed to croak out, "I want to go home." I never shed a tear until Mum and Dad came out and put their arms around me. It was shock of course. Henry had died of rheumatic fever and his heart failed.
The next three months I wept continually until one night I had a dream that I was sitting by the grave crying and Henry appeared and spoke to me. He said, "You can't come yet, you have to look after our baby."
From then on I realised how selfish I was being and tried to help mother all I could. I must have been suffering from post-natal depression. Poor old Mum, what she had to put up with. All the family were kind too. The young brothers Tom6 and John7 made me laugh and Myra was good with Joyce, who was such a delicate-looking little thing.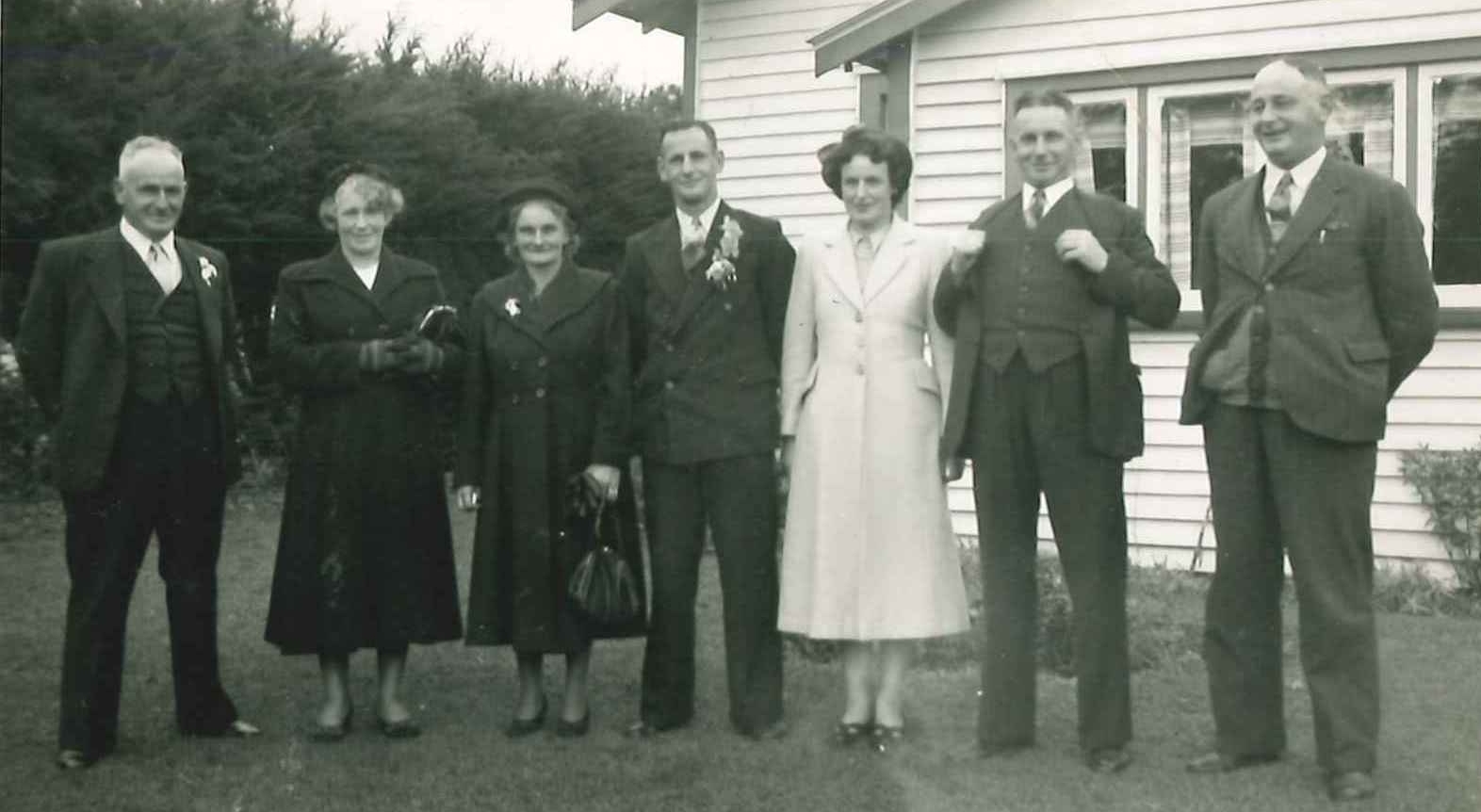 The Ryan siblings, from left: Dave Ryan, Lill Raill, Mabel Autridge, John Ryan, Maude Seamark, Tom Ryan and Fred Ryan. Their youngest sister, Myra Cocker, is missing from the photograph.
I had a wonderful family. A few months later my father took ill and after a successful operation he came home. He was very brave and patient. Never stayed in bed until the night before he died [14 November 1930].
Soon after he passed away Mum had a nervous collapse. We all thought she was dying. Anyway, everybody rallied around and carried on with the work. I realised that to help her relax a little I'd have to beat her to the jobs. Get up early, make the morning tea and cut the school lunches, feed the poultry, get the washing under way before dashing off to milk. Tom would get the cows in and he and Maude8 would start hand milking at the time.
Soon after we had milking machines put in, which was marvellous. At haymaking time Dave9 came and built the stacks and helped with ensilage making. Maude's husband, Edgar Seamark, was a great help too. He and Dave were always ready to give a hand with any work, after they had already done a day's work or at weekends.
When John left school he was always ready to do his share and Myra helped in various ways. After a couple of years Ron Stanger and Bill Williams wanted to start the "Milk in Schools," but a lot of the dairy suppliers left the "Royal Oak" factory as they were afraid of going broke. They were even short of one director for the factory, so persuaded Mum to stand. Then it wasn't paying sufficient to make it worthwhile as they had to guarantee a supply of milk in the winter months, so they called a meeting (the directors) and Mum was asked to go and see the MP for New Plymouth, which she did.
She explained the position to Mr Frost and talked over with him and thought they could make it pay if they had a larger payout and could supply sufficient milk during the winter months.
Of course when all the hard work was done the suppliers who had left the "Royal Oak" all flocked back. They were able to supply the schools, hospital and aerodrome so it worked out well.
Mr Frost came to tea at our home and was greeted with his usual bottle of pickles. He explained that it was a joke between he and "Aunt Daisy" who took the morning session on the radio. She said how Mr Frost loved pickles and if anyone entertained him to a meal, not to forget the pickles. Of course we all had a good laugh. He was very friendly and Tom bought him out from [New Plymouth] and drove him home.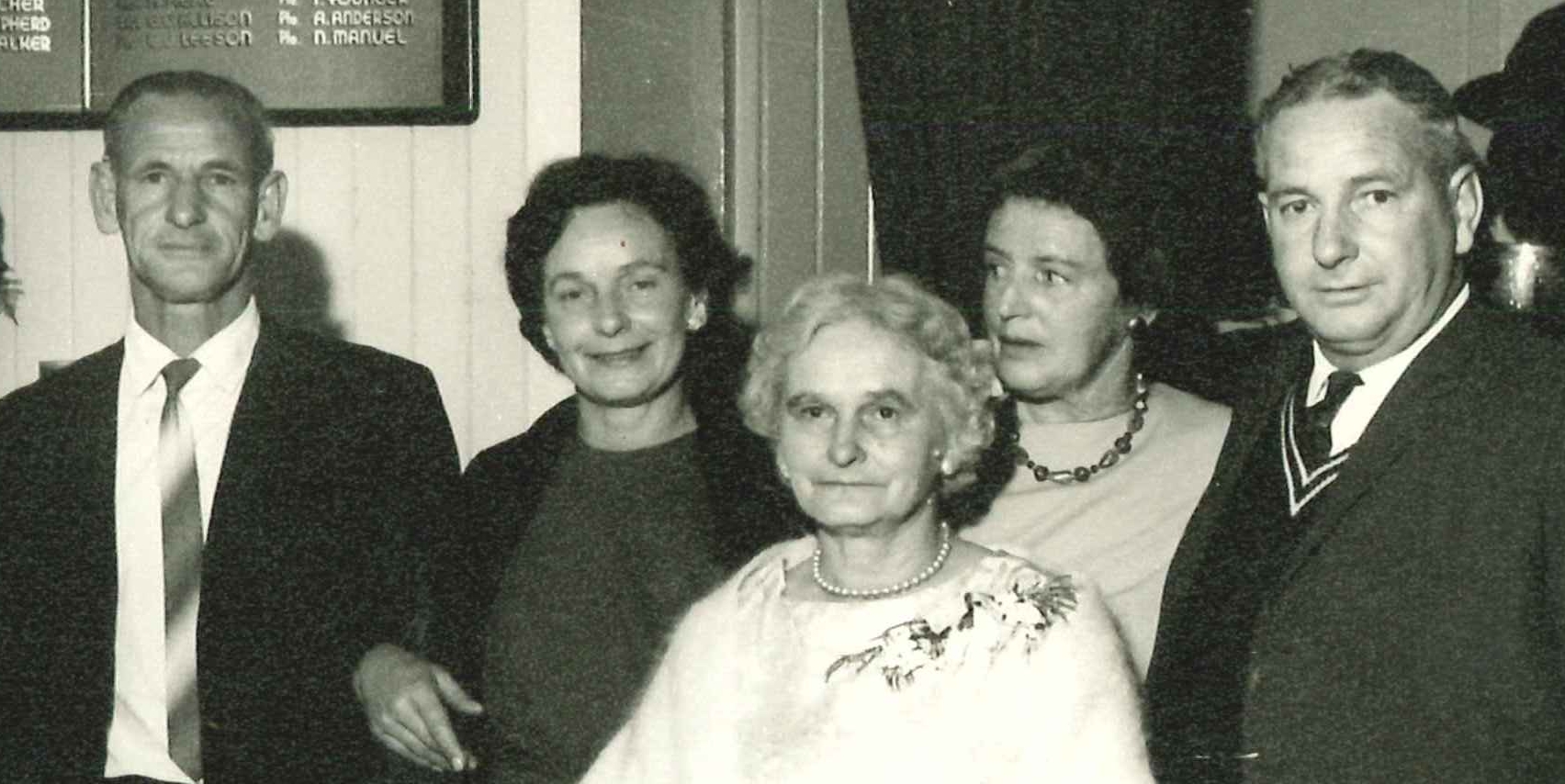 Mabel, front, with John Ryan and Myra Cocker to the left and Maude Seamark and Tom Ryan to the right.
Anyway Mum bought a lovely big new Chevrolet car and we were able to travel in style. When the war broke out, John volunteered for Overseas but was turned down because of his hearing so took on a deserted farm at Matatoki.10 It was fescue from end to end and the house had not been lived in for two years. Mum had put Tom on the Omata farm and she went with John and I. She cleaned up the house, papered the rooms, John did the ceilings, I stained floors and unearthed a metal path from the back door out to the road.
Mother worked so hard, also John, breaking in paddocks to sow grass and milk a few cows. Later on when John married [Elsie McBeth] Mum went from one family to another helping out with the children and mending. Even darning socks. She still helped anyone in trouble.
I would need to write a book to describe all the help she gave people. She helped me out a few times when I remarried and the children were born.
Life is mostly froth and bubble,
But two things stand like stone.
Kindness in another's trouble,
Courage in your own.
That helps to describe our mother.
—Mabel Autridge.
ENDNOTES:
1 - Fuchsia exorticata, the tree fuchsia or kotukutuku.
Sandra Singleton: "This tree fuchsia is common to the Stratford area, especially along stream banks, but they do grow throughout New Zealand. The native birds love the nectar of the tiny flowers. The bark is a red pappery material which peels to reveal a satin like smooth inner greenish layer. In Aunt Mabel's time, people often used a common name for plants—as they do these days—and often the Maori names were mispronounced. Around here is is still common to say 'Cawcaw' for 'Kaka.'
2 - Rubus cissoides.
Sandra Singleton: "It is a well-known vine in the bush, quite a curse as it has barbs. The Maori name for bush lawyer is tātarāmoa. It has panicles of white flowers and the berries are edible. There is also a lawyer known as Rubus australis, one of four species of bush lawyer.
3 - Sealy Road. Omata is New Plymouth's coastal neighbour to the south-west.
4 - Myra May Ryan was born in New Plymouth on 16 October 1922 and married Ronald Cocker. She died on 20 May 2013.
5 - Lillian Francis Ryan was born on 13 August 1907 and married Patrick (Des) Raill. She died on 11 January 2001.
6 - Thomas Joseph Ryan was born on 5 November 1914 and died on 25 March 2000.
7 - John Ryan was born on 22 June 1917 and died on 20 September 1979.
8 - Maude Margaret Ryan was born on 13 April 1912 and married Edgar Seamark in 1931. She died on 18 May 1979.
9 - David Francis Ryan was Mary and Martin's first child, born in Rawhitiora on 18 June 1901. He died on 31 March 1956.
10 - South-east of the Firth of Thames, on the eastern side of the Waihou river.