Can You Help?
Photographs of un-named people who could possibly have connections to one's family or friends are the bane of researchers. The older the photograph, the more frustrating, because the number of people who may recognise faces or places keeps diminishing.
On these pages we feature photographs that have baffled family genealogists. If you can recognise anyone, or any place, please contact us through the link on the home page.
Taranaki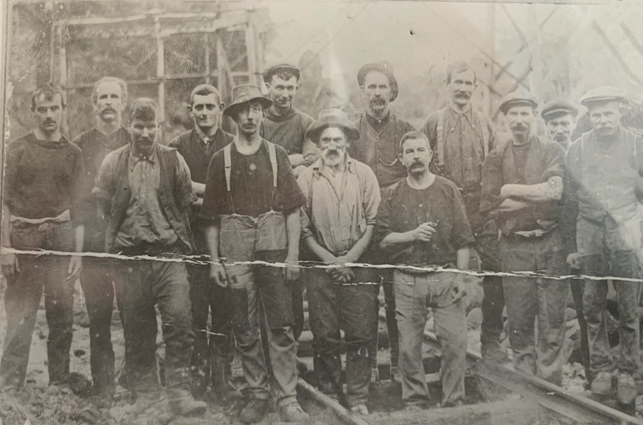 Sandra Singleton, secretary of the Polish Genealogical Society, is confident that several of these labourers are Polish, and that they were building the old Egmont Branch railway line in the early 1900s.
The line, accessed at the end of York Road in Midhirst, led to a quarry that, until the late 1920s, provided Taranaki with metal for its roads and rocks for its harbour. World War 2 instigated the line's decline, when tracks above the lower quarry were lifted and shipped to aid the allies then in the Middle East. New Zealand Railways closed the line in 1951, and it evolved into the York Road Loop Track, now managed by the Department of Conservation.
Sandra, who descends from the Crofskey (Kurowski) family, saw this photograph among others hanging in a cousin's hallway and immediately recognised her maternal grandfather, Martin Ryan, fourth from the right. Martin married her grandmother Mary Crofskey in 1900.
"I am sure that some of these men are Polish. I think it is the gang who worked up at York Road building the railway line because they are standing on the line, built to carry the timber to the mill."
_______________
Musicians
Jan Holland found this photograph during her research into her Palenski great-great-grandparents, who arrived in New Zealand on the fritz reuter in 1876. They were Henryk (32) and Augusta (31) and their children, Teodor (3) and Arnold (18 months), Jan's great-grandfather:
"This photo was in an album that belonged to my grandmother. I looked for any identifying notes but there were none. I believe the national costume is Polish.
"It is possible that it could have come from the Danish side of the family (my grandmother's husband was Danish). I don't recognise any of the people (by comparing to other photos). Here's hoping someone else may have the same photo with more details."
_______________