Bernard Payne
For 25 years, the Polish Genealogical Society of New Zealand collected stories about early Polish settlers and their descendants, and published them in bi-annual newsletters.
Members had worked together to commemorate the centenary of Polish settlers to Taranaki in 1976. That occasion was more successful than any of them had imagined—it attracted nearly 2,000 people to Inglewood—and left them feeling inspired to record their family stories.
The PGS's first newsletter appeared in 1993. Bernard Payne produced a typed document for inclusion in the second.
Ray Watembach, president of the PGS: "The centennial taught us that Poles like meeting other Poles. Bernard and his wife were looking for family, and making connections."
Ray has provided this website with the society's newsletters, to give those stories a wider platform, and perhaps encourage others to investigate their Polish roots.
Bernard Payne, like so many of us with Polish ancestry and English names, could so easily have ignored his three Polish grandparents. Instead, he delved into that parentage. He died in New Plymouth in September 2007.
Bernard's paternal grandmother, Cecylia Rogucka, arrived in Wellington in 1876 with her parents, Michael and Anna (née Dombrowska) Rogucki, brother Leon and sister Barbara. Their journey on the fritz reuter had taken 114 days. Cecylia was then 10 and her siblings four years' and 20 months' old.
Bernard's maternal great-grandparents were Anthony and Justina (née Majewska) Wodkowski, who had arrived a few months earlier, off the shakespeare. Bernard's maternal grandmother, Mary Rose, was the middle of three daughters, then aged four.
Bernard called his 1993 story The Lehrke History in New Zealand, and we are honouring that. He can explain his Lehrke connection.
—Barbara Scrivens
THE LEHRKE HISTORY IN NEW ZEALAND
by Bernard Payne
How am I related to the Lehrke family?
It all started in Prussia on 29 March 1871, when my grandmother, Marianna Rose Wodkowski, was born in Liebschau, a little village south of Danzig. [The names that the occupying German powers gave to Lubisczewo Tczewskie and Gdańsk, during the Prussian partitioning of Poland between 1795 and 1918.]
Marianna (Mary) was four years old when Anton and Justina Wodkowski sailed to New Zealand with their family of five. Mary's elder sister, Anna was 11 and Pauline (Lena) was just two. Later, Julia was born. These girls because known as "The Four Graces."
The voyage from Hamburg on the shakespeare took 15 weeks and the ship arrived in Wellington on January 23, 1876. On board were 186 adults from 'Germany,' 112 from Scandinavia, and 40 from Italy, and 55 children. Of the 'Germans,' only 23 were from Germany proper. The rest were from Prussia[n-partitioned Poland].
Two years later, the Wodkowski family arrived in New Plymouth. They landed by surf boat at Belt Road, and were housed at a former military barracks that had been turned into immigration barracks on Marsland Hill.
During her spinster days, Mary Wodkowski worked as a housemaid for hotelier James Paul. One of his daughters was later to become Mary's bridesmaid.
Grandmother told me that she truly loved a "rascal of a man" when she was a teenager but refused him because he could not offer her a home. A few years later, she met Anthony Joseph Lehrke. Anthony was a carpenter and came to New Zealand on the terpsichore in 1874. He was born in Subkau [Subkowy], 60 kilometres south of [Gdańsk] on 19 June 1869.
Wedding bells rang when he and Mary married on 30 March 1894. Eight children were born: Veronica Mary (1895), Florence Lena (1896), Eva Annie (1898), Clement Anthony (1900), Agnes Lydia (1902), Theresa Ada (1904), Louis Edgar (1906), and Vincent Cyril (1909).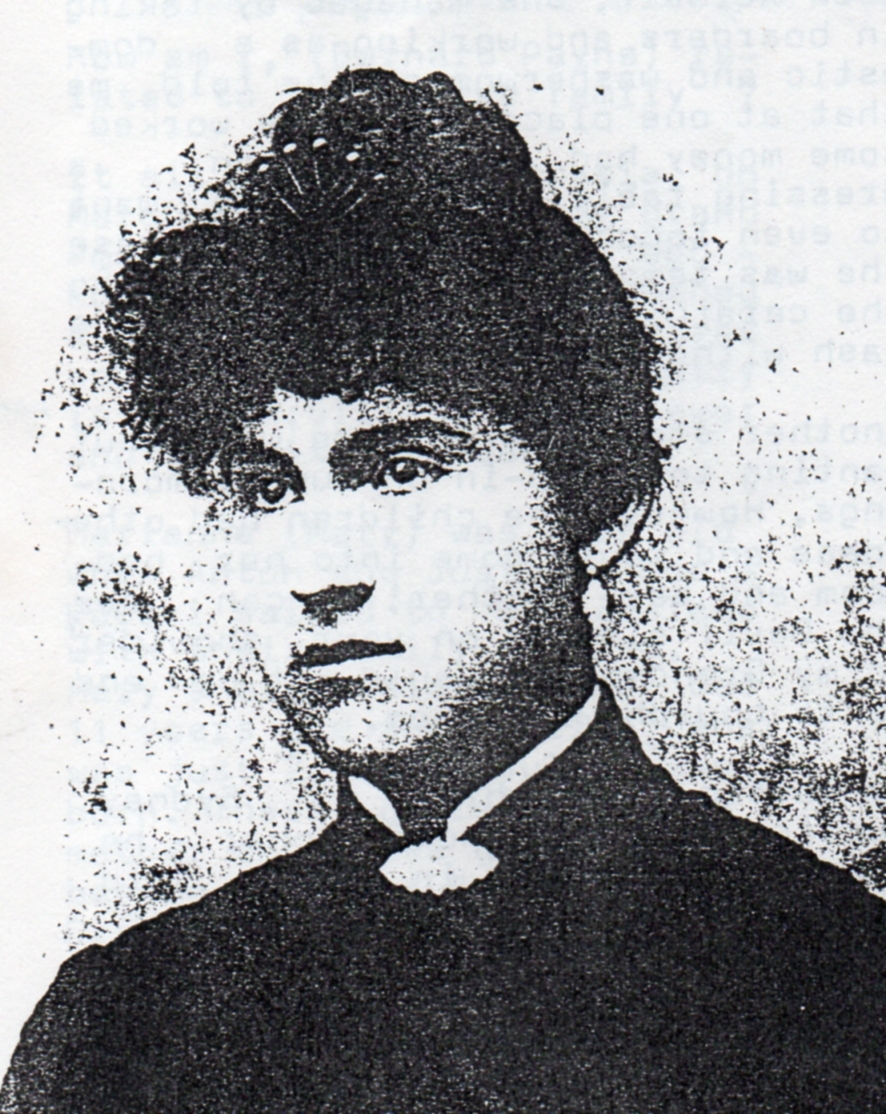 Mary Rose née Wodkowska Lehrke.
My mother, Agnes Lydia, was known as Lydia. Her godparents were Frank and Barbara (née Fabish) Bilski. The Bilski family were also on the shakespeare in 1876, when Frank was four.
Once I heard my mother say to my grandmother that I reminded her of Uncle Cyril when he was a child.
"Oh Lord no, Lydia! Cyril was such a pretty boy!" Poor me. Just as well I have a sense of humour and can laugh at this tale.
Lydia loved the countryside and as a schoolgirl during the school holidays would often visit the Bilski's family home in Inglewood. The train chugged past the many burning logs and tree stumps that is now the picturesque Taranaki pasturelands that we know so well today.
Barbara Bilski bought herself a plot on a knob in the Inglewood cemetery. She had reckoned it would give the pallbearers some exercise carting her up there, as well as making things easier for herself on Resurrection Morning, as she would be the first to rise.
On the fritz reuter, another of the sailing vessels that arrived from Hamburg, was a little girl called Cecelia Rogucki. George Payne, my grandfather, married her. Her sister Rose married [John] Dravitzki, so you see, I have good Polish "stock" on both sides of the family trees!
My mother [who married James Michael Payne in 1921] remembered the early days in the family home in Water Lane, off  Young Street in New Plymouth. People used to go there for supplies of fresh water. She remembered a circus elephant getting stuck in the stream and all the excitement as all the other elephants gathered around and pulled it out.
Cyril Lehrke was the youngest of Anthony and Mary's children. He often took part in the 100-mile cycle race around [then] Mt Egmont and won it one year. Cyril was a cabinet maker. He had a lot to do with the New Plymouth Operatic Society in a back-stage capacity.
Anthony Lehrke had a sister Dolly [Apolonia] who married Frank Dodunski. Barbara Bilski's brother Victor [Fabish] married my aunt Florence [Lehrke, in 1925] and settled in Inglewood.
Uncle Clem and my other aunts left Taranaki and made their homes elsewhere in New Zealand: Veronica in Palmerston North, Eva in Whanganui, Clem in Wellington, and Theresa in Christchurch. Louis died when he was five months old.
Musical talents came from both sides of the [Polish] family. [My grandfather] Anthony Lehrke played coronet in the Inglewood band and my great-grandfather Anton Wodkowski played the violin at social functions.
Grandfather Lehrke had bad health. He spent a lot of time in hospital, and died there [on 30 June 1945]. My grandmother Mary was left to bring up the children mostly by herself. She managed by taking in boarders, and working as a domestic and washerwoman. She told me that at one place where she worked, some money had been left on the table. Mary did not want to touch the money "in case she was tempted to steal it" so she carefully dusted around the cash without moving it.
Another story she told me was about wanting to sleep in on Sunday mornings. Her children had other ideas and would come into her bedroom and say, "Mother, we can see the devil sitting on your shoulder!"
So, my grandmother would get up and go to church with them.
My cousin Clem Lehrke, a public relations photographer who moved to Sydney in 1968, told me that our grandmother told him:
"Clemmie, when you meet a nice girl, take her home to meet your family and make sure you give her a piece of cheese and a knife. If she cuts the rind off, do not dare marry her because she is a wasteful good-for-nothing. On the other hand, if she carefully scrapes the rind off, she is very economical and will make a thrifty little wife!"
Mary neglected herself in her declining years and my mother would bring her out to our home and give her the best of farm-cooked meals. But, instead of praise, my grandmother would say, "Lydia, it's no wonder you are so poor. You're far too extravagant with meals."
Mary Rose Lehrke died on 19 July 1965, aged 94, and is buried at the Te Henui cemetery in New Plymouth.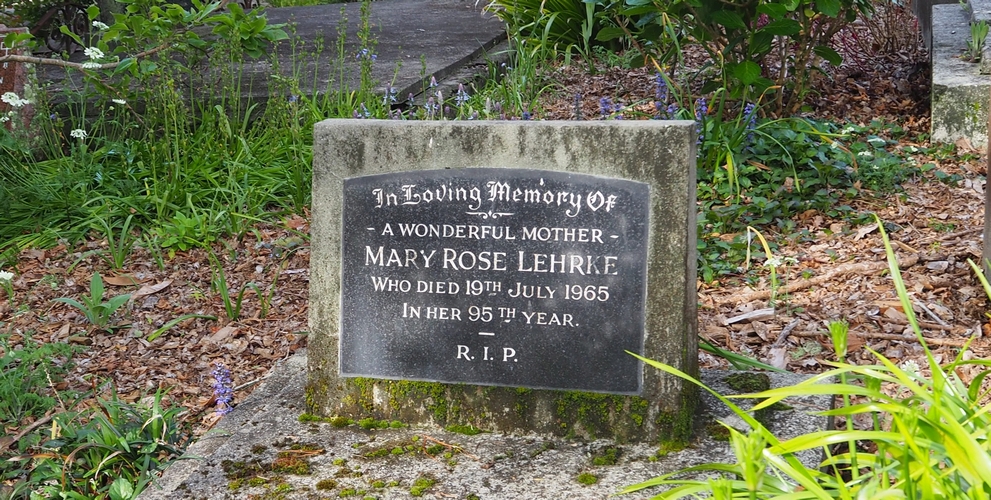 Mary Rose's sister Annie married [Benjamin] Gray [ in 1882], and was a midwife between New Plymouth and Okato. Annie died in 1949, aged 86, and is also buried at Te Henui.
My grandmother's younger sister Lena married a Berg [Lena Woodcuff married Leonard Berg in 1900], and Julie married a Duncan [Julia Woodcuff married a Harry Duncan in 1899].
At the Wodkowski family home in [Lubisczewo Tczewskie] a relative of my grandmother still lives in the family home. His Christian name is Kazimierz. He has a married son and grandchildren. However, a few kilometres away in [Subkowy], the Lehrke name has not been heard of for at least 40 years.
Note: This article was edited in July 1993 by my cousin Clem Lehrke in Sydney. He researched the information I gave him and merged it with what his father, Clement Anthony, had passed onto him. He had copies of some 1983 letters from Uncle Cyril to our cousin George Vodane (previously Vodanovich) in Hamilton. George is Aunt Eva's elder son. Another cousin, Rona Preddle, née Guard, gave Clem details about her and her husband Barry's trip to Poland in 1987 when they visited Subkau and met Kazimierz at Lubischewo.
Bernard Payne, 1993
Updated for this website February 2023