Anna Ciepielusz
Anna Ciepielusz died more than 90 years ago. Even if she were not buried in an unmarked grave in Auckland, there would be no way to distinguish Annie Main, the name she died with, as one of the Poles who arrived on the shakespeare in Wellington in January 1876. Anna had just turned 25, and was among the few single Polish women on the voyage.
Her great-granddaughter, Kay Whelan, continued the research started by her late mother, Peggy Green, who would have been 100 in 2014, and pays tribute to Anna's 50 years in New Zealand.
A WOMAN OF FORTITUDE
by Kay Whelan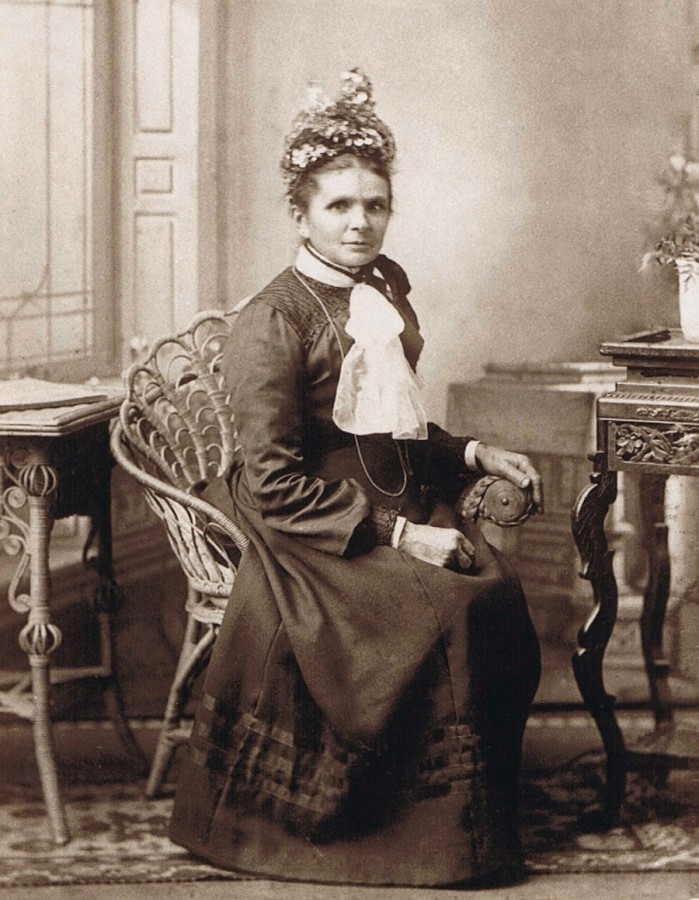 At first glance this could be a genteel lady, used to an easy life. Her hands tell a different story.
This is my proud great-grandmother, born Anna Ciepielusz, who, through sheer hard work and tenacity, rose above the poverty and adversity of her Polish childhood, and hardships as an early New Zealand immigrant, to raise five children who never went barefoot—to her a sign of poverty.
She was born on 6 January 1851 in Pionki, now Wielki Bukowiec, Poland, the daughter of Frank Ciepielusz and Anna Kolasinska, and was baptised in Czarny Las on 12 January.
Anna "Ciepieng" (shipping list spelling) arrived in New Zealand on the shakespeare, an iron hulled, fully rigged sailing ship, from Hamburg, Germany in 1876. There were 387 passengers, 51 of whom were assisted Polish immigrants, their transit arranged by agents in London for 12 shillings and sixpence each.
Passenger records showed that Anna came from Stargard in Pommerania, Prussia (now Poland). Because she was illiterate and spoke no English, the spelling of her name varied, making finding anything about her particularly difficult. The only other details known were the names of her parents, Frank and Anna, recorded on her second marriage certificate.
Bismarck was in charge of Prussia then. He hated the Poles and was anti-Catholic. Anna was both.
In 2008 a Polish genealogist was eventually able to find the place of Anna's baptism, Czarnylas, in the district of Starogard Gdanski. A local genealogy club member searched parish records there and in nearby villages. He found birth, death and marriage entries for her and her immediate family and four generations back on her mother's paternal side. (We were fortunate to go there and spend time in the area with him.)
I often thought about illiterate Anna leaving Poland and, with no phones then, having no further contact with her family. How hard that would have been, as it was for many of our forebears.
Her Polish family records told a particularly sad story: Anna was born in 1851, her father died in 1855, three siblings died in 1854, 1856 and 1858. Her mother remarried in 1857 and died in 1860. So, when she was just nine years old she had only a step-father and a sister, Julianna, aged 18.
We know nothing of what happened to Anna before she left her home for New Zealand in 1875. History tells us that Bismarck was in charge of Prussia then. He hated the Poles and was anti-Catholic. Anna was both. Hence she was one of the many Poles who emigrated from Prussian-occupied Poland, hoping for a better life. The family she created in New Zealand did not speak of her personal history and may not have even been aware of it.
There was no doctor, church or priest and not enough earnings to live decently and establish a settlement.
After arriving in Wellington the shakespeare passengers were quarantined on Somes Island due to cases of typhoid on the journey. Anna was one of 53 so-called 'German' (they were Polish) immigrants taken on the wallace to Hokitika. Most of these then sailed on the waipara to a settlement at Jackson's Bay, near Haast, a place they had not been told about and were unprepared for.
On arrival the majority refused to land after the few settlers spoke of the awful conditions. There was no doctor, church or priest and not enough earnings to live decently and establish a settlement. The country was wild-looking with huge rainfall, and the only flat area was surrounded by bush-covered mountains often with snow on them.
Parliament's hansard records an unkind discussion about these recalcitrant 'Germans' who had refused to disembark. They were eventually taken back to Hokitika, then past its gold-rush days. A Royal Commission looked into the Jackson's Bay affair and ultimately the settlement, to be called Seacombe and planned only on paper, was abandoned. (See jackson's bay 1874–1979: resolutely untamed.)
In 1878 at St Mary's Catholic Church in Hokitika, Anna, a servant, married William Pole, a butcher. This church was built in 1865, the first church completed in Westland. Sometime after the marriage, Anna became known as Annie.
Shortly after their marriage Annie and William moved to Greytown in the Wairarapa where their five children were born, Anna in 1880, Ada Catherine in 1882, Mary Ellen (Molly) in 1884, William Joseph in 1886 and Alice Veronica 1888. It was said that Annie was lonely in Hokitika and wished to move to Greytown where a number of other Polish immigrants had settled. The family lived in Humphries Street in the 1880s where this photograph of Annie was taken.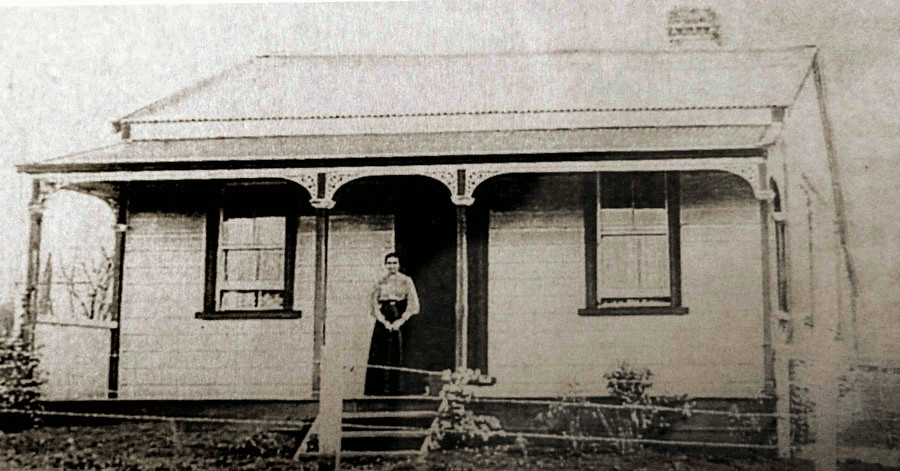 Unfortunately for Annie she had chosen to marry a remittance man from Bristol about whose ancestry nothing has been found. Remittance men were apparently trouble to their families in the UK and sent to the colonies with a monthly allowance to discourage their return. Family members remembered William going to the Post Office each month to collect his money. He was known for his excessive drinking, which became progressively worse. Their children remembered the tapping of his stick as he came to get money, and times when their mother was very upset.
Although William was a butcher by trade he later variously worked as the Greytown Borough Council inspector of nuisances and ranger, a poultry dealer, school cleaner and chimney sweep.
Much of Annie's story in Greytown, and later Mangaweka, has been gleaned from newspapers on the papers past website.1 Like Annie, her children spoke little of their difficult family life.
An article in the wanganui chronicle on 24 November 1881 describes how Annie was working near a large, open fire in their backyard when her clothes caught fire. Fortunately William was at home and put the fire out with his bare hands, which were consequently burned. She suffered severe shock and serious burns to her legs. At this time daughter Anna was about 20 months old and Annie was pregnant with their second child, Ada. No-one spoke of this and long dresses hid any scars.
The wairarapa daily times of 18 June 1885 reported Wiiliam's conviction for serious assault. Because the judge knew nothing more about him, he was fined instead of being sent to prison.
The evening post of 22 July 1886 reported William's conviction for assault after an altercation with a former employee. He was fined £2, with £2 5s costs. Earlier in the hearing a charge of arson against William's victim was dismissed. James Smith had threatened to burn down William's premises and a smouldering mattress was found in William's shed.
On 27 November 1886 both William and Annie were convicted and fined for use of abusive language.
On 13 September 1893 the wairarapa daily times published the following:
A WIFE BEATER.
Greytown, Wednesday.
In the R.M.[Resident Magistrate's] Court today, before Messrs Hornblow and Price, J.P.s, Annie Pole charged William Pole, her husband, on two informations, with committing an unprovoked assault on her. On the first charge Pole was sentenced to 14 days in the Wellington gaol, and bound over to keep the peace for twelve months. On the second charge he was sentenced to 14 days, to run concurrently with the first sentence.
A brave thing for Annie to do in those days! The next day the wairarapa daily times gave a detailed description of the serious assault.
Mrs Pole, the complainant in the Greytown assault case, who appeared in Court with her face badly bruised, deposed that on Saturday, September 2nd, at about 5 o'clock, she had a discussion with her husband about some accounts which he said had been settled. After growling some time he struck her in the eye with his elbow, he afterwards took her by the throat while she was scraping a meat dish, and she in self-defence, struck him in the face with the handle of the knife. He afterwards knocked her down near the fireplace, struck her while she was down, spat in her face, and threatened to put her on the fire. He often threatened to do that, and she was afraid of her life with him. She pushed him off after some time, and afterwards she went out on the verandah, when he came slyly behind her and struck her on the eye again. He was swearing and cursing "like blazes." These assaults continued at intervals all the evening, and he was swearing all the time. The defendant, who did not even trouble to put in an appearance, was sentenced to 14 days hard labor [sic], as reported by us yesterday. Mr J. B. Wither appeared for the complainant.
What an awful situation for Annie. At that time her children were aged 13, 11, 10, seven and five. Little wonder she was determined to support her family without William and had begun keeping a boarding house. The wellington almanac for Greytown first recorded boarding house in the Pole name in 1892.
In about 1895 Annie moved to a larger establishment, described in a local Greytown newspaper advertisement in 1896 as the:
'Duke of Argyle' Boardinghouse and Dining rooms, Main St, Greytown. This establishment contains comfortable bedrooms, and sitting-rooms, and a dining-room seated for fifteen persons. The terms are very reasonable.
A rival was offering meals for sixpence. (Note: Annie didn't learn to read and write until in her sixties.)
On 3 November 1897 the evening post reported:
Shortly after 2 a.m. a fire broke out in the Duke of Argyle boarding house, of ten rooms, owned and occupied by Mrs. Pole. A very small portion of the boarding house was saved, but the brigade prevented the extension of the fire to other buildings. The fire commenced in the sitting-room, but its cause is unknown. The building is insured in the Liverpool, London, and Globe office for £250.
Earlier that same year the building had suffered water damage from efforts to fight a large fire that demolished other buildings nearby.
After reporting in January 1898 that she was having her boarding house repaired, the wairarapa daily times noted on 5 May 1898 that: "Mrs Pole and family have left Greytown to try their fortunes in 'fresh fields.'" Annie and her children moved to Mangaweka. No mention is made of William although he was recorded on the electoral roll as a butcher in Mangaweka in 1905–6 and in Feilding in 1911.
Mangaweka was a thriving town from where the main trunk railway line and viaducts were being built. The need for boarding houses for the men working there was considerable so Annie had one built. The wanganui chronicle on 5 December 1898 reported the establishment's completion in Main Street.
A Certificate of Title shows Annie bought land on the corner of Main and Banks Streets in July 1902. The Mangaweka correspondent for the manawatu times on 21 September 1903 wrote:
On more than one occasion, l have referred to the number of residences, etc, which are being erected in different parts of the township, but the most noticeable and up-to-date building is undoubtedly the handsome two-storied private boarding-house of Mrs Pole. This structure is now out of the builders hands and a better finished and more comfortable hostelry would be difficult to find in any large centre.
Annie's second boarding house was the largest building in Mangaweka.
Business may have been booming but Annie's personal relationships were difficult. Her daughters had to forgo careers and stay home to help in the boarding houses. Her daughter Anna married in 1898, Ada stopped studying to be a doctor and married in 1904. Molly married in 1907, William and Alice in 1912. Like many pioneer women, Annie was determined, tough and very hard working. William moved to Feilding at some stage after 1905, no doubt a relief for the family.
In 1906 Annie's first boarding house was sold to a Mr Stephenson who simultaneously sold his nearby Ruahine property to Annie. An advertisement in the wanganui chronicle on 11 December 1906 read:
Evidently they do not allow the grass to grow under their feet in Mangaweka. Officer and Co.'s reports of land sales are something astonishing. During the past month they have sold: — Ward to Midford 830 acres, Seaton to Hullton 1300 acres, White to Georgetti 407 acres, Annie Pole to Stephenson one freehold boarding house, section, plant, and goodwill (one of the best houses in town); Stephenson to Pole, dairy farm (a first-class property)…
The Ruahine property was a few acres alongside the Ruahine Hall and Annie milked some cows. In October 1907 she wrote to the Kiwitea County Council asking it to "metal a strip of road which runs past her place." The council concluded this was "a private road over which the Council has no control." The national postal register, wise's new zealand directory, in 1908–9 lists Annie Pole as "dairy farmer, Ruahine." (Nothing is left of Ruahine now.)
William died in Palmerston North Hospital on 16 January 1911 and was buried in an unmarked grave. Annie was free of him at last.
The marriage was short-lived and he took with him most of the money she had saved…
John Main, an English widower and itinerant worker, came into Annie's later life in Mangaweka. He was known locally as "a bit of a waster." She moved to Auckland with him and they married in the Church of the Sacred Heart, Ponsonby, on 22 November 1911, she aged 60 and he 52. They lived in Howick. The marriage was short-lived and he took with him most of the money she had saved (as the family suspected he would). A newspaper description of Alice's wedding in 1912 described her as the daughter of Mrs Main, Pukekohe. Annie was not recorded in the attendees.
Annie continued to own the two-storey boarding house until 1909 when daughter Molly's husband, local farmer John Green, bought it. She bought it back from him in 1912. This was after William's death so she may have sold the property to John knowing William could contest her will if he was not adequately provided for. Annie leased the boarding house to William Hounslow in 1914, the year she was on the electoral roll living in Mangaweka. Apparently she learned to read and write during this time. Matt Green, Molly and John's son, born in 1908, remembered sharing his primer books with his grandmother, whom he described as "a little lady in a long black dress with rosary beads hanging from her waist."
In 1915 there was another fire. The evening post reported:
BOARDING-HOUSE BURNED DOWN:
A 25-roomed boardinghouse, occupied by W. Hounslow and owned by Mrs. Main, was destroyed by fire shortly before midnight last night. Nothing was saved, the occupants escaping with the clothes they had on. Insurances on the building, £500 in the Guardian office, on the furniture, £250 in the State Fire Office. Hounslow also had £160 on the furniture in the Guardian office.
At least Annie now had some money from the insurance. She sold the land in 1921.
Somewhat estranged from her family, Annie eventually became a housekeeper for some Roman Catholic priests in Auckland. She died of heart failure on 9 May 1925, alone in a bedsit, alone again, as young Anna was when she left Prussia 50 years previously.
A death notice was published in the new zealand herald:
MAIN On May 10, 1925 at 68 Cook Street, Mrs. Annie Main; aged 74 years. – R. I. P. Funeral from Messrs. C. Little and Sons, Hobson Street at 2.30 p.m. to-morrow (Wednesday).
In a final twist to the story, when daughters Anna, Ada and Alice discovered she had left some of her money and possessions to the Catholic Church, spirited like their mother, they headed for Auckland, by coach from the King Country and steamer from Taranaki. They were convinced Annie had been unduly influenced during her time alone in the city and remembered the many years they had worked in her boarding houses. They met with the Bishop of Auckland at his residence in Ponsonby and an agreement was reached.
Polish Anna had a tough beginning in Prussia and a different kind of tough life in New Zealand, as many immigrants did then and still do today. However, she was resolute and shrewd, raising five children who never had to go barefoot. Her four daughters all married farmers in Taranaki and the central North Island and her son farmed in Northland.
She has descendants who appreciate her drive towards a better life and her significant contribution to our family story.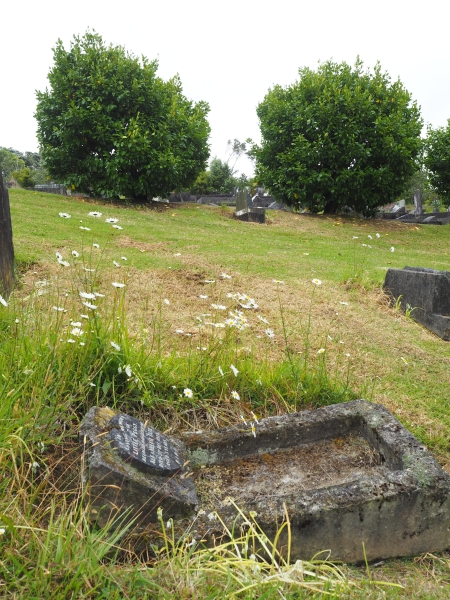 According to the Hillsborough cemetery records, graves without stones were not recorded and Anna's was one of only two in Row 31, her inscription: "In Loving Memory of Annie Main, died 10 May 1925 aged 74 years. RIP." The Auckland Council told Kay that the grave slipped down the steep hill and was covered with blackberry.
Here is the grave of the only other recorded person in Row 31: three-year-old Peggy Tate, this photograph taken along the empty row towards the top path.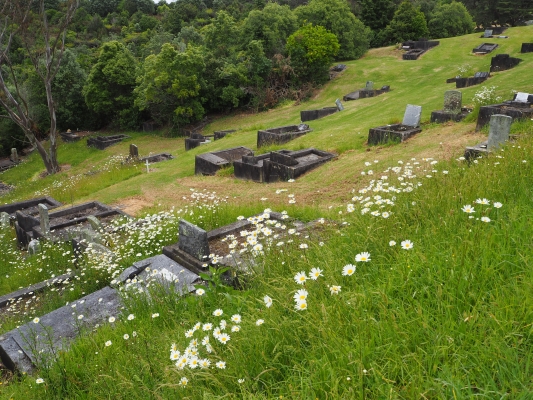 This photograph looks towards the mown section of Row 31 in the other direction. The daisies next to Peggy's grave are just visible on the right hand side about a quarter of the way down.
© Kay Whelan, 2015
Updated December 2017
BOTH PHOTOGRAPHS OF ANNA ARE FROM THE WHELAN COLLECTION. THE ONES IN HILLSBOROUGH CEMETERY BY BARBARA SCRIVENS.
ENDNOTE:
Papers Past is connected with the National Library of New Zealand and found through:
http://paperspast.natlib.govt.nz/cgi-bin/paperspast.