Marshland

Over thousands of years it slowly inhaled a forest and covered the evidence with flax, reeds and grasses light enough to survive among its boggy pools.

Early Maori respected the swamp's hunger. They harvested the flora and fauna but avoided crossing it directly, skirting the higher inland edges when they needed to travel north or south along this part of Canterbury's coastal lowlands.

The swamp emerged from its specific geographical position within that coastline: The Banks Peninsula to the south of Christchurch trapped the fine sand and silt brought down the Southern Alps by the Waimakariri river about 20 kilometres north of the city.

Over the years floods, currents and tides moved the mountainous sediment and detritus and covered sand dunes. Tidal flats emerged, then peat-bogs resting on clay "stretch[ed] out as tongues into the swamp and sandhill complex" 1 and created the future Marshland.

By the time the first four ships carrying British settlers arrived in 1850, the sand dunes parallel to the Christchurch coast ran higher than the peat-swamps they contained.

The new arrivals, who disembarked at Christchurch's port, Lyttelton, on the northern edge of the Banks Peninsula, had little interest in the swamp but once the city grew, speculators saw potential in an area close to a ready and growing market.

The swamp resisted being tamed.

Every description of Marshland in the 1870s and 1880s has a similar version of the same story—human beings pitched against an unknown and unrelenting environment.

The first group of Polish settlers to New Zealand came off the friedeburg in Lyttelton in 1872, but did not get to Marshland until 1874. Other Poles, off other ships, joined them.

We have compiled the accompanying list of the Marshland Poles through their names being mentioned in various publications and family stories. If anyone would like to contribute a name, or clarify an entry, please get in touch with us through our home page. A list of the Poles aboard the friedeburg is included in polish anchors 1872–1876 on this page.

As usual with Polish names, anglicised spellings can vary considerably. In this suburb, too, street names changed, sometimes more than once. We have used the Christchurch City Libraries' list of current street names, and their histories.2 Most have lost the possessive punctuation that we have retained in quotations or mentions in the earliest years.
—Barbara Scrivens
May 2017
THE PLACE WHERE FLAX GROWS PROFUSELY
by Barbara Scrivens
Although Marshland be a swampy place,
And in it stumpy ground,
Men of understanding good,
Are therein to be found.3
"Men of understanding good" understates the mettle of Marshland's pioneers who, when they first took on leases for the boggy land in the 1870s, did not know its power to drown horses, cattle and sheep—or the unwary human.
The flax and reeds growing through the pools of water hid an underground secret that would have broken most men:
As the land drained, it lowered and exposed buried kahikatea (Dacrycarpus dacrydioides), mataī (Prumnopitys taxifolia), ribbonwood (Plagianthus regius) and an occasional totara (Podocarpus totara). Semi-petrified mānuka (Leptospermum scoparium) lay a metre below the surface. Prior to Maori arrival the area had already become so swampy that "even trees like the White-pine [kahikatea] could not maintain themselves in the presence of so much water." 4
"The early settlers who blazed the trail were men and women of stout heart and great willpower… people of grit and ambition… They endured hardships, lived humble, simple lives… they kept plodding on until the land produced some crop, and as the years passed by, they kept progressing and improving their positions… what a transformation… in the appearance of the district after ten and twenty years of pioneering work." 5
The above are the words of Wilfred John Walter, whose family moved to Marshland in June 1882 when he was four. He devoted his life to local politics and wrote a memoir of Marshland's beginnings. He named 112 families, besides his own, who settled, worked, and moved around the area as they first leased, then bought, land as it became available freehold. His own memoir does not seem to be dated but from 1937 to when he died in 1946, he interviewed 10 children of the first settlers.
His papers are held at the Christchurch City Archives. They include parts of a study dated December 1939, acknowledged as the work of a "young teacher who started this thesis in the 1930s… killed in World War II." It is not clear whether Wilfred Walter and Hywel Wynn Hughes ever met, or whether Hughes' work encouraged Walter to put a human face to Hughes' descriptions.
The new zealand gazette April 1940 supplement listed Hughes as holding a primary school teacher's certificate, with a grading of A, meaning that he qualified as an assistant teacher or training-college student whose course ended December 31, 1939. He had been assigned to teach in a "Native" school.6
(Hughes never got the chance to follow-up on his work in Marshland. He joined the New Zealand Division of the Royal Navy on 18 December 1940, shipped out on the ss rimutaka, aged 22, as part of New Zealand's Scheme B for tertiary-educated men to be trained as officers. Temporary Sub-Lieutenant Hywel Wynn Hughes was declared missing presumed dead after his motor torpedo boat, MTB308, was sunk by Italians in the Mediterranean on 14 September 1942.) 7
When Walter spoke of the "early settlers" he was not referring to the speculators who first laid claim on the land in the 1850s and 1860s, but the families like his own, many of whom had arrived in New Zealand as farm labourers, carpenters, blacksmiths and domestic servants.
"The land was really the remains of a dead forest. So dense were the stumps that it was impossible to plough the soil without first stumping the land, and it was a sight to see the big stacks of timber… used as firewood and for fencing posts. Some logs lying on the surface measured as long as 40 feet." 8
In his thesis, marshland: a social survey of a new zealand rural community, Hywel Hughes postulated what Christchurch's 1850 settlers may have thought of the "extensive low lying swamp area broken only by an occasional marine dune… an abode fit only for the bittern." 9
"Compared with the fertility of the rolling plains which stretched westwards to the lofty foot hills of the Southern Alps a waste of impenetrable swamp and shifting dunes could have held little attraction… as far as the possibilities of settlement were concerned. The only means of crossing the swamp would be to follow one of the higher sand dunes which lie parallel with the sea and the very nature of those would make transport and in fact any movement at all, laborious if not difficult." 10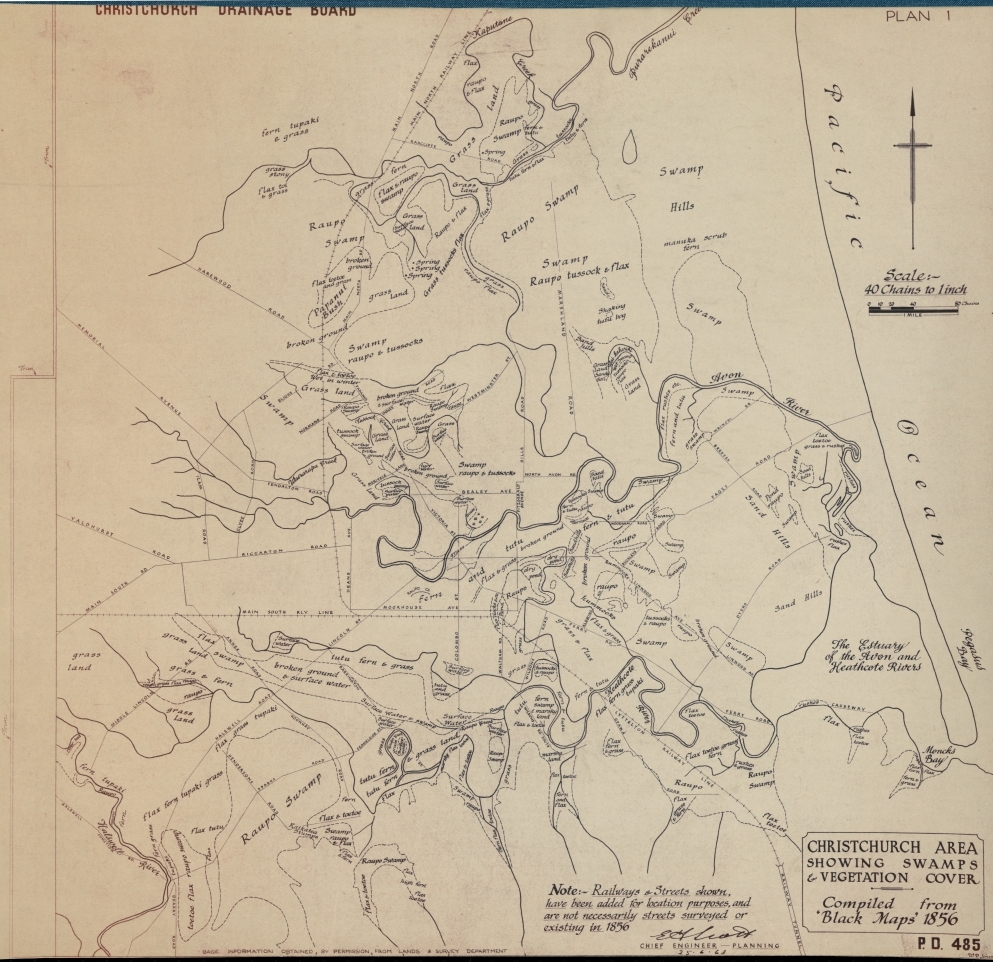 Christchurch's Chief Engineer, Planning, noted in 1963 that railways and streets had been added to this 1856 map, showing Christchurch's swamps and vegetation and originally compiled by Ken Silby for the Christchurch Drainage Board. Below is a close-up of the large raupou swamp in the upper middle that became Marshland. Marshland Road runs straight through the middle, from an Avon river tributary in Shirley to the south towards the "Purarekanui [Puharakekenui] Creek" (Styx River) in the north. The beginning of the dog-leg on Hills Road, then south-west of Marshland Road, eventually extended to form the western boundary of the swamp.11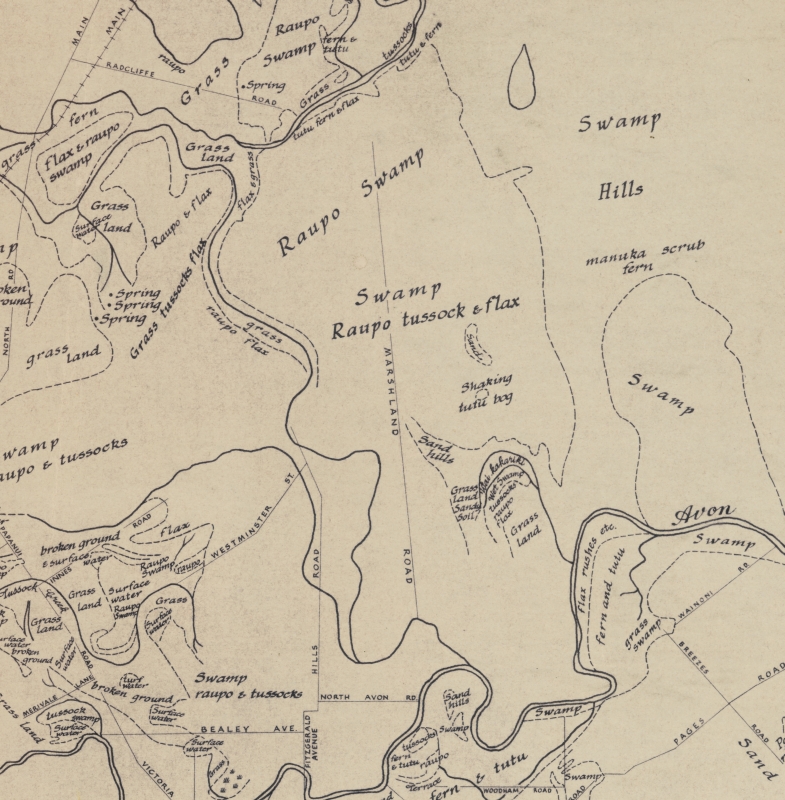 GNS Science, commissioned by Environment Canterbury in 2007, used the 1856 map in their analysis of Christchurch's surface features before urbanisation. The future city's "wet features" covered slightly more than its "dry features," 130 as opposed to 127 square kilometres, with swamp land contributing 54 square kilometres of the "wet." 12
Maori used the Marshland swamp as a source of flax, wild fowl such as swamp hens and ducks, eels and, near the sea, whitebait,13 but did not settle there, so what made Christchurch's British forefathers decide that colonial settlers could tame land that the Maori used only as a source of food and clothing?
The first Europeans saw Maori camping on the corner of Canal Reserve (now Marshland Road) and Hawken's (now Hawkins) Road and catching "large hauls of eels" in the Styx river. The Maori left via the old terraced inland track that became Hawken's and Hill's Roads and avoided the Canal Reserve, then "impossible" to negotiate thanks to bogs, springs and flax.14
That inland track followed Marshland's highest contours and its highest point, 17 metres above sea level, on the corner of Hills and Prestons Roads. The swamp between the track and the sand dunes averaged four metres.
Marshland lay only 10 kilometres from an expanding Christchurch. As the families from the 1850s' first four ships15 grew, and other immigrants followed, so did the market for food. Ten years later speculators explored the possibility of draining the swamp and making use of it as agricultural land.
What was that land worth? Who would buy a swamp?
_______________
The 1850 settlers had been specially recruited by the Canterbury Association to establish an Anglican Church in New Zealand. Hughes described their settlement as the "best example of an existing expression of the Wakefield doctrine," which was against selling any land cheaply and against what Wakefield called "the squatting system which permitted the renting of large areas cheaply for grazing stock on native pastures." 16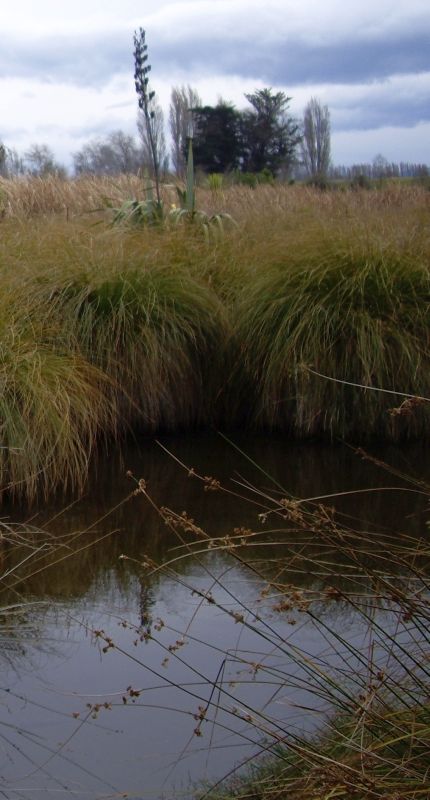 Edward Gibbon Wakefield had been 'buying' and selling land to colonial settlers since 1840. He developed a notion that immigrants without prior capital should not become "instant" landowners. "Sufficient price" became the bar used to decide the value of colonial "waste" land: It was meant to restrict the sale of land, prevent mere labourers from becoming "proprietors" and lead to greater numbers of those labourers immigrating to the colonies "free of charge." 17
The Canterbury Association, under its leader and founder of the Canterbury settlement, John Robert Godley, followed Wakefield's doctrine and its regulations on the sale of land and believed Canterbury's 1850 immigrants "ensured" that "men of capital" would "form an aristocracy" and leave labourers to work to save to buy "small parcels" of land.18
Wakefield's "men of capital," however, were reluctant to part with their money. After a year they had contributed only ₤50,000 of the expected ₤500,000. This led directly to a lack of funding for "most necessary public works." 19
Initially land cost ₤3 an acre, apparently whether it was in Lyttelton, the Banks Peninsula, the Canterbury foothills—or the coastal swamp.
The swamp land inevitably lagged behind the rest of Christchurch's development, although Canal Reserve between the Avon and Styx rivers became part of the flat, water-logged city's early plans to develop a canal transport system based on England's. (The canal link soon gave way to other means of transport when the depth of water decreased with the draining.)
In an attempt to boost growth in the region and entice "men of capital" to stay, Godley—who left New Zealand in December 1853—altered the land policy to allow Christchurch's "waste" lands to be taken up in "Class III runs" from 5,000 to 50,000 acres.20
A person applied at the Land Office. If there was no prior claim, the Land Waste Board would allow that person the use of the "run" for a farthing an acre for the first two years, a half–penny for the next two years and three farthings for the subsequent years. That person had six months to stock it, meet the conditions and retain a pre-emptive right to buy the property.21
Although Marshland's swamp discouraged potential freeholders willing to pay the ₤3 an acre, speculators were further encouraged by a clause that permitted the leasehold of five acres of pastoral land for every acre of freehold.22
In 1852 a "dairy station," set up on two runs between the southern Canal Reserve and Avon river, started supplying Christchurch with milk. Marshland's first two runs on either side of Canal Reserve Road were bought in 1853 by a Doctor Moore, who took up Sand Hills on the eastern seaward side, and in January 1854 by Charles Fooks on the western.23
By 1863, the 600 acres of Fooks' run contained in the swamp remained in leasehold. Hughes had the impression that although Sand Hills was also worked as a dairy station soon after occupation, neither Moore nor Fooks had interest in the runs themselves. Only after the swamp's sub-division years later did "men who knew how to work the land" see the possibilities of drainage and began to transform it into intensive cultivation.24
Robert Heaton Rhodes senior bought much of Fooks' run in 1869, five years after a man called Reece bought up the swampiest ground in the Sand Hills run. The two areas became known as Rhodes' Swamp and Reece's Swamp, which took until 1879 to be fully sold.25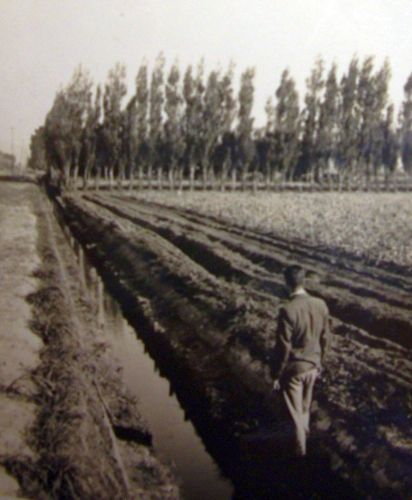 The Drainage Board's No. 1 Drain in 1939, along what had by then become Marshland Road. The water ran south into Horseshoe Lake. Hughes noted the lack of fencing in the area and shelter belts, usually poplars, trimmed for maximum sunlight.26 Could the young man with his back turned to the camera be Hughes' way of leaving something of himself within his thesis?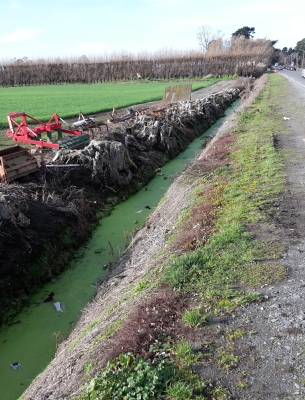 Open drains along roads are still very much a part of the Marshland landscape, this one along Mairehau Road (formerly named Cemetery, then Reeves roads).
_______________
In 1874 Reece "discovered the whereabouts of a number of immigrants" 27 at Holmes Bay on the Banks Peninsula. Had he decided that possibly desperate new settlers may be enticed to drain his land, and specifically looked for such people?
Hughes wrote of "several large families of Poles… engaged in seasonal labour." 28 Most of these families arrived in Lyttelton via the friedeburg in August 1872. The single women apparently found work easily but family groups struggled to gain employment.
The "balance of the immigrants" from the friedeburg was "moving somewhat slowly," reported the star on 18 September 1872.29 They seem to have been left to fend for themselves. The new zealand herald reported on 4 November 1875:
Some of the foreign immigrants by the Friedeburg have not met with much success in finding employment (says the Hawke's Bay Telegraph). Two men have travelled from Napier to Wairarapa and back again, and failed to get work. If the men were in earnest in their endeavour to get a living we can only attribute their want of success to their ignorance of the English language.30
Cocksfoot grass seed harvesting on the Banks Peninsula provided lucrative employment so this may have been the "seasonal labour" to which Hughes was referring. By sea, Lyttelton harbour to Holmes Bay directly, or via Purau, was a feasible and relatively short journey in those days.
Whatever the Poles understood of Reece's offer, it led to several Polish families moving to Reece's Swamp and Rhodes' Swamp, and staying. Perhaps they decided that despite the challenges the land presented, and its austerity, they were more in control of their lives than they would ever have been had they remained in their Prussian-partitioned homeland.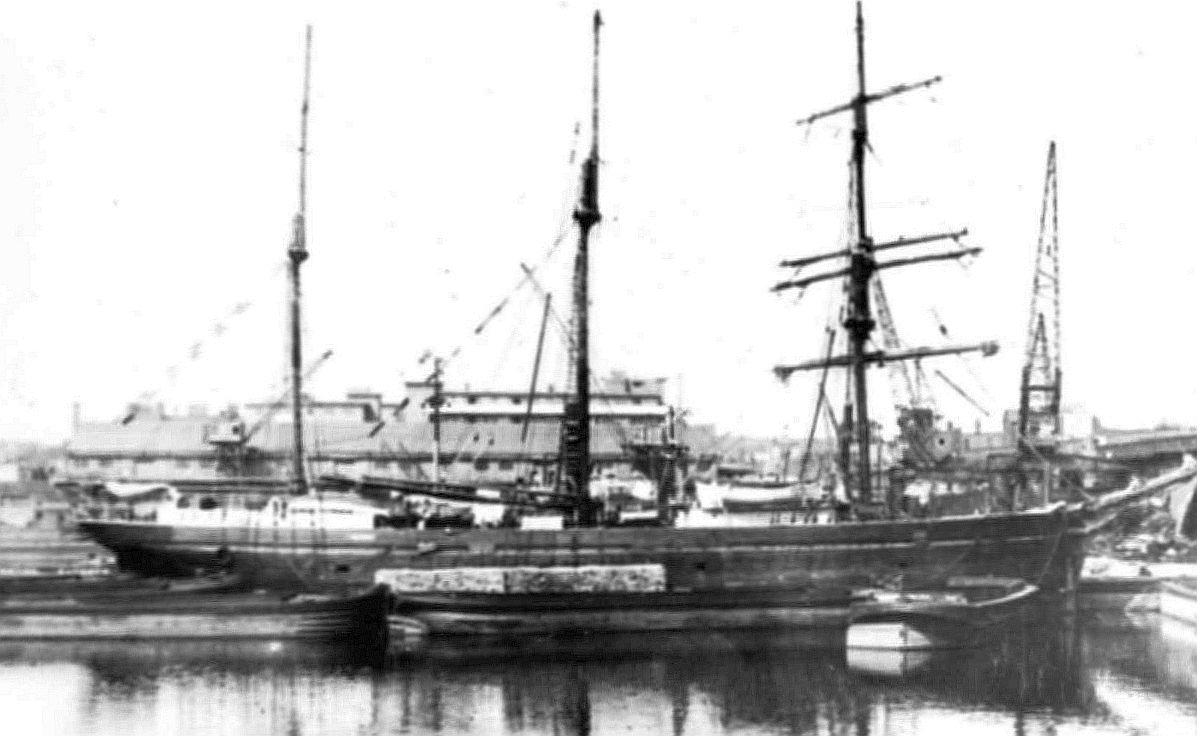 This image has been touted as that of the friedeburg but its provenance is not clear. The friedeburg was a three-masted 784-ton bark that sailed from Hamburg on 19 May 1872 and landed in Lyttelton with 241 statute adults. (Children younger than 12 were classified as half an adult and babies as "souls.")
Hughes mentions Schimanski (Szymański), Boloski, Rogal and Gearshearski (Gierszewski) as among the first Poles in Marshland, Gottermeyer and Lange among the first Germans and Morton, Dunlop and Walter as among the first English.
Other Poles joined the friedeburg ones, often through family members sponsoring those still in Prussian-partitioned Poland.
Carl Rogal, his wife, Anna, and infant son, Józef, arrived in Wellington on the cartvale on 11 October 1874. The same ship listed three other Polish groups: the Borkowski family of two parents and five children; the Rhock (Roda-Rhode-Rohda-Rhock-Rhoda) family of four adults and three children and the Soukonesky family of three. All settled in Marshland.
The latter were actually the Suchomski family, but versions of their name include Suhomski, which they adopted, Sokonieski, Schomski, Schowski and Swamski.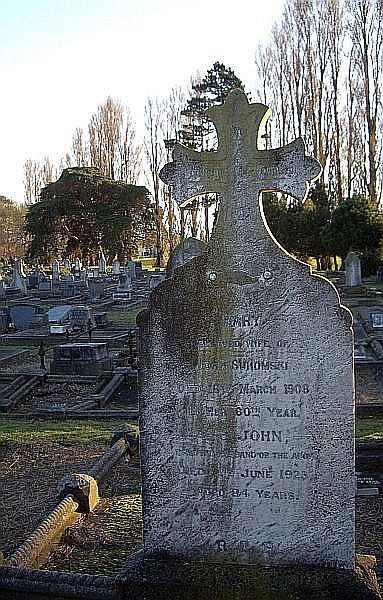 Carl Suhomski was three when he arrived in Wellington with his parents, John and Mary, and 22 when he and his father, both farmers, became naturalised New Zealanders in Marshland in 1893, the same year Mary Suchomski put her name down for the first-ever electoral roll for women. The Suhomskis had at least two more children in Marshland. Mary died in 1908, aged 59, which spared her from the embarrassment of being placed on New Zealand's 1917 aliens register. John died in 1923, aged 84. John and Mary are among the many Poles interred at the Linwood cemetery in Christchurch.h-1
There is no doubt that Albert Watembach invited the Rhoda and Suhomski families. Albert Watembach's wife, Katarzyna, was Mrs Mariane (Mary) Suhomska's and Albert Rhoda's older sister. All came from the same area of Czersk in Prussian-occupied north-western Poland.
Mateusz Schimanski encouraged both his brothers to immigrate to New Zealand. In New Zealand records his anglicised Christian name is spelt both Mathew and Matthew. His headstone at Christchurch's Linwood cemetery says Mathew. His older brother, Walentyn, 28, arrived in Port Chalmers on the palmerston in December 1872 but seems to have disappeared from records. The palmerston passenger list spelt his name Valentin Trymansky. Christopher, two years older than Mateusz, brought his family to New Zealand in 1883, via London and the firth of forth, and became another Marshland pioneer.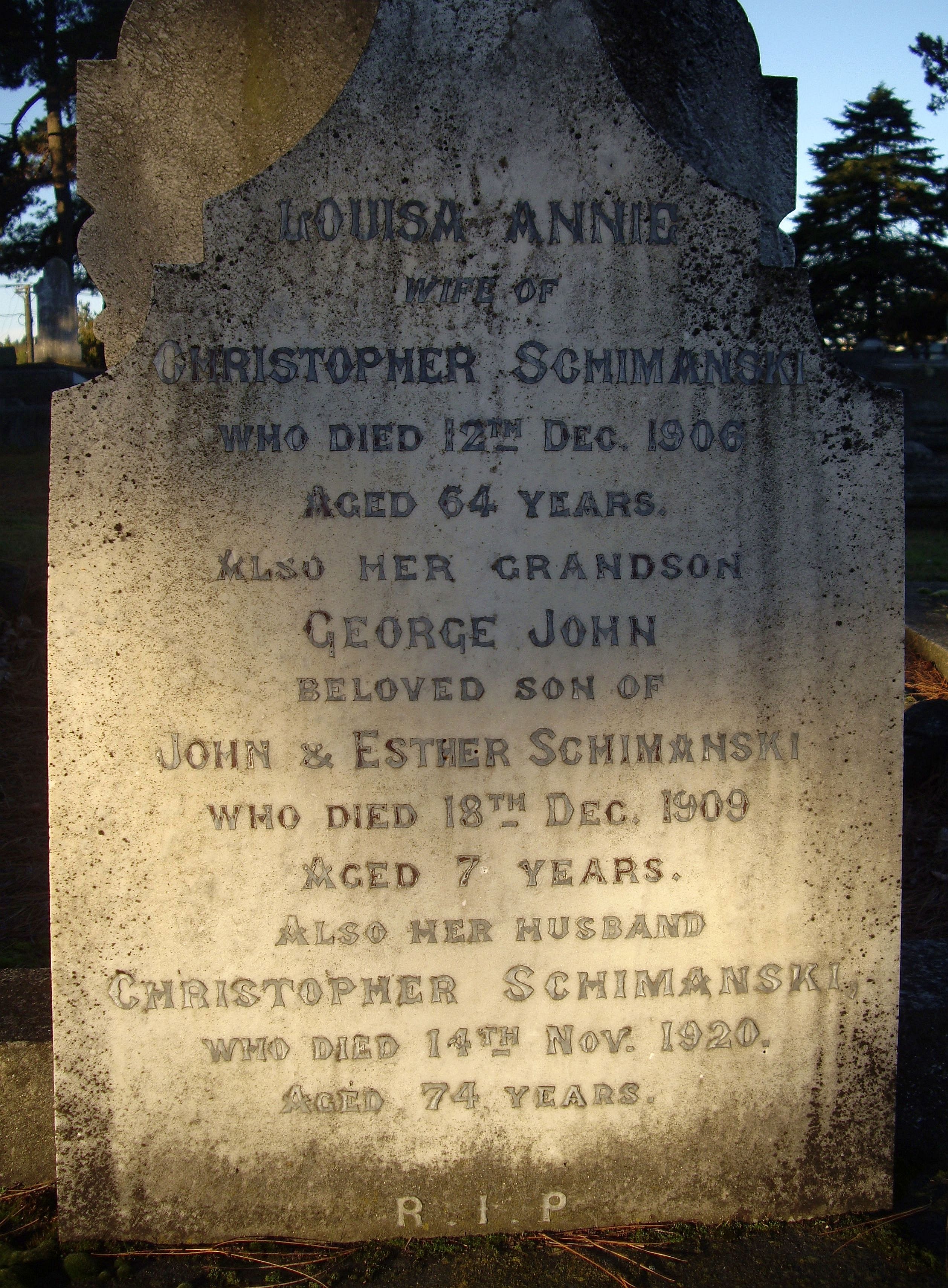 The last rays of a July afternoon catch Christopher and Louisa Schimanski's headstone in the Linwood cemetery, Christchurch. If their son, John, was full-term when born at sea in December 1882, Louisa, would have been seven months' pregnant when she boarded the firth of forth in London for the 88-day journey. She and Christopher share their grave with their grandson George John, who died aged seven. They lived out their lives in Marshland, close to Christoper's brother, Mathew, and their extended families. Christopher was naturalised in Bottle Lake in 1887, occupation: farmer.h-2
Jan/ Johann/ John Gierszewski arrived via the friedeburg with his wife, Rosalia, son Simon (7) and daughter Anna (18 months) under the misspelt surname Georgewski. Jan encouraged his brother, Michał, to join them. Michał and his wife, Katarzyna, had the added motivation of two sons destined for the dreaded Prussian army in which Jan and Michał had already served, and left their home in Czersk with Katarzyna's brother, Walentyn Cieszanowski, and his wife, Anna. Both men were tailors, trained by Katarzyna and Walentyn's father, also Walentyn.
The two families were persuaded to travel instead to Australia. They are both listed on the humboldt passenger list, leaving "Hamburgh" on 30 June 1873 and arriving in Maryborough, Queensland, on 29 October. The Cieszanowski surname became Czrezanowski and the Gierszewski, Gerschefske. Michał and his family received "free" passage and Walentyn and Anna "assisted" passage.


Officially, one 25-year-old woman, 15 children aged between two nine, and six babies died. The records show those 22 as 8½ "statute adults." 31
However, Michał and Katarzyna's sons, Jan (8) and Leonard (4) also died on the journey. Gierszewski descendant, Margaret Copland: "The boat was crowded and dirty. As the ship neared the tropics one family of children became sick with a high fever… The fever passed from child to child. Every few days a child would recover or a child would die…" 32
By 1876 Michał and Walentyn had brought their families to Marshland, but Walentyn (by then Valentine Kiesanowski) decided to settle in the more prosperous Thames to follow his trade. From October 1876 to December 1878 more than 300 large advertisements appeared first in the thames advertiser, then in the thames star: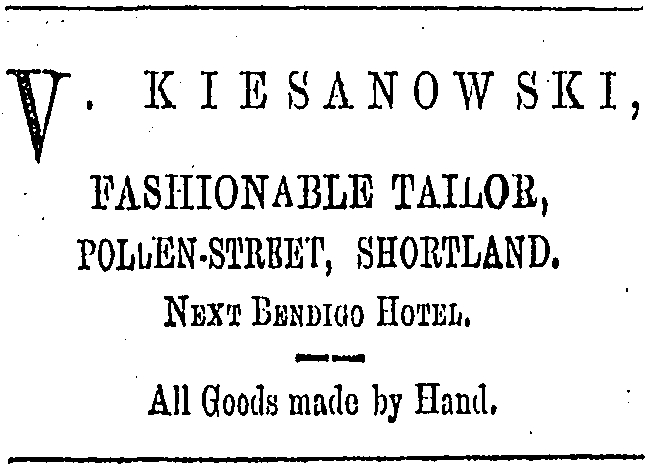 One-line lower-case advertisements under "Tailors" replaced these, then tailed off and completely disappeared for a few years.
"V KIESANOWSKI, TAILOR… ALL KINDS OF WORK executed on the shortest notice, on the most reasonable terms" returned in large form in December 1884. His last message on 31 August 1886 reminded Thames residents that his prices were as "moderate as ever" and that he guaranteed "the best of Workmanship." 33
Valentine did eventually become a farmer in Marshland, according to the letter of naturalisation he received on 24 August 1893, the same day as his brother-in-law, Michael "Gearschawiski." A week later Valentine's son, John, born in Australia, received his naturalisation, together with John Suhomski and his son, by then known as Charles.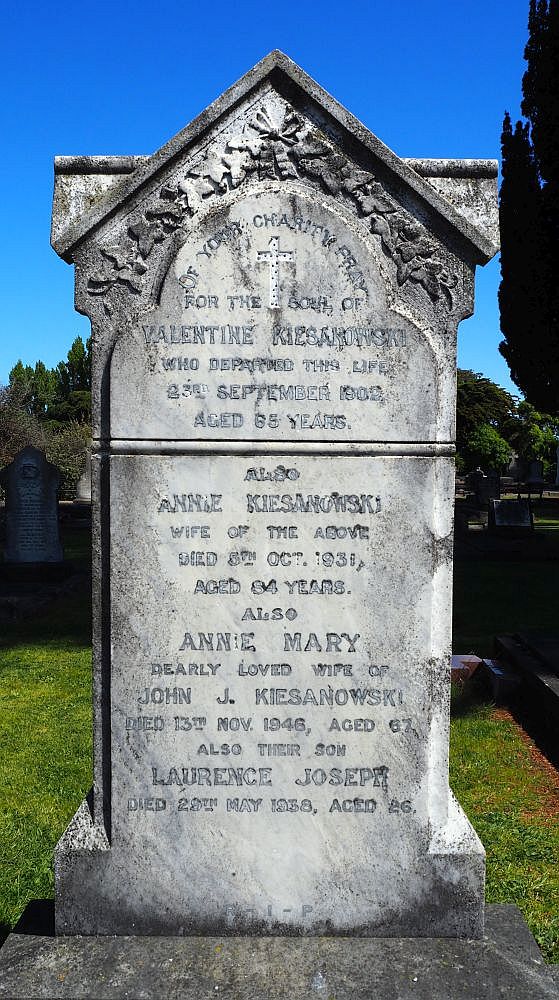 The Kiesanowski headstone is among those unscathed by the Christchurch earthquakes. Valentine Kiesanowski died on 2 September 1902, aged 65. Annie survived him by nearly 30 years. They share their grave with their daughter-in-law, Annie Mary (née Rogatski), and Annie and John Kiesanowski's son, Laurence Joseph.h-3
"John Gierchwski" advertised his land in the lyttelton times on 10 April 1884:
LEASE FOR SALE. —20 Acres of rich Land at Rhodes' Swamp; House, and other buildings, 3 miles from Christchurch. Splendid land for Root Crop or Grass, with 3 acres carrots. Present owner can give good reasons for selling. Stock and Plant can be taken at valuation.
Wilfred Walter remembered John "Gearschowski" building a "two-roomed dwelling with thatched roof. There was nothing stylish about it. He sank an artesian close to the house and I believe it is still to be found there. Some years later he left for America." Walter recalled him owning a block on the corner of Hills and Langes roads, "just past Mr Lange's" and "erecting a substantial house." 34
Michael lived farther along on the opposite side of the road, on the corner of Hills and Langes roads. He "built a modest house and after demolishing it, he erected a two-storey house to meet the demands of his growing family. This house is still to be seen on the property… a fairly large block of land." 35
Michael's naturalisation stated that he lived in Bottle Lake. In 1904 he advertised his 10-acre property on Preston's Road for rent with "immediate possession." 36 He appeared on the 1917 New Zealand alien record as M Gearschawski, aged 74 and born in Germany [sic]. He died at Hills Road, Marshland, aged 86.
Michael Gearschawski's wife, Katarzyna, appeared as Catherine on the first electoral roll for women, in 1893. Her residence then was the Canal Reserve and her occupation "domestic duties." Like her husband, New Zealand's 1917 alien record has her born in Germany. She died in 1925.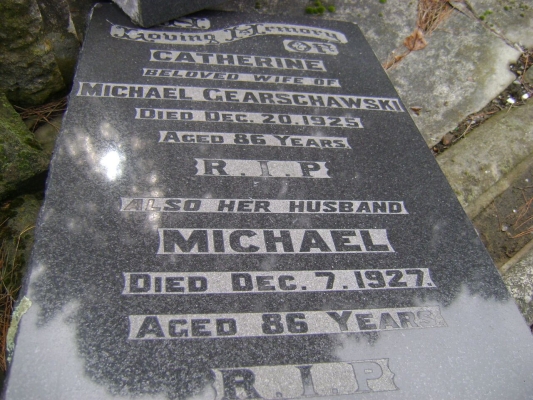 Katarzyna Cieszanowska (Kiesanowski) and Michał Gerszewski married in Czersk, Kaszubian Poland, on 9 May 1864 in then Prussian-partitioned Poland. She was 25 and he was 23. They both lived to 86. Their headstone in the Linwood cemetery fell in the earthquakes.h-4
_______________
By February 1884 RH Rhodes advertised for surveyors "for Land Transfer Act purposes" for 1,000 acres of his Marshland estate.37 Robert Heaton Rhodes senior died on 1 June 1884, aged 69. His full-column obituary in the lyttelton times mentioned that:
At Papanui he devoted himself to increasing the value of what was then known as Rhodes' Swamp, but is now the Marshland estate on the Canal Reserve, near Horseshoe Lake. In draining this land, he expended, it is believed, something like ₤5000, besides giving his time, and frequently personal labour, to the work.38
The obituary later mentioned that the inhabitants of Christchurch owed the Cathedral tower and eight of its ten bells to Rhodes' "munificence." The other two bells were given by a Mr Miles of the conveyancing firm Miles & Co, which then handled Rhodes' land transactions, and whose name continued to appear in land transactions involving Rhodes and other Marshland residents.
Three weeks after Rhodes' death Miles & Co ran a series of advertisements in both the press and the lyttelton times calling for five-year leases on two of the Rhodes blocks. Two of the crops "may be taken off," the land immediately ploughed and "laid down with English grass to the satisfaction of the landlords." 39
Reece divided his land into 10- and 20-acre blocks, with 10-year leases at 30 shillings a year, "but in many cases the Poles bought their sections before the time was up… Rather than raise a loan" during a time when interest rates were high, they paid off their land year by year, at ₤30 an acre—10 times the cost 10 years earlier. Hughes called it "a very high price" considering the state of the land.40
Wakefield's and Godley's "men of capital" had indeed been able to acquire the land at its original considerably cheaper price and increase that capital thanks to the improvements created by labourer-settlers.
Wilfred John Walter's father, Charles Henry, was such a labourer. He arrived in Canterbury via the zambia in 1863 and farmed 22 acres alongside a track adjacent to the Rhodes Main Drain and then Hill's and McSaveney's roads.
On the first page of his memoirs, Wilfred Walter described the family's first thatched-roofed, three-roomed sod house, built by John McSaveney. Only the main room was "roughly boarded," the other rooms had bare clay floors. Candles "sufficed as lighting and afterwards kerosene lamps were used."
The house may have been basic but it was solidly built, as the family discovered in 1888 when a "terrific earthquake almost tossed us out… we thought the house was collapsing. The top of the Christchurch Cathedral Spire fell to the footpath below…"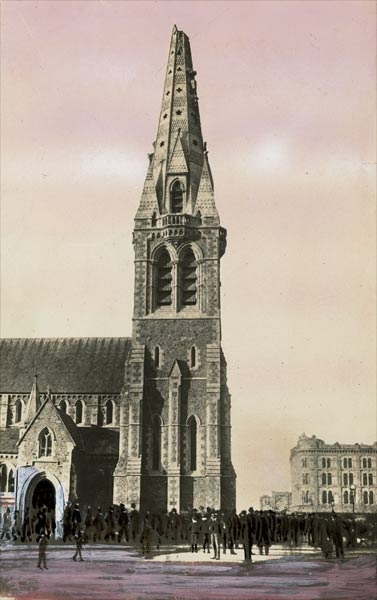 This image of of the Christchurch cathedral missing its top 7.8 metres of stone spire after the 1 September 1888 earthquake comes from te ara the encyclopedia of new zealand. According to the accompanying caption, the spire was repaired, but 1.5 metres fell again in an 1901 earthquake, and was later remodelled in hardwood sheathed in copper.41
_______________
The drama of the earthquake faded as the settlers continued to deal with living on the swamp.
"The half-chain road [in front of the Walter property], now named Walter's Road, was well-known in the early days… It was not really a public road then, being meant as a right-of-way for the residents… seven gateways had to be opened and closed before getting to the end of it. This roadway was at best a rough and tumble journey, and in the winter months it was nothing better than a quagmire. Loads of gorse were strewn over it to make it safe and negotiable, but even then it often had to be abandoned, and resort made to travelling through the adjoining paddocks." 42
McSaveneys Road from Hills Road to Marshland Road, less than a kilometre, in 1882 was "a beaten track—sledges being used to bring produce by the settlers living along the road to Hill's Road, for loading on to carts for the market." 43
"A rightaway, a grass track, extended from McSaveney's Road along the west side to Mr Albert Rhoda's place, this being a convenience to all the settlers getting in and out of their respective properties. Being soft soil, it easily cut up with traffic, and many were the tough and boggy trips taking produce out to McSaveney's Road. In the winter time horses would bog down pulling loads up to their bellies… at this time of the year was like a river of mud." 44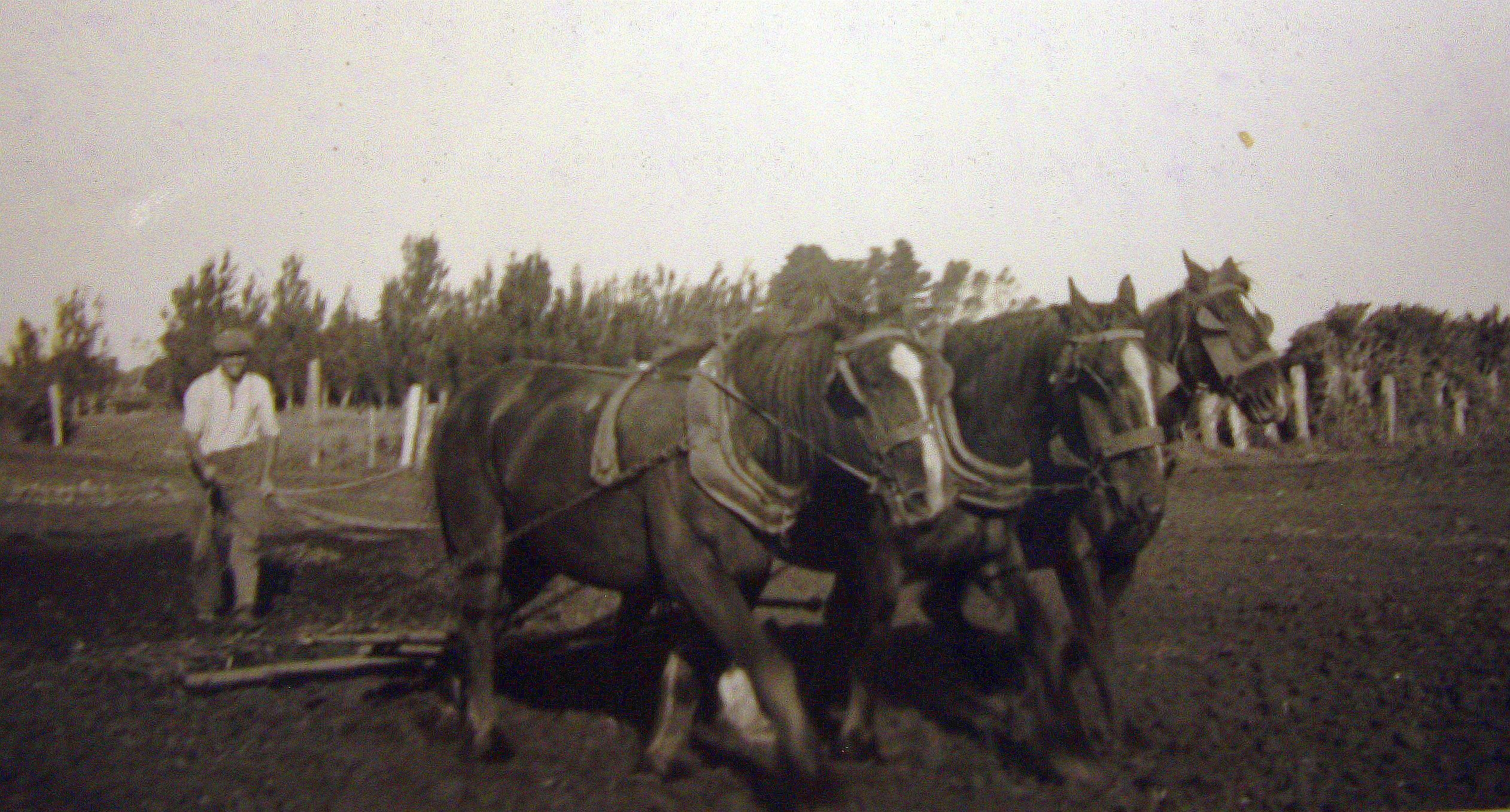 A Marshland team harrowing after autumn ploughing. Most farmers used two horses.45 His son-in-law, John Blackburn, recalled Mathew Schimanski using bullocks rather than horses to plough. 46
The state of the roads in Marshland had been a long-standing issue. In May 1871, "Swampy" wrote to the editor of the press regarding the use of Marshland's higher council rates being used on the upkeep of roads in south Christchurch while theirs farther north were ignored. After the southern upgrade a "wealthy and educated" group had petitioned the council to allow their suburbs to be separated from the Marshland area's roads, which "Swampy" said would:
… leave out all the roads that are costly to keep, those not yet made, the river, the frightfully expensive main drains—about eight miles of the North road—the Sandhills, the Swamps, where the flax still grows on the roads…47
Environment Canterbury: "The northern end of Hills Rd follows the edge of the old swamp… the only safe route through the area at the time. The construction of roads required extensive and continuous work due to sand and metal fill being swallowed by the bog. By the early 1900s the roads in Marshland were stable enough to become popular travelling routes." 48
To take their produce to the Papanui Railway Station, residents from eastern Marshland used Winters Road, which then extended from Hills Road to Canal Reserve. For many years Winters Road was "just a grass track" but increasing demand for vehicular traffic led to authorities pouring metal from the Styx River shingle pit on the east end of the road. Even so, "the road was full of deep ruts, and it was heavy and slow pulling for even a good horse to pull a dray with a ton on it." 49
A "number of creeks" crossed the track on his father's farm and Wilfred Walter recalled his family's surprise that the settlers using the bridges "not safe for traffic" did so continually and without incident. Any travel within the swamp area was precarious. The Maffey holding near to the Walter farm, for example, was "… a wilderness… full of deep springs, one being considered so deep it was said to have no bottom to it. It was called 'Balley's Hole.'" 50
One cattle drive, by a man called Holmes, made a lasting impression on a young Walter:
"They arrived on a Saturday and on Sunday about twenty head were in the drains, several being drowned. Sheep were also tried for grazing on this place but they too fared no better than the cattle, quite a number being drowned in the drains… The job then was to pull the carcasses out and skin them." 51
A Mr R Gibb reminded Walter during his interview in October 1937 about "a remarkable bullock," Old Joe, owned by the Hawken family, "a champion puller, especially pulling cattle out of the drains, a very common occurrence in those days. He became cunning in objecting eventually pulling cattle out of drains, but this was overcome by blindfolding him and then attaching him to the bullock in the drain." 52
The Walter farm was later divided and taken over by a Thomas Wilson, who arrived as an infant off one of the first four ships in 1850, the charlotte jane,53 and Frank Rogatski (Rogacki) senior, who arrived aged 26 with his wife, Paulina, aged 21, via the palmerston in 1872.

_______________
By May 1886 the executors of the Rhodes estate started to sell its leased reclaimed land. Advertisements tended to appear in tandem in the press and the lyttelton times, this one on 8 May.54
The advertisement does not name the "good roads," nor the price of the lots, but acknowledged the "depressed state of the Land Market" and confirmed the interest rate.
A week later, in its auctioneer's report, Miles & Co. disclosed "eager enquiries" that had resulted in nearly 78 acres sold at an average of £87 7s 64d per acre.55
Marshland buyers did not consider all the land that valuable. The following week Miles & Co squeezed in a sentence at the end of their report: "Privately during the week we have sold further portions of the Marshland Estate, amounting to 89 acres, at process varying £35 to £40 per acre." 56
On 27 August 1887, under the heading "Commercial," the lyttelton times told of another private sale: "Part lot 19, part of the Marshland Estate, 18 acres at £31 an acre."
On 22 October 1887, the press reported that it was "a pleasing feature in the face of the general cry of depression and scarcity of money, to be able to record a satisfactory sale of land, and we have much pleasure in announcing the sale of two small farms, part of the Marshland Estate, one at £38, and the other at £37 per acre, a very considerable portion of the purchase money being paid in cash."
From December 1887, the Rhodes estate began a substantial and concerted newspaper advertising campaign offering 240 acres "lately occupied by Messrs A and EJ Hawken." The land comprised the "finest portion of the Marshland estate." In the same column the estate offered grazing on the Rhodes Swamp at "per head per week, for cattle only." 57
The road along the north-west boundary of Marshland, Hawkins Road, is named after Henry Hawken. According to the Christchurch City Libraries, he arrived with his wife and four children in Lyttelton via the accrington in 1863, leased the first block of land on Rhodes Swamp, on the corner of now Hawkins and Prestons roads, and built one of the first two sod huts in the district.58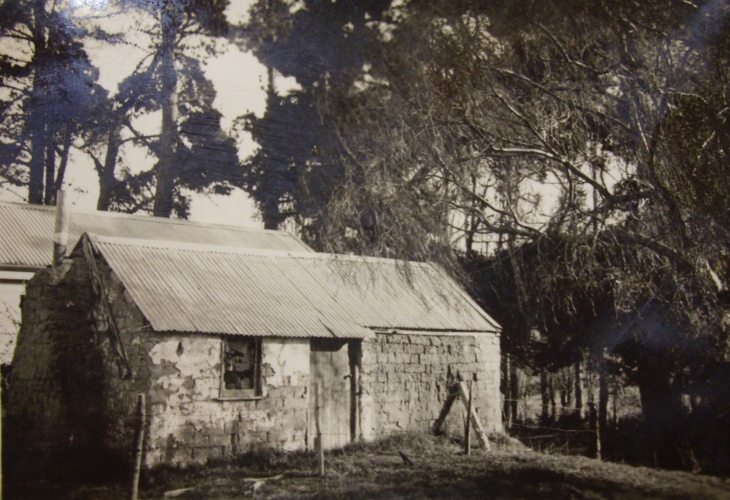 Hughes captured this image of the only remaining specimen of an old sod house on Reeves Road, made either of sod or cob and wood and bearing "silent witness to the endeavours of the early settlers to utilise those materials already existing in the district." Made entirely of sun-dried sod plastered with clay, it stood high on a sandhill, had two rooms—each with a small window—a front door and a back door. He found a "diminutive rusty stove" in the chimney stack at the eastern end of house, a shattered lamp on its "rude wooden mantel piece," and "rough floral wallpaper peel[ing] off walls shaking in the wind." 59 (Reeves Road had previously been named Cemetery Road and is now Mairehau Road.) 60
Hawken's 240 acres were presented at least 16 times in the two local newspapers that December in 1887. The advertisements tailed off by the end of February but by June, the estate was offering 200 acres of the Hawken land. Although the advertisement called it "a further portion" this could have been the balance of a previously unsold portion. The same wording continued to appear until late December 1888.61
Wilfred Walter believed the land represented most of the Rhodes estate north of McSaveneys road and some immediately south, and that nearly all the settlers bought the places they held at prices ranging from ₤30 to ₤37 10s an acre:
"This changeover from leasehold tenure to freehold led to a great progressive movement in the district. Old shacks gave way to better habitations, the land was given better attention, and treatment and production of crops considerably increased…" 62
_______________
Hughes described Marshland Poles as "energetic, enduring, patient… Marshland owes its status as a prosperous and thriving community… to the nature of its Polish settlers, their triumph in the face of adversity, and their victory over natural odds perhaps greater than those of any other district in New Zealand." 63
What drove Hughes to come to this conclusion? He admits that "time at our disposal was extremely limited, and our knowledge of the district at the outset nil." 64
Hughes focussed on 15 families "whose names show them to be of Polish extraction" and seven German ones, but did not name them. He wondered what brought them to New Zealand and spoke to an unnamed "old settler." Hughes specifically mentioned "Matthew" Schimanski, who "slipped out of his village one night and made his way to London," 65 but could not have spoken to him, as he died in 1933 and would have told the student-teacher that he had boarded the friedeburg in Hamburg.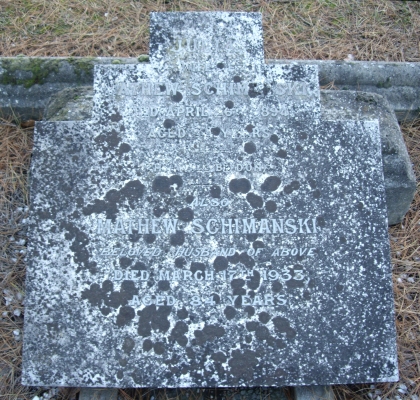 The headstone of Mathew Schimanski and his first wife, Julia. "Matthew Schimeisky" married "Eulalia Juliana Buchart" in 1876. A 17-year-old Julia was also aboard the friedeburg, with her parents, Adam and Anna Burkett (Burehard, Burchard) and younger brothers Johan (11), Theofil (4) and Tomasz (6 months). The family story is that when Mathew found employment with a land-owner in Darfield, he regularly walked the 50 kilometres to Marshland to see Julia.h-5
Hughes: "Strange irony of fate that the 'blood and iron' of Bismarck should lead to the establishment of a progressive, hard-working community in New Zealand." 66
Hughes analysed the adult Marshland community through the "most recent" Kaiapoi electoral roll. He found approximately 500 people in Marshland; 275 eligible to vote. The 142 men were made up of 87 farmers, 36 farm labourers and 19 "trades and professionals." The 133 women voters had two categories, married women and widows (114) and spinsters (19).67
On the 1938 Kaiapoi electoral roll 76 people shared 21 Polish names. Early Polish Marshland families still living in Marshland included Boloski, Borcoskie, Gdanitz, Gearschawski, Rogal, Schimanski and Sharlick. An Anthony Gorinski, who attended Yaldhurst School in 1917, lived with his family on Prestons Road. The Dunicks lived in Ohoka, the Grofskis and Percaskys in Papanui and the Rogatskis in Hornby, all still within the Kaiapoi electorate.68
Hughes felt that Marshland residents held a "distinct apathy" towards its local government but their lack of community consciousness did not surprise him, as he felt it reflected New Zealand at the time.
He blamed the proliferation of counties and local bodies: Originally Canterbury had five counties, but a pound-for-pound government subsidy of up to ₤25,000 raised in a county resulted in districts dividing into smaller and smaller entities—129 counties and 700 local bodies overwhelming New Zealand with "an unnecessary superstructure… a drag on the country's political and social progress and evolution" that "permits large control by single families." 69
Perhaps Hughes thought he had found in the Marshland Poles a unique community to dissect? He noted: "There may have been further isolated occurrences of Polish immigration up to 1900, but if such was the case there is no record of it in the NZ Year Book for those years."
To supplement the "short time" he had to "move among the people," he asked 55 pupils of the Marshland school to fill out a questionnaire.70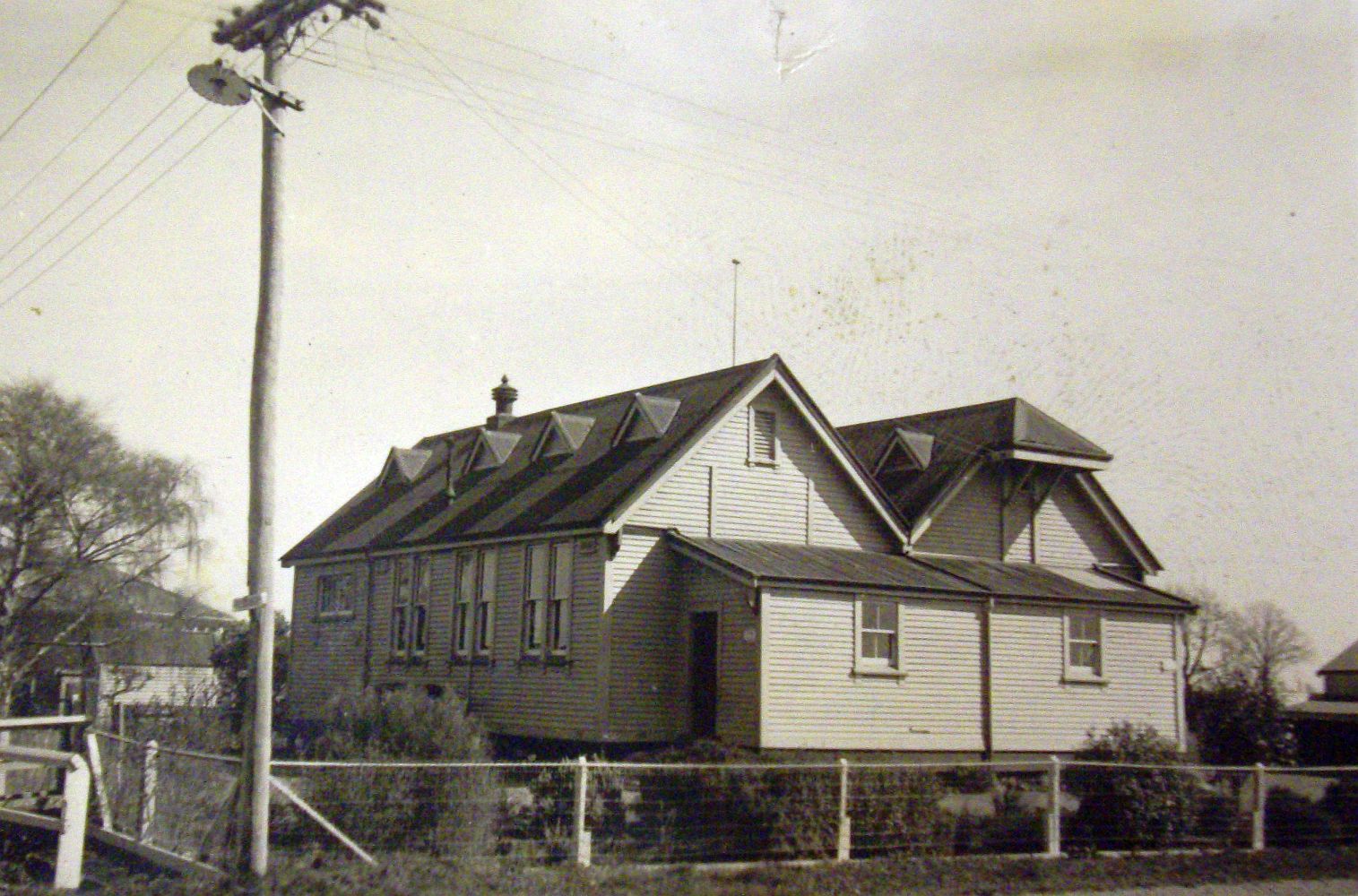 Marshland school, on the corner of Prestons and Marshland roads in 1939.
The school had opened in June 1888, with 34 children who had previously travelled to school in Papanui and whose families had petitioned the Education Board for a local school. The Rhodes trustees donated the land. The board called for tenders for the school's buildings and a master's house and by May 1888 was advertising for a "Rhodes Swamp—Master. New School. Salary according to scale, probably ₤150." 71
Mary and John Schimanski, who lived a few hundred metres along the road from the school, were among the 26 June intake, admitted by their father, Christopher. On 9 July he admitted Margaret, Martha and Minnie Schimanski, who could have been his nieces born as Johanna, Martha and Magdaline. Mary Suhomski joined them in November 1888, admitted by her father, John.72
A year later the roll had grown to 110 pupils and two teachers. David Dunlop told Wilfred Walter about the success of the night classes that the headmaster, a Mr A Malcolm, conducted during the winters of 1889 and 1890. Dunlop presented the headmaster with a dinner service, as a mark of the attendees' appreciation.
David Dunlop arrived with his parents in Lyttelton via the brothers pride in 1863. The family settled in Marshland after David Dunlop senior, described on the passsenger list as a "ploughman," bought 94 acres on Canal Reserve in "about" 1876. His mother, Jeanie Dunlop, planted most of the gorse fences on their property and travellers along the grass road in front had to open and close a gate to get through. David junior recalled the sand formations, already as high as their land, "growing even higher." 73
The school soon became the hub of the area and formed the core of its community buildings, in 1939 including a hall, a general store, a service station and Anglican, Methodist and Roman Catholic churches.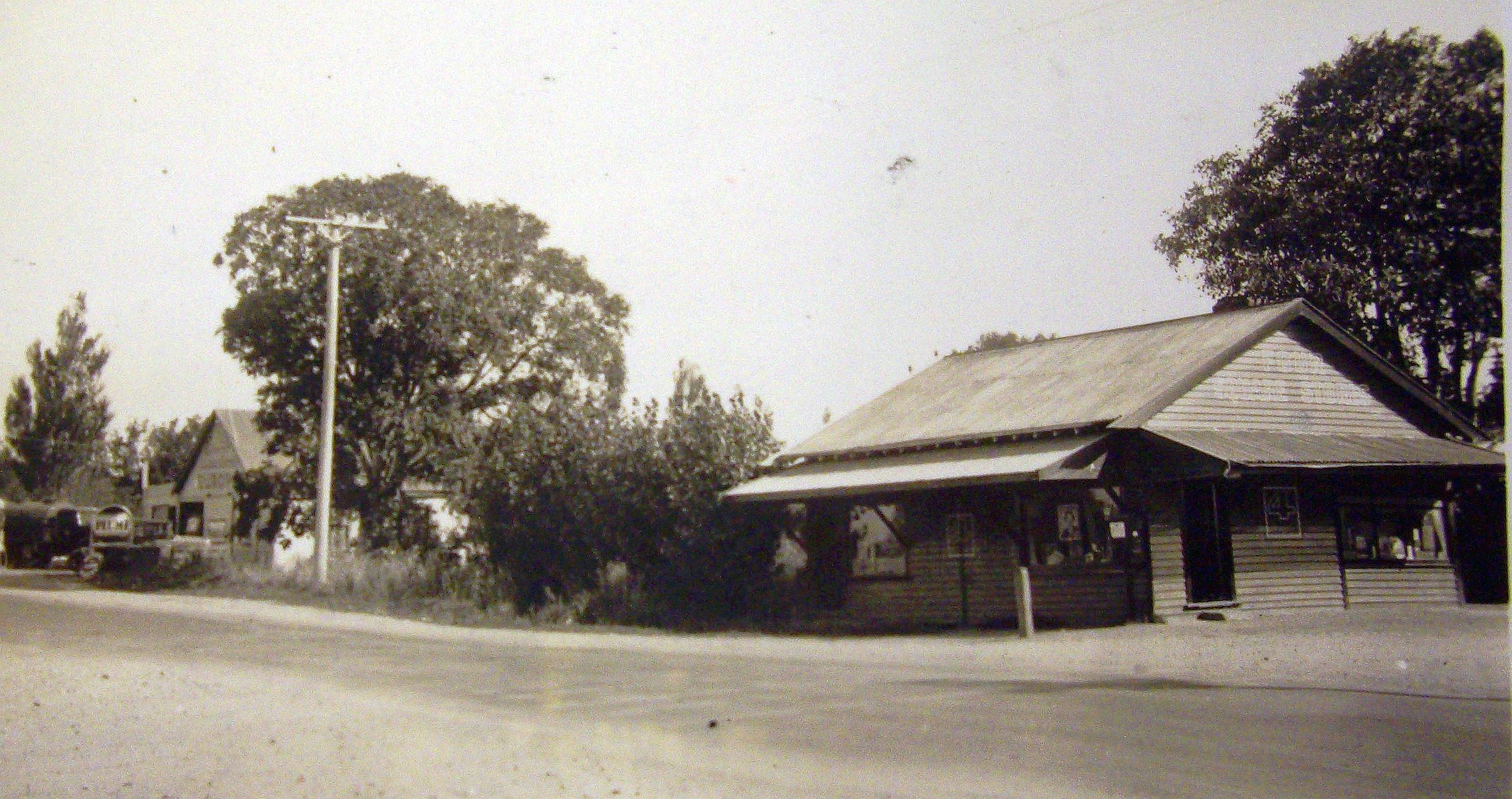 The Marshland store in 1939, opposite the school. The service station on the left of the photograph is farther along Marshland Road.74
Mr Reece donated his Bottle Lake grounds for some of the first annual picnics, always well-attended by pupils and adults. In 1893 "about 500" attendees used "every vehicle in the district… for their conveyance." The second teacher, a Miss F Dick, gained praise for organising the children in concerts and was "sorely missed" when she moved to a headmistress position elsewhere. Mr Malcolm and his staff were credited for the nearly 100 percent attendance and an average 74 percent class mark, although only half the children "passed" in any year.75
In 1895 schooling stopped for 10 days to allow its pupils to help with the potato digging and its board adopted the practice of closing the school in October for weeding holidays.76
Hughes' school survey revealed that in 1939:
—The average household numbered six people.
—53 of the houses had electricity but only two had exchanged an electric stove for their wood and coal ranges.
—49 had bathrooms but only 23 had a hot and cold water system.
—There was no sewerage system, but some modern homes had septic tanks. Outhouses, "in common with many farms in NZ [were] temporary structures constructed of any waste material… rusty sheet metal and rough timber."
—Despite houses having an "ample number of rooms" the kitchen tended to "serve the purpose of a living room [and] regarded as the centre of family life."
—10 homes had telephones.
—52 families took one of the daily newspapers, the press or sun, and five took both.
—18 families had pianos, four had accordions, six had ukuleles, three had organs, one had a guitar and one had a banjo. Hughes did not divulge whether some families had multiple instruments.
—11 of the music teacher's 14 pupils came from the Rhodes Swamp School, the children sent there to be taught "for social purposes." Prior to a music teacher, the accordion, accompanied by voice, was the chief musical instrument.77
The anonymous wife of a "professional man" described the Marshland people as "the kitchen type," a judgement that may have clouded Hughes' own assessment of the Marshland homes he visited.78 Although the more prosperous homes were "bright and cheerful," his thesis revealed that most had "monotonous floral wallpaper. This dreary aspect relieved by an occasional picture." He wrote of "little artistic appreciation" in the homes, where many mantel pieces had cards bearing religious inscriptions. Hughes called these inscriptions symbolic of good intentions and an "indication of the family's good Faith… rarely taken notice of." 79
Most of the Marshland Poles would have been mortified at Hughes' conclusions, especially those regarding their faith. Polish families prayed together daily and celebrated feast days as a community. Like other Poles who settled in New Zealand in the 1870s and 1880s, they were staunchly Catholic and had learnt religious resilience. One of their reasons for leaving Prussian-partitioned Poland in the 1870s and 1880s was Bismarck's ban on their religious freedom: Polish priests in Prussian- and Russian-partitioned Poland, if not deported, murdered or banished to Siberia, practised covertly.
In New Zealand, Catholic Bishop Redwood, once he realised in 1876 that increased Catholic immigration included a growing numbers of Poles—at least 1,06380 —invited a French colleague, Father Anthony Halbwachs, to join two other priests and "four christian brothers" 81 in the new colony. They arrived on 15 May, 1876 via the ss easby. Father Halbwachs and the Poles shared a common understanding of German but the priest also "gave eloquent sermons" in English. Bishop Redwood sent him to the Wairarapa in the south-central North Island, where within three months he had started advertising for builders for a presbytery in Carterton. On 5 May 1878, as Bishop Redwood consecrated the new Catholic church "of architectural beauty" in Carterton, Father Halbwachs was already planning to build churches in Masterton, Greytown and Featherston82 and later, Tinui.83
A newly arrived Father Grunholz, who "solemnised High Mass" at the consecration of Halbwachs' Masterton church in June 1879, had been sent to New Zealand on a mission with "special reference to the many Polish families now scattered through the colony." 84 It is unclear whether Fr Grunholz (also spelt Grunholtz and Grünholz) ministered to the South Island's Polish communities.
In 1884 the church transferred Father Halbwachs to Reefton after he became unable to repay personal loans he had secured for the building projects. Before the introduction of Parish Councils and Finance Committees, money for building churches had to be registered as personal loans to the parish priests. Father Halbwachs took on such personal loans but was unable to repay ₤1,000. 85
By September 1884 Father Halbwachs had moved to Christchurch, where he spent six years before another transfer to his last assignment in New Zealand, the Shand's Track Catholic Mission, near Lincoln, in July 1890.86
Rosalia Gierszewska walked from Pigeon Bay on the Banks Peninsula to the Station of the Assumption on Shand's Track when she found out there was a priest available to baptise her child, Carl, registered in Akaroa in 1873. Today the shortest route to that first Lincoln church is a 63-kilometre trip over the Banks Peninsula but Rosalia could have headed along the coast towards Governors Bay, then turned inland.
Rosalia's great-great-grandniece, Margaret Copland: "It was part of the Christchurch parish, which covered the whole of Canterbury. There were two, possibly three, priests, generally French Marist, who did a lot of travelling by boat and on foot.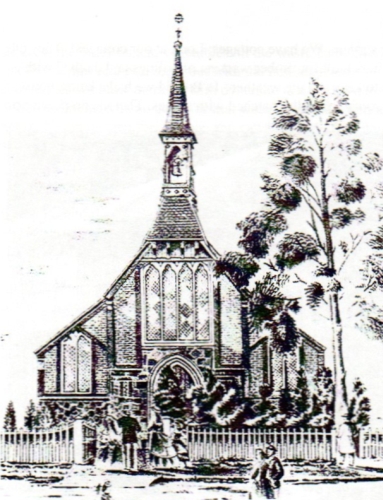 "When the Poles arrived in Marshland, the only Catholic church in Christchurch was the Church of the Blessed Sacrament [right], on the same site as the Cathedral. The Polish people went to Mass there whenever they could. There were regular masses in Papanui and the Sisters of the Good Shepherd had a house in Manchester Street, which was later taken over by the North Christchurch Parish of St Marys."
The Church of the Blessed Sacrament in Barbados Street was opened in 1865, enlarged in 1876 and 1877 and eventually replaced by the cathedral.87
From 1878 some Polish children attended the school attached to the Catholic chapel in Papanui. Australian and French Good Shepherd nuns schooled Margaret's father, John Thomas Borcoskie, born in 1875, and his younger brother, Ignatious Joseph (Joe), born in 1877. Their convent was also used for worship before St Marys became a parish under Bishop Grimes in 1889.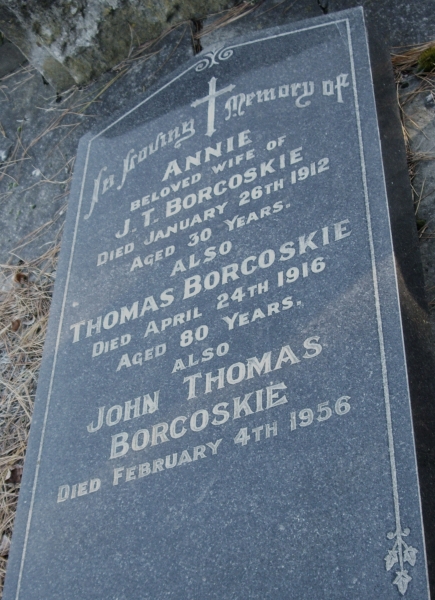 The cartvale Borkowski became Borcoskie in New Zealand, after Thomas was naturalised in Bottle Lake in 1887 as "Borkoski," occupation: farmer. Thomas Borcoskie lived to 80 but, apart from appearing on the ship's passenger list, there seems to be no official mention of his wife, Marianne. Thomas Bokosky appears alone on the 1896 Avon electoral toll. He shares a grave with his sixth child, John Thomas, the first born in New Zealand, and John Thomas's wife, Annie (née Gearschawski), who died aged 30 in 1912.h-6
Sundays at St Mary's Church became the highlight and main social event of the week. Drays full of children raced one other to get there and after Mass, the Polish congregation lingered. A Sr Anglela told Margaret their conversations could last an hour or more.
"Their horses and carts were all lined up together, the men would be in one group, the women in another. Everyone would be talking in Polish.
"The Marshland Catholic Church was built in 1927 and closed in 1974. It never had its own priest but was managed from St Mary's. The priests tended to be Irish and one called all the women by the same fake name, something like Mrs Wiskenski."
_______________
In 1939, Polish wives and mothers in Marshland would have been perplexed if not equally mortified if they had read Hughes' conclusions regarding the "state of confusion which presides in many kitchens." 88 These farmers may not have had the pressures of the first settlers—draining the land, removing stumps, improving the soil and getting the first crops in and to the market—but they were working farms and Hughes admitted that the "wife, when finished with household chores, goes into the field if the season demands it to do her share of manual labour [and] the children are also kept busy in their spare time, weeding the crops." 89
Hughes seemed to struggle with the fact that the "overwhelming majority" of boys did not progress to secondary school but provided labour for the family farms and took on the older people's "deeply ingrained" work habits.90
"The general attitude of parents seems [to be] that the child is of more use to them at home. His chances of personal advance into a different sphere have been sacrificed to extract more and more from the soil and increase the production of wealth, to the detriment of culture." 91
The school's teachers, however, embraced the fact that boys would follow their fathers on the farms, and encouraged them to experiment with exactly what would be of use to them and their families. An elementary agriculture course included experiments on onion cultivation and local soil samples, and finding the best types of manure and the best variety of onion seed. Boys in pairs were given an area on the school grounds where they could conduct their own experiments and calculate their own results, which in the case of lime resulted in its use being "widely adopted throughout the district." 92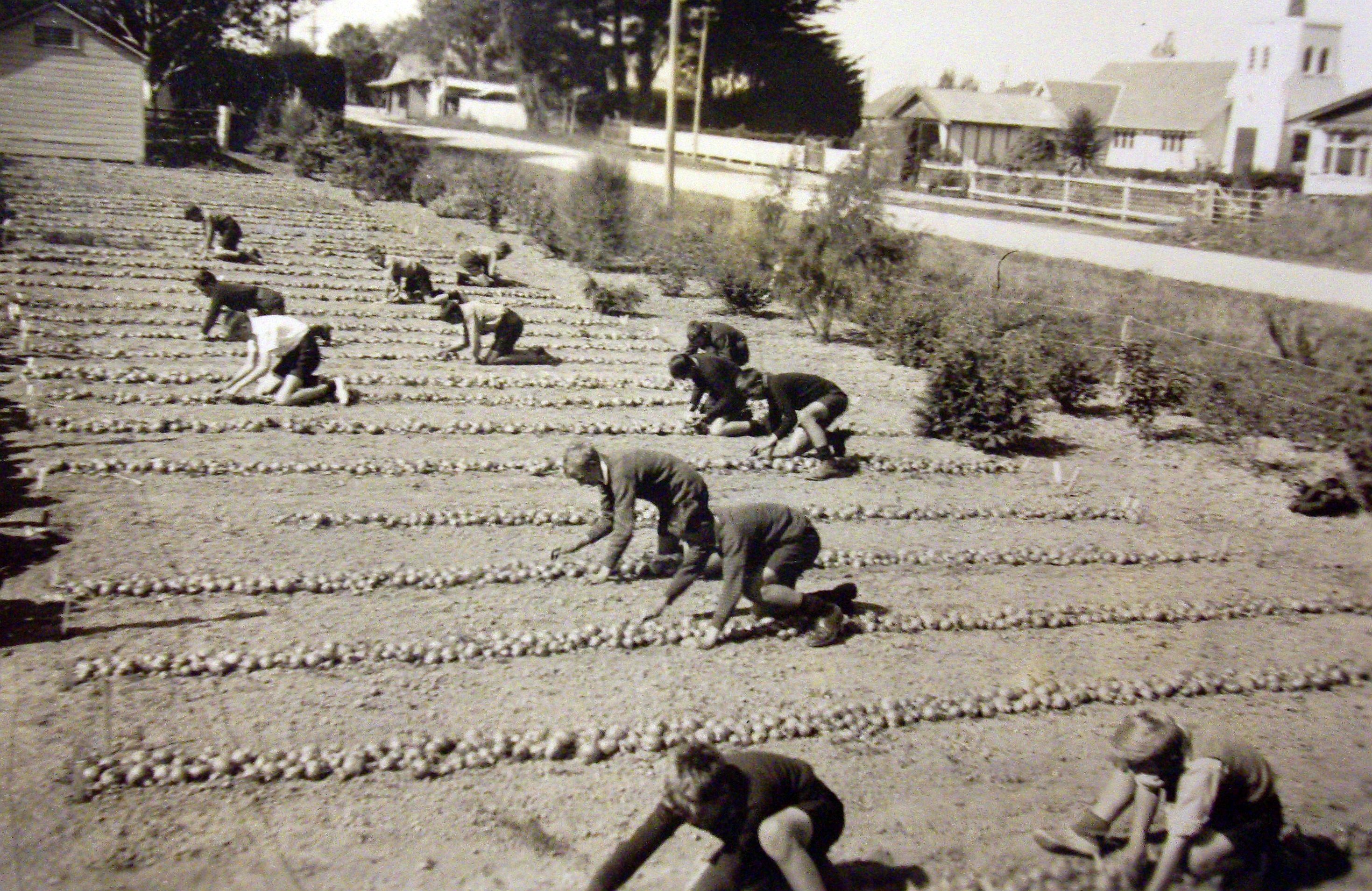 Hughes captioned this photograph of boys tending the school's onion crop: "Education is Living." 93 They are mimicking what happened on their family farms from mid-February, pulling the ready onions by hand and laying them in rows to dry their tops.
Hughes interviewed, but did not name, the wife of the head teacher. She "emphasised the fact" that the people in the community were of the "kitchen" type. Many "hard-working" women still helped in the fields. Their speech was "slack," none having had the "benefits or the opportunities of secondary school education." Their homes were "rather stodgy" and they had become "very conservative in their ways." The women were "great supporters of the school" but the head teacher's wife saw no leaders among them, although she held hope for the girls, whom she described as "a fine type considering their opportunity and background." 94
How did Hughes assess the Poles of Marshland? He called the first settlers in Marshland "German Poles," 95 which suggests he did not speak to any. If he had, he would have been under no illusion that the Poles left their homeland to escape its Prussian occupation and were vehemently Polish.
_______________
The swamp's early speculators correctly predicted that the land held agricultural potential. As it drained, the hidden forest emerged, leaving behind peat that promised high yields—if it were not for the stumps.
Farmers on the higher sections, such as those adjoining Hills Road, decided to turn their land into dairy production. Few could afford the expense of removing the rising timber at ₤40 to ₤50 an acre and the peat prohibited their burning.96 Those with paddocks closer to the sea faced the same choice, and opted for dairying rather than the intensive hand-labour involved with onioning, especially at harvest-time.
An extension of the St Albans-Papanui milk-runs developed in Marshland, buoyed by the "… steady and growing demand for milk in the city… compared with the constantly fluctuating demand for onions…" 97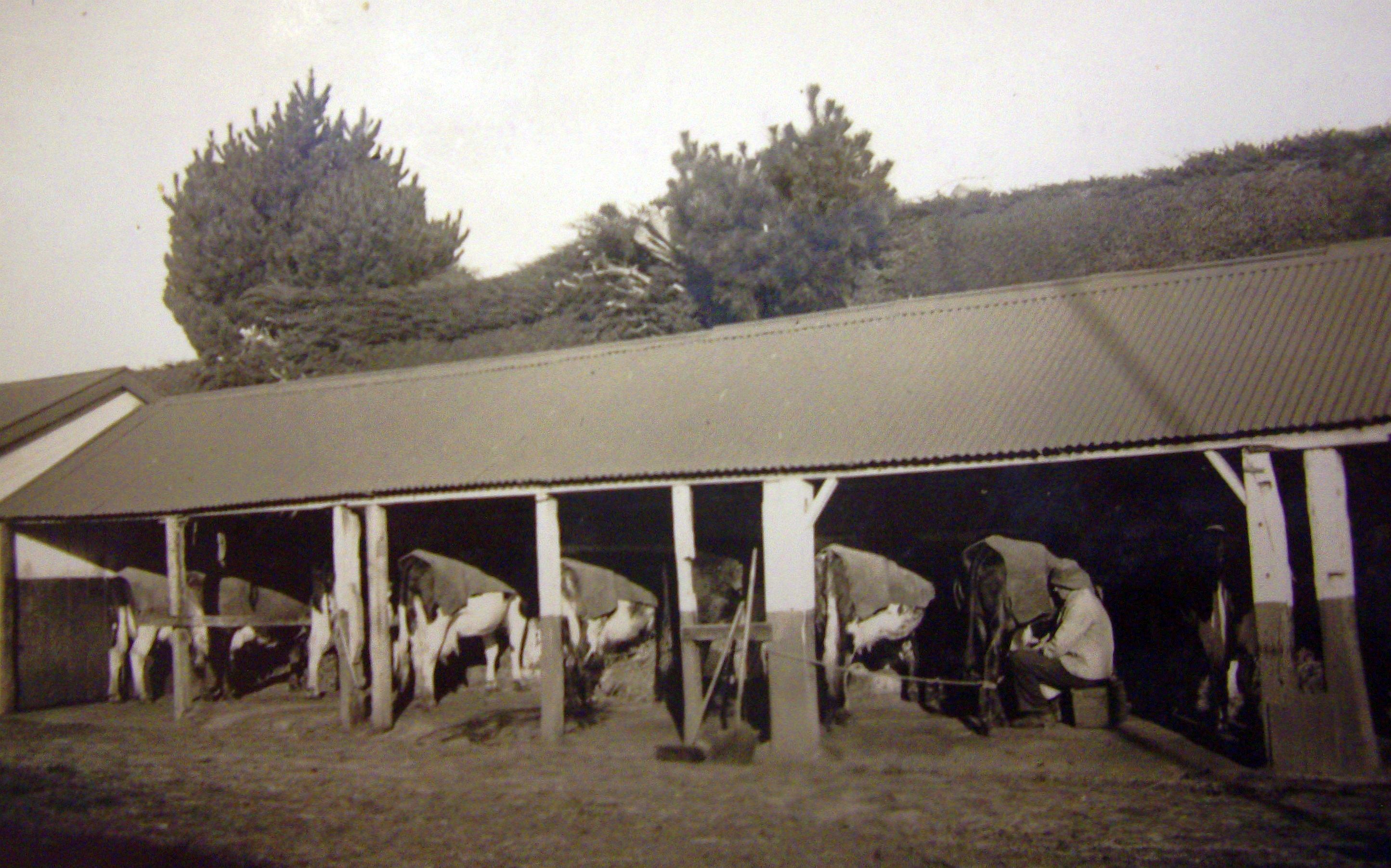 Hand-milking prevailed on the Marshland milk runs (sometimes called milk walks). Milk runs relied on co-operation between farmers. During the off-season farmers sold their milk to those who needed to supplement their supply. 98
The rich peat soil in central Marshland promised so much that farmers persevered with the timber and stump removal and turned to market gardening, eventually developing the "premier" onion growing region in New Zealand. 99
Before the onions, Marshland farmers "[broke] the land into cropping" with carrots, which had an additional market at the city's tramway stables and the adjoining racecourse at Riccarton, 12 kilometres away. At first the cleared land was ploughed with bullock teams and enriched with stable manure that farmers carried back after delivering their loads on a "tip dray along whatever roads that existed." Carrots then sold for 10 to 15 shillings a ton. 100
The earliest onion crops were dried off, strung and sold to local hotels and boarding houses. Demand increased through the local city markets. Stringing made way for "bagging and organised marketing," which expanded the onion trade throughout New Zealand.
Onions demanded intensive farming. Fields received three ploughings, then "grubbed with a tine cultivator." If they did not spread artificial fertiliser, farmers ploughed in green crops such as lupins, black barley or oats and stable manure. All cultivation was done by hand. Weeds such as Shepherd's Purse and sorrel were not allowed to seed, but carried off the field and burnt. Even with shelter-belts, the north-westerly winds destroyed onion and other seedlings by removing the fine peaty soil from their roots. 101
William Watemburg, son of Joseph Watemburg, grandson of Albert, and born in June 1906, remembered the havoc that the north-westerly played with his father's onion crop. It blew away seeds, pulled young onions out of the ground and banked the soil against the farm fences.102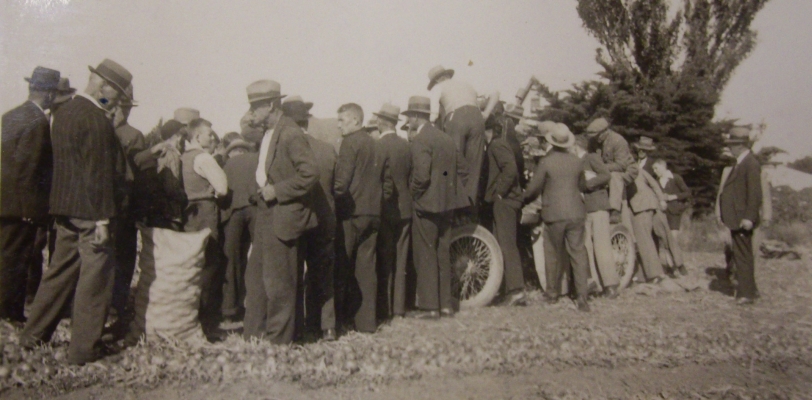 Onion growers in 1939 surround an onion grading machine in Marshland. Growth of an export trade made men like these "Onion Kings" but when "substantial quantities" still had to be imported, the government introduced regulations and a Marketing Provisory Committee for each island.103 Onions were usually bagged in the paddock in 100lb (cental) bags such as the one to the left of this photograph.
Farmers grew onions in the same ground for several seasons, mixed with vegetables such as carrots, potatoes, cabbages and parsnips.
After the Great Depression, from 1929, many of the farm labourers took seasonal jobs between November and June at the Canterbury Frozen Meat Works in neighbouring Belfast.104
Besides the neglected roads, the winds, the stumps and the ongoing drainage issues with which early Marshland market gardeners had to contend, two diseases emerged. Onion smut and yellow dwarf disease led to exports from Marshland being forbidden in 1939. Farmers co-operated in eradicating the scourges and many gave parts of their land for Department of Agriculture experiments. Mesh bags introduced at the time preserved the onions and better displayed the crops.105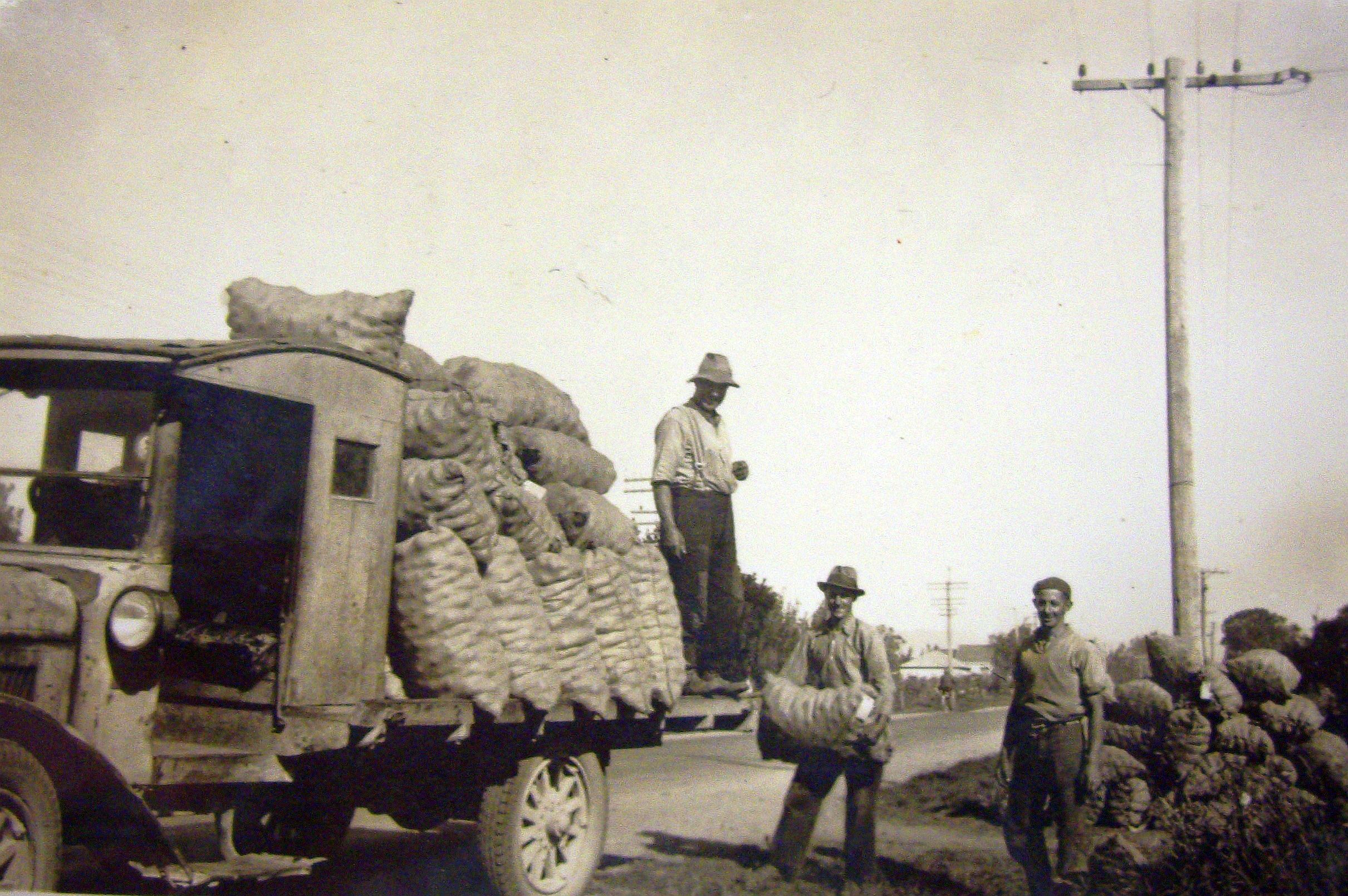 Export onions being loaded onto a truck ready for transporting to the Belfast Railway Station.106
By 1939 Marshland produced three types of farming—onion growing, market gardening and dairying—and one type of family where all members helped get their product to market.
_______________
Walter remembered several of the Poles in his neighbourhood living in a "close settlement" arrangement.107 One property was divided into four blocks:
"Mr J Schomski [sic] lived on the paddock next to [McSaveneys] road. His dwelling consisted partly of sod and timber whare [house]. He reared a family of four, two boys and two daughters." Walter remembered Suhomski's move from McSaveneys to Marshland roads."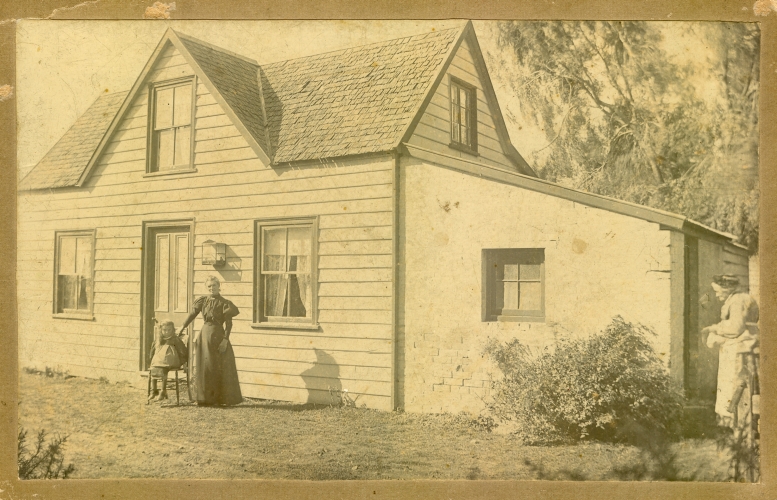 This is believed to be one of the Suhomski houses. The date of the photograph is unknown. If anyone recognises the women, girl or house, please contact us through the get in touch option on our home page. It shows a wooden addition to an early concrete and sod house and comes from the collection of Martha Watemburg.
"The next paddock was held by Mr C Rogal. He reared a big family and it is still a wonder to me how he made both ends meet, to feed and clothe so many on only five acres of land. He was a wonderful worker and made the most and best of the place. He afterwards returned to a place on the Marshland Road now owned by Mr J Blackburn.
"The third paddock was occupied by Mr Albert Watemburg, a quiet and unassuming man. He was a most industrious person, and was a noted hand at 'stumping the land.' He left here to take a place on Lake Terrace Road… Subsequently he took over thirteen acres of land at the corner of Marshland Road and McSaveney's Road. He lived in a small house, and he grew crops of onions and carrots… When the place with all the other properties in the district was offered for sale, Mr Watemburg became the owner of it. He then built a very nice house…" (The friedeburg passenger list has the correct Polish spelling of his surname, Watembach.)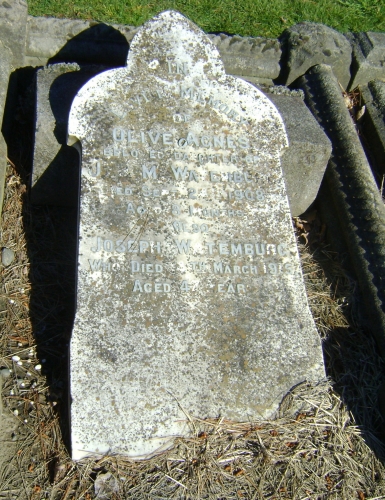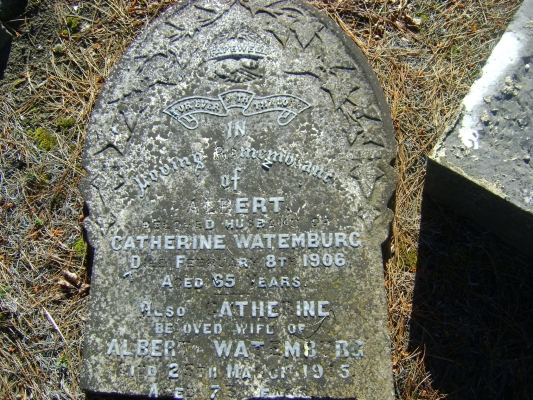 The fallen headstones in the Linwood cemetery of Albert and Catherine Watemburg, above, and left, Joseph Watemburg, who died aged 47 in 1915 and is buried with his eight-month-old daughter, Olive.h-7
Albert Rhoda took the "far paddock" in the block and shared a section of that with Jack Rock until the latter moved to Preston's Road. Albert Watemburg's daughter, Mary, then Mrs le Vavaseur, spoke to Wilfred Walter of the two being brothers and said that J Rhoda changed his name to Jack Rock to avoid confusion.108
Her recollections demonstrate the complexity of Polish inter-relationships in Marshland: In 1874, the cartvale carried seven members of the "Rhock" family—but their name was not Rhock. In Rytel, Pomerania, before the germanisation of Polish names in Prussian-partitioned Poland, their surname was Roda. Germans introduced an "h" and changed it to Rohda, then Rhode, says Ray Watembach, an authority on the origins of Polish names in New Zealand.109 The cartvale sailed from London. Like so many Poles living under Prussian control, the Rodas were probably illiterate, so could not write their names; London port officials incorrectly listed them as Rhock.
They arrived in Wellington as Albert Rhock (30), his wife, Marianne (36), and Julianne (4), Johann (3) and Josef (6 months). With them were Magdalena (45), classified as a "single woman" and another Johann, a 17-year-old "single man" who was a "farm labourer." 110
There are no Rhocks listed in New Zealand's birth, marriages and death indexes. One can assume that Albert continued to call himself "Roda."

In New Zealand, officials added the "h" in a different position, following a fashionable English girl's name in 1874 and a logical mistake for officials interpreting a Polish-accented "Roda," says Ray. Albert accepted the misspelling. Among the earliest Rhodas in the official indexes are two births to Albert and his wife, who became known as Mary. In 1879 Marie was born to Albert and "Marie" and in 1881 Rosalyia was born to Albert and "Maryiana."
Mary and Albert's headstone in the Linwood cemetery. They married in Czersk, in Prussian-partitioned north-west Poland on 27 August 1866. Marianna Szmaglinski, was 25 and Albrecht Rhode, 33. By the time their first children, Julianna and Johann, were born in nearby Rittel (Rytel) in 1867 and 1870 their father's name had been changed again by Prussian authorities, this time to Rohda. A volunteer for the Friends of Linwood Cemetery took this photograph in June 2010. Months later earthquakes toppled the headstone but the central section with Mary and Albert's details survived.h-8
Albert's 17-year-old brother, Johann (John), decided to tweak the cartvale name into "Rock" and from records, which show a Martha Rock died in 1917 aged 84, their mother, Magdalena, followed her younger son.
According to Wilfred Walter, Albert Rhoda moved from the five-acre paddock to a place on Walter's Road, where he became the first to erect buildings. His next move was to the corner of Hill's and Kelly's roads, which he bought. Mrs Rhoda made an impression on the young Wilfred Walter, but his assessment of her happiness at toiling may have been misinterpreted:
"Mrs Rhoda helped her husband in working the land, cleaning and harvesting the crops, and she was a wonderful worker in every other way. Everybody who knew her… spoke in high praise of what a great worker and settler of the district she was. She was never happier than when she was out in the paddocks working, and it could… be safely said it would be difficult to find another woman in New Zealand to equal her in this kind of work. Almost to her last days she was to be found toiling on the paddocks. She was equally as good as any man in tilling the soil and at harvesting the crops, which were nearly all root crops in those days."111
Albert Rhoda died in 1904. When Albert and Mary admitted their son, Joseph, to Marshland school in 1898, they gave their address as 61 Kelly's Road and that remained on Mary Rhoda's electoral roll information until she died in 1925.
Mary (née Watemburg) and John le Vavaseur (sometimes spelt Vavasour), moved to a property on Hills Road, "nearly opposite Winters Road," near the Dunick family.112
Józef Dunick left his Polish homeland at 39 with his family name, Zdonek, wife Mariana (35), and three sons, Mikołaj (9), Franciszek (7) and Józef (3). Their name survived the journey on the friedeburg in 1872 but was changed by officials almost immediately after they arrived in Lyttelton. Józef Dunick senior soon became known as Joseph. He was naturalised in 1899 in Marshland, and aged 84 when he was placed on New Zealand's 1917 aliens record.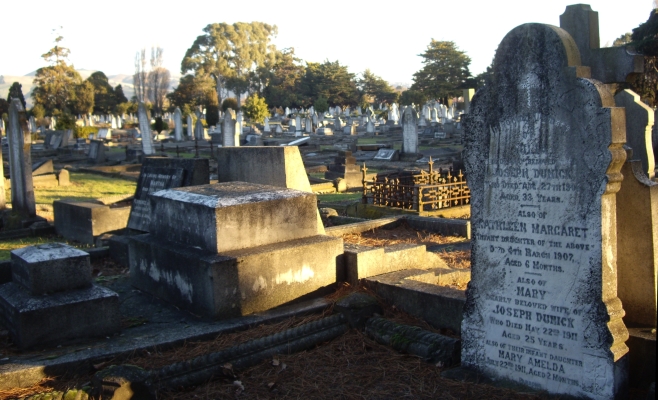 A Dunick headstone in the Linwood cemetery tells a poignant story of Joseph Dunick junior's wives: His first, Julia (née Schimanski), died aged 33, on 27 August 1906, after the birth of their eighth child, Kathleen Margaret, who died at six months on 4 March 1907. With them are Joseph's second wife, Mary (née Boyd), who, according to records, he married in 1908 and who, aged 25, also seems to have died as a result of childbirth, on 22 May the same year. Their daughter, two-month-old Mary Amelda is buried with her mother, half-sister and Julia.h-9
_______________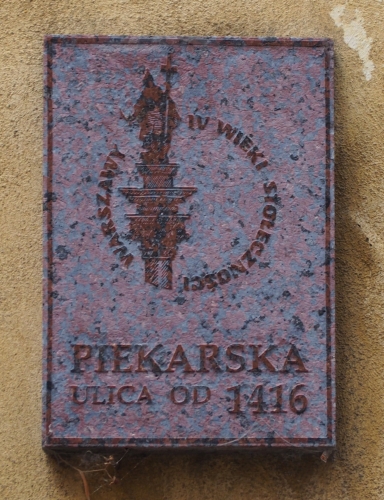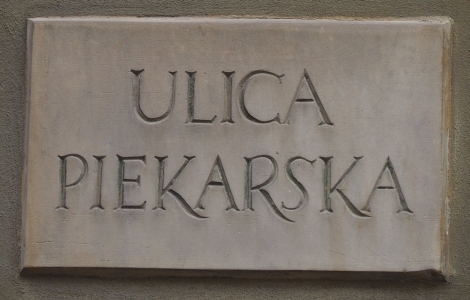 Michael Piekarski arrived on the friedeburg with a name at least 456 years old, judging from the street plaques in Warsaw's Old Town. The name means baker and, yes, there is still a well-supported café-bakery on the street bearing the name since 1416. The friedeburg passenger list shows Michael (27) arriving with his wife, Eva, (22) and 15-month-old daughter, Anastasia.
Michael is named Piekarsky on his July 1893 Marshland naturalisation record, Perkaskie on his November 1916 probate papers and Percasky on the Linwood cemetery headstone he shares with Eva and their son, John. Eva is named Percasky on her 1917 New Zealand alien record.
It is not clear what happened to Anastasia but Michael, Eva and their son, Joseph, appear on the 1896 and 1897 Avon electoral rolls, as Pickarsky. They lived on Preston's Road. Michael remained a farmer and Joseph followed him.
_______________
The Grofski name is another that appeared in Marshland. A Simon (27), Francisca (24) and Franz (3) Grochowski arrived on the friedeburg in Lyttelton 1872. The Groskowski family of three was on the same ship but their Christian names were different, and the Georgewski family of four were the future Gearschewskis.
According to Wilfred Walter, Mrs Frances Grofski "took over a property" from a Richard Boshen… "She and her family worked very hard on this place."
It is not clear what happened to Simon. Official records show a Mary Grafoski born to a Simon and Frances in 1876, the same year a Simon Grafoski died at 14 months.
In 1903 Mrs Frances Grofski sold off her Marshlands farm by auction, including a black mare "used to all farm work," a "bay hack 3 years off, broken to saddle and burners, by Prince Victor," eight cows "in full profit," a "springer due to calve," four heifers, a sow "heavy in pig" and seven "porkers."
Implements listed included a Duncan dray, frame and accessories, and the same make of plough with its leading chains, a "nearly new" spring cart, a "moulder and horse hoe," a grindstone, half a ton of onions, half an acre under mangolds (a variety of large-rooted beets grown for stockfeed), "quantity" seed, small potatoes and poultry, some sacks of partridge peas, and a "large quantity of sundries," as well as household furniture and dairy utensils.113
Within a week, Frances Grofski took out another advertisement offering a reward for the black mare, which had strayed.114
Her son, Francis Grofski, appeared on the Avon electoral roll in 1896, his address Canal Reserve. He married Michael and Eva Piekarski's daughter, Mary Margaret, in 1897. Francis and Mary's children, Lawrence and Eileen, attended Marshlands School until July 1908, when they moved to Belfast.115
Francis died in 1919, aged 44, still a farmer. His widow sold the Belfast poultry farm in 1920, and bought a quarter-acre property in Papanui.116 His mother died as Frances Gabrielle Grofski on 3 April 1912.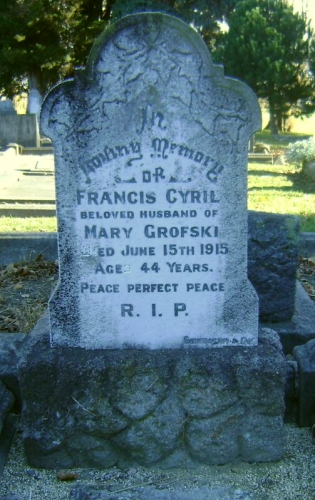 As a Polish mother, there is no doubt that Frances would have been proud of her first-born son bearing her Christian name. The Polish origins of her New Zealand surname, though, remain a mystery.h-10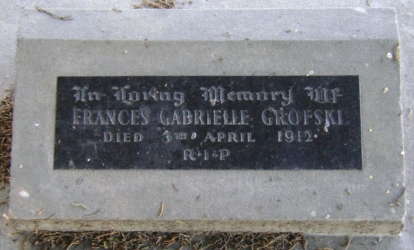 _______________
Thanks to the Rhodes Main Drain that dissected Rhodes' Swamp, the western side of Canal Reserve was subdivided years before the eastern side.
Walter: "On the East side of the road, the land was practically in its native state, nothing but flax, [carex secta], rapu [sic], and other virgin growth… covering this area… so boggy that it was no[t] safe for man or beast to wander over it… It was some time after the Rhodes block subdivision was sold that this land was broken in and settlers cultivated the soil. The place on the corner of the Canal Reserve and Cemetery Road, now called Reeves [Mairehau] Road… was full of stumps through and through… took no small amount of hard work in clearing… but the soil was very rich." 117
Nowadays not a stump breaks the progress of machinery on that particular corner, below.
Walter remembered Canal Reserve towards Prestons Road being "nothing but a dense wilderness of flax etc. and dangerous for anyone to cross." 118
Mr R Thompson, 90 in July 1943 when Walter interviewed him, remembered the "old pioneer residents" John Maffey, WM Dunlop, Black and White Schimanski, HW Gibb and the Hawken family. Locals distinguished the Schimanski brothers through the colour of their hair and long beards—Christopher's dark and Mathew's much lighter. (The verse at the beginning of this story appears to come from Mr Thompson.)
Christopher Schimanski occupied a small farm adjoining the school grounds while Mathew "farmed a bigger place on the opposite side of the [Canal Reserve] road. The soil in this locality was of rich fertile quality, and produced heavy root crops." 119
Marshland Poles left their Kaszubian villages in the 1870s within support groups containing family members and friends. Those who left later joined family and friends.
Inevitably, children of the first settlers married, and brides' names became absorbed as their families intertwined.
Christopher's three daughters, Julia, Augusta and Mary, became Mesdames Dunick, Boloski and Rogal. His sons, John and Albert, married the Misses Ester Marsh and Martha Dodunski, the latter from Taranaki. His stepsons, Martin Sharlick and Michael Schimanski, married Mary Gearschawski and Annie Dunick.
Two of Mathew's seven daughters, Johanna and Magdaline, became Mesdames Rogatski, and two, Rose and Augusta, became Mesdames Blackburn. Mary became another Mrs Dunick, and Martha and Juila became Mesdames Hanright and Gorinski. His sons, Francis and John, married Mary Black and Anne Austin.120
Some of the young Marshland men looked farther afield to find their brides. Joseph Watemburg had heard of the large Polish contingent in Taranaki, which arrived via the fritz reuter in 1876, and met Martha Neustrowski. After they married in 1897 Martha, 26, left her Inglewood home and joined the Marshland community. In 1907 Albert Schimanski met and married Martha Dodunski, who did the same thing, aged 19.
School enrolment registers give concrete examples of co-operation and support within the community:
Christopher Schimanski admitted his five-year-old nephew Frank Schimanski to Marshlands school on 20 January 1890. Immediately before the start of the February onion harvest, he may have been doing his brother a favour.
Albert Schimanski stood as guardian for Alfred, Leo and William Watemburg and enrolled the boys on 28 September 1915. Joseph Watemburg, below, had died of a heart attack the previous March while delivering carrots to Riccarton stables. Albert would have been supporting their mother as she made plans to sell their Yaldhurst farm and move back to her family in Taranaki.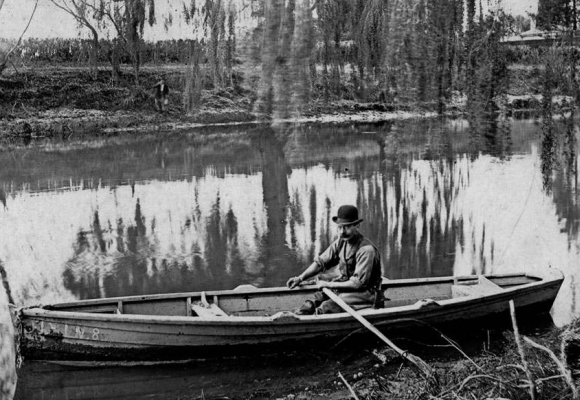 Joseph Watemburg, like other Marshland market gardeners, took on out-of-season jobs. Scything water weeds on the Avon river brought in some income during times when there was none from his vegetables. Ray Watembach: "The gentry could then go punting with their lady friends on a clear waterway."
Julia Schimanski died on 26 April 1894, aged 40, following the birth of her tenth child. It is not clear how long her son, Anthony, lived. Before Mathew Schimanski's second marriage to widow Anna Rogal in 1899, he admitted Anna's children, Helen and Anthony, to Marshlands school in 1896 and 1898.
Mathew's daughter, Martha, married John Hanright in 1904. Her brother-in-law, Frank Rogatski, started admitting his niece and nephews, John, Elizabeth and George Hanright, to Marshlands school from 1912. On 17 December 1917 Frank Rogatski was named as Lawrence Kiesanowski's guardian on the Prebbleton school record.
_______________
Today Marshland Road buzzes with traffic. One of the longest straight stretches of road north of the city, it still follows the now "highly modified" 121 Canal Reserve water course, and is eventually absorbed by Main North Road. Satellite images show swathes of market gardens between Marshland Road and a new housing development to the east.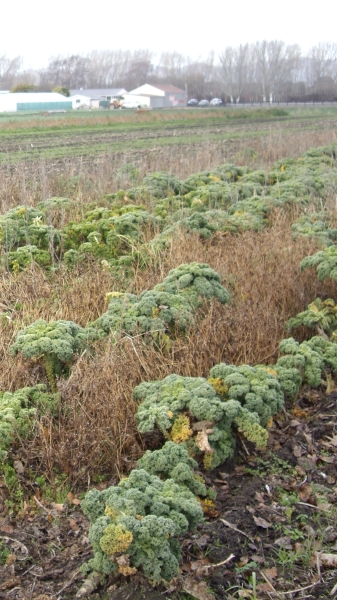 The fresh vegetable shops within close proximity to the T-junction of McSaveneys and Marshland roads do a humming trade on the weekday I drive around. One owner, Tony, is not in when I ask permission to photograph the paddocks behind his shop, but his employee says he would not mind if I went out back. His land looks directly towards another fruit and vegetable outlet on Mairehau Road. The late-July photographs do not do justice to the clean and newly planted paddocks.
A golf course lies between Bottle Lake and a new housing development, which has a tiny cul-de-sac, Polish Settlers Place, hosting 12 house sites off the main street and another five along rights of way. Judging from the length of the 200-metre street, the new developers have little interest in the thousands of hours of toil Poles put into the area.
Drainage along the roads is landscaped. Sections of stout, stone-filled gabion walls along Prestons Road rise next to black soil that gardeners among the new inhabitants will appreciate.
Marshlands School is now a long, sleek, low building on a much quieter Te Korai Street than its old premises, now a pre-school.
Hills and Hawkins roads remain Marshlands' western boundary. Some sections of the road are today divided into quarter-acres; elsewhere huge paddocks predominate.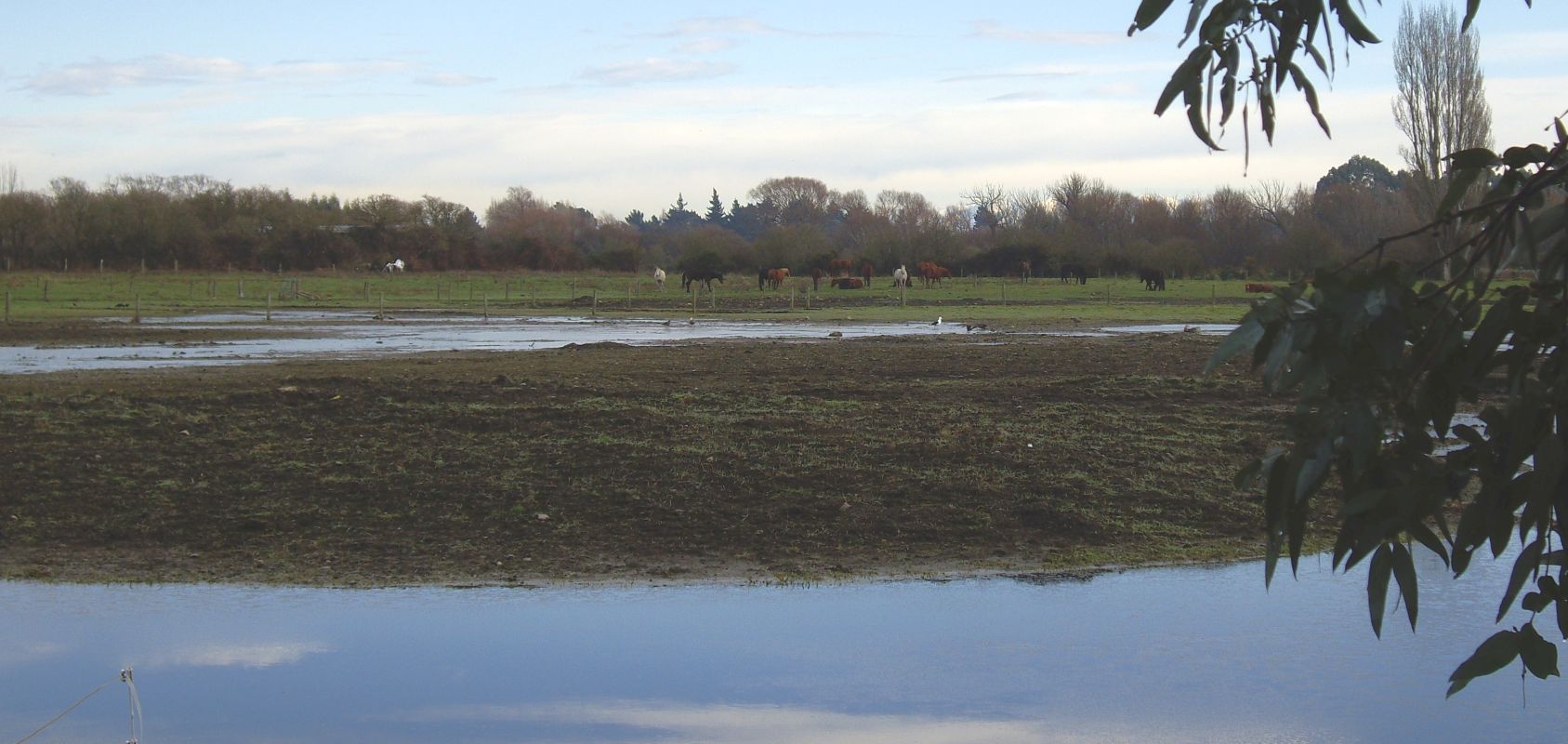 Horses grazing on a Mairehau Road block on the eastern side of Marshland Road avoid wintry surface water.
Remnants of the old swamp survive in the Ōtukaikino Reserve, about three kilometres north of the Styx river's intersection with Marshland Road, off Main North Road and bordering the Christchurch Northern Motorway out of Belfast.
Despite human intervention, some native species survived. The reserve is today a restoration project overseen by the Department of Conservation. Volunteers have propagated seeds from stubborn raupö, toe toe, tall tussock sedges (pukio), the fern Blechnum novae-zelandiae (kiokio), cabbage trees (tï köuka) and small trees such as Pittosporum tenuifolium (köhühü ) and Coprosma robusta (karamu). Exotic specimens have been cut down or weeded out and the new generations of the original plants now grow among other re-introduced natives.
DOC's brochure: "Pükeko, shoveler (kuruwhengu), grey teal (tete), marsh crake (koitareke) and even a bittern (matuku) have been spotted in and around the wetland. There are also long- and short-finned eel (tuna), upland and common bullies, native snails (püpü) and a variety of aquatic insects." 122
The new reserve may be a sanitised version of the original swamp—but it still holds the same ability to absorb those who fail to follow the instruction to remain on the boardwalk.
© Barbara Scrivens, 2017
Updated August 2017
THANKS TO:

THE POLISH EMBASSY IN NEW ZEALAND FOR CONTRIBUTING TOWARDS TRAVEL EXPENSES TO CHRISTCHURCH.
THE CHRISTCHURCH CITY ARCHIVES FOR ACCESS TO THEIR COLLECTIONS.
THE POLISH GENEALOGICAL SOCIETY FOR ACCESS TO THEIR CZERSK BAPTISM AND MARRIAGE RECORDS.
All coloured photographs, except those headstones noted below, by Barbara Scrivens. Black and white photographs from the Hughes collection, except the one of the women outside the sod and wood house and Joseph Watemburg, which come from the Watembach collection.

LIST OF HEADSTONE INSCRIPTIONS: (These all from the Linwood cemetery, Butterfield Avenue, pictured above.)
h-1 Mary beloved wife of John Suhomski died 16 March 1908 in her 60th year. Also John, beloved husband of the above died 12th June 1923 aged 84 years. (Photograph: B Scrivens)
h-2 Louisa Annie wife of Christopher Schimanski who died 12 Dec 1906 aged 64 years. Also her grandson George John beloved son of John & Esther Schimanski who died 18th Dec 1909 aged 7 years. Also her husband Christopher Schimanski who died 14th Nov 1920 aged 74 years. (Photograph: B Scrivens)
h-3 Of your charity pray for the soul of Valentine Kiesanowski who departed this life 2nd September 1902, aged 65 years. Also Annie Kiesanowski wife of the above died 5th Oct 1931, aged 84 years. Also Annie Mary dearly loved wife of John J Kiesanowski died 13th Nov 1946, aged 67. Also their son Laurence Joseph died 26 May 1938, aged 26. (Photograph: B Scrivens)
h-4 In loving memory of Catherine beloved wife of Michael Gearschawski died Dec 20 1925 aged 86 years. RIP. Also her husband Michael died Dec 7 1927 aged 86 years. (Photograph: Brian Dickson, for Friends of Linwood Cemetery, a charitable trust whose members have, since 1999, been restoring the headstones and gravesites damaged by vandalism, prior neglect, and more recently the earthquakes:
www.linwoodcemetery.org)
h-5 Julia wife of Mathew Schimanski died April 26th 1894 aged 40 years. Thy will be done. Also Mathew Schimanski beloved husband of the above died March 17th 1933 aged 84 years. Photograph: B Scrivens.
h-6 In loving memory of Annie beloved wife of JT Borcoskie died January 26th 1912 aged 30 years. Also Thomas Borcoskie died April 24th 1916 aged 80 years. Also John Thomas Borcoskie died February 4th 1956. Photograph: B Scrivens.
h-7 In loving memory of Olive Agnes beloved daughter of J & M Watemburg died Sept 2 1908 aged 8 months. Also Joseph Watemburg who died 15th March 1915 aged 47 years.
For ever with the Lord. In loving remembrance of Albert beloved huband of Cathering Watemburg died February 8th 1906 aged 65 years. Also Catherine beloved wife of Albert Watemburg died 25th March 1915 aged 73 years. (Both photographs: Brian Dickson)
h-8 In loving memory of Albert Rhoda died 29th Jan 1904 aged 59. Also his beloved wife Mary Rhoda died 13th Nov 1925 aged 86. And their daughter Annie O'Donnell died 2nd October 1915 aged 36. RIP. (Photograph: Brian Dickson)
h-9 In loving memory of Julia dearly beloved wife of Joseph Dunick who died Aug 27th 1906 aged 33 years. Also of Kathleen Margaret infant daughter of the above died 4th March 1907 aged 6 months. Also of Mary dearly beloved wife of Joseph Dunick who died May 22nd 1911 aged 25 years. Also their infant daughter Mary Amelda July 22nd 1911 aged 2 months. (Photograph: B Scrivens)
h-10 In loving memory of Frances Gabrielle Grofski died 3rd April 1912. RIP.
In loving memory of Francis Grofski beloved husband of Mary Grofski died June 15th 1915 aged 44 years. Peace perfect peace. RIP. (Both photographs: Brian Dickson)
ENDNOTES:
1 - R Speight, MA, MSc, FGS, Transactions and Proceedings of the Royal Society of New Zealand, Volume 43, 1910, page 425.
2 - Christchurch City Libraries;
https://my.christchurchcitylibraries.com/christchurch-place-names/.
3 - R Thompson, July 1943, found among papers in the WJ Walter collection of interviews held at the Christchurch Archives, Archive no. 196. Handwriting different from Walter's and inserted after Thompson's transcription.
4 - HW Hughes, page 13.
5 - WJ Walter collection of interviews held at the Christchurch Archives, Archive no. 196, page 3.
6 - Supplement to the New Zealand Gazette, 5 April 1940, pages 524, 558 & 599. Thanks to the Family Research Centre, Panmure, New Zealand Society of Genealogists,
https://www.genealogy.org.nz/.
7 - According to his posting record card, Temporary Sub-Lieutenant Hywel W. Hughes was posted to the MTB505 from St Christopher after completing his training and sent to the Mediterranean to serve with the flotillas of MTBs operating there. His boat was part of the Royal Navy Forces deployed as part of Operation AGREEMENT, a British naval raid undertaken against the port of Tobruk on the night of 13–14 September 1942. Royal Navy destroyers, an anti-aircraft cruiser, eighteen MTBs and three launches took part in the raid along with 350 Royal Marines that were to be landed. After heavy attacks overnight by the RAF an attempt was made to land troops on the morning of the 14th. The attempt failed and the few Royal Marines who reached shore were quickly captured. Sub-Lieutenant Hughes MTB308 was sunk along with MTB310 & MTB311 by the Italian 13th Fighter Bomber Group, which also sank the destroyer HMS Zulu. As the MTBs were made out of wood and had petrol engines they would explode very readily. As his body was never recovered, his name is recorded on the Second World War Memorial located on the South Yard of HMNZS Philomel at Devonport.
(Above material thanks to the New Zealand Naval Museum in Devonport, who have cited G. Hummelchen, J. Rohwer, Chronology of the War at Sea 1939-1945: Volume One 1939-1942, London: Ian Allan, 1972, page 257.)
8 - WJ Walter, page 13.
9 - HW Hughes thesis, Marshland: A Social Survey of a New Zealand Rural Community, page 18. Dated December 1939, written when Hughes was at the Christchurch Training College, and held at Christchurch Library Archives.
10 - HW Hughes, pages 18–19.
11 - Image purchased from Christchurch City Libraries. File reference: CCL-Maps-4333589.
12 - GNS Science Consultancy Report 2007/103, Waterways, Swamps and Vegetation of Christchurch in 1856 and Baseflow Discharge in Christchurch City Streams, pages 2 & 18.
13 - HW Hughes, page 21.
14 - WJ Walters, page 8.
15 - http://www.firstfourships.co.nz/.
16 - HW Hughes, page 21.
17 - Manatū Taonga Ministry for Culture and Heritage, licensed re-use under the Creative Commons Attribution-Non Commercial 3.0 New Zealand.
18 - HW Hughes, page 21.
19 - HW Hughes, page 22.
20 - Te Ara: The Encyclopedia of New Zealand,
http://www.teara.govt.nz/en/biographies/1g12/godley-john-robert and


HW Hughes, page 23.

21 - HW Hughes, page 23.
22 - HW Hughes, page 25.
23 - Ibid.
24 - HW Hughes, pages 26 & 25.
25 - HW Hughes, page 26.
26 - HW Hughes, pages 30 & 34.
27 - HW Hughes, page 27.
28 - HW Hughes, page 28.
29 - Star, issue 1423, page 2, Local and General, 18 Sempember 1872. Papers Past, through the National Library of New Zealand.
https://paperspast.natlib.govt.nz/newspapers/TS18720918.2.5
30 - New Zealand Herald, issue 4361, page 2, Untitled, 4 November 1875, Papers Past, through the National Library of New Zealand.
https://paperspast.natlib.govt.nz/newspapers?date=1875-11-04
31 - Queensland State Archives,
http://www.archivessearch.qld.gov.au/Search/ItemDetails.aspx?ItemId=18476.
32 - Margaret Copland, Portraits of Pioneers: Stories from Canterbury, New Zealand, page 97, Te Puna Ora Enterprises, Canterbury. See her story on her great-great-grandaunt, Rosalia Gierszawski, on this page.
33 - Thames Star, 31 August 1886, page 1, Advertisements Column 6, Papers Past, through the National Library of New Zealand.
https://paperspast.natlib.govt.nz/newspapers/THS18860831.2.3.6
The image above from:Thames Advertiser, 26 October 1876, page 1, Advertisements Column 2, Papers Past, through the National Library of New Zealand.
https://paperspast.natlib.govt.nz/newspapers/THA18761026.2.2.2
34 - WJ Walter, pages 17 & 20.
35 - WJ Walter, page 20.
36 - Press, 31 May 1904, page 11, column 2, Papers Past, through the National Library of New Zealand, Creative Commons licence New Zealand BY-NC-SA. Newspaper digitised in partnership with Christchurch City Libraries.
https://paperspast.natlib.govt.nz/newspapers/CHP19040604.2.72.2
37 - Lyttelton Times, 15 February 1884, Advertisements column 2, Page 1, Papers Past, through the National Library of New Zealand, assisted by Christchurch City Libraries.
https://paperspast.natlib.govt.nz/newspapers/LT18840215.2.2.2
38 - Lyttelton Times, 3 June 1884, Obituary, page 5, Papers Past, through the National Library of New Zealand, assisted by Christchurch City Libraries.
https://paperspast.natlib.govt.nz/newspapers/LT18840603.2.27
39 - Press, 21 June 1884, Advertisements Column 4, Papers Past, through the National Library of New Zealand, Creative Commons licence New Zealand BY-NC-SA. Newspaper digitised in partnership with Christchurch City Libraries.
https://paperspast.natlib.govt.nz/newspapers/CHP18840621.2.37.4
40 - HW Hughes, page 27. It is not clear what exactly those interest rates were. Canterbury newspapers in 1884 show advertisements offering a rate of six percent for lenders but although several firms offered "lowest" rates for borrowers, they do not state that rate.
The Department of Statistics began collecting average percentage rates of interest on new mortgages in 1914. (GT Bloomfield, New Zealand: A Handbook of Historical Statistics, page 394. GK Hall & Co, Boston, 1984.)
41 - Te Ara: The Encyclopedia of New Zealand,
http://www.teara.govt.nz/en/photograph/4490/damaged-spire-christchurch-cathedral.
42 - WJ Walter, page 9.
43 - WJ Walter, page 13.
44 - WJ Walter, page 15.
45 - WJ Walter, page 43.
46 - Thelma Mary Szymanska, RNDM, History of Marshland Christchurch New Zealand: Szymanski Brothers 1872–2012, page 28.
47 - Press, 6 May 1871, Correspondence, Page 3, Papers Past, through the National Library of New Zealand, Creative Commons licence New Zealand BY-NC-SA. Newspaper digitised in partnership with Christchurch City Libraries.
https://paperspast.natlib.govt.nz/newspapers/CHP18710506.2.19
48 - Environment Canterbury Report U07/39, through the Institute of Geological and Nuclear Sciences Limited, pages 7–8. (Thanks to Christchurch City Libraries.)
http://docs.niwa.co.nz/library/public/ECtrU07-39.pdf.
49 - WJ Walter, pages 27–28.
50 - WJ Walter, page 12.
51 - WJ Walter, pages 12 & 24.
52 - G Gibb, page 3 of his transcription, within the WJ Walter collection, Archive no. 196, Christchurch City Archives.
53 - http://www.pilgrims.co.nz/charlotte_jane_list.html.
54 - Lyttelton Times, 8 May 1886, page 8, Papers Past, through the National Library of New Zealand and digitised by Christchurch City Libraries.
https://paperspast.natlib.govt.nz/newspapers/LT18860508.2.46.4
55 - Press, 15 May 1886, page 2, Auctioneer's Report, Papers Past, through the National Library of New Zealand, Creative Commons licence New Zealand BY-NC-SA. Newspaper digitised in partnership with Christchurch City Libraries.
https://paperspast.natlib.govt.nz/newspapers/CHP18860515.2.4.3
56 - Press, 21 May, page 2, Live Stock Market, Papers Past, through the National Library of New Zealand, Creative Commons licence New Zealand BY-NC-SA. Newspaper digitised in partnership with Christchurch City Libraries.
https://paperspast.natlib.govt.nz/newspapers/CHP18860521.2.5
57 - Lyttelton Times, 7 December 1887, page 8, column 3, Papers Past, through the National Library of New Zealand and digitised by Christchurch City Libraries.
https://paperspast.natlib.govt.nz/newspapers/LT18871207.2.49.3
58 - http://christchurchcitylibraries.com/Heritage/PlaceNames/ChristchurchStreetNames-H.pdf.
59 - HW Hughes, page 52; photograph page 53.
60 - Thanks to Christchurch City Libraries:
https://my.christchurchcitylibraries.com/christchurch-place-names/
61 - Lyttelton Times, 22 December 1887, page 8, column 5, Papers Past, through the National Library of New Zealand and digitised by Christchurch City Libraries.
https://paperspast.natlib.govt.nz/newspapers/lyttelton-times/1888/12/22/8.
62 - WJ Walter, page 20.
63 - HW Hughes, page 29.
64 - HW Hughes, page 91.
65 - HW Hughes, page 29.
66 - Ibid.
67 - HW Hughes, pages 63–62.
68 - Information obtained through microfiche held at the New Zealand Society of Genealogists' Family Research Centre, Panmure, Auckland.
https://www.genealogy.org.nz/.
69 - HW Hughes, pages 66–69.
70 - HW Hughes, page 51.
71 - Press, 5 May 1888, page 1, Advertisements column 4, Papers Past, through the National Library of New Zealand, Creative Commons licence New Zealand BY-NC-SA. Newspaper digitised in partnership with Christchurch City Libraries.
https://paperspast.natlib.govt.nz/newspapers/CHP18880505.2.2.4
72 - Information through the New Zealand Society of Genealogists;
https://www.genealogy.org.nz/.
73 - David Dunlop, pages 1 & 5, of his transcription, within the WJ Walter collection, Archive no. 196, Christchurch City Archives.
The Brothers Pride passenger list through:
http://www.yesteryears.co.nz/shipping/passlists/brotherspride.html.
74 - HW Hughes, page 67.
75 - Information from:
Press, 21 January 1890, page 6, MARSHLAND DISTRICT SCHOOL,
https://paperspast.natlib.govt.nz/newspapers/CHP18900121.2.55
Star, 6 August, 1892, page 2, School Committees,


https://paperspast.natlib.govt.nz/newspapers/TS18920806.2.14


Star, 18 October, 1892, page 3, Latest Locals,


https://paperspast.natlib.govt.nz/newspapers/TS18921018.2.25


Star, 3 November, 1892, page 3, Latest Locals,


https://paperspast.natlib.govt.nz/newspapers/TS18921103.2.28


Star, 21 December, 1893, page 3, Local & General,


https://paperspast.natlib.govt.nz/newspapers/TS18931221.2.32


All through Papers Past, through the National Library of New Zealand and digitised by the Christchurch City Libraries. The Press article comes through Creative Commons licence New Zealand BY-NC-SA.
76 - HW Hughes, page 82.
77 - HW Hughes, pages 59–61.
78 - HW Hughes, page 59.
79 - HW Hughes, page 60.
80 - Number reached through passenger lists 1872–1876.
81 - Evening Post, 22 May, 1876, page 2, untitled, Papers Past, through the National Library of New Zealand and Creative Commons licence New Zealand BY-NC-SA.
https://paperspast.natlib.govt.nz/newspapers/EP18760522.2.11
82 - Wairarapa Standard, 4 May, 1878, page 2, Papers Past, through the National Library of New Zealand,
https://paperspast.natlib.govt.nz/newspapers/WAIST18780504.2.5
83 - JW Pobóg-Jaworowski, BEM, JP, BCA, BA (NZ), MPolSc (London), PhD (Lublin), History of the Polish Settlers in New Zealand, page 64, CHZ "Ars Polona," Warsaw, 1990.
84 - Wairarapa Daily Times, 2 June 1879, Page 2, Consecration of St Patrick's Church, Papers Past, through the National Library of New Zealand,
https://paperspast.natlib.govt.nz/newspapers/WDT18790602.2.7
85 - Ibid. JW Pobóg-Jaworowski, pages 63–67.
86 - Information from:
Westport Times, 22 January 1884, page 2,
https://paperspast.natlib.govt.nz/newspapers/WEST18840122.2.5
Wairarapa Daily Times, 10 September 1884, page 2,
https://paperspast.natlib.govt.nz/newspapers/WDT18840910.2.4
Star, 3 May 1890, Local and General, page 3,
https://paperspast.natlib.govt.nz/newspapers/TS18900503.2.42
Wairarapa Daily Times, 22 July 1890, page 2.
https://paperspast.natlib.govt.nz/newspapers/WDT18900723.2.4
All through Papers Past, through the National Library of New Zealand.
87 - Image from Margaret Copland's Portraits of Pioneers: Stories from Canterbury, New Zealand, page 75, Te Puna Ora Enterprises, Canterbury.
88 - HW Hughes, page 60.
89 - HW Hughes, page 51.
90 - HW Hughes, page 64.
91 - HW Hughes, pages 87–88.
92 - HW Hughes, page 87.
93 - HW Hughes, page 86.
94 - HW Hughes, page 75.
95 - HW Hughes, page 76.
96 - HW Hughes, page 34.
97 - HW Hughes, page 42.
98 - HW Hughes, page 45.
99 - HW Hughes, page 44.
100 - HW Hughes, page 33.
101 - HW Hughes, page 34.
102 - Told to Ray Watembach, his son.
103 - HW Hughes, pages 47–48.
104 - HW Hughes, page 64.
105 - HW Hughes, page 50.
106 - HW Hughes, page 38.
107 - The descriptions below from Walter Papers, pages 13–17.
108 - See Mary Watemburg le Vavaseur's recollections on this page.
109 - Ray is the president of the Polish Genealogical Society of New Zealand. If you would like to join, please contact the secretary, Sandra Singleton at PO Box 88, Urenui, 4349, New Zealand, or by email at rsingle@emchem.co.nz.
110 - http://freepages.genealogy.rootsweb.ancestry.com/~ourstuff/Cartvale.htm.
111 - WJ Walter, page 15.
112 - WJ Walter, page 21.
113 - Press, 27 May 1903, page 12, Advertisements column 1, Papers Past, through the National Library of New Zealand, Creative Commons licence New Zealand BY-NC-SA,
https://paperspast.natlib.govt.nz/newspapers/CHP19030527.2.72.1
114 - Press, 3 June 1903, page 11, Advertisements column 2, Papers Past, through the National Library of New Zealand, Creative Commons licence New Zealand BY-NC-SA,
https://paperspast.natlib.govt.nz/newspapers/CHP19030523.2.83.2
115 - Electoral and school information obtained through the New Zealand Society of Genealogists' Family Research Centre, Panmure, Auckland.
https://www.genealogy.org.nz/.
116 - Press, 20 March 1920, page 16, Papers Past, through the National Library of New Zealand, Creative Commons licence New Zealand BY-NC-SA,
https://paperspast.natlib.govt.nz/newspapers/CHP19200320.2.86.4
Sun, 1 March 1920, page 8, Papers Past, through the National Library of New Zealand,
https://paperspast.natlib.govt.nz/newspapers/SUNCH19200301.2.68
117 - WJ Walter, page 26.
118 - WJ Walter, page 27.
119- Ibid.
120 - Thelma Mary Szymanska, RNDM, History of Marshland Christchurch New Zealand: Szymanski Brothers 1872-2012, insert between pages 132 & 133.
121 - GNS Science Consultancy Report 2007/103, Waterways, Swamps and Vegetation of Christchurch in 1856 and Baseflow Discharge in Christchurch City Streams, page 4.
122 - More information from:
http://www.doc.govt.nz/Documents/parks-and-recreation/places-to-visit/canterbury/mahaanui/otukaikino-wetland-reserve.pdf.