Bernard William Neustroski
For 25 years, the Polish Genealogical Society of New Zealand collected stories about early Polish settlers and their descendants, and published them in bi-annual newsletters.
Much has changed since the PGS's first newsletter appeared in 1993, not least that these days, the internet has made researching much easier. (Some would say the plethora of information now available can make a researcher's work tougher, if they want to be rigorous about what evidence they accept.)
PGS's last president, Ray Watembach, has provided this website with the newsletters, for digitisation, and so that we can highlight some of the many Polish characters who arrived here in the nineteenth century, or were born here.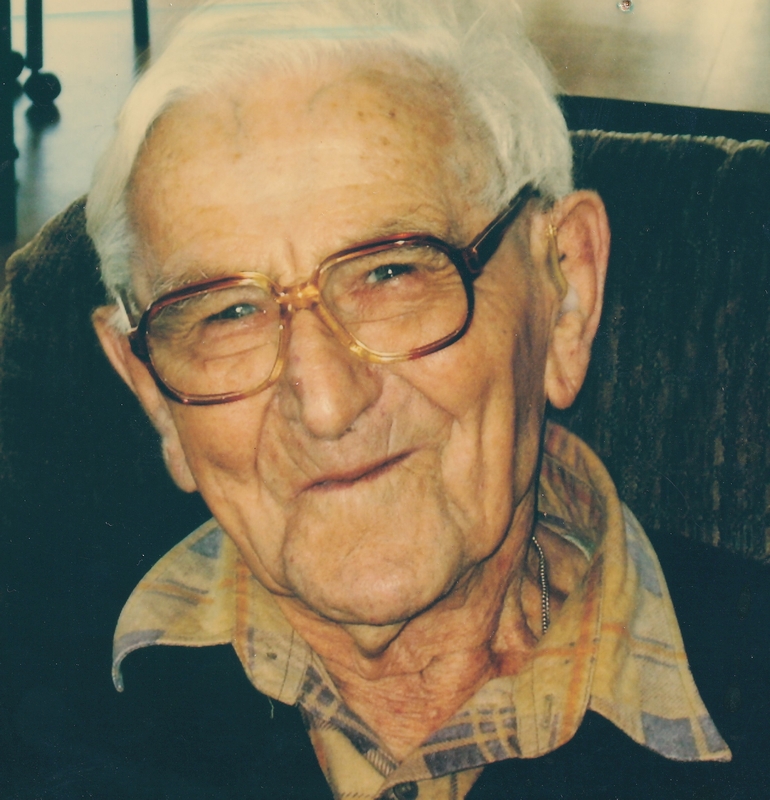 Our first, Bernard William Neustroski, seemed like a good bloke to know. He was a first-generation Polish New Zealander, whom Ray interviewed in 1993. I have combined that interview with a eulogy that Ben's son Alistair wrote for his father's funeral in 2007, and various pieces of other information that I found during other research into the Neustrowski family, a name that had several spellings in New Zealand.
As so often happened in families then, parents named children after their own parents and siblings, so here, we have two generations of brothers called Ben, John, and Joe Neustrowski/Neustroski. The first were born to August and Apolonia Neustrowski, who arrived on the fritz reuter in 1876. The second were born to John and Rosalia Neustrowski. John was two when he arrived with his parents, and Rosalia was born in Taranaki, to Jacob and Rosalia Meller, also fritz reuter passengers.
—Barbara Scrivens
THE TROUT WHISPERER
There was seldom a trout that Ben Neustroski could not catch. His boyhood discovery of the fish in the Waipuku creek that ran at the bottom of the family's Midhirst farm piqued a life-long enthusiasm for fresh-water fishing.
As an adult, Ben could often be found at the mouth of the Tauranga-Taupō river on Lake Taupō, but as a boy, he did not have the luxury of rod, line, or flies, and had to stalk his prey by hand. In 1993, Ben told his second cousin Ray Watembach of the time an eel sabotaged a fishing session: Ben had his fingers tickling the underbelly of a trout, when the eel bit one of them and only let go after someone chopped off its head.
Tickling trout had a dual purpose: the pleasurable pastime resulted in a feed for the family when money was tight. Ben was born on 8 February 1910, on the Gordon Road, Toko, farm where his parents John and Rosalia, née Meller, Neustrowski 1 first settled. The fifth of their 11 living children, and second son, Ben had just turned 12 when his mother died during her 13th childbirth.
Years earlier, John Neustrowski had taken on his parents' York Road, Midhirst, farm. August and Apolonia Neustrowski, who had bought the farm as an unseen bush-block in the 1880s, retired to Waitara on the understanding that John's farm takings would help them with their expenses.
John had a herd of about 50 cows. The children helped with the milking—by hand into buckets and sitting on stools. Ben had been milking six or seven each morning, and a year after his mother died, had his first paying job: for 10 shillings a week, he helped to milk 22 cows belonging to one of their neighbours, a Mrs Frost, whose maiden name had been Drozdowski. (A Josephine Drozdowski married an Albert Henry Frost in 1921.)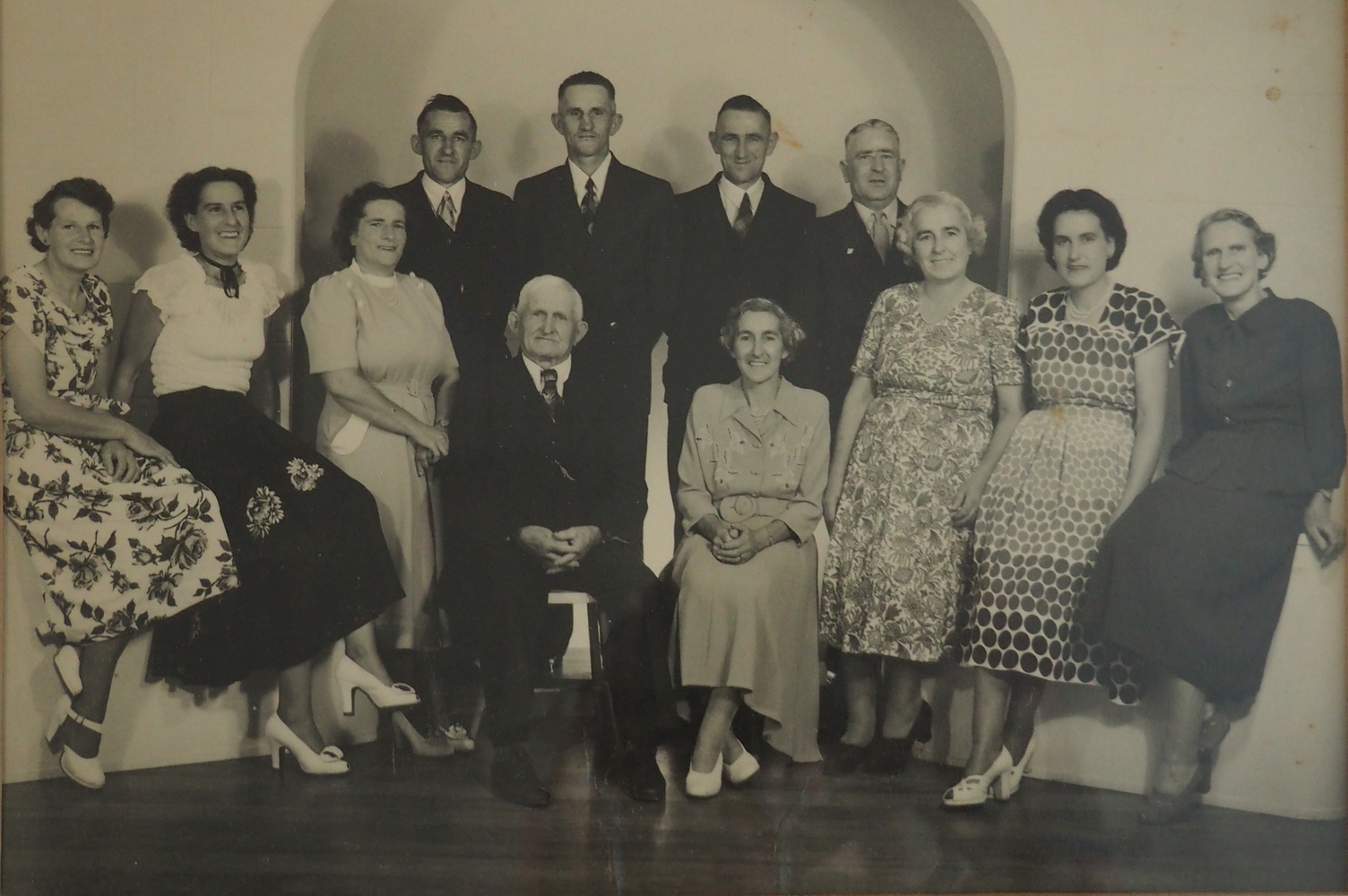 John Neustroski with his adult children. Seated in front with him is his eldest daughter, Polly Dodunski. The other siblings are, from left: Agnes Bright, Vernie Hart, Annie Arnold, Gus, Joe, Ben, John, Rose Fawcett, Margaret James, and Frances Roberts. This event, the wedding of Polly's daughter Lola, was the only time that all the siblings together were photographed together.
Ben's first permanent job after leaving the York Road school was far more exciting than milking cows, and honed his more stimulating skills: marksmanship, bushfelling, and wood-chopping.
Bernard William Neustroski had been named after his father's younger brother, who happened to hold several axemen championships.2 The two were known as "old Ben" and "young Ben." Old Ben, born in 1884, offered his namesake his first full-time job: shooting pigs on his farm at Aotuhia, south of Whangamomona.
Young Ben's eldest sister, Kathleen Polly, had married August Dodunski in 1920, the same year their mother had given birth to her 12th baby, Veronica Dorothy. In 1922, Ben's older brother, John Francis, was 18 and his older sisters, Rose Martha and Frances were 16 and 14.
It is not clear exactly when, but Old Ben's job offer seemed to coincide with two things: First, August and Apolonia returned to the farm in 1926 after John's herd died of milk fever, leaving John and his parents with little income. Second, shooting wild pigs had become a lucrative venture.
In October 1926, the taranaki daily news ran a story about the "serious menace" of wild pigs in remote parts of the Taranaki and Whanganui districts. The settlers particularly felt the "ravages of these beasts" at lambing, and the damage they caused forced some of them to abandon their lands. The State Forest, Agricultural, and Lands departments offered a shilling a snout, which had to be smoked "for the purpose of sanitation" and forwarded in sealed tins.3 (In 1934, the wild pigs were still killing lambs and rooting up the pastures on old Ben's Aotuhia farm, and others, but by then the government's paid hunting had ended.4 )
For two and a half years, young Ben shot the wild pigs that roamed his uncle's property, and earned £1 a week on top of the bonus of snout bounty. In 1926, 10 bullets for a .303 rifle cost a shilling. After about three months, young Ben had 575 snouts to send away.
Ray: "One day, while on the Putiki-Kohuratahi area, Jim O'Dea and Ben opened up on the pigs and got 47. Later, he was able to send away 200 to 300 pig snouts at a time, and this developed into a keen hunting interest. He never took more than one dog, because he did not like the idea of dogs being cut up by pigs. The dog would never grab a pig, but would walk around it, barking.
"Another time, on Kemick's Flat, an area of about 30 acres, he counted nearly 145 pigs coming out of the bush, waited out of sight across the river about 200 yards away, and managed to kill 177 before they were gone.
"Ben was fit in those days. He had to be, carrying around the heavy-calibre WWI 'three O' [rifle], and he did a lot of chopping, too, with his uncle Joe Neustroski. During training for the Eltham Jubilee in 1934, Ben and Joe were usually neck and neck, but Joe always beat him in the end. Joe was good even when he was getting old.
"Ben, his brothers John [born in 1904] and Joe [born in 1913], and Uncle Joe Neustroski [born in 1882], took up contract work during the depression in 1928–1929 under the Three B government relief scheme. They quoted £80 to chop an area of one of Hardwick-Smith's properties, west of Eltham, at the end of 1929. Hardwick-Smith was dubious of their ability to cut the area before running out of money, as others had done. In three days, the area was cut. On the fourth, they went to get the cheque, but Hardwick-Smith wanted to see the job before he paid. He met them in town late in the morning, and wanted to know how they had cut it so quickly. The four knew how to cut bush and scrub, working in pairs on opposite sides, without felling a tree. They would have the trees all lined up and scarfed, and at the end of the day would cut only the last tree. The rest fell like dominoes.
"They worked very hard, starting at daybreak in summer, and working till dark. Hardwick-Smith was impressed, and offered them more work, so the younger Neustroski brothers stayed on, fencing and scrub-cutting—although they should not have had any more contracts on account of the money they were making under the scheme. They calculated that they should have been 'stood down' for eight years according to the rules of the time."
Young Ben continued his association with Hardwick-Smith and added sheep-shearing to his repertoire. At Ben's funeral in 2008, his son Alistair recalled how Ben was working as head shepherd "at an Eltham station" when he met the love of his life, Margaret Verrall, who was also working there. When he had to leave to shear at another station, he told her, "I'm coming back to marry you."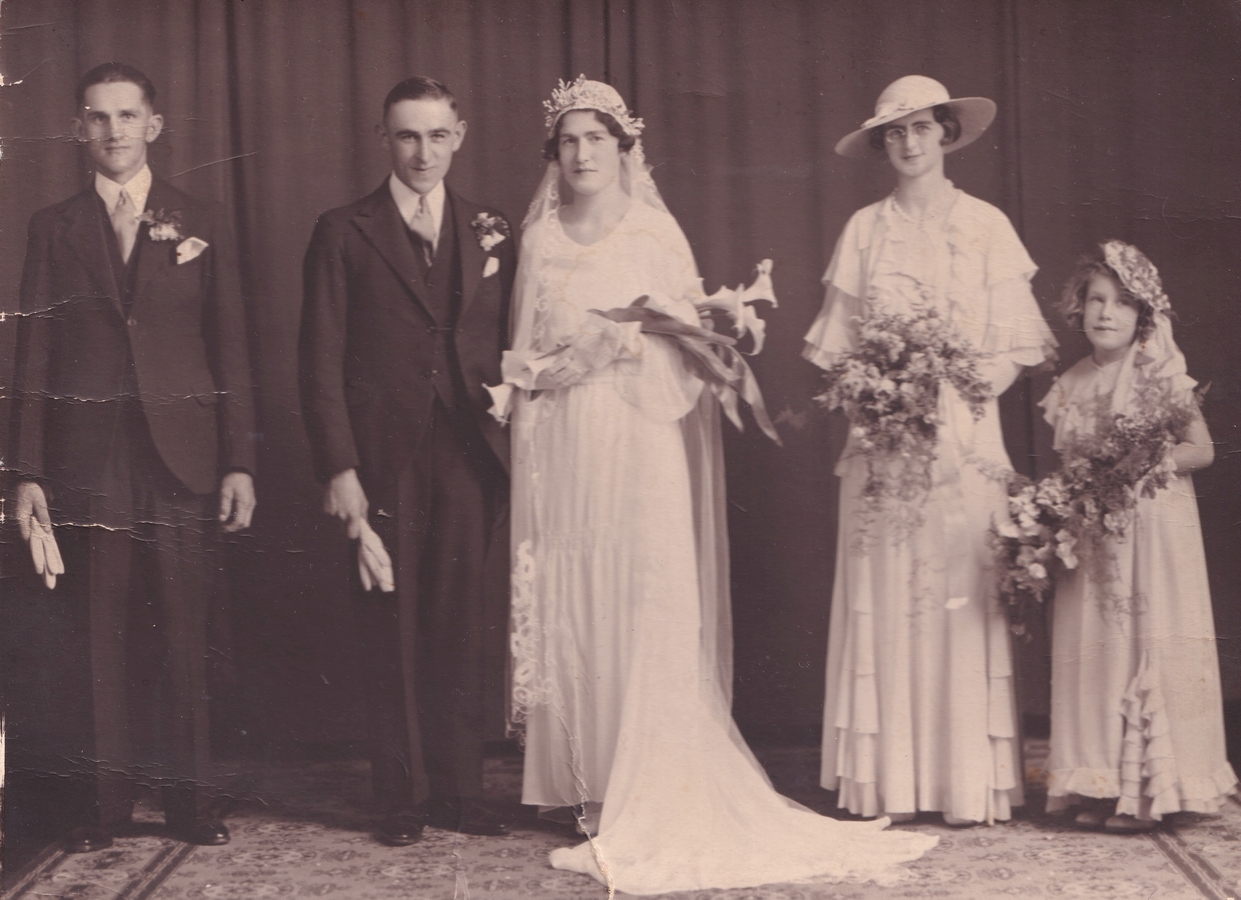 Bernard William Neustroski and Margaret Edith Mabel Verrall married on 21 December 1935. Ben's younger brother, Joe, was best man. If anyone knows the identity of the bridesmaid and flower girl, please contact us. All that is currently known about them is that the bridesmaid was Margaret's friend.
That Eltham station was Hardwick-Smith's at Mangamingi. Margaret had moved from Whanganui and had a job in a grocer's shop in Eltham before Mrs Hardwick-Smith employed her as a nanny and housekeeper.
By shearing 250 to 260 sheep a day, Ben earned £2 10s a day, which was then more than he could earn in a week elsewhere.
Ben and Margaret married in the Anglican church in Whanganui on 21 December 1935. The wanganui chronicle gave a good dozen inches to describing in detail their "very pretty wedding" and the dresses of the bride, her bridesmaid, flower girl and mother.5 Ben and Margaret returned to live in the cottage at Mangamingi. A year later, their first son, Barry, was born.
The young family moved to Otorohanga in 1937, after Ben was offered a share-milking position at Pye's farm on Old Te Kuiti Road. Ben managed the farm, and leased it when the owner left to serve in WW2. The Neustroskis lived there for almost 10 years, during which time their other children were born: Betty in 1939, Peter in 1944, and Alistair in 1948.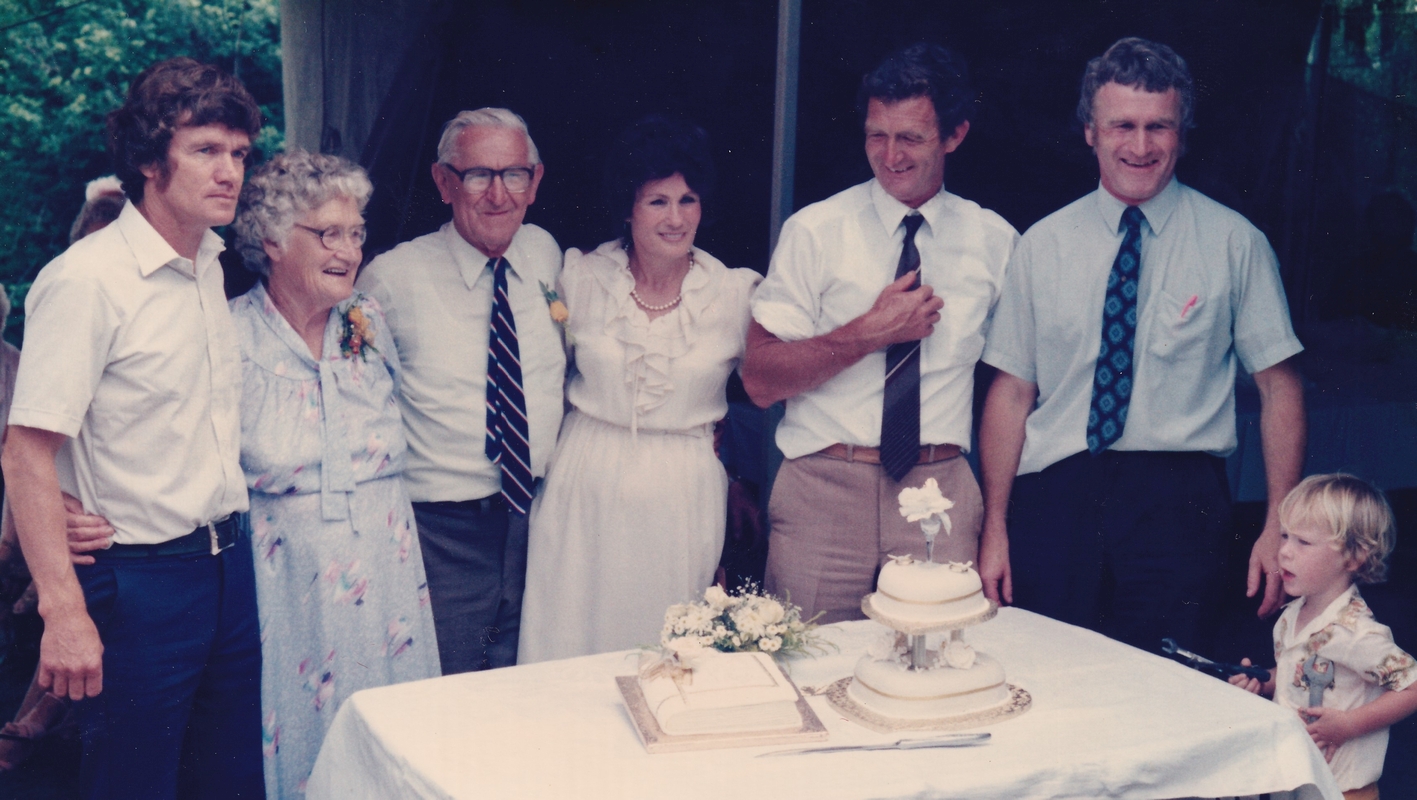 Ben and Margaret at their 50th wedding anniversary with their children, from left, Peter, Betty, Barry, Alistair, and Alistair's three-year-old son, Nigel.
By 1948, milking by hand was well in the past. At Pye's farm, Ben machine-milked about 50 cows, and appreciated that he could be back in the house in three-quarters of an hour. The first season that he followed his brother-in-law Les Arnold's advice to stop stripping the cows (of milk), they rewarded him with about 2,000 pounds of butterfat.6
Ben had joined the Stratford Acclimatisation Society (today's Fish and Game New Zealand) before he moved to Otorohanga, and was licenced to fish for trout and shoot for game. After evening milking, he would go down to the nearby Waipa river, and regularly catch four or five trout, each weighing two and a half to three pounds. The county's decision to extract shingle from his pristine fishing spot did not go down well with Ben who, as chairman of the Acclimatisation Society, had "many arguments with the county over the destruction of the fish habitat in the river." Ben's son Alistair, and Graham Marx continued the dispute until the county stopped the practise, and bull dozers no longer stalked the river's waters.
Ben told Ray about the first time he went trout fishing in Taupō in 1939, with Fred Phillips, Jack Trapski, and Jock McCready. The drive from Otorohanga via Rotorua, took almost five hours in a six-cylinder Hudson Terraplane. Taupō—population then 227—consisted of a few houses serviced by a general store and a butcher's shop.
Ray: "They went to Jellicoe Point, at the mouth of the Waipehi river, where there was good fishing, but they had to bury their fish nearby to stop the wild pigs from eating them while they continued fishing. Ben was told to put back his first trout—a six-and-a-half-pound hen—because the others said it was 'too small.' Then Fred caught an eight-pounder.
"They met another two fishermen at the Tauranga-Taupō river. One said that he hadn't done too well, as he had caught only one fish—14 and a half pounds! The other fellow had caught two weighing 11 pounds and 12 and a half pounds!
"The next trip, Ben, Jack Trapski, and Judge Tindall decided to dry-fly fish the Tongariro river. Joe Frost reckoned it was not possible to catch a fish on a dry fly there. To get to the Dreadnought Pool, they had to cross the river in a boat made from an old tin aeroplane wing (or something similar) and 'considerable anxiety was felt' whilst making the turbulent crossing, as the Tongariro was a real river in the days before the Ministry of Works diverted much of the water for hydro-electric power generation.
"That day, Ben got 11 fish, Tindall nine, and Trapski five, all on dry flies. Two were nine pounds and one 11 pounds.
"On the third evening there was a run of trout in the Tauranga-Taupō, and many rested in the pool in front of Fred Phillip's bach. Before dark, each of the fishermen who fished the pool had the bag limit of 10 fish. In the morning, the lines of trout were so thick that the men had to poke them with their fishing rods to move them out of their way to that they could cross the pool to fish them. However, the fish soon moved up-stream, and they caught only two that day.
"The following Boxing Day, Les Arnold and Ben again fished a big pool, taking limit bags. The average size was eight and a quarter pounds, but they lost some much larger fish."
Ben loved Lake Taupō, and for years, he took his family to holiday at a local bach.
Alistair: "I remember standing alongside him at his favourite spot—the mouth of the Tauranga-Taupō—and in about an hour, he had caught six trout. I was not more than six feet away, and using exactly the same gear, and I hadn't caught a thing. He never let me forget that, the old bugger!
"That was in the days where there was no power out there, and you would wake up in the morning to wild horses roaming the property. Any spare weekend he had, he'd be over at Taupō, fishing, and even when he was farming, he'd get out to the local streams and rivers when he could."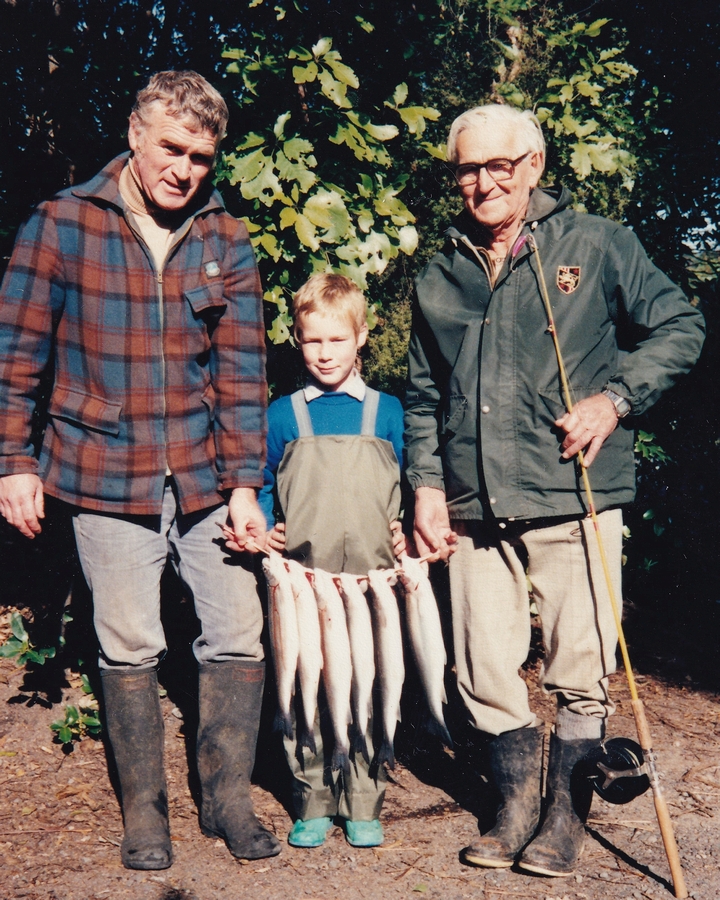 Bernard—the one with the satisfied smile—with Alistair and Nigel after the six-trout-in-an-hour session.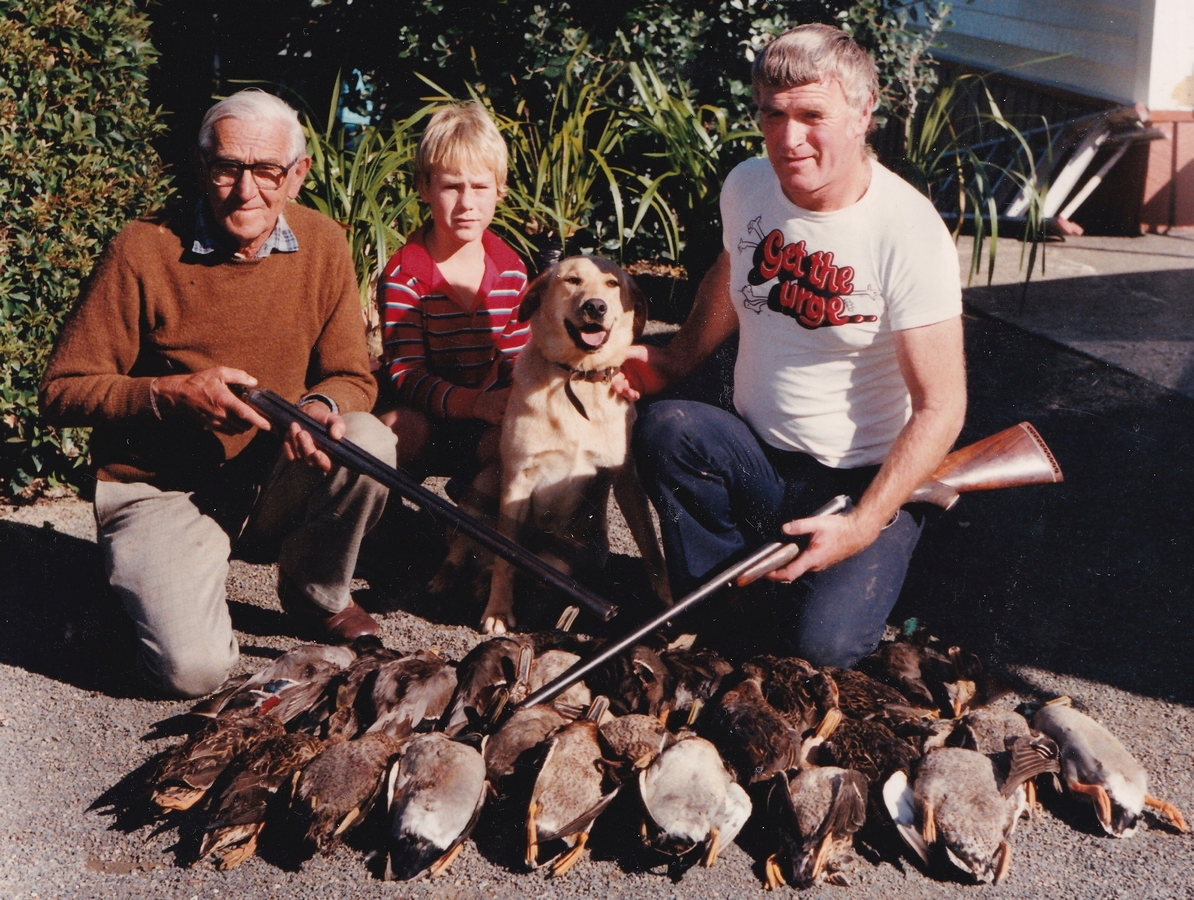 Bernard in his element during duck-shooting season.
"In later years, Ben leant towards conservation rather than development. As time passed, he saw the need to preserve what was left. Further down the track, he tried his hand at shearing, at which he became very skilled, turning it into his main source of income."
Ray: "On 31 May 1990, Ben was awarded a certificate from the Auckland Acclimatisation Society, which recognised his major contribution to wildlife and conservation over 42 years as a member, committee member, and delegate. He was one of the members who pushed for the creation of ponds for ducks, and for the purchase of wetlands at Waimarino for the benefit of the pheasant, duck, and pukeko. He opposed the introduction of partridge and, although the Society spent about £100,000 introducing these game birds, the scheme was a failure, thanks to predation by cats mainly."
Ben's affinity with nature included an ability to divine water.
Alistair: "There were many, many farms around the district—and probably still are—that source their water from somewhere Dad directed them to.
"There were an awful lot of sceptics too but, after some had spent a lot of money trying unsuccessfully to find a drop, they came to Dad. All he needed was a piece of wire or a willow branch. It was quite incredible."
The same year Alistair was born, 1948, Ben accepted a position with Allied Farmers Corporation, but returned to farming in 1953 when Albert Hall offered him a share-milking position in Tihiroa, with half-shares, and with Albert providing both land and cows. That lasted until Albert's poor health forced him to sell the farm. The Neustroskis moved back towards Otorohanga, to Mangamahoe Road, where Ben managed a farm for the Anderson family.
As well as farming, fishing, and hunting, Ben was involved with the Otorohanga Easter Sports, and was an official timekeeper for many years. He loved judging the wood-chopping.
Ben was 67 when he learnt that he had one kidney. He came home upset, and told Margaret, who answered, "You've fathered four children, been a great provider, a chopping and shearing champion. I think you've done all right."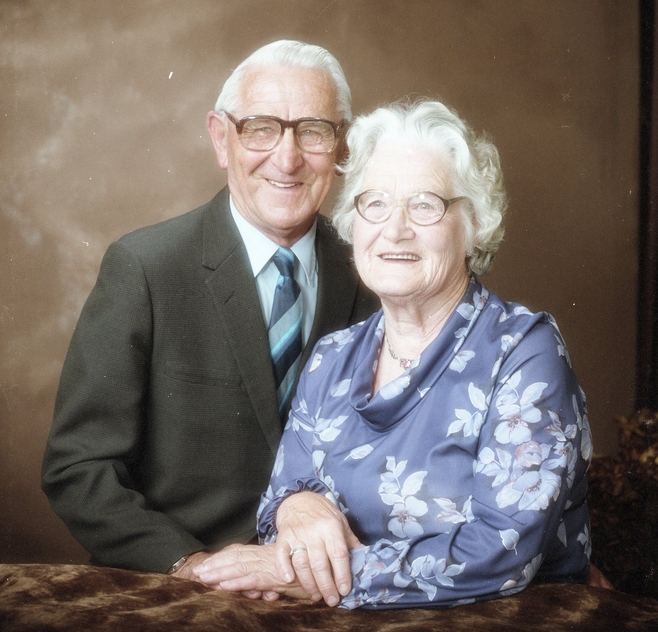 A formal acknowledgement of Bernard and Margaret Neustroski's 50 years of marriage..
Seven years later, Ces Birch of the Otorohanga Ford garage invited Ben to work for him. For 18 years, Ben served petrol and drove cars back from Wellington, after catching the train down. He continued his shearing some weekends, as it still paid good money. He and Margaret took caravan holidays all over the country, and stopped regularly at Eltham and Stratford during their many trips to Taranaki. Always one to exaggerate and have a joke, Ben loved to regale his children with "Taranaki stories."
Alistair: "Dad was also a founding member of the Otorohanga Workingmen's Club, but you could count on one hand the number of times he entered the establishment. He was such a family-oriented man, he would rather spend time with us than at the Workingmen's.
"He always included us in fishing and hunting expeditions. He wanted us with him all the time. There were no buses to bring us in [to town] for athletics at the weekend, so he would. Anywhere he went, we could go along too. He was the perfect Dad, a kindly man. He knew how to make friends, but he did not suffer fools lightly."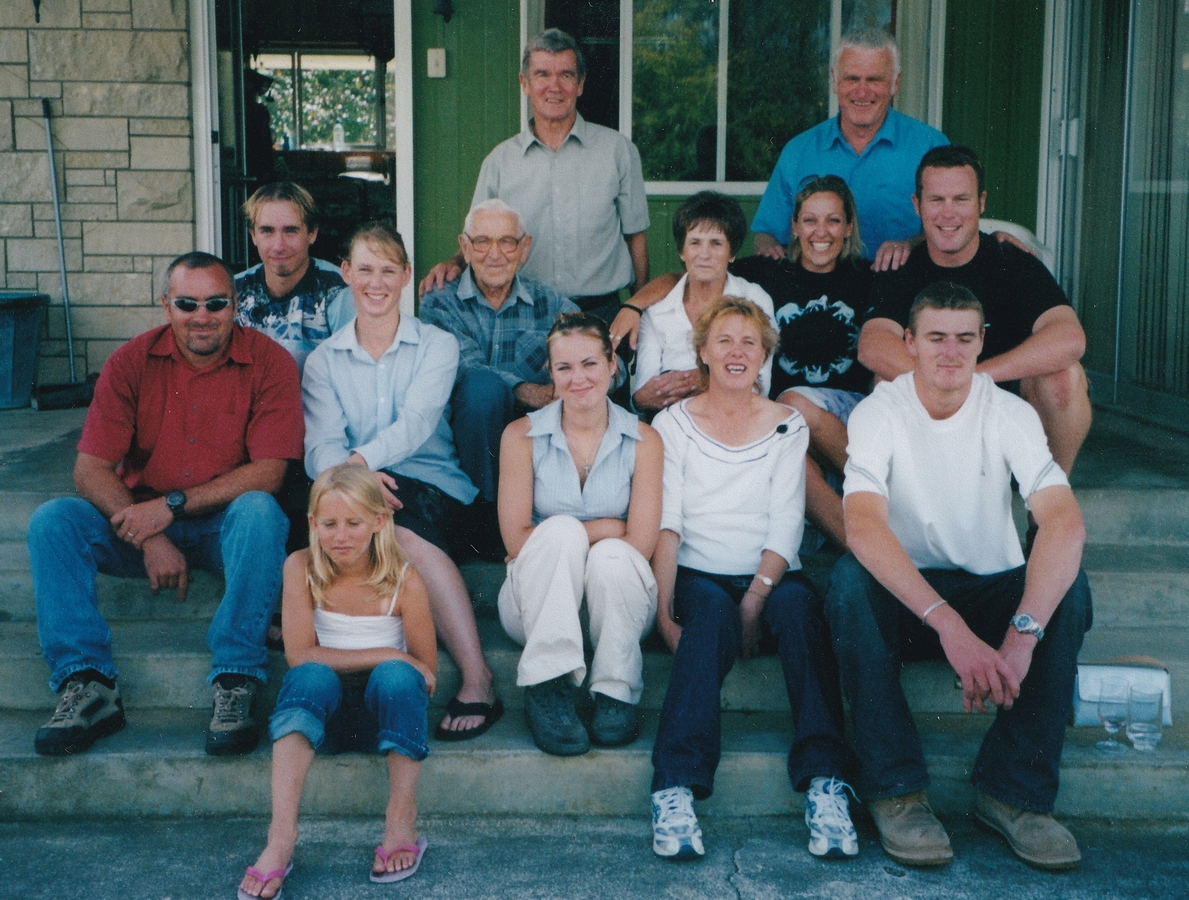 Ben's 90th birthday in 2010 saw him in his happy place—surrounded by family. Standing immediately behind him is his son Peter, and sitting next to him is his daughter, Betty. Sitting next to Betty is her daughter, LeeAnne. Standing behind LeeAnne is Alistair, and his son, Nigel, is seated in front of him. On the left of Ben is his great-grandson, Aaron, and in front of Aaron is his dad, Ben's grandson, Greg Hyde. The three to the right in the front are: Greg's wife, Leanne; Robin Risi, Ben's late son Barry's daughter and his first grandchild; and Robin's son, BJ Davis. The blonde girl in the front is great-granddaughter Analise, Robin's youngest child.
Alistair and Ruth Neustroski. Ruth took the photograph above, and the one below of Ben in 1983, at the Tauranga-Taupō river.
Margaret died in 1990 aged 83.
Alistair visited his dad at the rest home, just days before he died. Ben was playing bowls.
"He looked up when I walked in and said, 'God, they're useless boy!' That was just like him. Our Dad didn't have enormous riches, but he was a very, very rich man in life."
Ben died at the Te Kuiti hospital on 8 November 2006, and is buried with his wife at the Otorohanga cemetery.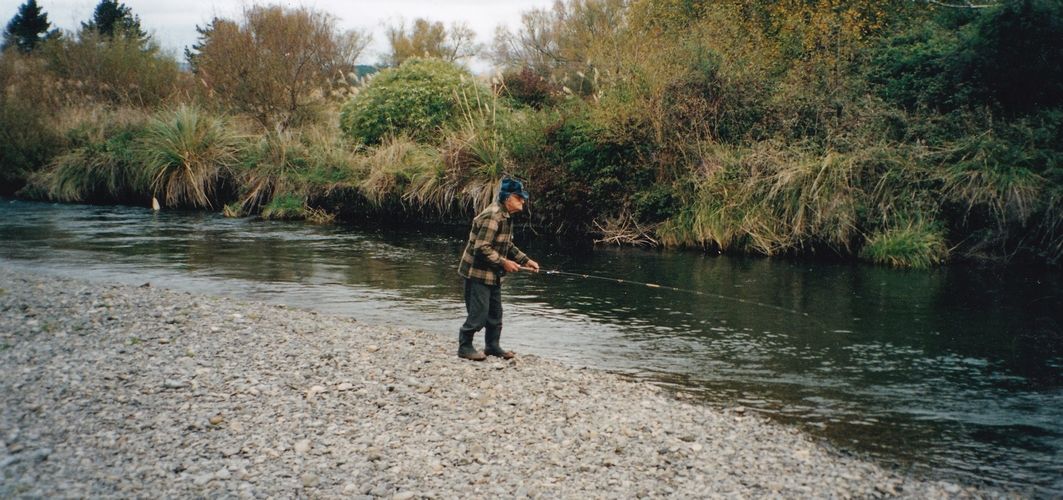 © Barbara Scrivens, June 2023
ALL PHOTOGRAPHS FROM THE NEUSTROSKI COLLECTION.
ENDNOTES:
1 - The name on his birth certificate. Three children have the same spelling; others are spelt Neustroski.
2 - See the Neustrowski-Watembach family story.
https://polishhistorynewzealand.org/neustrowski-watemburg-family/
3 - Taranaki Daily News, 5 October 1926, page 14, WILD PIG MENACE; ROYALTY FOR KILLINGS; WIDE RESPONSE RECEIVED, Papers Past, through Stuff Ltd, Creative Commons BY-NC-SA 3.0 New Zealand licence.
https://paperspast.natlib.govt.nz/newspapers/TDN19261005.2.144
4 - Taranaki Daily News, 27 January 1934, page 22 (supplement) BACK-COUNTRY MENACE; DEPREDATIONS OF WILD PIGS; NEED FOR SYSTEMATIC HUNTING, Papers Past, through Stuff Ltd.
https://paperspast.natlib.govt.nz/newspapers/TDN19340127.2.129.48.1
5 - Wanganui Chronicle, 22 January 1936, page 2, WEDDING NEUSTROSKI-VERRALL, Papers Past, through NZME, Creative Commons BY-NC-SA 4.0 New Zealand licence.
https://paperspast.natlib.govt.nz/newspapers/WC19360122.2.4.8
6 - Ben's younger sister Annie Evelyn married Leslie Albert Arnold in 1940.